The Federal Reserve Chairwoman, Janet Yellen, had another public appearance recently. At the Economic Club of New York she spoke to investors about the Federal Reserve policy on interest rates. Specifically, the following comment garnered quite a bit of attention:
"Given the risks to the outlook, I consider it appropriate for the Committee to proceed cautiously in adjusting policy."
The Federal Reserve website hosts the prepared remarks for any investors that want some additional reading.
The mREITs (and two ETFs)
The table is demonstrated below:
| | |
| --- | --- |
| (NYSE:NLY) | Annaly Capital Management |
| (NASDAQ:AGNC) | American Capital Agency Corp |
| (NYSE:ARR) | ARMOUR Residential REIT |
| (NYSE:CMO) | Capstead Mortgage Corporation |
| (NYSE:CYS) | CYS Investments |
| (NYSE:DX) | Dynex Capital |
| (NYSE:JMI) | Javelin Mortgage Investment |
| (NASDAQ:NYMT) | New York Mortgage Trust |
| (NYSE:ORC) | Orchid Island Capital |
| (NYSE:TWO) | Two Harbors Investment Corp |
| (NYSE:WMC) | Western Asset Mortgage Capital Corp. |
| (NYSE:MFA) | MFA Financial |
| (NYSE:EARN) | Ellington Residential Mortgage REIT |
| (NYSE:AI) | Arlington Asset Investment Corporation |
| (NYSE:ZFC) | ZAIS Financial |
| (NYSE:AMTG) | Apollo Residential Mortgage |
| (NYSE:ANH) | Anworth Mortgage Asset Corporation |
| (NASDAQ:MTGE) | American Capital Mortgage Investment |
| (NYSE:CHMI) | Cherry Hill Mortgage Investment |
| (NYSE:STWD) | Starwood Property Trust |
| (NYSE:BXMT) | Blackstone Mortgage Trust |
| (NYSE:CIM) | Chimera Investment Corporation |
| (NYSE:NRZ) | New Residential Investment Corp. |
| (NYSEARCA:REM) | iShares Mortgage Real Estate Capped ETF |
| (NYSEARCA:MORT) | Market Vectors Mortgage REIT Income ETF |
Treasury Rate Movements
The bond rally on Tuesday coincided with a rally for stocks and the increase in yields was spread throughout the yield curve. Generally speaking, volatility in the interest rate market is a bad sign for mREITs, but I don't see a one day event as being large enough even when yields were moving around 6 to 10 basis points.
The movements happened during the day on March 29th, so the change in rates is from the first line to the second line.

Click to enlarge
Did it make the yield curve steeper? That is difficult to say. The 2-10 spread increased by about 3 basis points, but the 1-7 spread fell by 6 basis points. The change in the steepness of the yield curve depends on which part investors use for measurement.
Today (March 30th), the short-term rates fell slightly and the longer-term rates increased. This was clearly a move towards steeper yield curves, though it is still a fairly small movement.
Quick Rough Estimation
The 7-year treasury declined by 8 basis points over 2 days. A rough approximation of the price movement is to simply use the following formula:
7 * .08 = $.56
The 5-year treasury declined by .11 basis points, therefore:
5 * .11 = $.55
Glance at MBS
I checked the price movements on the 30YR FNMA 4.0 and the 15YR FNMA 3.5 to assess the relative price movements on MBS: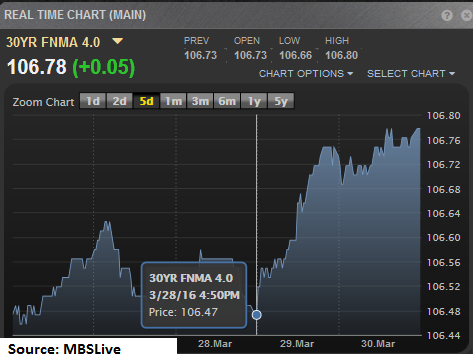 I figure the 30-year MBS should be measured relative to a 7-year treasury or a 7-year LIBOR swap. Since treasury data is available immediately, I frequently use the treasury as the reference point.
106.78 - 106.47 = $.31
Again this is simply using quick estimations. Since these MBS are priced at a premium, the price formulas would want to adjust for that. This is an increase in value of $.31 on $106.47 rather than on $100.00.
Relative to the 7-year treasury, this is a significantly smaller increase.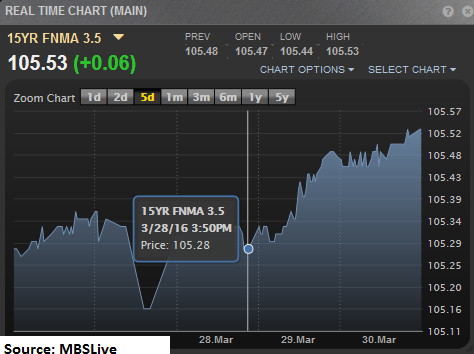 The 15-year moved by $.25. Compared to a 5-year treasury moving by about $.55, this is clearly a smaller price movement.
Implications
The weaker price appreciation on the MBS could be interpreted either way. Either the lower price means the OAS (option adjusted spread) relative to those treasuries is increasing, or the market is pricing in even higher levels of prepayments.
The first option would be positive for shareholders ,while the second would be negative.
If LIBOR rates fail to follow treasuries than the disconnect can be much larger, but assuming LIBOR rates were to roughly follow treasuries, then this would suggest the possibility of future cash flows being invested at a larger spread between expected asset yields and the interest rate on hedges that would offset the assets.
This is the area where I believe a larger spread needs to exist for mREITs to return to their higher levels of returns shown in previous years. This is only one small step in the right direction, but it is still a positive factor. I'll still need to see significantly more to change my perception of the potential return relative to the risk.
Could Buy Anything
As usual, since I tag most mREITs in my weekly article, I like to emphasize that I could buy anything in the near future if my analysis indicates that the market has failed in pricing. Specifically, I would be interested in mREITs that appear to trade at substantially larger discounts (based on estimates of current book value, not Q4 starting value) than the larger mREITs I'm usually covering.
Disclosure: I/we have no positions in any stocks mentioned, but may initiate a long position in ANY OF THEM OR THEIR PREFERRED SHARES over the next 72 hours.
I wrote this article myself, and it expresses my own opinions. I am not receiving compensation for it (other than from Seeking Alpha). I have no business relationship with any company whose stock is mentioned in this article.
Additional disclosure: Information in this article represents the opinion of the analyst. All statements are represented as opinions, rather than facts, and should not be construed as advice to buy or sell a security. This article is prepared solely for publication on Seeking Alpha and any reproduction of it on other sites is unauthorized. Ratings of "outperform" and "underperform" reflect the analyst's estimation of a divergence between the market value for a security and the price that would be appropriate given the potential for risks and returns relative to other securities. The analyst does not know your particular objectives for returns or constraints upon investing. All investors are encouraged to do their own research before making any investment decision. Information is regularly obtained from Yahoo Finance, Google Finance, and SEC Database. If Yahoo, Google, or the SEC database contained faulty or old information it could be incorporated into my analysis.