LinkedIn (NYSE:LNKD) is a great company and an amazing success story that has disrupted the business-oriented social market. However, as we all know, LinkedIn shares plunged sharply last month following a soft outlook for 2016. Sales and earnings fell shy of expectations and the market brutally punished LNKD. In this article, I won't try to analyze whether the fall was justified or advocate the stock is a bargain. Yet I will argue that LinkedIn has the potential to improve and monetize its publishing platform, which could be the next growth driver of the company.
Quick financial remarks
Before sharing my main thesis I would like to point few interesting insights I've gathered while reviewing LNKD financials:
LNKD projected an EBITDA of almost $1bn for FY16, resulting in an EBITDA multiple of only ~13x, which seems attractive at first sight, since it is quite low for a company with an annual revenue growth of 20-30%. However, it should be noted that LNKD excluded $630mm of stock-based compensation from its EBITDA guidance. I follow Prof. Damodaran's explanation and do not add back this type of compensation, based on the premise that SBC is equivalent to cash compensation. In LNKD's case the exclusion is very significant and without it LNKD implied EV/EBITDA jumped to ~37x, which is more common (and even too rich) for companies at this stage.
LNKD disclosed its member value metrics (below) which pointed to a slowdown in few areas. Although I prefer comparing y/y results, it would be smarter to check out LNKD's quarterly progress. Despite the fact that the number of LNKD members grew q/q by 4%, its number of unique visiting members remained similar to its preceding quarter. Moreover, for the second time in its history, LinkedIn has suffered a quarterly decline in its viewed pages. Those are worrisome news for LNKD.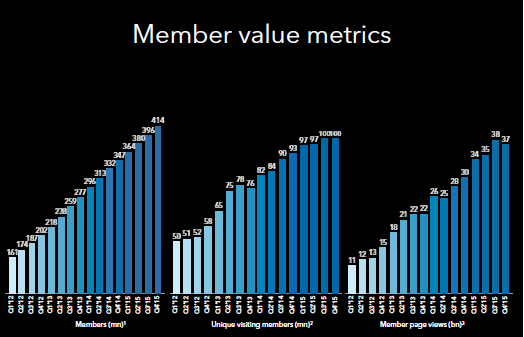 Another point is LNKD weakness outside the US. The company's CFO, Steve Sordello, said that the guidance in part reflects "continued pressure" in international markets from "current global economic conditions." We haven't seen similar statements from other advertisement giants such as Facebook (NASDAQ:FB) or Google (NASDAQ:GOOG) (NASDAQ:GOOGL) so it is possible that LNKD struggles more internationally than its rivals. Only 39% of LNKD's revenues are generated overseas, lower than FB with 50% and Google with 55%, but similar to Twitter (NYSE:TWTR) with 35%, driven by countries around the globe that are less business oriented, in my opinion.
Content platform
LinkedIn performs very well in its core Business Solutions (hiring, marketing and selling). However, LinkedIn struggles to keep its users within its platform. I thought maybe I'm the exception but the data below suggests the opposite. The following two graphs present the average daily time spent with social networks and the social networks' visit frequency. LNKD was ranked at the bottom of both measures. I believe a better content platform could be the solution for this weakness. Longer browsing will of course boost top-line growth.
LinkedIn already has a publishing platform. Through LinkedIn Pulse, it enables many influential, interesting and leading figures to share insights. Members also can post and write articles within the LNKD website. In my view, LinkedIn blogs and articles through Pulse and its posts could be much more effective. LinkedIn could be the biggest provider of social-professional insights, blogs and research shared by users. Its massive online presence could even disrupt one day the articles business-model provided by traditional media, as nowadays many public figures are willing to share their wisdom for free.
Currently, the publishing platform isn't such a great success. During the last earnings call, CEO Jeffery Weiner didn't even talk about it. Results for published articles barely appear at Google Search and LinkedIn Pulse's Facebook Page has only 80K followers. Moreover, the number of views per professional article is somewhat disappointing as many of the recommended articles range around the low thousands. Posts by users at LinkedIn do not draw much excitement either, as I've witnessed several links to Facebook to attract users and increase author exposure.
LinkedIn could and should invest more effort in its content segment, finding ways to better monetize that platform. Its number of users is amazing, it has an economic moat and high barriers to entry. User-generated content is a rapidly growing market, and LNKD has the potential to be the most influential player in the professional space.
First, LNKD must better promote and advertise this platform. Within its website the content platform is somewhere disguised and for smartphones it has a designated app that you won't be aware of unless you have previously installed it. For example, let's take a random article by Bill Gates that was posted both at LinkedIn on March 28th and at Facebook on March 29th. In LinkedIn, this post received ~10K likes (out of Bill's 5.7m followers) in 48 hours (we'll need to compare "likes" since Facebook doesn't share number of views). The same article obtained 134K likes (out of Bill's 17.5 followers) in Facebook in only 24 hours. And I'm sure there are plenty of similar cases. And if we are talking about Facebook, LinkedIn's Facebook Page should be much more productive and upload more content. I think LNKD could learn from Business Insider's Page that posts a great number of articles (and not only news) every day.
LinkedIn could also buy a media/content/blogging company in order to strengthen its prominent position and expand its capabilities, similar to the Lynda.com acquisition. I've read a few interesting articles about such a possibility, one of them in this article. Ted (if possible since it is a non-profit foundation) could be an interesting idea. LinkedIn could expand even into the business event platform, organically or through taking over companies such as Meetup. It has all the abilities to produce an intelligent, efficient and cool product. In addition, people would engage more when they have "skin in the game," so an investment platform also might be an optional direction.
Summary
Following LNKD shares fall last month, investors are extremely cautious about the social-professional network story. Time spent on LNKD is relatively low and so is members' visiting frequency. I believe that through improvements in its shared-knowledge operations, LinkedIn would be back on track.
Disclosure: I am/we are long GOOGL.
I wrote this article myself, and it expresses my own opinions. I am not receiving compensation for it. I have no business relationship with any company whose stock is mentioned in this article.