Unfortunately it almost always ends up the same way. Investors thinking a $30 stock - already a massive bubble - will go to $100 a share because they think high growth will never end, and get burned again and again.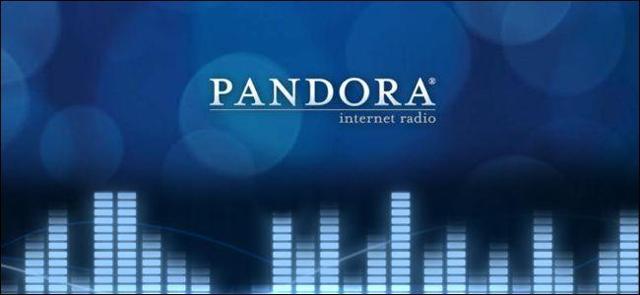 Click to enlarge
I have called Pandora (NYSE:P) a bubble many times, but not many investors listened. Everyone looks at growth, not paying attention to what they are paying for it.
Like I have said many times, it makes no sense paying for a stock with a sky-high multiple when the stock has incorporated in its price what might happen over the next decade. That is, unless you have a crystal ball that can verify and ensure that growth and earnings will continue and nothing will go wrong. But the last time I checked folks, no one was selling crystal balls.
For the record, my target price of $8 a share for Pandora shares has already been reached (please consider: Why Pandora Fell 35% On Friday And Might Fall Even More).
The stock has bounced a little here and there, however it does not seem to have the ability to sustain a rally.
The latest failed attempt to bounce happened on Monday, when Pandora fell about 10% after management changes were announced, with founder Tim Westergren taking over as CEO. We all know what a management change means, and usually it's not good news. Because it means someone has screwed up and things did not go as planned.
Back in February, the NYT reported that Pandora has retained Morgan Stanley to help find a buyer for the company. But even this was not enough to sustain a rally. In fact the small rally from about $8 to $11 could be considered relief rally, having nothing to do with the buyout rumors themselves.
As the NYT wrote, "The talks are preliminary and may not lead to a deal, the people said." I will agree with this statement and furthermore I will speculate that no deal will be made, because no buyer will emerge.
Anytime a company is reported that it wants to find a buyer for itself it usually means a lot of things have gone wrong and management is trying to find a way out of a difficult, if not impossible situation.
And the impossible situation is depicted in the chart below: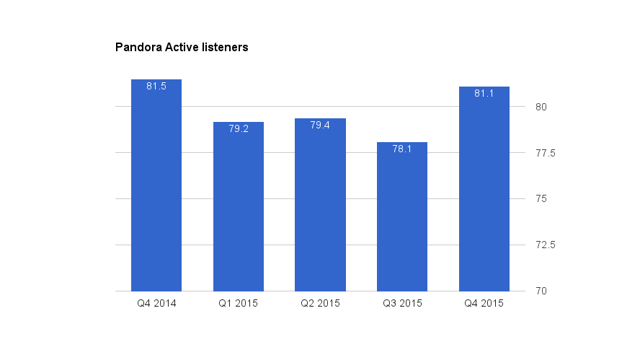 Click to enlarge
(Source: Pandora quarterly reports)
As you can see from the chart above, Pandora's problem is that active listeners are at a standstill for over a year now. And why is this a problem since revenue has been rising?
Because at some point the company will squeeze all it can out of its listeners from advertising revenue. While we do not know when this will happen or what Pandora's monetization limits are, if active listeners do not increase in the future (double digits I say), then revenue also will come to a stand-still. That's is the main reason why I think the stock has tanked.
The inability of the stock to rally after such a huge correction is not a surprise to me, even as analysts are modeling revenue growth of about 20% for 2017. One one hand the company is estimated to lose money, and on the other, analyst earning estimates have been coming down like a rock.
About 90 days ago analysts were modeling Pandora would make $0.12 per share for 2016, now the consensus has dropped to a loss of $0.43 per share. And while 90 days ago analysts were modeling a profit of $0.45 per share for 2017, now they are modeling a loss of $0.04 per share (data from yahho.com).
And I would not be surprised if these figures dropped even more in the upcoming months. Because like I said above, there will come a point in time where monetization will come to a standstill. While I do not know if that will be next year (in the absence of listener growth), the market on its infinite wisdom might think it might be happening now, even if we do not see it yet.
Why $6 a share?
Now on that previous article that I mentioned that my target for Pandora was $8 a share, I also said I would not be surprised if the market knocked Pandora shares to $5 a share. And the reason for this is that the market always (and I mean always) overshoots and overdoes it. And after the recent downward revisions, $5-6 a share might be fair value.
The reason for this is that when the market discovers that the business model of a stock is broken - or things have not gone so well - then it really knocks stocks down, almost to the point where investors might think they might go out of business.
Now in most cases, growth stocks do not have much earnings, so I use other metrics to estimate what they might be worth, or what "knocked down" might mean in market terms.
In most cases, when a stock's business model is broken or profit expectations have not fermented, stocks trade at a very deep discount to revenue.
Such is the case of Zynga (NASDAQ:ZNGA), Angie's List (NASDAQ:ANGI) and Groupon (NASDAQ:GRPN) that I have followed. GRPN currently trades at about 0.74x revenue, ANGI at about 1.4, but after doubling over the past few months, and ZNGA trades at around 1.3 trailing revenue, if you subtract from its market cap the company's $1 billion net cash position.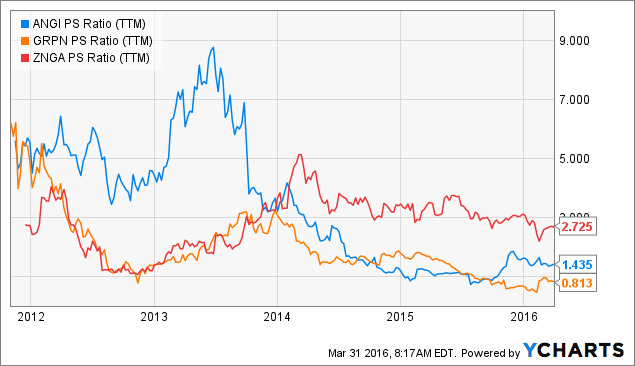 ANGI PS Ratio (TTM) data by YCharts
Pandora is currently trading at 1.9x trailing revenue. Believe it or not, it is possible that Pandora might trade as low as 1x revenue, and its market cap might be knocked down to around $1.2 billion.
In fact let me give Pandora a handicap, and instead of a market cap of $1.2 billion, I will use $1.4 billion. So if we divide $1.4 billion by 227 million outstanding shares (assuming the total share count will not increase), then Pandora can trade as low as $6 a share.
Bottom line
While we do not know what will happen to Pandora in the future, investors better take note that this market knocks down stocks more than we can imagine when something goes wrong.
And if the market decides to punish Pandora even more - as it has done with many other stocks - then $6 a share or even less is not impossible.
Disclosure: I/we have no positions in any stocks mentioned, and no plans to initiate any positions within the next 72 hours.
I wrote this article myself, and it expresses my own opinions. I am not receiving compensation for it (other than from Seeking Alpha). I have no business relationship with any company whose stock is mentioned in this article.