Foxconn's (OTC:FXCOF) purchase of a 66% stake in Sharp (OTCPK:SHCAY) for the reduced price of $3.5 billion is questionable on its own merits. Foxconn is getting LCD screen production capacity that is rapidly becoming obsolete as the industry transitions to OLED screens. The deal only makes sense from Apple's (NASDAQ:AAPL) perspective. Apple needed to prevent an interruption in the supply of LCD screens for which it is dependent on Sharp.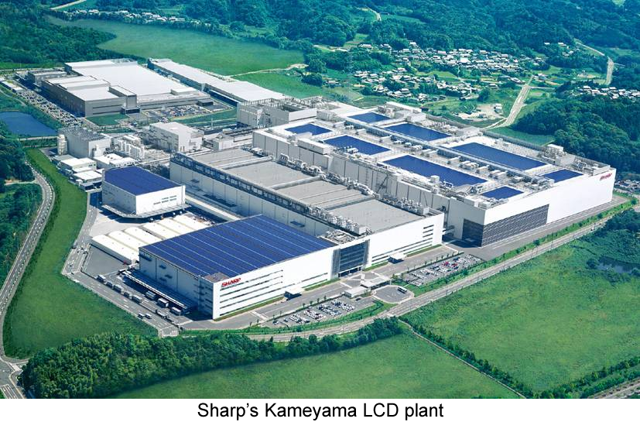 Click to enlarge
Source: Guide2LCDTV
Apple Proxy
Even reduced by $2.75 billion from an earlier agreed upon price of $6.25 billion, the deal is questionable. The price was reduced following last minute revelations of potential Sharp liabilities of $2.7 billion. Sharp has forecast an operating loss of $1.5 billion year-to-date.
The fact that this isn't a particularly good deal for Foxconn has been noticed. Said Willy C. Shih of Harvard Business School (as quoted by the NYTimes), "It's not clear the economics make sense..." In fact, I think it's pretty clear that the economics don't make sense. The Times reports that Foxconn's founder, Terry Gou, is "confident that we will unlock Sharp's true potential."
That confidence isn't shared by analysts looking at the bigger picture. Sanford Bernstein analyst Alberto Moel had this observation:
Terry Gou is going to have to do some serious restructuring, spinouts, carve-outs, reduced head counts, centralizing things, and he'll have to do it at a distance, across a sea with management he doesn't really control. It won't be easy.
The fundamental question is, why go through the trouble? Everyone knows that LCD screens are being supplanted by active matrix organic LED (AMOLED) screens for mobile devices. The two most important AMOLED screen makers are Samsung Display and LG Display.
The investment came down to practical near-term necessity for Apple. Apple simply couldn't afford to let Sharp go under, but it didn't want to be saddled with directly managing Sharp's LCD production as an outright owner. Apple is very happy with its current supply chain model of using contract suppliers such as Sharp and Foxconn.
Apple is in my view using Foxconn as a proxy to assure an uninterrupted supply of LCD screens. As such, it probably had to incentivize Foxconn to take on the burden of Sharp.
Apple Incentives
The incentives that Apple could offer Foxconn are many and varied, but probably all have the characteristic of keeping Apple's involvement off the books. This, at least, can be assumed, since any foreign involvement in the purchase of Sharp would have had to be disclosed to Japanese government regulators.
Besides keeping Apple out of day-to-day management of Sharp's factories, this also served to somewhat simplify the process of getting regulatory approval of the Sharp purchase.
So Apple couldn't just ship a few billion dollars over to Foxconn in order to make the purchase. There are still things Apple could do to sweeten the deal. Apple is thought to have invested heavily in Sharp's Kameyama LCD plant in order to convert it to Apple oriented LCD production. Apple Insider estimates that the amount Apple invested was 50 billion yen, or about $445 million at current exchange rates.
Apple has often provided capital equipment for suppliers, but it's always identified as Apple owned and it has to be diligently inventoried as such. Apple could have simply given the Kameyama equipment to Foxconn.
Apple also could commit to future capital equipment purchases for Foxconn-operated Sharp facilities. As of Apple's fiscal 2016 Q1 (December 2015) Apple disclosed in its SEC 10-Q that it had off-balance sheet commitments of $7.9 billion. Part of that is intended to be used for product tooling and manufacturing process equipment.
Finally, Apple could commit to purchasing LCD screens for use in its products, including iPhone, iPad and Mac for a certain period of time. I would expect that this would have been a bare minimum requirement for Foxconn to agree to the Sharp purchase. Probably, these purchase agreements last for a minimum of two years.
AMOLED Conversion?
Even with the purchase agreements and capital commitments from Apple, I would still question whether the purchase made sense for Foxconn in the long term. Probably there is some expectation of being able to convert Sharp's LCD production to AMOLED at a lower cost than would be the case if starting from scratch. Both manufacturing processes rely heavily on very large vacuum deposition chambers, so there is some equipment reuse that could be achieved.
Fundamentally, there has to be an intention to convert Sharp's LCD production capacity to AMOLED. In addition to applicable equipment, Sharp would have a great deal of applicable expertise. Given that the major AMOLED suppliers are Apple competitors, Apple is clearly motivated to pursue developing its own source of AMOLED displays.
Obviously, that will take a few years, and in the meantime, Apple will take advantage of Sharp's investment in IGZO display technology which was reportedly used for the first iPad Pro released last year. The need to keep using LCDs for at least a couple more years really calls into question recent rumors that Apple would convert iPhone to AMOLED screens as early as 2017.
Investor Takeaway
Almost a year ago, I wrote about the opportunity presented by Sharp's problems. For better or worse, that "opportunity" has arrived.
I think it is an opportunity for both Apple and Foxconn. Foxconn enlarges its content share of Apple products, while Apple guarantees itself an uninterrupted supply of LCD screens. Further down the road, Apple can leverage its sizable overseas cash horde to develop an independent AMOLED production capability.
All it will cost is lots of money, but Apple has plenty of that, over there. If Sharp had been a U.S. company, I doubt the acquisition would ever have occurred. I remain long Apple and recommend it as a buy.
Disclosure: I am/we are long AAPL.
I wrote this article myself, and it expresses my own opinions. I am not receiving compensation for it (other than from Seeking Alpha). I have no business relationship with any company whose stock is mentioned in this article.
Editor's Note: This article discusses one or more securities that do not trade on a major U.S. exchange. Please be aware of the risks associated with these stocks.