Bank of America (NYSE:BAC) and Citigroup (NYSE:C) are both trading at a huge discount to tangible book value (NYSEMKT:TBV) - in simple terms, this means that investors believe these firms are destroying capital.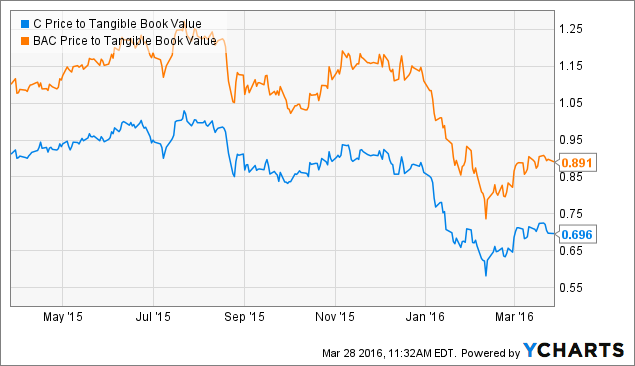 C Price to Tangible Book Value data by YCharts
All else being equal, Citi is trading at a much larger discount (~0.7x compared to ~0.9x) - there are many reasons for the valuation divergence, including Citi's large DTA, cost of equity, business model, geographic spread and FX. I will touch on all these factors and much more in this series of articles.
In today's regulatory environment, banking is all about efficient management of capital. But which of these firms is better positioned from a capital perspective?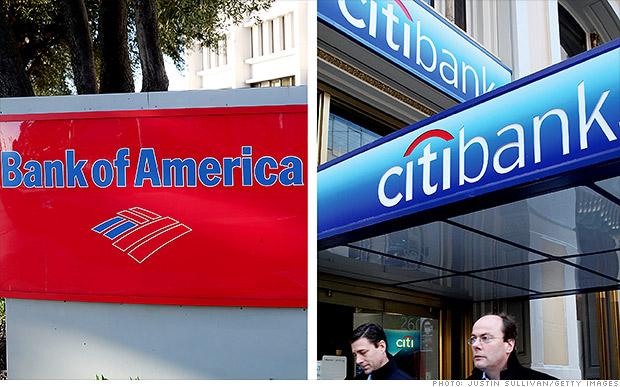 (source)
What do I mean by capital of a bank?
When I say capital, I refer to Tangible Common Equity (TCE) which includes common equity, retained earnings and reserves but excludes intangibles (such as goodwill). Tangible Book Value (TBV) per share is derived by dividing TCE by the share count.
TCE typically closely tracks regulatory measures of capital (i.e. Common Equity Tier 1 (CET1)) - the main difference being the exclusion of DTAs in the latter.
So why is capital so important for the valuation of banks?
In very simple terms, banks seek to generate returns on allocated capital by employing leverage and maximizing risk-adjusted returns. But capital (provided by investors) is not free - investors expect a return that commensurate with perceived risks of providing that capital (e.g. risk of loan write-offs or other losses suffered by the banks). It is widely estimated that the cost of equity for U.S. banks is around 10% and has been so for many years.
As such, banks endeavor to generate returns at or above their cost of capital (i.e. RoTCE greater than 10%) - otherwise, these banks are effectively destroying shareholders' value. Saying it somewhat differently, if a U.S. bank generates RoTCE of 10% - it probably should expect to trade around its TBV.
How do capital levels impact a banking stock valuation?
Capital levels are at the epicenter of valuation for banks - a few examples below:
Capital is the denominator in the RoTCE measure. Too much capital dilutes returns and is known as a "denominator" problem
Concerns around low capital levels of a bank may result in dilutive capital calls - when the market smells that risk, the bank shares will be heavily discounted (read Deutsche Bank (NYSE:DB) trading at a distressed 0.4x of tangible book capital).
Expectations of adverse regulatory developments may significantly impact valuation of banks (e.g. G-SIB capital surcharges applying to U.S. banks, RWAs model changes such as fundamental review of trading books, operational risk RWAs).
The binding capital constraints for banks
Typically banks are constrained by three (somewhat independent) capital measures:
Minimum regulatory capital requirements
CCAR stress tests
Economic capital
Minimum regulatory capital requirements are prescribed in the Fed's regulations - for the large U.S. banks there is also a G-SIB capital surcharges that is dependent on respective size and complexity measures (otherwise known as G-SIB score).
CCAR stress tests are prescribed under the Dodd-Frank Act and are operated by the Fed. These effectively determine the capital distributions (buybacks and dividends) the banks are allowed to return to investors - obviously of paramount importance for shareholders.
Economic capital is a risk-based capital measure employed by banks to ascertain their internally assessed capital requirements throughout the economic cycle. For example, the firm's management may judge certain loan assets to be less or more risky than prescribed regulatory RWAs or CCAR outcome.
The firm will then seek to optimize its capital allocation taking into account all of the above constraints. Typically each bank will have one binding capital constraint derived from its particular circumstances and business model.
An instructive example of how one large U.S. bank goes about capital management was shared in JPMorgan's (NYSE:JPM) Investor Day: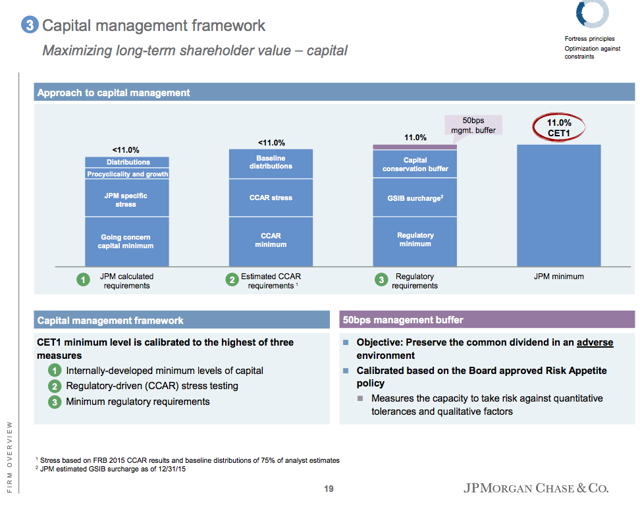 As can be seen from above, the binding capital constraint for JPM is minimum capital requirements (including a 50 basis points buffer).
The first column is an economic capital analysis - i.e. the firm's internal assessment of its capital needs (and the lowest of the 3 capital constraints). CCAR capital constraint (column 2) is lower than 11% and thus currently is not a binding constraint for the firm.
This of course may change with each year's CCAR scenarios.
What about Citi and BAC capital metrics?
The below table summarizes key capital measures:

A few observations on the above metrics:
Citi TCE is $32 billion higher than its regulatory capital (CET1) - this is primarily due to DTA that is recognized in its books but disallowed for regulatory capital purposes. However, Citi is closing the gap at an estimated rate of about $5 billion per annum. In other words, Citi is generating substantial excess capital beyond its ordinary net earnings.
BAC TCE is quite similar to its CET1 - hence, all else equal, its capital accretion is substantially lower than Citigroup.
While both firms' minimum capital requirements are 10% - Citi operates with CET1 ratio of 12% and well above its fully-phased in capital requirement. Whereas BAC is just under its minimum capital requirements under the advanced RWAs method.
Citi and BAC RoTCE for 2015 is quite similar at ~9% (just below its estimated cost of capital of 10%) - however, Citi is generating this return with much higher capital ratios and additionally absorbs a temporary drag of ~200 basis points due to DTA.
BAC advanced method RWAs are ~150 billion higher than its standardized method - this is primarily due to substantially higher (relative to other banks) operational risk RWAs - I presume this mostly relates to legacy conduct legal issues and fines around U.S. mortgages. Over time, one would expect large parts of these operational RWAs to decrease but timing is uncertain (up to the Fed's discretion).
Based on 2015 stress test results, it appears that Citi is significantly constrained by CCAR whereas BAC appears to have plenty of quantitative capacity - in other words, unconstrained by CCAR as it performed very well in the Fed's stressed scenarios.
What about 2016?
The above analysis is relevant for 2015 but what has happened since?
Citi, I believe, has worked hard to reduce its CCAR constraint. This has been achieved by deliberate de-risking - specifically the disposal of OneMain (sub-prime lender) and acceleration of Citi Holdings assets' unwind.
BAC on the other hand has benefited from de-risking as well as a reasonably clean 2015 earnings. Having said that, the Fed's 2016 CCAR scenarios (incorporating a negative interest rates scenario) are especially adverse for BAC given its heightened sensitivity to low interest rates.
So overall, it seems to me that Citi has narrowed BAC's CCAR lead somewhat since 2015.
I will further compare in detail Citi and BAC expected CCAR outcomes in a future article in this series - so if of interest, watch this space.
Final thoughts
Citi has a clear capital advantage over BAC.
Citi's capital ratios are meaningfully higher than BAC's and the firm is likely to generate significantly higher capital in years to come due to its large DTA. Furthermore, I expect it to narrow BAC's CCAR quantitative lead in 2016 and beyond. The consequences are clear, Citi has the potential to return substantially more capital to its shareholders in coming years than BAC- given both firms trade well, below TBV at the moment, this is not an inconsequential advantage when considering relative valuation of these firms.
But it is not just about capital - in subsequent articles in this series, I will focus on the following topics:
Comparing and contrasting underlying businesses of these firms.
2016 CCAR expectations.
Macroeconomic scenarios and impact on respective business models.
Valuation and conclusion.
I am still not certain which is the better investment for 2016.
All financial data in this article have been extracted from Citi's and BAC's recent 10-K.
I cover U.S., European, Asian, Canadian and Australian large-cap banks, identifying long and short opportunities. If interested in the topic, I encourage you to sign up as a "real-time follower" or message me if interested in a specific banking name.
Disclosure: I am/we are long C, BAC.
I wrote this article myself, and it expresses my own opinions. I am not receiving compensation for it (other than from Seeking Alpha). I have no business relationship with any company whose stock is mentioned in this article.