Probably the best way to find out about the company is to look at its slogan. If it's simple, authentic, creative and brief, then consumers will be interested in looking for more information about what you present, especially when it comes to the automotive industry. I believe that Toyota's (NYSE:TM) slogan Today. Tomorrow. Toyota is a perfect example of this combination. It's honest and easy to understand, and gives consumers confidence that their favorite brand will be their reliable partner for the coming years. And the same principle applies not just to Toyota's perfect marketing campaign, but also to the company's day-to-day operations that fund its future projects and make great returns for its investors.
Last month, Toyota announced its financial results for the quarter ended December 30. In the report, the company said that its sales for the period were 7.34T yen ($63B) and topped analysts' estimates. It's also outpacing the profit of the rest of the Japanese automakers combined, thanks to the strong performance in North America.
This growth is helping the company to spend more resources on R&D and unlock additional shareholder value for the next decades. While 2015 was a record year in terms of R&D and capital expenses, the company plans to spend even more cash in 2016 to fund these activities.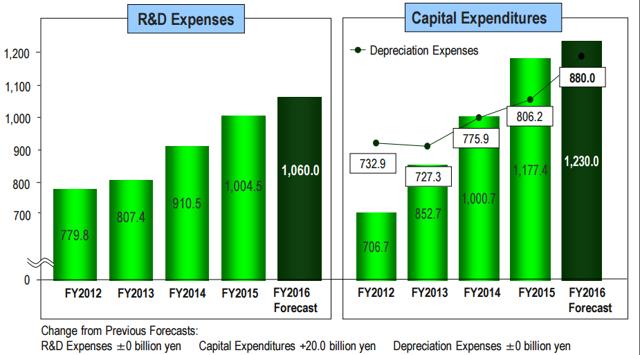 Click to enlarge
Source: Company fillings
Overall, the CEO of Toyota, Akio Toyoda, made a great improvement to the company's business since he took reins in 2009. As a successor of the company that was founded by his great grandfather, he understands the importance of innovation and affordability that kept Toyota on track in the last few decades. And this makes the automotive giant one of the best investments in the industry.
One particular field where Toyota has been successful is the hybrid car market. Thanks to the success of its Prius line, the company is currently the biggest player in this market. According to KPMG, Full/Mild hybrid market will continue to grow and it will help Toyota to continue its strong performance in this field.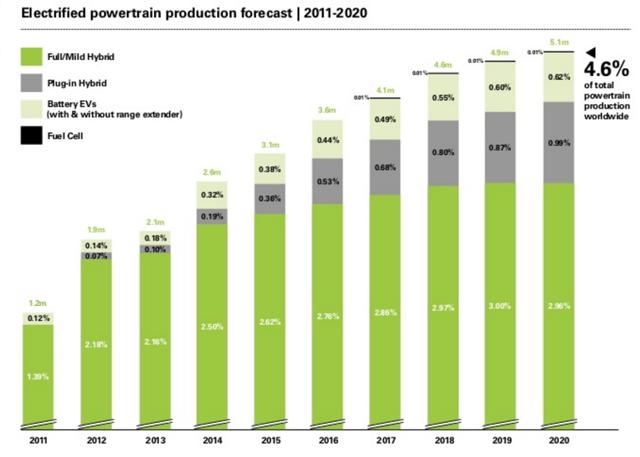 Click to enlarge
Source: KPMG's Global Automotive Executive Survey
Other area, where Toyota is very active is self-driving car market. Recently, the company made a number of important decisions that will benefit all of its shareholders in the future. Last September, it announced that it'll be dropping $50 million in the next five years to establish research centers with both Stanford and MIT to work on artificial intelligence and autonomous driving technology. Then, a month later, Japan automaker said that it wants to see self-driving cars on highway by 2020 and is doing everything it can to make this happen. This January we found out that Toyota already has around 1,400 self-driving car patents, which is more than any other automotive giant has. So, in less than a year, Toyota made a huge jump in the self-driving space and now considered one of the leaders in this space. And to strengthen its position there, the company fleshed out $1 billion investment into artificial intelligence and self-driving vehicles and hired the entire staff of Massachusetts-based autonomous-vehicle startup to work on its advanced projects.
As we can see, the Japanese automaker became very aggressive in this space and is willing to spend more money in the future to become the leader of self-driving market, as it did with hybrid market. According to the same KPMG report, Toyota is currently one of the top five automotive manufacturers that are the leaders in the self-driving market.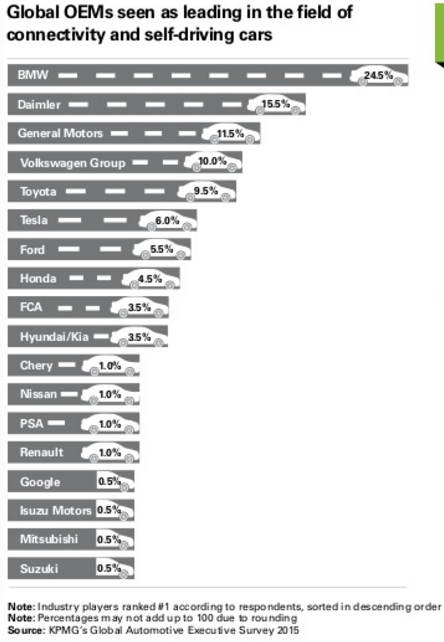 Source: KPMG's Global Automotive Executive Survey
Thanks to the great leadership and heavy investing into the future, Toyota in my opinion is poised for growth. Besides its successful business operations, it also has strong financial fundamentals that will help the company to achieve its long-term goals. Its P/E of 8.46 and operating margin of 10.30% are higher in comparison with the Global Auto Manufacturers industry average. And the relatively low P/B value of 1.11 is making Toyota a perfect investment at the current levels.
With all the facts presented above, I believe that Toyota is a very attractive automotive manufacturer that will create additional shareholder value in the coming years. Its self-driving initiatives will help it to stay on top of the automotive industry and will prepare the company for the changing landscape of the auto market while the growth of hybrid market will help it to collect profits along the way.
Disclosure: I/we have no positions in any stocks mentioned, and no plans to initiate any positions within the next 72 hours.
I wrote this article myself, and it expresses my own opinions. I am not receiving compensation for it (other than from Seeking Alpha). I have no business relationship with any company whose stock is mentioned in this article.