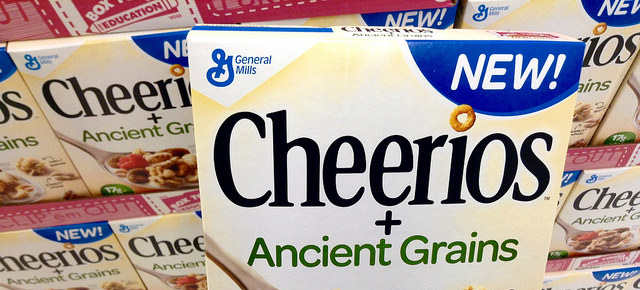 I last covered General Mills (NYSE:GIS) as part of my "Food Fight" series comparing leading food sector businesses against their peers. On 23 March the company reported its Q3 2016 results, however. Time then, I think, to take a quick look to see how things are progressing for the diverse food giant. Overall, I was pretty impressed even though at first glance it was hard to see why.
Green Giant Has Gone
First, we should deal with the giant in the room. A recurring theme is the continuing impact of the Green Giant divestiture on results. The iconic Green Giant brand left the firm's portfolio on 2 November 2015. It was sold (with its peer Le Sueur) for $765 million to B&G Foods (BG). Sales in the US Retail segment in 2015 had been $585 million. It continued to have a major impact chiseling down its largest "Meals" segment (purple colors) by 5.6%: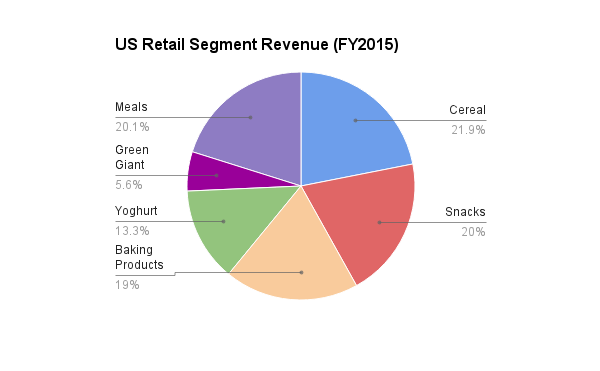 On the plus side, the $820 million Annie's purchase helped reduce the Green Giant impact a little by contributing over $200 million in revenue to the General Mills pot. What is more, the Green Giant business was a lower margin operation. Selling it was therefore attractive from a margins perspective.
Nonetheless, the sale of such a big brand was clearly going to dent results noticeably.
Soft Reported Results
Despite these caveats, what is clear is that reported revenue results (although in line with predictions) were hardly world-beating. Reported revenue dipped 5% across all operating segments. Yet stripping out currency impacts, we find a more modest 1% revenue dip: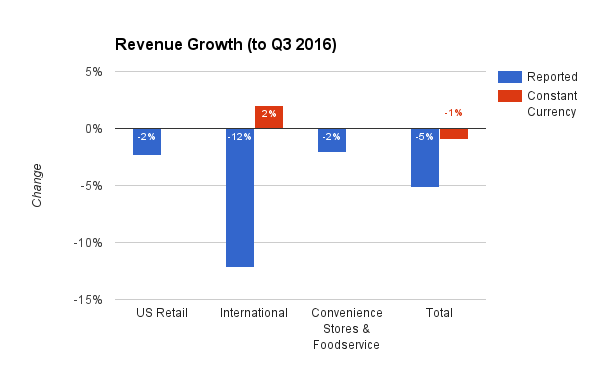 This is not what we are looking for. What is clear is that General Mills is experiencing growth issues across its food segments. Indeed, Q3 results for the US Retail Segment (which makes up over 61% of revenue) suggests that slowing growth was accelerating in the last three months over the last 9 months: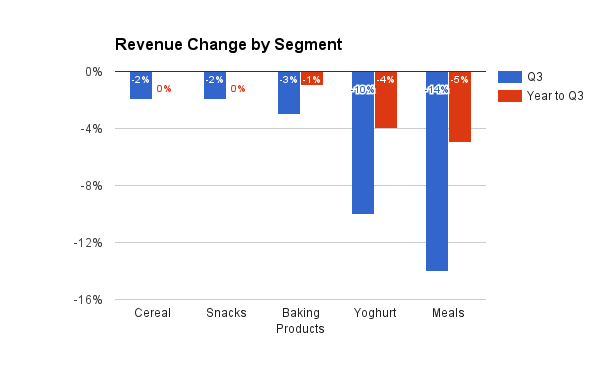 Even accepting the Green Giant effect on the "Meals" segment, this is hardly healthy looking. If you stopped reading around about here, you would probably leave feeling a bit deflated by General Mills' performance. Yet things get more encouraging here on in.
Operating Income Powering Ahead
Operating income, for instance, was much stronger. Earnings saw a 5% growth on a reported basis and 8% on a constant-currency basis: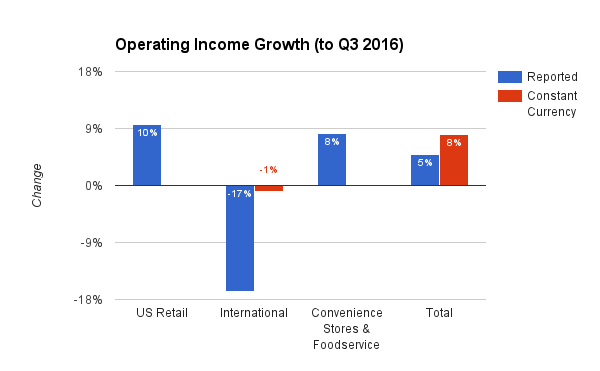 This is much more than what we are looking for. Indeed, the all-important US Retail segment saw a superb 10% leap in operating income in the first nine months of 2016.
The impact was telling on operating margins. With revenue shrinking and income growing, General Mills could report a pretty healthy-looking hike in margin performance: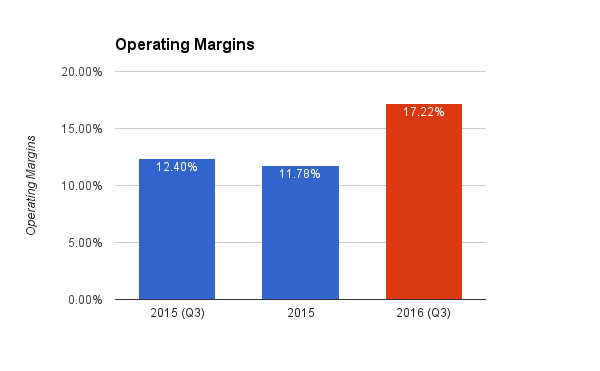 This is great news as it suggests that General Mills is making progress in reversing the margins decline in recent years, which has seen it go from a top sector performer to distinctly average: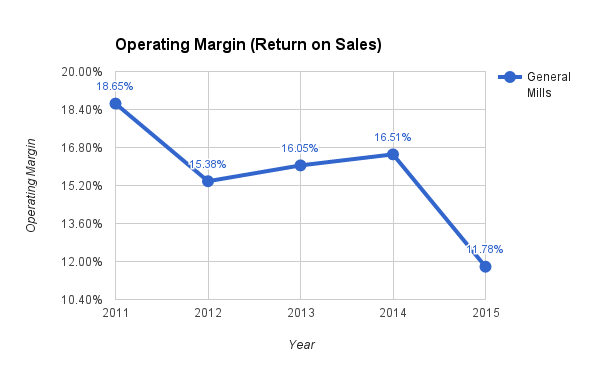 The Green Giant sale undoubtedly helped here. Yet I think that General Mills still has plenty of potential for further growth in coming quarters.
Cash Flow King
Backing up this excellent earnings progress was a remarkable cash flow narrative too. Cash flows at General Mills have always been impressive. Yet here again we saw a tidy growth in operating cash flow combined with a lower CapEx figure lifting FCF over 29%: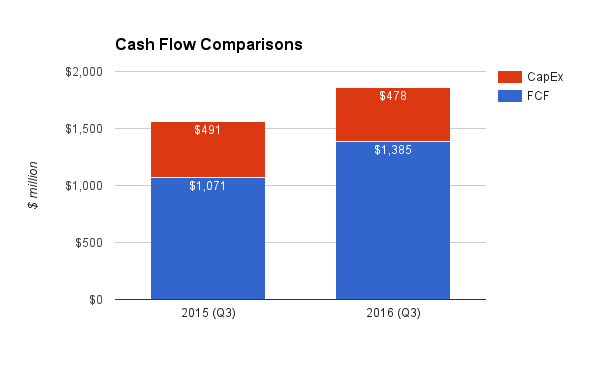 This is exactly what I want to be seeing. For an already highly cash-generative business like General Mills to be able to pump up its cash flow to such an extent is highly enticing to me.
Yet this is not all. True to its word, the Green Giant sale has led to continued debt reduction, softening the impact of the Annie's acquisition: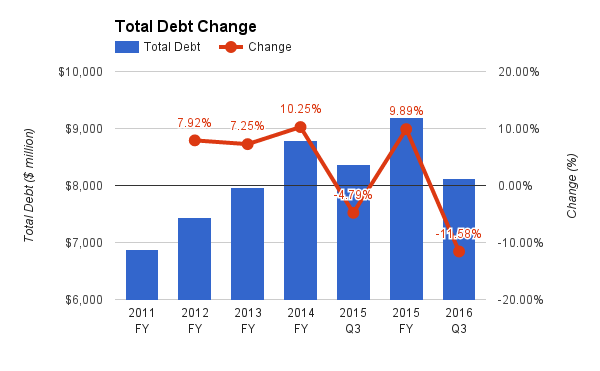 Stronger cash flow combined with lower debt levels means that General Mills looks set to overcome one of my concerns voiced earlier: low FCF coverage of its debt. This is good.
Yet it also means that General Mills could impress me on my other "core" cash flow metric: CROIC (cash return on invested capital).
This is how much FCF the company generates on its invested capital (sum of total debt and shareholders' equity). General Mills was already a solid performer. Yet Q3 results suggest it could look pretty spectacular come year-end: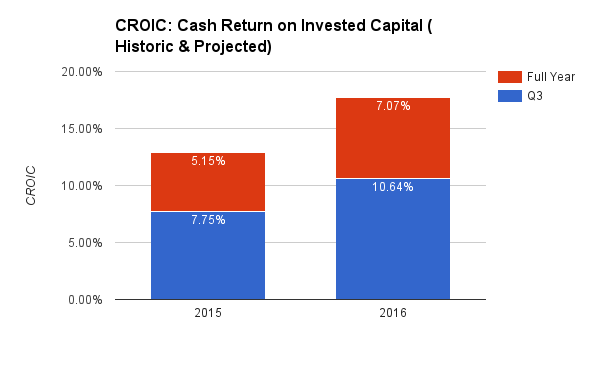 As it happens, I do not expect the Q4 to contribute quite such a high proportion to full year CROIC as it did in 2015. Yet I would expect to see its CROIC lift into the 15% rather than the 17% mark. If correct, this would see General Mills back up to its highest level in the last five years: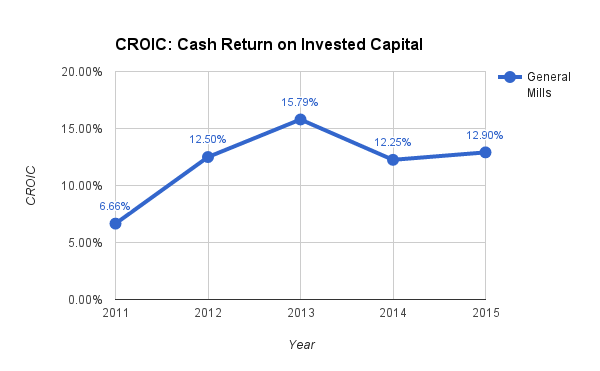 General Mills is therefore making incredibly robust moves operationally. Income and cash flow are seeing generous performance boosts showing that the company, despite challenging consumer trends, is still a remarkably slick operation.
Cereal Killer Contained?
General Mills' response to these changing consumer trends are also (finally) looking like it is finally bearing fruit. The reality is that consumer trends had shifted quicker than General Mills had been able to deal with them. Kellogg (NYSE:K) and other food peers have struggled with similar issues.
Yet signs are that changes are feeding through and making an impression. Cereals is, perhaps, particularly indicative of this. General Mills held a 31% US market share in ready to eat cereals in 2014: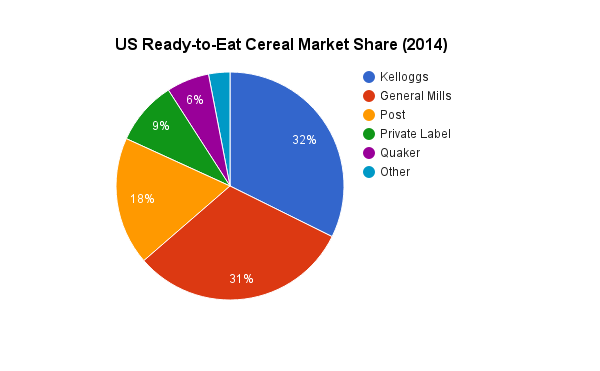 Wrapped up in this market share is a series of dominant brands. In particular, Cheerios and Cinnamon Toast Crunch: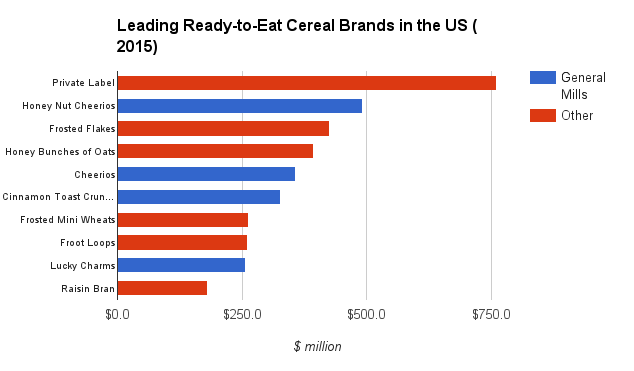 Recently both brands have seen worryingly consistent revenue declines. Yet General Mills' "Consumer First" renovation program appears to have started the process of ensuring these brands are appealing for today's consumers. Last year the renovation focus was placed on Cinnamon Toast Crunch which saw an 8% revenue growth. This year, the brand saw a further 8% growth.
US retail Chief Operating Officer, Jeff Harmening, was also able to point out that fresh "renovation" target Cheerios has seen encouraging signs already:
Our product renovation initiatives are working in our cereal business. Retail sales of gluten-free Cheerios varieties are up 2% since we launched, after declining high single digits last year.
Nor is this progress limited to the big brands. Supporting brands are seeing similarly encouraging changes:
As of January, 75% of our cereals, no longer include artificial flavors and colors. The seven cereals that received recipe changes in January have posted 6% retail sales growth, since launch, after posting a 6% decline, last year.
This is precisely what we want to be seeing. This rather reminds me of comments on the Annie's acquisition in 2014. Some wondered whether it was a case of Annie's selling out of its organic, natural past or General Mills buying into a more organic, natural future. I think General Mills is providing evidence that it is very much the latter, which is excellent to see.
Conclusion
I am really encouraged by General Mills' Q3 results. Progress is certainly being made. Reported results are still looking a little lackluster. Yet the underlying business is clearly making progress. It is becoming leaner, more efficient and more consumer-relevant with each quarter. Currency headwinds continue to trouble the business (as with so many others). Yet international business is clearly still a lucrative long-term growth story. Currency headwinds will also soften in time, allowing the underlying progress being made to start to shine through.
General Mills is making stronger progress in adapting to consumer trends than some of its peers. I can't help but think that for long-term income investors, this may be an attractive time to build up a position in General Mills. Dividend-wise it remains a peer-leading income option based on FY2015 figures: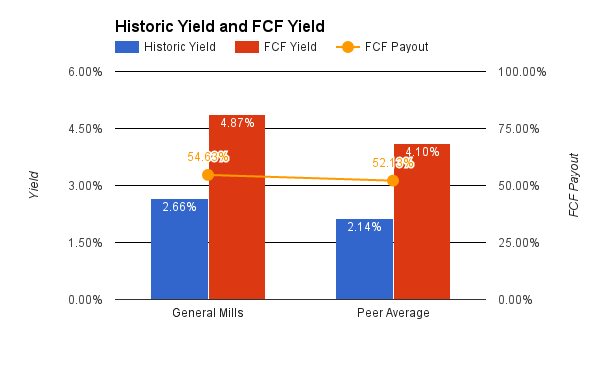 Since then, FY2016 results have been strong. Cash flow performance suggests that FY2016 could see FCF above the $1.8 billion put together in 2015. The FCF yield could well come in noticeably higher than the 4.87% experienced in 2015. With share buybacks expected to reduce share count further as well, this will bolster FCF yield further. General Mills has also hiked the dividend a further 4.5% recently, boosting what was already a generous yield from a strong business.
Revenue growth is what is needed over the medium term. Yet in the short-term efficiency improvements and portfolio adjustments and "renovations" are to be welcomed. Such activities cannot support the long-term future for the business. Yet General Mills seems to be making some strong moves to adapt and become more relevant to changing consumer habits. With this I would expect to see revenue growth return.
At $63, General Mills is hardly cheap. Indeed, it is currently sitting noticeably above my fair value price. This I ascertain by taking the predicted consensus EPS figures for the next two years and averaging them. I then multiply this by the five-year average P/E.
General Mills has averaged a P/E of 19.4 over the last five years. Using this provides a basic fair value of $57.21 Adjusting for cash held on its books would provide a cash-adjusted fair value of $57.77.
For me, therefore, anything below $58 would tempt me to build up a good-sized position. Overall, though, General Mills has started to really catch my attention. Its progress has been stronger than I had anticipated with good potential for further positive revisions to earnings, revenue and cash flow performance. As such, I would be happy to start dripping into a position anywhere below $60.
I'll admit it, General Mills has certainly made me a little more bullish on its stock. Now I just have to wait for an attractive entry point.
Notes
Unless otherwise stated, all graphs and tables and the calculations contained within them were created by the author. Creative Commons image reproduced from Flickr user jeepersmedia.
Disclosure: I/we have no positions in any stocks mentioned, and no plans to initiate any positions within the next 72 hours.
I wrote this article myself, and it expresses my own opinions. I am not receiving compensation for it (other than from Seeking Alpha). I have no business relationship with any company whose stock is mentioned in this article.