Elevator Pitch
Privately held Midwest BankCentre Plans to Acquire Bremen Bank (OTCPK:BBIM) for an undisclosed sum 100% in cash. The Merger is subject to the approvals of state and federal bank regulators as well as Bremen Bank stockholders. BBIM still trades under book. Even book value would be a low Price.
Multiples of last acquisition by Midwest BankCentre
Midwest completed another bank acquisition of Southern Commercial Bank in April 2015 successfully and already had the intention to do further acquisitions in their region. In the letters from the chairman, he spoke of the many advantages of such consolidation (1, 2).
Data is from FDIC.gov. FDIC data has its limitations:
Financial data for bank holding companies represent the summation of FFIEC Call Reports or OTS Thrift Financial Reports (TFR) filed by all FDIC-insured bank and thrift subsidiaries held by a bank holding company, and do not reflect nondeposit subsidiaries or parent companies.
Although the purchase consideration of 74.5m was not just in cash but also stock, it is a good indication of what Midwest BankCentre might be willing to pay.
Midwest BankCentre paid 1.21 of book value, 0.17 of deposits and about 17 times net income for a bank doing approximately an ROA of 0.9% and ROE of 7.3%.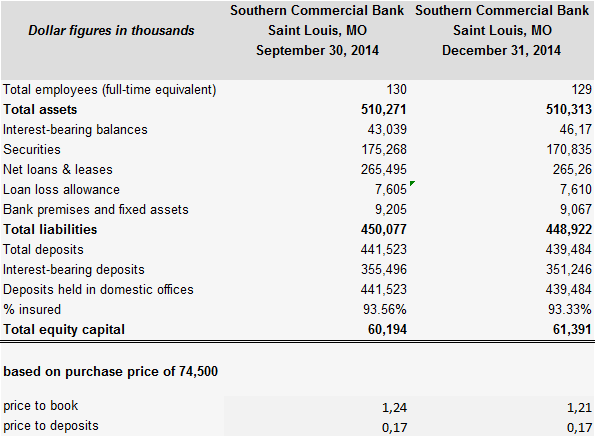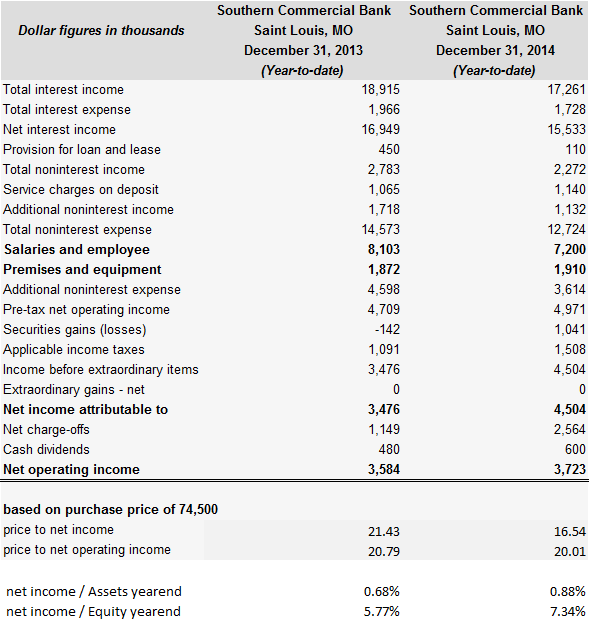 Valuation of Bremen Bank
The number of shares outstanding is from otcmarkets.com and dated 2004. Unfortunately, I could not find a better source. Based on the FDIC data, there was no capital increase after 2004 for the banking subsidiary. Nevertheless, one cannot be 100% sure of the holding company and the accuracy of the otcmarkets.com data.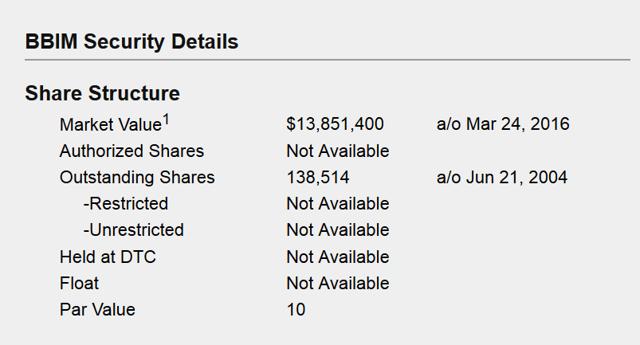 Click to enlarge
Based on the FDIC data for Bremen Bank, we can come up with a range of probable acquisition prices.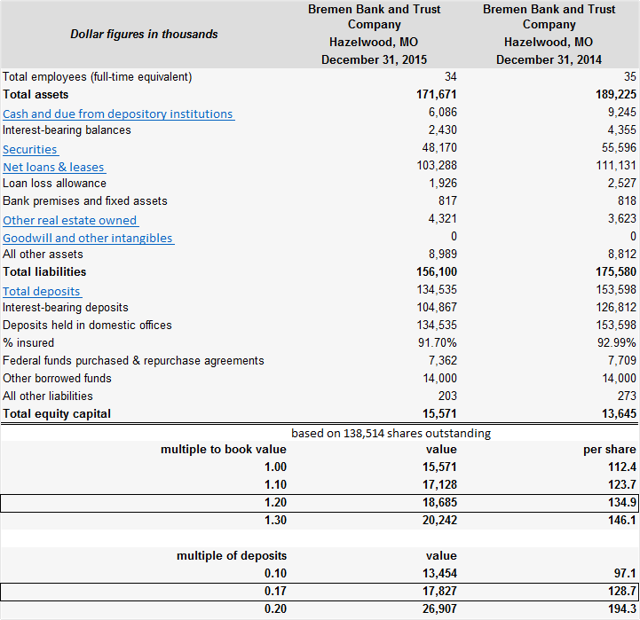 Click to enlarge
Based on the balance sheet and similar multiples than for the Southern Commercial acquisition, a price of $130 per share looks reasonable.
The income statement of Bremen Bank is volatile. The results for 2015 were much better than 2014. Based on 2015, both ROE and ROA are relatively high for a bank of this size and higher than they were for Southern Commercial.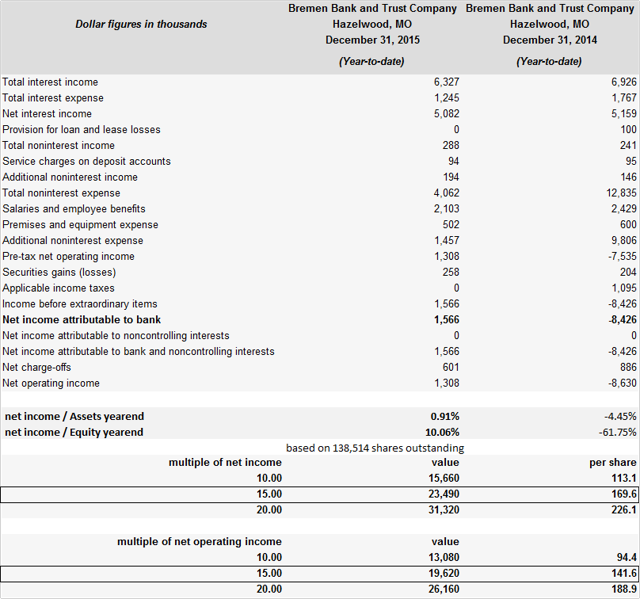 Click to enlarge
I am not sure 2015 was a normal year and if 2014 was abnormally low or whether the truth lies in the middle. The income statement for 2015 fully supports an acquisition price north of $130. The numbers are before expected synergies. I am quite sure Midwest could pay more than $130 and still have a beneficial acquisition.
Reason for low price
The market cap of Bremen Bancorp is very low at under $14m. Additionally, the trading volume is low with an average volume for the last 30 days of 101. Bremen Bancorp neither files with the SEC; posts financials on OTC Markets; nor does it report on its website.
Conclusion
Even though no concrete price was mentioned, I believe the acquisition price should be above $130 per share with one-time book value or $112 per share being the floor. The shares are trading with a big spread with the ask below book value. This is very cheap. It is very likely that the acquisition will go through and the final cash acquisition price be higher than the current ask.
Disclosure: I/we have no positions in any stocks mentioned, but may initiate a long position in BBIM over the next 72 hours.
I wrote this article myself, and it expresses my own opinions. I am not receiving compensation for it (other than from Seeking Alpha). I have no business relationship with any company whose stock is mentioned in this article.
Editor's Note: This article covers one or more stocks trading at less than $1 per share and/or with less than a $100 million market cap. Please be aware of the risks associated with these stocks.