Introduction
As an investment manager, I prefer to invest in individual bonds-especially when it comes to high yield. I like being able to do my own research on the business, the fixed maturity date, and the potential for outsized gains when the market is wrong. For example, I wrote about these Fortescue bonds about 8 months ago when they were in the low $70s. I recently sold most of my client's holdings for $97.
I have not been involved in high yield bond funds for quite a while. The minimal spread over treasuries a few years ago was ridiculous and signaled the peak in the broader high yield market. However, after the recent pounding the asset class has taken, I became interested. I also have some client situations where a high yield fund is more expedient than individual bonds.
It is important for investors to understand that the high yield universe has had a strong correlation to the energy sector over the last few years. As oil prices and shares of energy companies have fallen, high yield spreads over treasuries have widened, as the following chart demonstrates: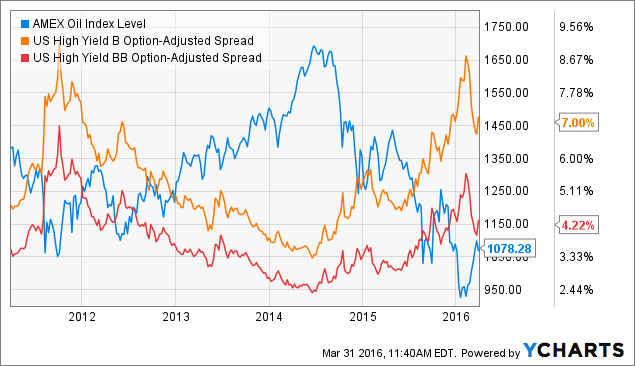 I suspect that the market may have treated some funds with much less exposure to energy unfairly. There are still a lot of high yield funds for me not to like, but after some research I found one in particular that I think is attractive at present.
My High Yield Recipe
The specific ingredients that I am currently looking for in a high yield fund are as follows:
Holdings primarily focused on the U.S. domestic economy.
Minimal exposure to the energy sector.
A higher concentration of BB rated holdings versus B and minimal, if any, C rated holdings.
Closed-end fund trading at a discount with minimal leverage.
Strong performance over the last year that reveals that the fund has had little exposure to the energy sector and that the fund's managers wisely avoided the U.S. shale debacle.
I chose these attributes based on my broad market thesis for the next year and a half that expects:
Continued slow growth with the U.S. maintaining the lead in the developed world.
More bankruptcies and restructuring coming to the weaker players in the U.S. energy sector but not being a systemic issue to the broader U.S. economy.
Any recession in the U.S. is still at least a year away; credit defaults could start to rise, but slowly for now, because interest rates remain low.
I think we have a window of opportunity here for a year or so to make some decent returns owning the right high yield fund. If an investor can capture a 7% to 9% yield, plus 3% to 4% in price appreciation, that equates to a potential return of 10% to 13%. This compares very well with the U.S. stock market. Assuming a 2% dividend yield, the S&P 500 would have to rise to the 2,230 to 2,292 range to generate the same level of return.
As mentioned, I would prefer to own a closed-end fund at a discount. This is because I suspect there are some that have been unfairly beaten down by the broader high yield decline. For reference, the following chart shows how two popular high yield ETFs-the SPDR Barclays High Yield Bond ETF (NYSEARCA:JNK) and the iShares iBoxx $ High Yield Corp Bond ETF (NYSEARCA:HYG)-have fared over the last five years: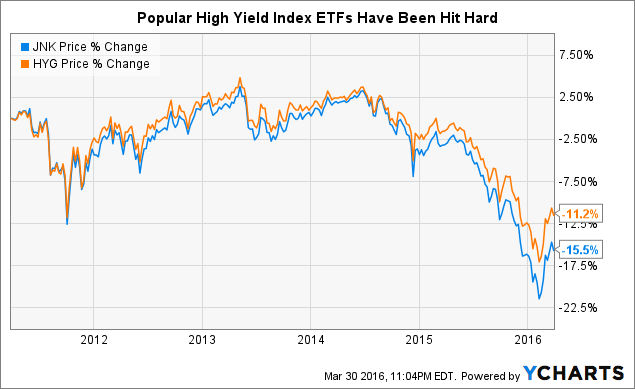 The other advantage of owning a closed-end fund is that if there is another brief panic in the high yield market, the manager does not have to sell securities at steep discounts to meet client redemptions. The closed-end structure is a better option for investors to ride it out.
Closed-End Fund Screen
Morningstar's CEF Quickrank feature is a great way to screen closed-end funds. I used it to pull up the universe of high yield closed-end funds. (If you click the "Expand" button in the upper right it also shows you the performance for the funds.) After some playing around with ranking different attributes (e.g., discount and leverage), I decided to use the Trailing Total NAV Return as the initial driver for my screen. As mentioned, I wanted a fund that has done particularly well over the last 12 months, probably because it avoided the energy sector. The first domestic focused fund trading at a nice discount was (and still is) the Prudential Short Duration High Yield Fund (NYSE:ISD). The fund's 27% leverage is higher than what I wanted, but I decided to compromise here because I am not concerned about a dramatic increase in interest rates anytime soon (i.e., next two years). Given that the fund is a "short duration" high yield fund, its leveraged adjusted duration of 2.7 (as of February 29, 2016) was also an added bonus, since I would prefer to have the lowest duration possible while still clinging to the higher yield.
The good news is I also came to find out that Prudential offers a "sister" open-ended fund that essentially holds the same portfolio. This fund is the Prudential Short Duration High Yield Income Fund (MUTF:HYSZX). (The ticker shown here is for the Z share class, which is a no-load, lower fee class exclusively for independent investment advisers that my custodian thankfully offers.) This open-ended fund comes without leverage, however, there is no discount to NAV. It is generally a better option for more conservative investors. Like its closed-end sister, it also has been a strong performer over the last twelve months. Its 1.27% return over this period is higher than the more than 500 purely high-yield funds with low initial minimums on Scottrade's mutual fund screener.
For the remainder of this article, please assume the closed-end ISD fund is being discussed, since it is my preferred option.
Weighing the Yield Versus The Fund Holdings
ISD has been paying out a monthly dividend out of income of $.11 for 9 months straight. Assuming this level continues, we are looking at a distribution yield of 8.6% at the current price. The fund is leveraged by 27%, but this still represents a very strong yield for a fund with a duration of 2.7 years. Assessing and understanding the credit risk of the fund's holdings is essential. Let us start at the highest level and work our way down a bit.
The credit quality of ISD's holdings, as of February 29, 2016, were as follows (debt related below BBB is considered high-yield):
BBB - 5%
BB - 50.3%
B - 39%
CCC - 5.7%
I like the fact that the fund has a higher concentration of debt in the BB category, as opposed to B. With only 6% of the fund's holdings rated CCC, it also has less exposure to the highest risk debt. For a comparison of how the fund compares to some of its peers, here is the current credit quality breakdown of some of the largest high yield funds on the market:
| | SPDR Barclays High Yield Bond ETF | iShares iBoxx $ High Yield Corporate Bond ETF | American Funds American High-Income Trust - A (MUTF:AHITX) | Vanguard High-Yield Corporate Fund - Investor (MUTF:VWEHX) |
| --- | --- | --- | --- | --- |
| A+ | 0% | 0% | 9% | 4% |
| BBB | 1% | 1% | 4% | 5% |
| BB | 42% | 50% | 22% | 47% |
| B | 41% | 38% | 32% | 36% |
| CCC | 16% | 11% | 30% | 6% |
| Not Rated | 0% | 0% | 2% | 2% |
The two ETFs listed in this table tend to track various indexes, so their holdings also provide insight into the credit quality breakdown of various high yield indexes. ISD has a slightly more conservative credit exposure than these ETFs and is considerably more conservative than the American High-Income Trust. It's credit quality is a close match to the Vanguard High-Yield Corporate Fund. Incidentally, the American High-Income Trust has about $15 billion in assets. It is down by about 11% over the last year and with 30% of the fund in CCC rated debt looks poised for more pain in the near future.
So far so good for ISD. From a credit quality standpoint, it is positioned a bit more conservatively than the broader high yield universe, which is exactly what I wanted.
Prudential does a good job on their website of providing information on the fund's holdings. Importantly, they also show the 10 industries that ISD has the most exposure to. Here is the breakdown:
Building Materials & Construction - 10%
Healthcare & Pharmaceuticals - 10%
Cable - 9%
Technology - 9%
Gaming - 8%
Foods - 6%
Capital Goods - 6%
Telecom - 6%
Media & Entertainment - 6%
Packaging - 4%
This breakdown reveals that the fund has minimal exposure to the energy industry, which was also one of my initial qualifiers. Digging through the detailed holdings also reveals that the fund's holdings are generally tied to the U.S. domestic economy, which was another one of my initial qualifiers. I like the fact that a lot of the fund's holdings are tied to more staples oriented U.S. industries such as healthcare, cable, foods, and telecom. Since I am also bullish on U.S. homebuilders, I especially like the fact that the fund's largest industry exposure is Building Materials & Construction. Furthermore, almost 2% of the fund is in the debt of Beazer Homes (NYSE:BZH). Beazer was my entry for the Seeking Alpha top long idea for 2016. I think the shares are significantly undervalued and its debt will continue to experience ratings upgrades in the coming years as the business fundamentals improve. (I also hold Beazer debt is some client portfolios). The fund also holds the debt of KB Home (NYSE:KBH), Lennar (NYSE:LEN), and William Lyon Homes (NYSE:WLH).
Strategic Conclusion
ISD is trading at a significant discount to NAV of almost 8%. Based on my research, I think the fund has been unfairly punished by the market. It generated a positive return over the last year during a tumultuous environment for high yield and has wisely avoided the energy sector. Very few high yield funds were able to do this. Just a few years ago, the fund was trading at a premium.
At the current price, I think ISD presents investors with the opportunity to earn outsized returns over the next twelve months and more so in the near term as risk assets continue to rebound. The fund has three avenues to earn returns: (1) a continued rebound in the broader high yield sector, (2) a decrease in the fund's discount to NAV, and (3) monthly dividend income. Given the quality of this fund, investors could conceivably earn a return in the 15% to 20% range over the next six to twelve months. A 5% increase in the fund's NAV from a broader high yield rebound, a 4% decrease in the fund's discount to NAV (which means the price increases by 4%), and an 8% dividend yield gets you into the middle of that range.
I'm not concerned about the fund's leverage as I expect interest rates to remain low for at least a couple more years. A significantly higher increase in interest rates in the near term would signal economic strength and benefit the high yield sector. Furthermore, the fund's duration is low, which gives it an added advantage in such an environment.
I would compare the level of risk in high yield debt to that of large capitalization U.S. stocks. Given this, I think ISD presents an opportunity to outperform equities, while taking on a similar level of risk. I hold this fund in some client portfolios and will likely continue to add to positions in the near term.
Promoting Quality Discussion
In order to promote quality discussion about the topics I address in my Seeking Alpha articles, I have decided to give away a free copy of my book, The Truth On Investing: From The Darkness Of The Crowd To The Light, to the individual who provides what I think is the most thoughtful comment on the article. This can also be a quality view that is opposed to my thesis. I will pick this person about a month after the article is published to allow time for comments. If there are no exceptional comments, then no book will be given out. Thanks for reading and hopefully contributing to the discussion.
Important Regulatory Disclosure
I am a Registered Investment Advisor in the State of Pennsylvania (U.S.A.). I screen electronic communications from prospective clients in other states to ensure that I do not communicate directly with any prospect in another state where I have not met the registration requirements or do not have an applicable exemption.
Any investment advice or recommendations involving securities referenced in this article is general in nature and geared towards a readership of sophisticated investors. This article does not involve an attempt to effect transactions in a specific security nor constitute specific investment advice to any particular individual. It does not take into the account the specific financial situation, investment objectives, or particular needs of any specific person who may read this article. Individual investors are encouraged to independently evaluate specific investments and consult a licensed professional before making any investment decisions.
Positive comments made regarding this article should not be construed by readers to be an endorsement of my abilities to act as an investment adviser.
Disclosure: I/we have no positions in any stocks mentioned, and no plans to initiate any positions within the next 72 hours.
I wrote this article myself, and it expresses my own opinions. I am not receiving compensation for it (other than from Seeking Alpha). I have no business relationship with any company whose stock is mentioned in this article.
Additional disclosure: I personally do not hold ISD or HYSZX, but it is a holding in some of my client's portfolios. I reserve the right to buy or sell these funds at anytime, possibly for reasons unrelated to this article.