General Motors (NYSE:GM) has set sights on producing more than 9.8 million vehicles in 2016 and exceeding the record it set in 2015. From the fundamental baseline, GM is strong and growing stronger. Its core business dynamics are excellent. The price to earnings ratio is a reasonable 5.25, and experts have rated the stock as a buy for 2016. In addition, we believe the stock merits a deeper look for SA readers.
The Core and Risks
GM's core business is building vehicles for public transit, commercial uses, and private automobile ownership. Threats to GM's future do come from alternatives to car ownership as ride share technologies like Uber gain traction. Another market development to watch is autonomous driver technology, which could result in cars delivered to a customer's door for temporary usage. GM addresses these issues head-on below.
The China Factor
GM has a bold plan for China, which holds vast potential for sales and luxury car ownership. The company plans to roll out as many as 60 new models before 2020 and bring all of its major brands fully into the China markets. GM will spend a lot of development resources on technology that connects the vehicle to the Internet and other systems. They will also develop products aimed at the unique and crowded conditions of China's roads, such as collision avoidance and autonomous operation features. Foremost, the company will add Green vehicles to combat the growing concern in China about automobiles and air pollution.
Pollution As An Added Driver
In China, vehicles contribute to massive air pollution in large cities, including the capital region. The situation has caused closures for health hazards. In a new anti-pollution business environment, GM's work with electric and hybrid vehicles could continue to reap competitive benefits. The Chinese government offers exceptional incentives for the purchase of electric and other non-polluting vehicles.
The Lyft Factor
GM has an investment position in Lyft, which could translate into dominant ownership. Lyft has shown growth and signs of continuing growth. Lyft is an alternative to car ownership, and GM could capitalize as the supplier of the vehicle fleets. While Lyft may discourage car ownership, it encourages vehicle usage among an active consumer group.
Favorable Comparison With Competitors
The Company earned a record $9.7 billion in 2015 or $5.91 per share. This was up 246% from 2014, which saw $2.8 billion in earnings and $1.65 per share. GM's earnings per share stands out as superior to competitors and the industry average of 9.3. This commends the stock's buy recommendations, including from UBS and Credit Suisse analysts, in the past twelve months.
Conclusion: Buying Opportunity
For the past year, the stock showed high of about $38 and low at approximately $24. In recent months, the stock has hovered in the area of $30 per share; it is an excellent choice for a buy in 2016.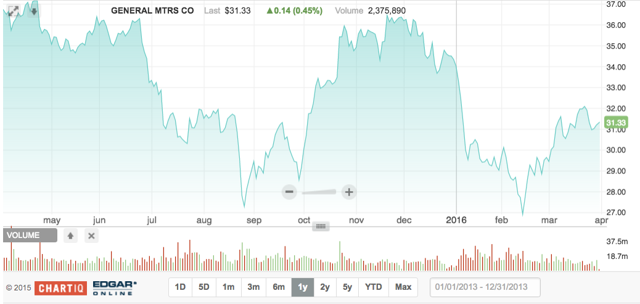 Click to enlarge
(Nasdaq.com)
The price is quite favorable to earnings, and as events in the world continue to depress gasoline prices, and governments increase support for nonpolluting vehicles, GM could enjoy tremendous growth in China, India, and US markets.
Disclosure: I/we have no positions in any stocks mentioned, and no plans to initiate any positions within the next 72 hours.
I wrote this article myself, and it expresses my own opinions. I am not receiving compensation for it (other than from Seeking Alpha). I have no business relationship with any company whose stock is mentioned in this article.