With the crude oil recovery gaining momentum, shares of BP (NYSE:BP) have started moving up of late. In March, BP gained close to 6% on the market, which can be considered as a turnaround of sorts as the stock had been beaten down in the first two months of the year. Now, as I had pointed out earlier this month, driven by increasing energy demand and its focus on profitable production areas, BP looks set to do well from a long-term perspective.
But, apart from a recovery in the end market, BP will also benefit from the fact that it has slashed its expenses tremendously, which will allow the company to improve its margin profile. As such, in this article, we will take a closer look at the cost reduction efforts undertaken by BP in the past year that place it in an advantageous position going forward to benefit from the oil price recovery.
Aligning the business as per a weak pricing environment is a good move
Given the weakness in the oil pricing environment, BP had decided to align its activity and cost levels as per the prevailing prices. For instance, BP made significant cuts to its workforce and agency contractor base, achieving reductions of 11% and 48%, respectively, as compared to levels seen in 2013. In fact, even this year, the company plans to reduce its workforce by around 4,000 people to further decrease the cost base.
Moreover, apart from these efforts, BP has also undertaken sustainable cost reduction moves. For instance, the company has negotiated with its suppliers and contractors and this has allowed it to reduce the spending on third-party contracts by 15% in the past year. As a result of such cost containment moves, BP has been able to reduce unit production costs in excess of 20% in the past two years, allowing it to achieve the lowest production costs in the industry on a per barrel basis. This is shown in the chart given below: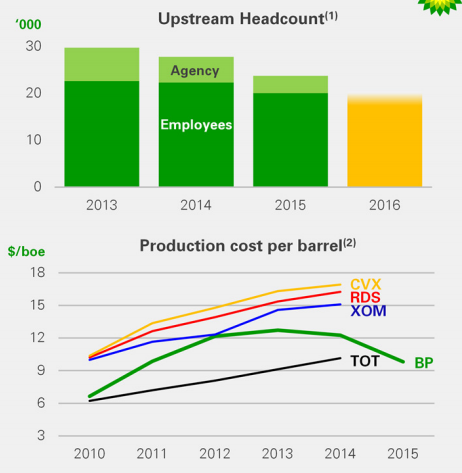 Source: BP
In the future, BP will see a further decline in its cost base since it will be negotiating further reductions in costs with the third-party suppliers. The company will do this by putting up 40% of its third-party contracts up for another round of bidding, and also renegotiating contracts for 60% of its well spending. Therefore, BP is making all the right moves as far as reducing costs are concerned and this will help the company do better in a stronger oil pricing scenario.
Downstream is another source of strength
BP's downstream segment is performing impressively. For instance, last year, the company's fuels, lubricants, and petrochemicals businesses grew approximately 84%, 8%, and 166%, respectively, over 2014. In fact, its downstream business posted a replacement cost of profit of a record $7.5 billion for the year. Now, this growth in the downstream segment is not going to be short-lived since demand for downstream products is anticipated to rise in the coming years. This is shown in the chart below: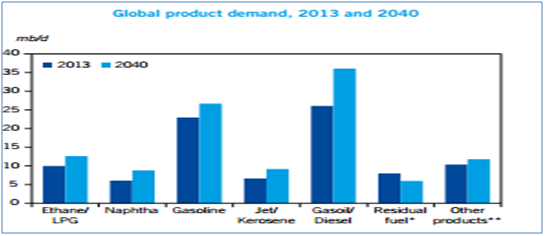 What's more important apart from the opportunity in the downstream business is the fact that BP is targeting this market along with efficiency improvements. In fact, for the current year, the company has decided that it will increase cost savings to $2.5 billion as opposed to last year's savings of $1.6 billion. The company will achieve these savings by simplifying its downstream business.
For example, in the fuels segment, BP has reduced the number of business segments to three from nine, thereby allowing it to achieve consolidation by reducing costs and increasing efficiency. As a result of such consolidation moves, BP will reduce its headcount in the downstream by 5,000 employees until 2017 as compared to 2014 levels. Now, last year, the company had already removed 2,000 roles from this segment, which means that a majority of the layoffs are still to come.
Also, BP is focused on divesting non-core assets in the downstream segment and will instead enhance production from more profitable assets. As a result, the company was able to increase its earnings in the fuels marketing business by 11% and lubricants earnings by 20%. Thus, even in the downstream business, BP is making the right moves of improving efficiency and tapping the end-market opportunity smartly.
Conclusion
BP's moves to improve the downstream business and improve efficiency across the board will come in handy as oil prices get better. So, the momentum that BP has gained this year looks sustainable going forward, making the stock a good stock to hold on to.
Disclosure: I/we have no positions in any stocks mentioned, and no plans to initiate any positions within the next 72 hours.
I wrote this article myself, and it expresses my own opinions. I am not receiving compensation for it (other than from Seeking Alpha). I have no business relationship with any company whose stock is mentioned in this article.