Nvidia (NASDAQ:NVDA) is up 45% from its February lows, fueled by positive earnings, strong guidance and virtual reality hype, among other factors. However, my analysis has shown further upside with limited long-term downside risk.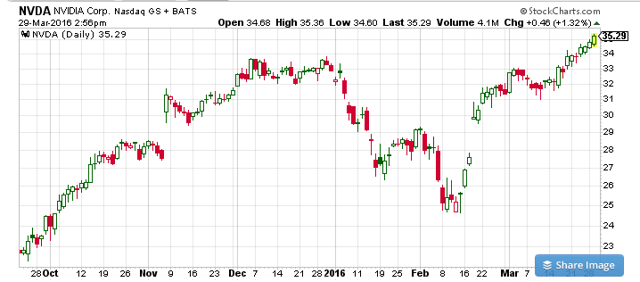 Click to enlarge
Upper-Level Financials and Corporate Structure
Share price: $35.74
Market capitalization: $18.69 billion
Price-to-earnings ratio: 32.48
Debt-to-equity ratio: 31.23%
Current ratio: 2.57
Quick ratio: 2.40
As a first step, high-level valuation metrics and liquidity ratios are examined. From this perspective, Nvidia is in excellent financial health with a debt-to-equity ratio close to 30% and liquidity ratios in the 2.5 range.
Additionally, Nvidia boasts an esteemed board of directors whom remain heavily engaged in promoting strong corporate governance, driving growth, ensuring future sustainability and pursuing maximum shareholder value. These goals are achieved through a number of initiatives ranging from ongoing board evaluations to stock-performance based compensation.
Business Segments
Nvidia is comprised of three business areas: GPU, Tegra and Other.
GPU Business
The GPU business unit is comprised of GeForce for PC gaming, Quadro for design professionals, Tesla for deep learning and GRID for cloud and datacenter based services.
GPU growth is heavily driven by a 30% y-o-y increase in GeForce GPU products for gaming.
Demand for Tesla GPUs for datacenters increased, driven by strong demand from cloud service providers.
Quadro GPUs for professional visualization saw sales decrease due to a weakness in the overall workstation market.
There remains a huge opportunity in the GPU business regarding virtual reality and automation.
I forecast double-digit short-term y-o-y growth from the GeForce GPU segment which is heavily driven by Nvidia's dominance in the gaming market and leverage over numerous looming gaming opportunities. There also exists large potential upside related to virtual reality applications coming online. Its remaining GPU brands (Tesla, Quadro and GRID) are forecasted more conservatively with single-digit revenue growth in the coming years.
Tegra Processors Business
The Tegra business unit is comprised of Tegra processors, DRIVE automotive computers and SHIELD devices designed to harness the power of the mobile-cloud for gaming.
This business unit saw an overall revenue decrease of 3.5% driven by a decline in Tegra products for OEM smartphones and tablets by almost 90%. However, this was offset by an increase in automotive systems sales of 75%.
DRIVE is an automotive based computing platform providing the largest opportunity within Nvidia's Tegra business. These products are currently installed in over 10 million cars on the road today with growth on the horizon.
SHIELD is found in tablets and portable devices to be used for mobile gaming. This is the most conservative product line where I see potential sales shrinkage as the market demand for mobile devices slows.
I am fairly conservative on the overall Tegra business unit. However, there is still potential upside pending automotive and autonomous applications. This may be partially negated by reduced sales in the tablet and mobile areas. Overall, I estimate mid-single-digit sales growth over the coming years.
Other Business
The Other business solely represents a licensing agreement with Intel (NASDAQ:INTC) from January 2011. The final payment was received in January 2016 and will be recognized through FY18 Q1. I'm conservatively assuming that this revenue stream will not be replaced once it is fully recognized. I go into more detail on the Intel licensing agreement in a future section.
Major Opportunities
As a global leader in visual computing, Nvidia sees vast opportunity on the horizon - eSports and gaming growth, virtual/augmented reality, autonomous automobiles and deep learning applications, to name a few.
Nvidias GeForce is currently a $2 billion-plus business that commands 80% of its market with over 70 million users. Leveraging synergy between its gaming hardware and cloud/mobile architecture, Nvidia has the unique opportunity to expand this gaming dominance into the mobile-cloud space. Pivoting further, Nvidia plans to expand into the eSports market - a global entertainment industry representing 80 million players and 130 million spectators which has doubled in size over the past three years. Nvidia values these gaming opportunities at $20 billion.
Additionally, Nvidia seeks more market share in the automotive industry which is in the process of making one of its largest transformations to date - the implementation of autonomous driving capability. These platforms command extreme processing capacity and powerful GPUs, which happen to be Nvidia's forte. Nvidia estimates that the car computing market represents an $8 billion opportunity ranging from "next-gen digital cockpits to the wide spectrum of autonomous driving."
A final interesting opportunity on Nvidia's doorstep includes deep learning, data mining and various data science applications. Nvidia's Tesla brand is seeing increasing demand from both corporate and federal entities. Tesla GPUs are used to power top super-computers, the CUDA programming model has been downloaded over 3.5M times with the support of 600M+ CUDA GPUs, and the U.S. Department of Energy has selected Nivida to power their next-gen supercomputers. Nvidia estimates these opportunities to be in the $5 billion range.
Challenges and Risks
These opportunities come with risk factors ranging from increasing competition to potential supply-chain and manufacturing issues. While Nvidia has strategically hedged against the most material of risks, threats and uncertainty still loom.
Advanced Micro Devices (NASDAQ:AMD) is one of Nvidia's primary competitors. In fact, there are strong rumors suggesting that Intel will enter a GPU-based licensing agreement with AMD in the near future. This would be in lieu of the current $264 million annual licensing plan Intel has in place with Nvidia. I have conservatively assumed that Nvidia will not retain this licensing revenue within my model.
However, the true risk portrayed relates to potential future growth and market share gained by AMD as a result of both the financial and relational benefits of the agreement. The high margin characteristics of licensing revenues would allow AMD to apply the majority of this cash flow toward correcting their capital structure, thus leading to a more effective business. This could, for instance, pave the way for AMD to become a larger player in the GPU space, detracting from Nvidia's market share. Though it is rather difficult to accurately project the exact ramifications of this licensing deal on Nvidia, we can assume that it would reduce terminal growth estimations while increasing associated cost of equity.
Another risk I wish to note relates to Nvidia's supply chain and manufacturing process. Nvidia utilizes fabless manufacturing whereby employing "world-class suppliers for all phases of the manufacturing process." This includes the manufacture of wafer fabrication, assembly, testing and packaging. On one hand, this allows Nvidia to avoid the costs and risks associated with managing an extensive manufacturing operation. However, it also poses certain business threats.
In the past for Nvidia, de-linkage of the manufacturing process has led to delays in the introduction of products and enhancements. Missing a design cycle or losing certain design wins due to one of these setbacks could be incredibly harmful for Nvidia during this phase of rapid market change and expansion. Regardless, outsourcing this process is a trade-off that Nvidia has chosen to take and is thus accounted for within the cost of equity by placing more uncertainty on future cash flows.
While there are certainly other risks present, I believe these to be to be the most imminent. Investors should keep a close eye on AMD activity and the health of Nvidia's supply chain - unfortunate circumstances on either of these ends could lead to a less than ideal business atmosphere.
Forecasting Free-Cash-Flows-to-Equity (FCFE)
My cash flow of choice is FCFE which is constructed via revenue/expense modeling and balance sheet trend analysis while taking a number of aforementioned assumptions into account. I calculate FCFE as net income - change in working capital - net capex + net new debt. The forecast was extended through the end of FY26 coinciding with January 2026.
DCF Sensitivity Analysis
As can be seen in the following cost of equity/terminal growth sensitivity analysis, there is quite a bit of potential upside (toward the $45-50 range) with limited downside risk (toward the $30 range).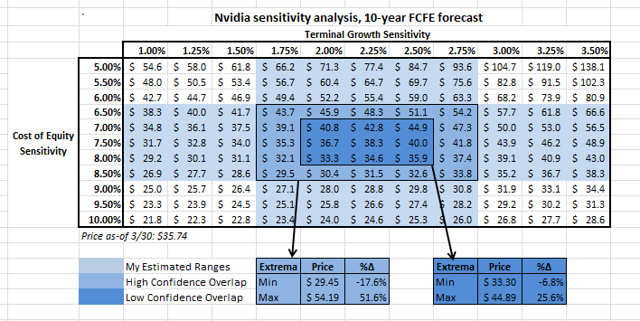 Click to enlarge
Conclusion
The gaming and visual computing markets are in a booming phase of high growth and change representing opportunities for which Nvidia is extremely well positioned. While certain risks are present, Nvidia has done a fine job in hedging against any major setbacks.
I see Nvidia as a solid fundamental investment choice while also being a potential high growth play as gaming continues to grow and virtual reality, deep learning and automotive applications begin coming online.
Disclosure: I/we have no positions in any stocks mentioned, but may initiate a long position in NVDA over the next 72 hours.
I wrote this article myself, and it expresses my own opinions. I am not receiving compensation for it (other than from Seeking Alpha). I have no business relationship with any company whose stock is mentioned in this article.