Sometimes a stock simply doesn't perform to its performance metrics that seem to point to strong growth. That is the case with Fitbit (NYSE:FIT) shares. For all the bullishness centered on the company's past performance and expectations for 2016, the bear case remains intact and with justifiable reason, as I will further explain. Prior to this explanation investors would be well served if they decided to take a moment and look at what happens to FIT shares on most Monday trading days.
I've attempted to alert investors and readers as to why I don't believe shares of FIT will exhibit any true definition of a short squeeze. The same rhetoric was offered to shareholders of SodaStream (NASDAQ:SODA) during its high-growth days. Ultimately, the bear participation will always weigh on the stock and confine it to a determined price to earnings ratio long term or until the bear thesis is played out. As such, despite constant beats and raises in quarterly performance, shares of FIT will likely underperform the bullish potential that comes with high growth.
That brings us full circle to the Monday trading shortcomings for shares of FIT. Exactly the same as SodaStream products, Fitbit products are tracked by NPD Group. Unlike IDC and other data-tracking firms, NPD acquires their sales data from point-of-sale or direct sell-through to the consumer. Most other firms utilize shipping data and quarterly sell-in sales data. This sell-in data, unfortunately, has little to do with consumer takeaway/sell-through. Institutional investors who participate in the consumer goods space utilize subscriptions to the NPD Group data to better understand the actual sell-through of products intra-quarter. So when investors claim that "nobody knows what sales are" intra quarter, that couldn't be farthest from the truth.
NPD Group disseminates their reports weekly. So investors get a good look at a large sample set of POS data every single week alongside the average selling price (ASP). With analyzing the weekly NPD data alongside other data sets, investors position or reposition their investments in FIT. Based on the greater selling pressure that comes with Monday trading activity, I think investors can draw their own conclusions on what the sell-through results are indicating from NPD. But is that enough to consider and if not why not?
Things to Know About Sales Data Tracking Firms
NPD POS sales data is greatly attributed to Wal-Mart (NYSE:WMT).
More than 50% of the total data comes from the largest retailer around the world.
Sell-through data is just that, sell-through data and doesn't take into account the company's stock valuation at any particular time.
During expansion efforts for a particular product, retailers will compete for sales with each other and the total sales pie will spread out among retailers, possibly lowering the results from existing retailers.
Fitbit has a contract in place with NPD Group to track sales and generate consumer data.
Fitbit references NPD Group sales data frequently.
The bear thesis that is constant and generally proven accurate and profitable long-term with regard to consumer goods is that post market saturation, sell through is impossible to grow beyond sell-in results. A period of declining sales is necessary before exhibiting an ability to hurdle over relatively low-level sales. Determining market saturation is a much more difficult task more closely mirrored in the understanding of a products total addressable market (TAM). Even more problematic is understanding the assumed vs. the true (TAM). When it comes to most gadgets like a SodaStream, a Keurig a Shake Weight, a headset and so on, the assumed TAM is never, ever realized to be the true TAM. I would be willing to suggest that Fitbit will never achieve the TAM offered by many data and analytics firms.
Through my advanced coverage of Fitbit, what I attempt to achieve is a road map for investors to better understand what is and will happen with the stock and possibly the company. Presently, shares of FIT are giving up most all of their recent gains from the prior week. This downturn began... on Monday of course. Bear participation in shares of FIT will likely remain a constant up until market saturation and ultimately sales decline. With the current rate of sales growth deceleration, most significant bear participants are comfortable maintaining short positions for the next two years. And the NPD data will likely bring them a degree a comfort in doing so. Should shares find intermediate appreciation to $20 or even $40 a share, shorts won't likely care all that much. If anything, they will increase their short position. This pattern existed in SodaStream and BlackBerry (NASDAQ:BBRY) during their strong growth periods. Keurig Green Mountain always had a strong short position with what could arguably be deemed a consumer staple product - coffee. In short (no pun intended), I wouldn't expect shorts to go away to any significant degree. The story tends to play out the same with these gadget-like companies that display a singular product line: High growth, moderate growth, slow growth, sales declines and in that order. The story never changes, just the name and product associated with the story. Could the shorts be wrong? Anything is possible, but what is the likelihood I would find a more pertinent understanding? Let's move on from here to the latest analytics from Argus.
I've mentioned that Fitbit has an uphill battle when it comes to user engagement and its retention/attrition rate. With roughly 50% of users abandoning the product after two years and a current attrition rate of roughly 42% (will rise when YOY results are realized and disseminated by Fitbit), the company's products beg for greater usefulness. Clearly, a 50% attrition rate isn't the goal of any company. Essentially eliminating 50% of the TAM is a short road to sales and profitability problems. No consumer goods company with a singular product line has ever been able to show long-term growth with even a 30% attrition rate.
The company is spending more money this year than last year and yet is expecting slower sales growth. The company is hiring more engineers and product support specialists and on the surface this always seems like positive sentiment from management if they are deploying this much capital and obviously expecting strong returns from that capital. But that story didn't play out for Palm Inc., BlackBerry, Keurig Green Mountain or SodaStream or Skullcandy (NASDAQ:SKUL). Case in point: SodaStream began laying the foundation of a brand new manufacturing facility in 2012 based on the demand it was seeing for its products and assumed need for greater manufacturing capacity. SodaStream sales were growing above 35% then. The company spent some $120mm on the new facility that took three years to complete. All this in the face of a 2014-2015 sales and earnings decline. So much for appropriate use of capital and forecasting by SodaStream's management team. Could the same happen to the likes of Fitbit? Could they be spending too much money on the expectation of future growth that may not produce the expected return on the capital spent?
Argus Insights is no stranger to consumer goods and in their most recent "Wearables" report they highlight some of the shortcomings from participants in the wearables category. I've articulated in the past that the data collected by wearables, exists, but the benefits of the data are extremely limited and in short order assist in the abandonment of the product. In the Argus report, the analysts denote that while people appreciate the wearables hardware, the applications leave much to be desired from many manufacturers. (Using 136,000 consumer reviews found on various retailer websites and social media over a four-month span, November 2015 to February 2016, the analytics firm plotted out with which wearable devices users are most and least happy.)
Consumers are far happier with their Wearable Devices than the apps they use to interpret the data they collect, as shown in the chart below. Samsung and Lumo Body Tech see the highest delight ratings for their hardware, while consumers are generally disappointed with Jawbone devices. Despite this discontent with Jawbone bands, consumers prefer the company's app to other popular options. The presence of a gap in delight between hardware and software is not specific to Jawbone, as other companies see higher delight for their devices than their apps. Even when consumers are happy with the device and all the things they can track and monitor with it, consumer satisfaction falls when looking at feedback about the apps people are using to store, track, and interpret this data.

This gap brings up a question wearables manufacturers have been trying to answer for years: how is this information useful? Wearables are aspirational devices, especially when being used for fitness and personal health. They do a wonderful job of collecting data, but without interpretation of this data to inspire action and promote change, the devices become dispensable.
I would tend to agree with the findings of the Argus report but take it a step further to recognize that absent app issues - the data is a very passive variable. It literally requires users to perform additional tasks to retrieve and utilize the data. The amount of behavioral changes necessary to benefit from the wearable device is a barrier to long-term growth for the category. In general, if a consumer doesn't change their habits within a 30-day period they never will. Let's look at what else the Argus report had to offer.
While consumers enjoy using wearable apps in their quest to reach personal health goals, logistical problems with syncing bands to apps and data across devices lead to widespread frustration. App functionality is causing frustration as well, as several users complain that their apps crash and fail, leading to infuriating load times and even lost data.

As wearable technology continues to improve with better components and design, devices are becoming more standardized. There is a clear need for improvement of the applications used to interpret all the data these devices collect. While Jawbone consumers are not impressed with the company's fitness bands, they like the Jawbone Up app because of all the features it offers to make personal data actionable. Other hardware market leaders like Fitbit and Samsung see a discrepancy in consumer feedback with content hardware users, but disappointment for their applications. As sensors become more prevalent and accurate and even begin to migrate out of wrist-worn devices, corresponding applications will only become more important to the end user experience. Companies must present and integrate all collected personal data in a simple, understandable way and also inspire users to take specific action based on this information.
I think it is safe to say that manufacturers would benefit from improving both the hardware and software applications. "When a user loses interest in viewing and trying to decipher his or her data, the hardware tends to end up in a junk drawer," as recognized in a recent Fortune article. Hence the importance of not only recognizing the retention/attrition rate, but understanding the factors that are contributing to the metric. Regarding the Argus Insights report, this report was obviously a focus report on how to improve user engagement using factual representations and data sets based on product reviews. It is not an investment thesis, just information to consider.
There's not really any such thing as a lack of information available to FIT investors or would-be investors. Without the aforementioned NPD Group insights and Argus Insight report, investors can utilize Amazon product reviews and even Fitbit's Facebook page to understand the advantages and disadvantages of FIT and other wearables products.
Just like most consumer products, I receive products from investors all the time. Thankfully I don't have to pay for them but in a sense I do as I'm contracted to provide analytics on the product. I've articulated my thoughts on the newly launched Fitbit Blaze that is expected to provide Fitbit with a next generation level smartwatch revenue stream that will grow for some time to come. The product is initially getting very strong reviews, but there is a glitch with the apps that has come to light and for which the company is aiming to address. Fitbit's consumer relations department has verified that the company's engineers are working on a fix for the Blaze issue. I'm not certain as to how this issue plays out in the coming months, but the costs associated with the Blaze just went up. I've also been made to understand this is another reason why some stores and retail chains had delayed delivery of the Blaze from distribution centers to their store locations. It's not always as easy as one thinks to launch a product line globally.
Regarding the Blaze, Capital Ladder Advisory Group has conducted nationwide channel checks. Additionally, the POS data has been acquired for most all big-box retail stores, not warehouses and not online stores, but physical store locations because that is where the majority of product is sold. Regarding any analyst dissemination on sales of the Blaze, it should also be known that most analysts don't have access to POS data, they simply go to the local retail outlet/s and see what is or isn't in stock. Some will subscribe to NPD, but the vast majority will not. Additionally, the Blaze will not be sold chain-wide for all participating retailers. Some will only sell the Blaze in A-A+ sales volumes stores. So you may have two Wal-Mart's in your town, but only one or none may carry the Blaze. The same goes for select retailers. The photographs below also indicate as I've articulated.
Photo at Wal-Mart, with plenty of Blaze inventory in two colors.
Also, the POP materials for Wal-Mart's not carrying the Blaze will differ from those that do carry the Blaze as indicated below.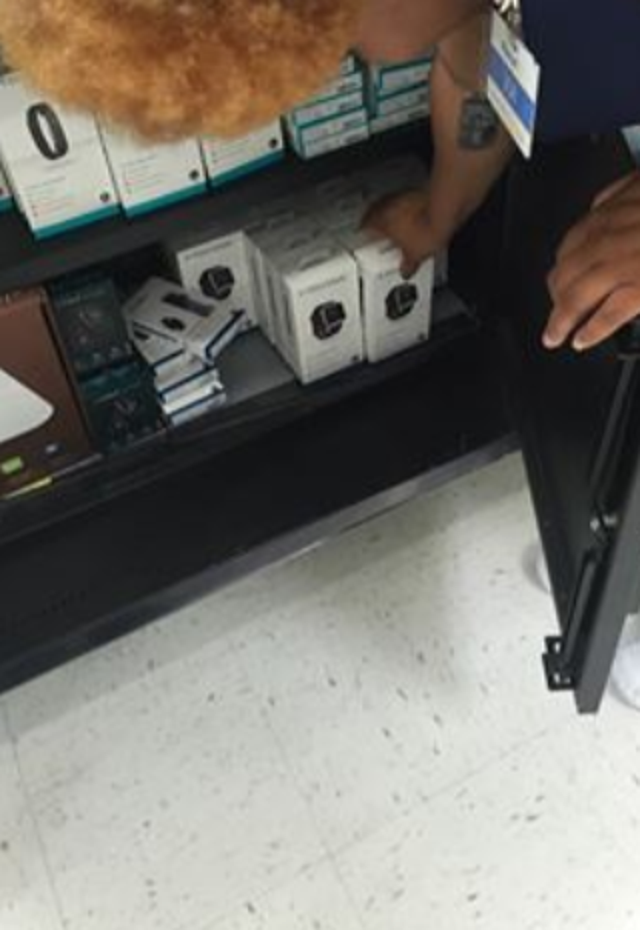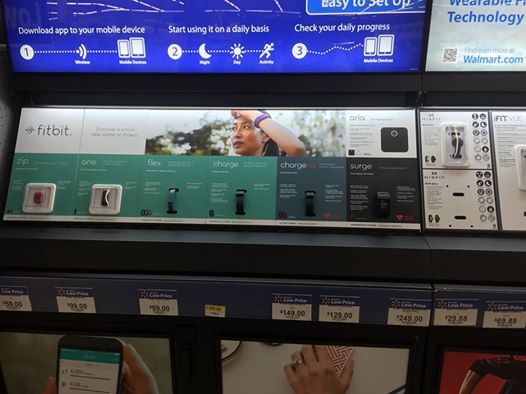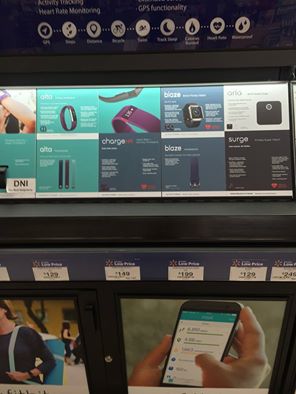 Both Wal-Mart stores, one with A-volume sales and one with B-volume sales. One carries the Blaze while the other does not, hence the other is out-of-stock.
The following photos show that other retailers also have plenty of inventory of the Blaze product: Target Corp. (NYSE:TGT) and Best Buy (NYSE:BBY) exampled. TGT inventory data also shows that less than 30% of stores are experiencing critical lows, meaning an order won't be triggered until the level is reached. Best Buy, the photograph on the left, speaks for itself with five units on the bottom shelf. All product from Best Buy was marked three weeks ago, only one unit sold because one of the product encasements didn't have the marking. This also indicates that the store had inventory in the stock room to replenish the shelf with.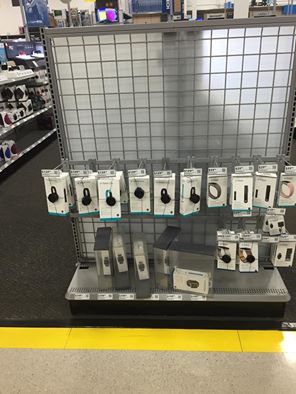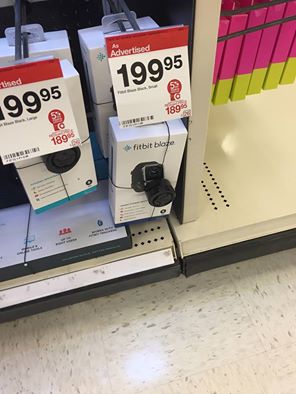 Again, it is important to understand that stores have and have continuously had Blaze product available since the product launch not even three weeks ago. While a store here and a store there may have done better than others with selling the smartwatch, chain-wide not a single retailer has sold out of the Blaze. Additionally, some stores have remained out of stock, like Bed Bath & Beyond (NASDAQ:BBBY), which failed to ship the product from its three distribution centers due to several factors. The photograph below shows the retailer still expecting the product due in stores and for the first time since the product launched globally.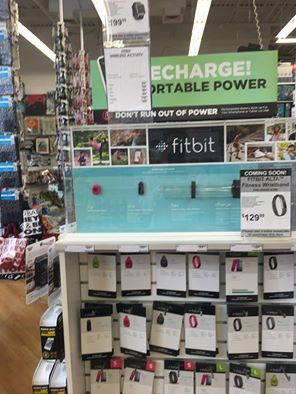 It's easy to see based on the evidenced photographs, previous in-stock, sales data and NPD sell-through data that there is a greater need for qualifying the strength or weakness of Blaze sell-through rate. Even recent analysts notes from Bank of America (NYSE:BAC) are need to be further examined as the analyst stated the following:
BofA/Merrill Lynch analysts state that retailers are facing delayed shipping or stock outages which shows that Fitbit Blaze has performed well since launch. They also point out that many stores have replenished inventory, which indicates that Blaze had a reorder in the second quarter of 2016 which has not been accounted for in its first quarter guidance. The Street is underrating the potential of Blaze doing wonders for Fitbit, according to the analysts.
First and foremost, the analyst expresses uncertainty regarding sales based on delayed shipping or actual sell-through. The firm's opinion is based on checks with retailer websites such as Best Buy, Target, and Kohl's, as well as retailer reviews at various sites such as Amazon, Best Buy and CNet.
Secondly, the majority of inventory is held in-stores. Depicting inventory positions for store locations necessitates understanding which stores are slated to carry the product and which stores aren't. As exampled in the Wal-Mart photographs above, not all retail store locations will carry the product. Not every Target location will carry the Blaze and not every Kohl's (NYSE:KSS) will either. I tested the inventory data through Target.com with my team and insisted when they do their field checks they try to do so using an out-of-stock store indicated online. Out of the 31 locations found to be out-of-stock at target.com, 26 had the Blaze on the shelf. When store staff was asked about the product, where the Blaze could not be found, the general indication was, "Guess we don't carry it yet." Of course with my team's advanced understanding of how the Target operations work, we looked for a Blaze-labeled peg hook and could find none. This means the latest plan-o-gram did not call for a Blaze label and likely because the store wasn't slated for the product. Maybe during the Q4 period though, maybe. Many target.com city searches for Blaze, at best, have shown the product to be at low stock levels. And that's not bad at all.
I've taken analysts and well established hedge fund investors to task many a time for erroneous research, price targets and forecasts. So when I see research and disseminations being positioned by analysts, it should be recognized there is a certain amount of expertise needed with regard to channel checks and gathering sales data of relevance. The photographs and analysis within show that retailers have plenty of stock. That's also why these retailers didn't flinch at advertising the product in their weekly flyers recently. Another insider tip regarding inventory - check with the retailers to see if they set in place rain check pads for the product.
Lastly, most retailers were noted as having the product on shelves by the 2nd week of March. Even though product was actually registering sales at Target and Best Buy on the 7th, this gave consumers only two weeks to acquire the product since the date of the launch:
Following 18 awards at CES, Fitbit announced it has shipped more than one million Fitbit Blaze devices in its first month of availability, exceeding internal Fitbit sales forecasts. During this time, Fitbit Blaze has captured the ranking of No. 1 bestselling device in both the smart watch and heart monitor categories on Amazon. Fitbit also announced that more than one million Fitbit Alta devices have shipped since U.S. retail availability began on March 9. Fitbit Alta is also currently one of the top selling devices in the fitness tracker and pedometer categories on Amazon.
What may be an issue is the logistics process of getting the product from warehouses to the stores, in some cases. In other cases, the warehouses need to be replenished from the supplier for failure to order in conjunction with store shelf capacity. Furthermore, Best Buy has pushed the Blaze to a feature, end cap location as indicated in the photograph above, but inventory remains available nationwide as with most retailers despite the headwinds mentioned.
Having said all of that with great clarity, supporting evidence and analytical insight, I think the Blaze will perform as expected long term. The initial hype will find greater sales in the launch period than in the quarters to come, as the company expects also. It's quite difficult to match sales for a highly anticipated product in subsequent quarters. While I believe the Blaze to be a sound and relevant product worthy of consumer interest, I don't believe the product will grow year-over-year come 2017.
I hope the aforementioned details surrounding Fitbit and how data is consistently reported throughout the year helps investors to better understand why shares of FIT will remain pressured for some time to come. With sales data proliferating every single week by NPD, it is hard to imagine that analysts' depiction of sales is worthy and with the stock reacting to the contrary of said disseminations. This, of course, doesn't mean trading shares of FIT can't prove profitable. In fact, I have acquired shares of FIT for another short-term trading opportunity that I see developing with the recent pullback. With FIT's valuation nearing its all-time lows, the opportunity is hard to ignore with an understanding of the company's dedication to expansion and new product deployment. The sell-in of these new products should help the company achieve most of its metric guidance for 2016 and especially its sales guidance. I would be of the opinion that this recent pullback of more than 12% will be equally rewarded with an upside move of greater than 12 % in the near future. Beyond that, the trading channel will expand and contract throughout 2016 and as sales data proliferates among the investment community.
Disclosure: I am/we are long FIT.
I wrote this article myself, and it expresses my own opinions. I am not receiving compensation for it (other than from Seeking Alpha). I have no business relationship with any company whose stock is mentioned in this article.