The Neutral Zone. The name sounds benign, but this dessert area, also known as the Divided Zone, a territory shared by Saudi Arabia and Kuwait, dates back to treaties in the 1920s. Saudi Arabia was then known as "The Kingdom of the Hijaz and of the Nejd and its Dependencies."
Production at two fields, one offshore and another onshore, was shut down in late 2014 and mid-2015. Combined, the fields had production of around 500,000 b/day or more. The reasons given were "maintenance" and "environmental concerns," but further research implies that a fundamental dispute between KSA and Q8 is the root cause.
A couple of days ago, it was announced that the offshore field will go back into production, following the resolution of a dispute. It follows that perhaps the onshore field may also resume production, but that was not reported.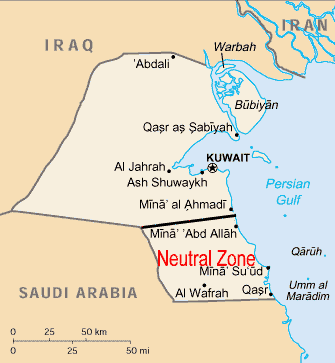 Source: Energy Information Administration.
Khafji
In October 2014, Saudi Arabia shut down operations in the offshore field of Khafji for unspecified environmental reasons. Khafji pumped over 300,000 barrels a day.
On Tuesday, a deal was announced between Saudi Arabia and Kuwait to resume production at the disputed Khafji offshore oilfield. Kuwait's acting oil minister Anas al-Saleh told parliament during a debate: "An agreement has been reached with the Saudi side at Aramco to resume production at Khafji field in small quantities." Saleh said the quantities will increase "gradually" but did not quantify when production would start or how much oil will be pumped.
Kuwait had previously said that Saudi Arabia had unilaterally stopped production due to pollution concerns, even though it was entitled to five years' notice under the joint agreement.
Wafra
Saudi Arabian Chevron started shutting down production in May 2015. The Wafra oil fields had been producing about 180,000 b/d, but have a capacity of around 250,000 b/d. "A decision has been taken today to stop production in Wafra joint operation for two weeks for planned maintenance," Fadghoush Shabib Al-Ajmi, head of the labor union representing workers at state-run Kuwait Gulf Oil Co., Saudi Chevron's partner at Wafra, said on his Twitter account.
Chevron had planned to invest as much as $40 billion in a project to free heavy oil by injecting steam underground. The first phase of a steam injection project was to boost crude oil production in Wafra by 80,000 b/d at a cost $5 billion. The project was expected to increase crude oil production by a total of 500,000 b/d when completed, according to the Middle East Economic Survey.
The Dispute
It was reported that Kuwaiti authorities were unhappy with Saudi Arabia for unilaterally renewing an operating agreement for the Wafra field with Saudi Arabian Chevron for 30 years in 2009. In response, Kuwait stopped issuing or renewing visas for Chevron foreign employees.
Chevron is the only international company with a concession to produce oil in Saudi Arabia or Kuwait. Saudi Arabia stopped offering production rights for oil after it nationalized the Saudi Arabian Oil Co. (Aramco) in 1980. Kuwait has no law to allow international companies to hold oil concessions.
Conclusions
If these disputes are resolved, the Neutral Zone may be able to produce another 750,000 b/d in time. Saudi Arabia may claim that such production is not subject to freeze since the Neutral Zone may be a territory.
Iran reportedly produced 3.3 million barrels per day in January and wants to increase it to 4 million a day. Libya can produce another one million barrels per day if production can be resumed at some point. Together, these increases add to 2.5 million barrels per day. If they materialize, this could keep oil prices in check over the next few years.
Disclosure: I/we have no positions in any stocks mentioned, and no plans to initiate any positions within the next 72 hours.
I wrote this article myself, and it expresses my own opinions. I am not receiving compensation for it (other than from Seeking Alpha). I have no business relationship with any company whose stock is mentioned in this article.