Bankers Petroleum (OTCPK:BNKJF) and Geo-Jade Petroleum (though subsidiaries) announced on March 20 they have entered into a definitive merger agreement for the purchase of Bankers at $2.20 CAD per share. The purchase price represents a 100% premium to Bankers trading price prior to the announcement of $1.10. With shares currently trading for $1.83, or 20% below the deal price, the market is clearly skeptical this deal will be completed. It seems the market may be over estimating the risks of this deal, presenting an attractive risk-reward trade.
Background
Bankers, while headquartered in Canada, operates one of the largest on shore oil fields in Europe, the Patos Marinza field in Albania. They pumped more than 19,000 bbl/d and had 202mm Boe in 2P reserves in 2015. They have been successfully employing oil recovery techniques from western Canada on its Albanian assets. Like most oil companies, the shares have been trading near multi year lows as of recent, and were further hampered by a tax dispute with the Albanian government. The tax dispute stems from the amount attributed by Bankers to the cost recovery pool in 2011 used to reduce (or eliminate) taxes paid to the Albanian government. The amount in question, $250mm (cost recovery pool, not tax liability), is fairly substantial and could have a material effect on the value of Bankers. Recently, Bankers entered into a binding arbitration agreement which is currently under review. Pre-announcement bankers traded at $1.10 CAD which valued Bankers at 4.7x 2016CF (CIBC WM estimate), a significant discount to its peers.
Geo-Jade is, according to the press release, one of the "largest independent exploration and production companies listed in Shanghai Stock Exchange (SH:600759) with a market capitalization larger than $3.6 billion (CAD). Geo-Jade has made successful oil and gas investments worldwide with its main assets located in Central Asia, North America and China." However, prior to 2014 it appears their main business was real estate.
In 2014 the company bought 95% of Maten Petroleum for US$526mm, owner of three oil field blocks in Kazakhstan, and in 2015 Kozhan, also with oil and gas assets in Kazakhstan for US$400mm. Saying this information is tough to verify, however, is an understatement.
The Shanghai listed shares have been blacked out from trading since September, and from conversations with Bankers, this is as per Chinese regulations as they announced a pending "Material Restructuring." This restructuring, which was announced with the Bankers deal, includes the purchase of an energy investment firm and an equity raise of 7 billion yuan, mostly from existing shareholders. From my conversation with Bankers I believe they will begin trading again within the next two weeks.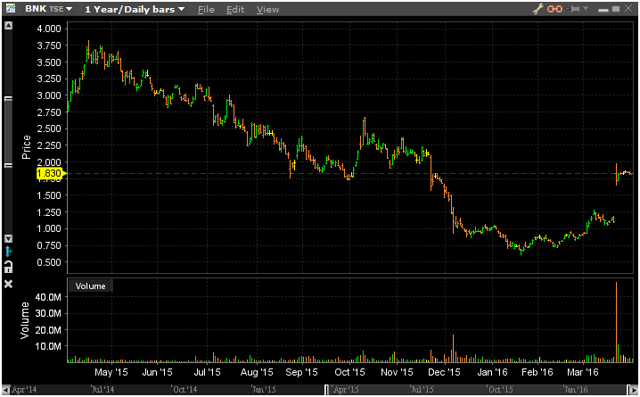 Click to enlarge
Deal Highlights and Notes From the Merger Agreement
Parties entered into definitive merger agreement where a subsidiary of Geo-Jade will acquire Bankers for CAD $2.20/share.
This is a 100% premium to Bankers share price the day before the merger was announced.
The deal values Bankers at roughly $575mm CAD, 9.6x 2016 CF, $31,400 Boe/d, and $2.85/Boe of 2P reserves.
Expected to close by the end of June 2016.
Bankers management, owning 6%, supports the deal and has entered into a voting agreement.
The company has scheduled a shareholder vote for May 31st, for holders of record on April 19th. It requires two-thirds in favor to pass.
There is a non-solicitation covenant and Geo-Jade has the right to match a superior proposal.
There is a two way break fee of US$20mm.
There is a specific carve-out of the Material Adverse Event (MAE) definition, which states that "any ruling or determination in respect of the Albanian Tax dispute" does not constitute a MAE.
The merger is conditional on regulatory approvals, which include approvals from the Investment Canada, the PRC Government, and authorization from the Albanian Competition Authority.
Spread and Return
Bankers shares traded up to $1.73 following the announcement and have since been trading with decent volume around where it last closed at $1.83. With the offer price of $2.20, the $.37 spread represents a 20% absolute return and 81% annualized should the deal close by the end of June as expected. It would be expected that shares would fall to roughly the pre-deal price of $1.10 if the deal were to fail. Using this fail price, this implies a market expected probability of 65% that the deal closes.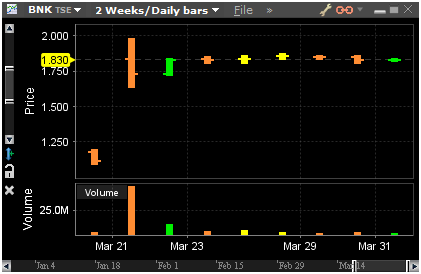 Analysis
Before the announcement, shares of Bankers clearly traded at a discount due to the ongoing tax dispute with the Albanian government. The offer of $2.20 vs. $1.10 represents a healthy premium for Bankers, and makes sense for the buyers should the price of oil rise. The opportunity to acquire Bankers is also strategic for Geo-Jade. They are seeking to apply western Canadian oil recovery techniques used by Bankers in Albania at their wells in Kazakhstan. The merger agreement is fairly tight, with an appropriate break fee and the carve-out for the Albanian tax dispute in favor of Bankers represents a strong commitment from the buyer to get the deal done. There will surely be some shareholders that will be disappointed with the price, but with a 100% premium over the pre-deal price, the vote should pass. I expect there is some skepticism here, and I expect the spread will shrink after a successful vote.
So why the large spread and why is this an opportunity? The buyer clearly represents some unknowns and is a factor contributing to the large spread. Chinese buyers always tends to add some deal risk for a few reasons. For one, regulatory risk - however, in this case, given all of Bankers assets are outside of Canada, the Canadian approval should be quite straightforward. There is the added unknown of the Albanian approval, as most are probably unfamiliar with this process. The Albanian regulator is, however, only concerned with competition protection and given the acquirer has no other business in Albania this will likely proceed without issue. This view was also expressed by Bankers during my conversations with them.
The fact that the buyer is relatively unknown and the fact that their stock has been halted since September also raises concerns. There is, as Bankers explained to me, a valid reason for this with the shares expected to resume trading soon now that the restructuring has been announced. The buyer is also a strategic buyer further supporting the thesis that the deal will close. Geo-Jade having completed deals of similar size for similar assets in the past also bodes well for the deal closing as anticipated.
The financing, for me, remains the biggest risk. In conversations with Bankers, I was told they conducted extensive due diligence that led them to believe that Geo-Jade would be able to raise the funds. With Geo-Jades plans to raise over US$1 billion to finance the acquisition this seems like the biggest risk to the deal closing.
Another risk is a scenario where the Albanian tax dispute is resolved unfavorably and Geo-Jade tries to renegotiate the price, regardless of the carve-out in the MAE clause.
Conclusion
While this remains on the riskier side of outstanding merger opportunities, the market is over estimating the risks, presenting an attractive risk-reward trade. I would recommend taking a small position at current prices and be prepared to add should the price decline further.
Bankers trades on the TSX under symbol BNK and as BNKJF in the U.S. For further reading, please see this article on another pending merger of a Canadian E&P by a Chinese buyer.
Disclosure: I am/we are long BNKJF.
I wrote this article myself, and it expresses my own opinions. I am not receiving compensation for it (other than from Seeking Alpha). I have no business relationship with any company whose stock is mentioned in this article.
Editor's Note: This article discusses one or more securities that do not trade on a major U.S. exchange. Please be aware of the risks associated with these stocks.