And the skies always had little fluffy clouds
And they moved down, they were long and clear

- The Orb "Little Fluffy Clouds" (1990, Big Life Records)
Latest since the strong performance of Amazon's (NASDAQ:AMZN) AWS, the public cloud has been a major theme for investors. In fact, one could argue that the strong bull run in shares of Amazon is solely related to Amazon Web Services. Tech analysts from research bureaus and investment banks draw rosy pictures of the public cloud market. Synergy Research Group estimates current revenues for cloud infrastructure services at USD 23 billion. Gartner (NYSE:IT) sees the cloud Infrastructure-as-a-Service, or IaaS-market doubling in size by 2018, with analysts of Deutsche Bank (NYSE:DB) even predicting a $129bn market in 2020. And that's only the IaaS numbers. The use of apps in the cloud, or SaaS (Software-as-a-Service), is projected to grow with 20% to USD 37.7bn during this year (source: Gartner). A similar growth is expected for PaaS (Platform-as-a-Service), though this market is with a forecasted USD 4.6bn in revenues, which is relatively small.
Obviously, this strong market growth attracts a number of players with big names in the industry stepping up their efforts to get a decent slice of the growing pie. Among them is giant Google (NASDAQ:GOOG) (NASDAQ:GOOGL), that seems to commit itself to make the Google Cloud Platform a success. Contributor Shudeep Chandrasekhar wrote recently an interesting piece on GCP's features, but also shows us what challenges it faces. But as an investor, I'm less interested in the tech side of the story. I want to know the numbers. To me, two important questions remain: what does GCP exactly mean for future revenues and earnings for Alphabet Inc., Google's parent company? And do investors fully discount GCP's potential in Alphabet's shares? Let's find out!
Google acknowledges potential
Google's Urs Hölzle, Senior Vice President of Technical Infrastructure, recently revealed the tech giant's ambitions by saying that within the next five years, revenues from GCP could surpass that of revenues from advertising (as noted by contributor Bram de Haas). Also, Google's CEO Sundar Pichai and Alphabet's Chairman Eric Schmidt attending the recent GCP NEXT event points to an increasing commitment towards GCP. The hiring of VMware (NYSE:VMW) founder and CEO Diane Greene as Senior Vice President of Enterprise Cloud is by many in the industry regarded as a key step to becoming a leading player in the cloud business. All this shows us Google's dedication to the cloud and that we investors shouldn't underestimate the GCP efforts.
Still, there's a long way to go for Google. According to Synergy Research Group, the company already holds the #4 spot in the worldwide market for Cloud Infrastructure Services. This market saw USD 7bn revenues in Q4-2015. Synergy sets Google's market share at 4% during Q4-2015. This would indicate quarterly revenues of USD 280m. However, as a result of the high growth rates, it's difficult to estimate the current run rate of GCP. Deutsche Bank analysts estimate that current run rate stands at USD 400m, which seems a bit conservative compared to 108% YoY growth. Morgan Stanley estimates that GCP revenues reached USD 500m in 2015. Unfortunately, Google doesn't disclose GCP figures, so for now, we have to do with these numbers. Next to that, the numbers seem to be somewhat arbitrary. Synergy group sees Oracle (NASDAQ:ORCL) as a second-tier player. But according to the recent earnings release, Oracle's cloud services reached USD 735m in quarterly revenues. That would mean a market share of 11% and thus a #2 spot.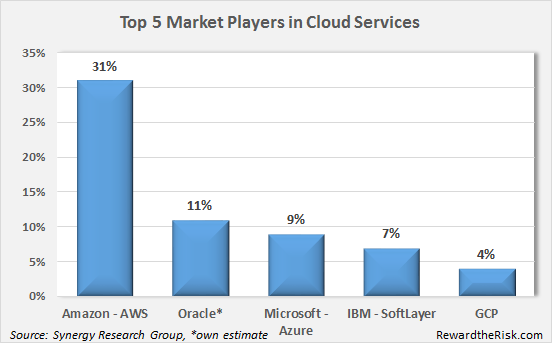 Although GCP revenues of USD 400-500m are very modest currently, past growth rates for AWS and the forecasts by Synergy and Gartner tell us that GCP has the potential to meaningfully contribute to Google's total revenues. The statement by Google's Hölzle may be very premature, since ad revenues totaled USD 67.4bn during 2015. However, a multi-billion revenue stream should be achievable. But that's obviously too vague a prediction for us investors, so let's try to make a couple of reasonable 'guesstimates'.
In case GCP maintains its market share of 4%, annual revenues of USD 1.8bn could be reached by 2018 (based on Gartner total market estimates) or even USD 5.1bn by 2020 (based on DB total market estimates). But many in the market consider GCP already the #3 in the market. Also, the Q4-2015 growth rate of 108% and the recent growth rates presented by market leader AWS would point to much higher growth rates. During 2015, AWS reported annual growth of nearly 70%. Extrapolating these growth rates to 2018 and 2020 revenues, while assuming a current run rate of USD 450m (median of DB and MS), would put GCP annual revenues at USD 2.2-3.6bn respectively USD 6.4-14.4bn. This would increase future market shares to 9.6%-15.7% in 2018 (based on Gartner total market estimates) or 5.0%-11.2% in 2020 (DB&MS total market estimates). Current market share for market leader AWS stands at 31% (Synergy) with USD 7.9bn revenues (Amazon figures).
The numbers show that a multi-billion revenue stream seems likely, but a 2020 match to ad revenues looks optimistic, to say the least. In addition, we should ask ourselves, how likely is a projected expansion of market share for GCP?
Giant awakes, but in unfamiliar environment
Industry watchers see definitely a lot of potential for GCP. Most see a top 3 of AWS, Microsoft (NASDAQ:MSFT) Azure and GCP, but not necessarily in that order. Clearly, AWS is out of reach (at least for now), but GCP recently reported a number of interesting deals, for instance with Spotify (Private:MUSIC), Disney (NYSE:DIS) and Home Depot (NYSE:HD). There's also a lot of talk about a deal with Apple, with some sources citing a value of between USD 400-600m. Spotify and Apple have deals with AWS as well, which points to an interesting feature of the cloud market. Since it's a relatively new market with new players and each having its specific possibilities, most clients may pursue a 'multi-cloud' model, i.e. buying services from a couple of players, not only one. Contrary to popular belief, GCP's deal with Apple doesn't mean it favors Google over Amazon, but Apple may have chosen GCP due to some specific features of its PaaS and/or SaaS. AWS is regarded by many as the best in IaaS-offerings, while GCP and Azure are strong in PaaS and SaaS. So when deals are announced, investors should closely look whether the deals are in the field of IaaS, PaaS or SaaS. We should not think as if we're dealing with a zero-sum market, at least not for the next few years.
Google is a developers' favorite. This was highlighted on the GCP NEXT event with key themes such as programming languages, machine learning, and data processing technologies. If there's a player in the market with a lot of Big Data experience, it's probably Google (sorry IBM). That's why Spotify choose GCP for its Big Data services. Google and thus GCP may be the preference for innovative, developer-oriented companies. However, Google is traditionally far stronger in the small and medium business environment and lacks the culture that comes with servicing large enterprises. Its main rivals, especially Microsoft, talk the same language as big corporates which is a huge disadvantage for GCP.
Since AWS is well ahead in the market and Microsoft's has enterprise-friendly sales & support, it means that Google has to take additional efforts in order to grab market share for GCP. A 'multi-cloud' market model doesn't change this picture. Translated: Google may compete on the price, as contributor Shudeep Chandrasekhar rightfully argues in his article. Downside for investors: aggressive pricing means lower margins.
Healthy margins that remain sound
What are exactly the margins in the cloud? Oracle published a more than solid operating margin of 51% in its latest earnings release. Unfortunately, Oracle's cloud offering differs significantly from GCP. Key rival Microsoft reported gross margin for the total commercial cloud business at 44%, but doesn't disclose margins for Azure. It is believed by DB that Azure's margins are still negative due to a relatively small scale. Amazon reports much lower operating margins for AWS and are approximately 24%. Next to that, Amazon more data centers, whereas Google seeks to expand. The company already announced to add 2 new locations in 2016 and 10 more in 2017. However, DB analysts offered an intriguing thought: Google talks about adding regions instead of building data centers. Or in case it builds new data centers, this doesn't mean these are solely for GCP. That could cause capex to come in much lower than one would anticipate.
Where does this all put operating margins for GCP? At current scale, Google probably faces a somewhat similar scale issue like Microsoft's Azure. When quarterly revenues for AWS went through the USD 1bn threshold, margins significantly increased (see graph). Oracle's 50% margin is recorded at quarterly revenues of USD 735m. During the previous quarter, Oracle's cloud returned an operating margin of 42%, while revenues were USD 649m. There seems to be a fast learning and/or scale curve when it comes to margins in the cloud business.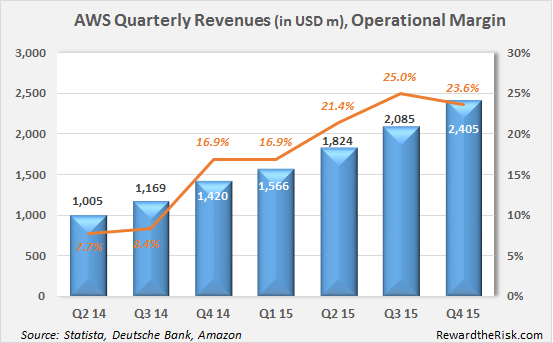 While GCP is not yet at similar quarterly revenues as AWS or even Oracle, at current growth rates, it may get USD 500m+ quarterly revenues in 2017. An issue is that Google offers a competitive pricing package. Naturally, operating margins depend on many other variables than just price. Nevertheless, it is probably prudent to assume that investors have to wait until 2017 before GCP becomes profitable. Even then, it is to doubt that margins come in at better rates than its direct competition.
Is there a threat of even lower margins moving forward? AWS already cut its prices more than 50 times, so that seems a fair question. Azure and GCP tend to follow price cuts set by the leader, with GCP continuously claiming to be cheaper than AWS. Price is also an important factor in the sales pitch, but this doesn't necessarily mean the cloud business is in a full-blown price war. The price cuts most likely reflect a maturity in technology. This is highlighted by a lack of margin pressure, on the opposite: operating margins are steadily increasing. But let's not get overexcited and assume that in an optimistic scenario, GCP would yield operational margins of approximately 20% from 2017 on. Based on earlier stated estimates on revenues, that would translate into operating income of USD 260-360m in 2017, increasing to USD 1.3-2.9bn in 2020.
GCP in the grander scheme of things
To assess the significance of GCP for share valuations, we also have to consider if GCP revenues have any meaningful contribution to total revenues. Most analysts don't include future revenues from GCP (yet). If we include these revenues, there seems hardly any impact on the total amount. Price-to-sales improves from 3.7 to 3.5 by 2020. However, growth rates look to be affected. Analyst estimate that future revenue growth for Alphabet will decline from roughly 15% to about 9%-10% in 2020. These growth rates are largely based on developments in ad revenues. Adding GCP, growth is a significant 27bps higher in 2020. Nevertheless, we can't argue (yet) that GCP will be the future driver of revenue growth or a valuation based on sales.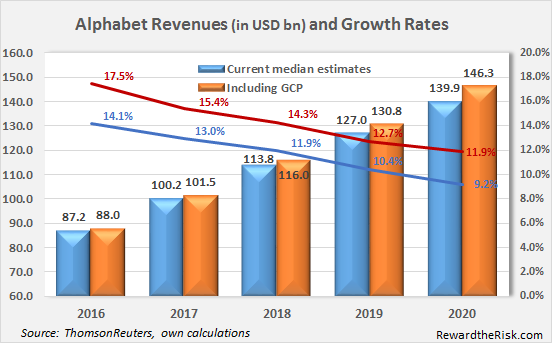 It is tricky to convert the increase in operational figures in actual earnings growth. Alphabet Inc. reported a bottom line margin of 21.8% in 2015, which was fairly close to an operational margin of 26.2%. Adding GCP operational results without an adjustment seems a bit optimistic, so we make an additional 5% reduction. Only minor improvements in Net Income are visible. Price-to-earnings for 2020 improves from 14.0 to 13.7 in case revenues for GCP increase 70% in the next years and GCP adds 15% net to Alphabet's bottom line. That doesn't look like a dealmaker to me…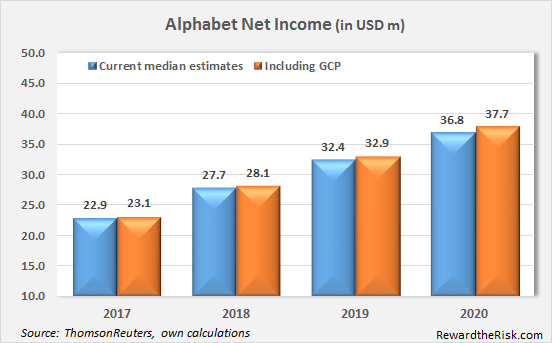 Should GCP be on the radar of investors?
So what should investors do with GCP in their assessment of Alphabet Inc. stock? According to some basic guesstimates, it doesn't seem prudent to see GCP as a major driver for the share price. But we shouldn't underestimate Google's efforts in the cloud. Scale is a big issue, as we witnessed at other companies with cloud services. Therefore, we should watch for triggers that bring meaningful contributions to revenues. The main challenge for GCP is adapting to the enterprise culture of doing business. This largely comes down to efforts in sales and support. The focus point is hiring of key staff so that we get an impression that the company is building a strong sales force and meaningful enterprise support.
For now, GCP is less of a tech story, but more a sales issue. Concluding, despite the fascinating developments in cloud technology, investors should look at a very basic premise: can Google indeed sell GCP in volumes to bring in even more impressive growth rates in the next five years?
Disclosure: I/we have no positions in any stocks mentioned, and no plans to initiate any positions within the next 72 hours.
I wrote this article myself, and it expresses my own opinions. I am not receiving compensation for it (other than from Seeking Alpha). I have no business relationship with any company whose stock is mentioned in this article.