What happens when Republican-leaning landowners who are against eminent domain team up with left-leaning anti-pipeline environmental groups? Well in Georgia at least, this resulted in a near unanimous decision to pass a bill which effectively blocked Kinder Morgan's (NYSE:KMI) construction of the Palmetto Pipeline by placing a moratorium on the use of eminent domain by the pipeline company.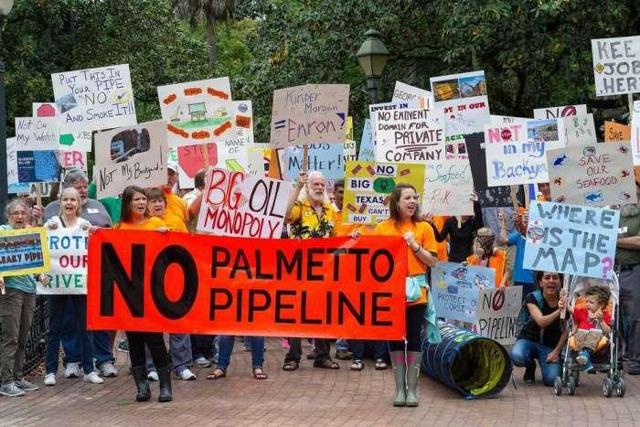 Click to enlarge
Source: Savannah Morning News
Kinder Morgan is not happy, suspends pipeline construction
Kinder Morgan's response to this legislation was, as you would expect, quite terse and seemed to express some frustration in the process:
"Notice: Kinder Morgan has suspended further work on the Palmetto Pipeline project, following the unfavorable action by the Georgia legislature regarding eminent domain authority and permitting restrictions for petroleum pipelines. While this legislative action was disappointing, we remain committed to providing customized transportation solutions to our customers."
The Palmetto Pipeline would have been a pretty critical piece of infrastructure for the region, providing 167,000 bpd of gasoline, diesel and other refined products from the Gulf Coast to the fast-growing coastal region from Jacksonville, Florida to Augusta, South Carolina.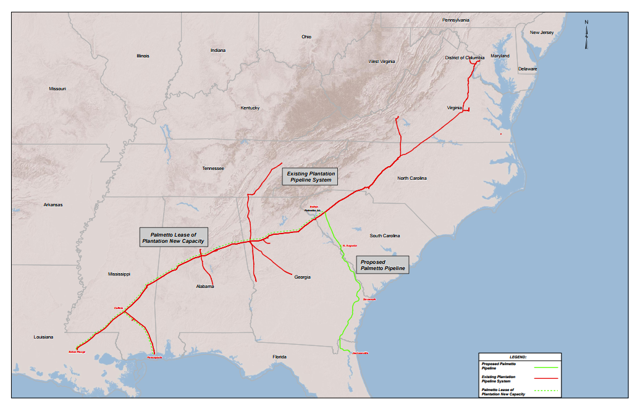 Click to enlarge
Indeed, Kinder Morgan must be thinking that the luddites have taken Georgia over given the diverse opposition on both the left and right to the pipeline. Currently, the region is underserved by pipelines, with most of the refined products coming in via trucking and shipping. Delivering gasoline and diesel via pipeline is inherently safer and less expensive than either of these two methods.
While Kinder Morgan has not totally suspended the pipeline projected, it seems unlikely to go forward given the strength of the opposition. The company had been trying to obtain rights of way mostly without using eminent domain. Though, given the length and cost of the pipeline, Kinder Morgan would have needed the ability to use eminent domain to get rid of any uncertainty and invest in the project, especially if it wanted to attract a joint venture partner.
For the environmentalist, being against the pipeline makes no sense. Fuel is going to be used by area consumers, like it or not. The demand is already there. Not having the pipeline actually increases the potential for environmental harm as both ships and trucks need fuel to transport the refined products while pipelines do not.
For the landowners who were against the pipeline due to eminent domain, Kinder Morgan would have had to give them a fair price for the rights-of-way across their properties. They would also lose out on the cost saving from having cheaper supplies of gasoline and diesel.
These same landowners seem to be the ones that pushed Georgia's Republican controlled state senate into passing the moratorium. The bill passed was clearly aimed at Kinder Morgan. Taking nearly a year-and-a-half to "study laws and policies for granting eminent domain for gasoline pipelines, which are regulated by the state" is just plain old stalling and obstructionism.
Conclusion
Given Kinder Morgan's focus on capex over dividends, losing out on an attractive growth project like the Palmetto Pipeline is a negative. This was the largest project in the products pipelines segment backlog. With the $5.4 billion Trans Mountain pipeline expansion also facing stiff opposition, a full 35% of Kinder Morgan's $18.2 billion 5-year capex backlog is under pressure.
Unless these issues are resolved, this may result in weaker-than-expected EBITDA growth going forward, though it would also free up cash for other uses, such as dividends and share buybacks.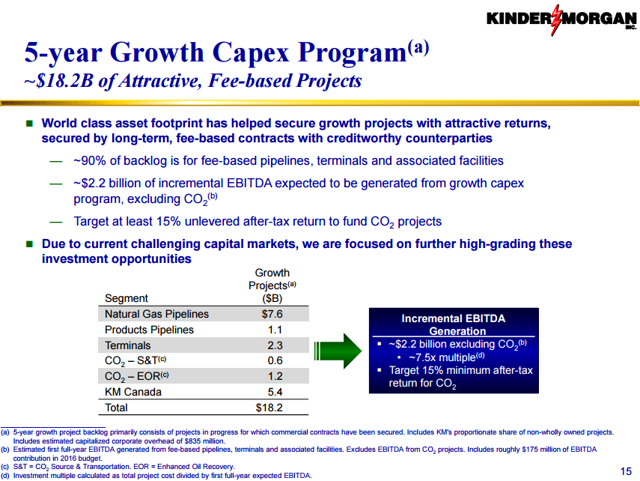 Click to enlarge
Disclaimer: The opinions in this article are for informational purposes only and should not be construed as a recommendation to buy or sell the stocks mentioned. Please do your own due diligence before making any investment decision.
Disclosure: I am/we are long KMI.
I wrote this article myself, and it expresses my own opinions. I am not receiving compensation for it (other than from Seeking Alpha). I have no business relationship with any company whose stock is mentioned in this article.