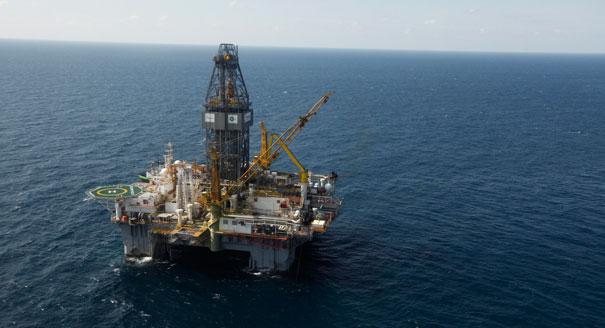 The rout in oil prices has claimed 41 oil and gas companies through mid-December. According to Schlumberger's (NYSE:SLB) CEO Paal Kibsgaard, the corresponding declines in industry E&P have caused a crisis for the oilfield services industry:
The current downturn has now persisted for 17 months since the US land rig count peaked in October of 2014. Using this rig count as a proxy, we have seen three distinct phases as the downturn has deepened. The third and most severe phase is taking place within this current quarter with the global activity impact and rate of disruption reaching unprecedented levels, showing an industry in a full-scale cash crisis.
Kibsgaard described the current E&P downturn as one of the worst he has seen in his career. It could give Schlumberger cause to walk away from its acquisition of Cameron International (NYSE:CAM). Cameron's merger agreement likely includes a material adverse change "MAC" clause which allows Schlumberger to terminate the transaction in case of a material adverse change in Cameron's business. A sharp downturn in deep sea E&P, prices or "a full-scale cash crisis" could potentially qualify as a MAC.
The Situation
Cameron agreed to be acquired by Schlumberger in August of last year at a 56% premium to where the stock had traded. Schlumberger recently received approval from the Chinese Minister of Commerce to complete the deal - the last regulatory approval needed. I do not believe the transaction will be successful for the following reasons:
Cameron Is Selling At The Peak
The general consensus is that this is a great time to make acquisitions in the oilfield services space. E&P is down and many firms are hurting financially so acquirers would be putting capital at work at the bottom of the cycle. That might not be the case for subsea equipment providers like Cameron.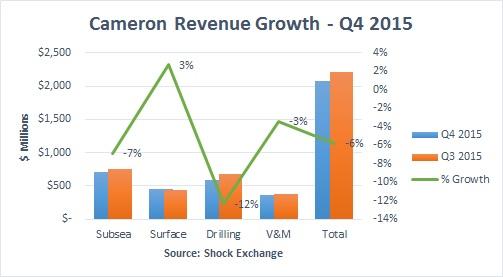 The company's revenue has held up pretty well, despite the rout in oil. Q4 2015 revenue was off 26% Y/Y but only off 6% sequentially. Cameron has been buoyed by its contract backlog built up when oil prices were higher and demand for deep sea drilling and equipment was more robust.
First of all, Schlumberger had been courting Cameron for a long time, yet it had been rebuffed. Cameron's acquiescence was almost a de facto admission that the market had peaked. People don't sell at the bottom; they sell at the top. The following video from Econ Matters framed my sentiment. Around the 12:30 minute mark of the video Econ Matters had this to say about acquisitions:
These deals are often done because they are paid a premium. People don't sell their companies for fair value. They sell it at a ridiculous premium, so often all these deals are overpaid. You see with HP (NYSE:HP) ... looked really great when Mark Hurd was doing all those acquisitions and overpaying for all those companies on the way up ... made the earnings look really good. How many of those companies has HP retroactively had to write off?
Schlumberger doesn't have a history of overpaying for acquisitions like say, HP or Valeant (NYSE:VRX), but I believe the Cameron deal could be different.
Another important data point is that the backlog has fallen from $9.5 billion in 2014 to $6.5 billion in December; it was about $8.4 billion when the deal was announced in August. That means Cameron will deliver a lot less revenue from its backlog going forward. Analysts expect Q1 2016 revenue of $1.76 billion, down 15% versus the $2.1 billion reported in Q4 2015. New orders have dried up for deep water and offshore drilling; this does not bode well. Barclays anticipates the offshore drilling market will not rebound until 2018. That could imply Schlumberger will get diminishing returns on the acquisition for the next 7-8 quarters.
Cost Synergies Might Be Passe'
When the deal was announced Schlumberger expected to realize pretax cost synergies of $300 million in the first year of the deal and $600 million in the second year. Cameron has done a yeoman's job of cutting costs already. While Q4 revenue fell 26% Y/Y its EBITDA margins were practically flat; margins were 18% in Q4 2015 versus 17% in the year earlier period. Its quarterly operating costs were $1.7 billion versus $2.3 billion in the year earlier period. Said another way, its run-rate operating costs fell by $2.5 billion from $9.3 billion to $6.8 billion.
The pool of costs Schlumberger has expected to cut has declined already. Cost synergies and benefits from economies of scale sound great when the top line is growing. Now that Cameron's revenue is declining and is expected to decline further, anticipated cost synergies could be nil. Moreover, anticipated returns from the deal might have declined as well.
An industry in crisis and a drop off in offshore E&P could give Schlumberger the necessary cover to walk away from the deal or seek a lower purchase price. Whether it invokes its MAC clause remains to be seen.
Disclosure: I am/we are short CAM.
I wrote this article myself, and it expresses my own opinions. I am not receiving compensation for it. I have no business relationship with any company whose stock is mentioned in this article.