Introduction
I added Randstad (OTCPK:RANJF) and (OTCPK:RANJY) (each share of RANJY consists of 0.5 common shares of Randstad) to my watch list last year, but I wanted to wait for the company's full-year results before doing anything. Randstad has now released its annual report, and the company has performed better than I expected and it no longer is as weak as during the global financial crisis.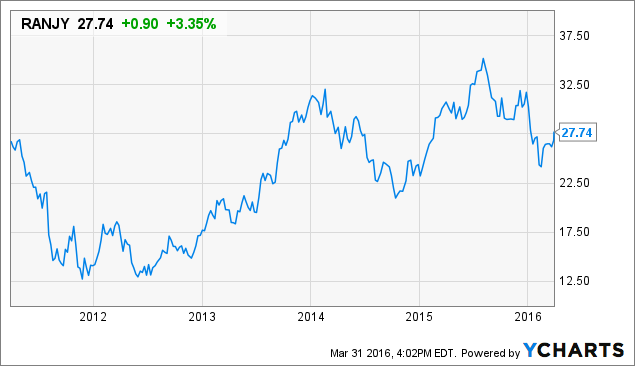 RANJY data by YCharts
Randstad is a member of the AEX and should be traded through the facilities of Euronext Amsterdam for liquidity purposes. The ticker symbol in Amsterdam is RAND, and the average daily dollar volume is approximately $37M.
2015 was another good year
As said, I wanted to find out how the company performed in 2015 which was a pretty weak year for the European economy (Randstad generates approximately 2/3rd of its revenue in Europe). But the company didn't seem to notice any issues as its revenue increased by approximately 10% to 19.2B EUR ($21.7B). As could be expected, the company's operating and general and administrative expenses increased as well, but fortunately for Randstad, the cost increases were much slower than the revenue increase and the company's operating profit increased by almost 40% to in excess of 700M EUR ($791M). And just to emphasize how good this is; the operating margin increased from 2.9% in FY 2014 to 3.67%. Sure, that's a low margin, but keep in mind Randstad's business model is asset-light and capex-light (see later).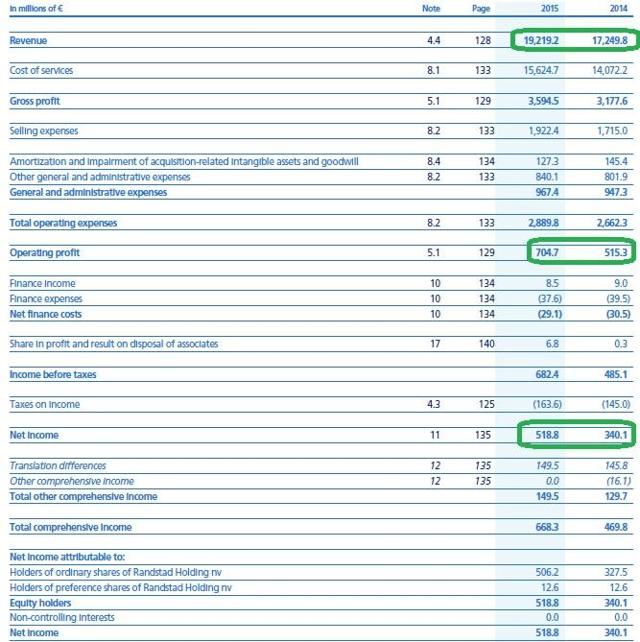 Click to enlarge
Source: annual report
The evolution of the bottom line was even more impressive than the increase in the operating income and margins as the tax pressure remained relatively low, allowing the net income to increase by approximately 50% to 519M EUR ($586M), or 2.79 EUR ($3.15) per share. But did this 50% increase in the net income also result in a 50% increase in Randstad's free cash flow? Let's find out!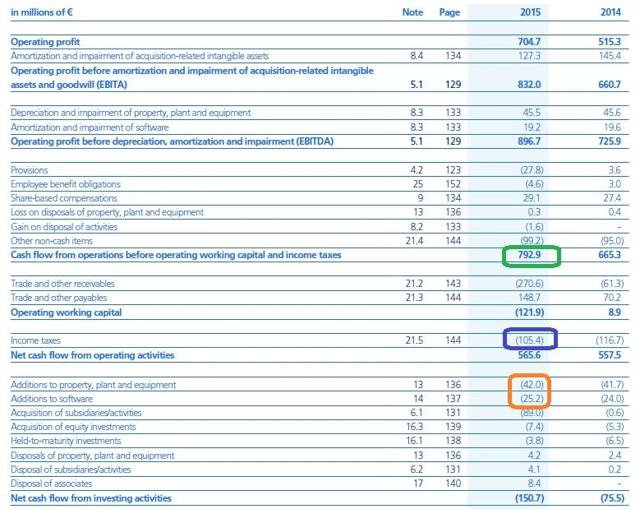 Click to enlarge
Source: annual report
Most readers know I like to focus more on a company's cash flows rather than the income statement as a company needs free cash flow to reduce the debt, rather than accounting profits. It also is the main reason (together with finding out what the net debt position of Randstad was) why I waited for the annual report before considering what the appropriate investment strategy would be.
Randstad reported a total operating cash flow of 793M EUR ($896M) before deducting the income taxes, resulting in an after-tax operating cash flow of approximately 690M EUR ($780M). As the total capex was just 67M EUR ($76M) (including software purchases), the adjusted free cash flow in 2015 was approximately 620M EUR ($701M) (up 28% compared to the previous year). And, please notice why I said this company is rather capex-light. The total level of investment was less than 10% of the operating cash flow, and just 0.35% of the total revenue. This is not a capital intensive business to be in, but you're prone to 'economic shocks). But the risks have been reduced.
Sure, it's a cyclical business, but the company is in a much better shape than during the GFC
Yes, Randstad provides companies with temporary workers so the company is extremely vulnerable during weak economic times. Back in the days of the Global Financial Crisis, for instance, the share price crashed to less than 10 EUR ($11.3) on the back of concerns about the economic health, but more importantly, about Randstad's ability to survive the crisis.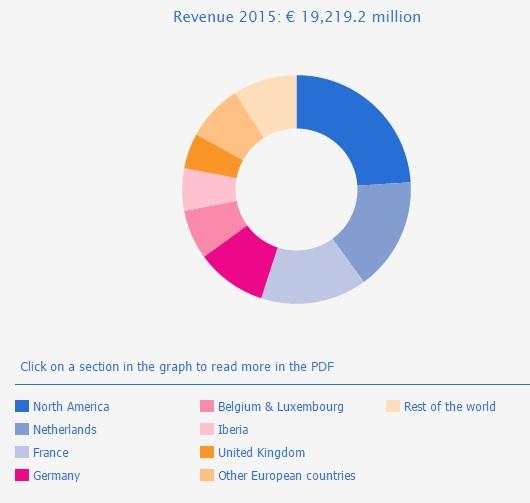 Source: company website
But after 7 years of spending its cash (and cash flow) wisely, Randstad is a completely different company. Whereas the balance sheet wasn't really strong in 2008 (according to the annual report from 2008, the net debt of Randstad was 1.64B EUR ($1.85B) due to an acquisition), this has completely changed now.
In fact, I would expect Randstad to no longer have any net debt by the end of this year. As of at the end of last year, Randstad's net debt position had decreased to less than $200M, and as the company generated a free cash flow of $700M, this net debt position will very likely be converted to a small net cash position by the end of this year.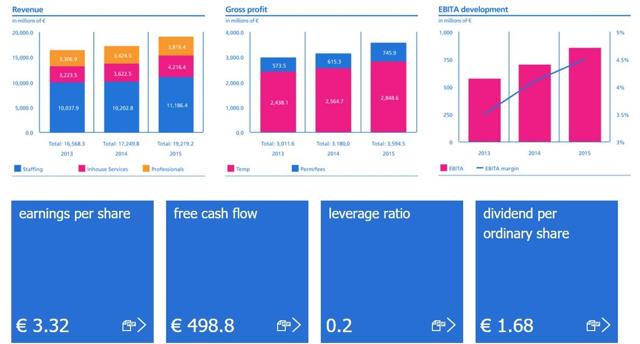 Click to enlarge
Source: website
So even if there would be another huge economic crisis, Randstad should and will be able to borrow hundreds of millions of dollars to survive (its EBITDA is expected to reach at least $1.1B this year, so even if the company would want to leverage up to just 1X EBITDA, it would be able to borrow a billion dollar).
Investment thesis
And that's exactly what I had been looking for. I don't mind investing in cyclical companies as long as the risk/reward ratio is right. I would absolutely hate it to invest in a cyclical company that already almost maxed out its line of credit and thus have some severe difficulties to survive another economic downturn. But Randstad is different - truly different. Not only will the company be debt-free, its strong free cash flow numbers add an additional layer of safety.
I don't think the company is 'cheap' here at a market capitalization in excess of $10B, but the volatility in Europe is increasing and that's definitely benefiting the option premiums. I have already traded some out of the money put options but am still looking to write some more. I'm mainly keeping an eye on the Put 35 maturing in September of this year which has an option premium of 0.60 EUR ($0.68). If I'd get assigned to purchase the stock, I'd do so at a free cash flow yield of 9.6%, and as long as Randstad continues to trade higher than 35 EUR ($39.5), I can keep the option premium in my pocket for an annualized return of 3.53%. That's not too exciting, but keep in mind I'm looking for bargains and I'm perfectly happy to cash in a 3.53% annual return in a NIRP/ZIRP environment whilst I'm waiting for a bargain to occur.
Disclosure: I/we have no positions in any stocks mentioned, and no plans to initiate any positions within the next 72 hours.
I wrote this article myself, and it expresses my own opinions. I am not receiving compensation for it (other than from Seeking Alpha). I have no business relationship with any company whose stock is mentioned in this article.
Additional disclosure: I currently have no position but might write some put options
Editor's Note: This article discusses one or more securities that do not trade on a major U.S. exchange. Please be aware of the risks associated with these stocks.