Dividend growth investing is a popular model followed by the investing community to build assets. Companies which not only pay dividends, but raise them year after year have been shown to perform better overall for investor returns. A big part of this involves capturing the details.
As part of my due diligence, I closely monitor all companies that raise dividends (or cut them) and this article shares the dividend amount changes announced by companies.
Note that only companies with a market cap of $2B+ are included, as the list of small/micro cap companies is too long to include here.
The lists of all increase announcements can be found here.
Long-term dividend raisers announced further increases in March 2016. Some companies include: Bank of Nova Scotia (NYSE:BNS) (2.86% increase), Ross Stores, Inc. (NASDAQ:ROST) (14.89%), General Dynamics Corp. (NYSE:GD) (10.14%), Qualcomm Inc. (NASDAQ:QCOM) (10.42%), General Mills (NYSE:GIS) (4.55%), Colgate-Palmolive (NYSE:CL) (2.63%), Williams-Sonoma (NYSE:WSM) (5.71%), Air Products and Chemicals, Inc. (NYSE:APD) (6.17%), W.P. Carey, Inc. REIT (NYSE:WPC) (1.00%), Realty Income Corp. (NYSE:O) (0.25%), Raytheon Company (NYSE:RTN) (9.33%), Nasdaq Inc. (NASDAQ:NDAQ) (28.00%), and many more.
The following lists the highest raises and cuts from the month of March 2016.
The Dividend Raises
Vail Resorts, Inc. (NYSE:MTN)
Vail Resorts, Inc. is a holding company. The company operates through three segments: Mountain, Lodging and Real Estate. The company's Mountain segment operates around 10 mountain resort properties and two urban ski areas, as well as ancillary services, primarily including, ski school, dining and retail/rental operations. The company's Lodging segment owns and/or manages a collection of luxury hotels under RockResorts brand, as well as other lodging properties, and a range of condominiums located in proximity to its mountain resorts, certain National Park Service (NPS) concessionaire properties, including Grand Teton Lodge Company (GTLC), which operates destination resorts at Grand Teton National Park; Colorado Mountain Express ((NASDAQ:CME)), a Colorado resort ground transportation company, and mountain resort golf courses. The company's Real Estate segment owns and develops real estate in and around its resort communities.
Vail Resorts is a Dividend Challenger having raised dividends for 5 consecutive years. The 1- and 3-yr dividend growth rates are 57.1% and 47.4% respectively.
Dividend Raise: 30.12%. The forward yield is 2.43%.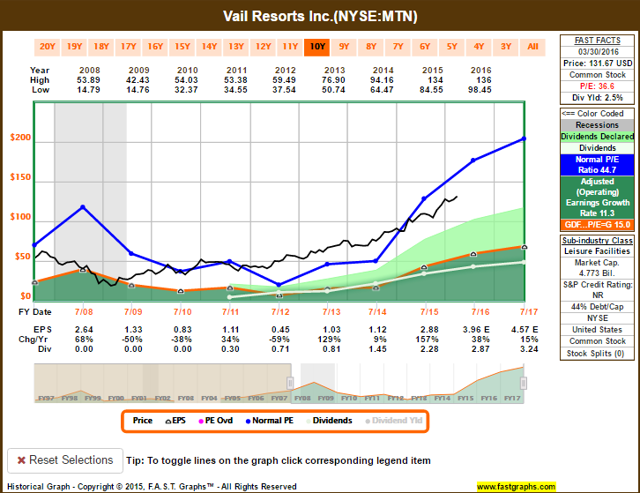 Click to enlarge
Nasdaq Inc. (Nasdaq), formerly The NASDAQ OMX Group, Inc., is a holding company. The company is a provider of trading, clearing, exchange technology, regulatory, securities listing, information and public company services across six continents. The company manages, operates and provides its products and services in four segments: Market Services, Listing Services, Information Services and Technology Solutions. The company's Market Services segment includes its equity derivative trading and clearing, cash equity trading, fixed income, currency and commodities trading and clearing, and access and broker services businesses. The company operates a range of listing platforms around the world to provide multiple global capital raising solutions for private and public companies. Its Information Services segment includes its Data Products and its Index Licensing and Services businesses. Its Technology Solutions segment includes its Corporate Solutions and Market Technology businesses.
Nasdaq started issuing dividends in 2012 and has been raising them every year.
I recently reviewed the financial market operators as a great investment option that is often overlooked by investors. Be sure to check out the article here.
Dividend Raise: 28.00%. Forward yield is 1.93%.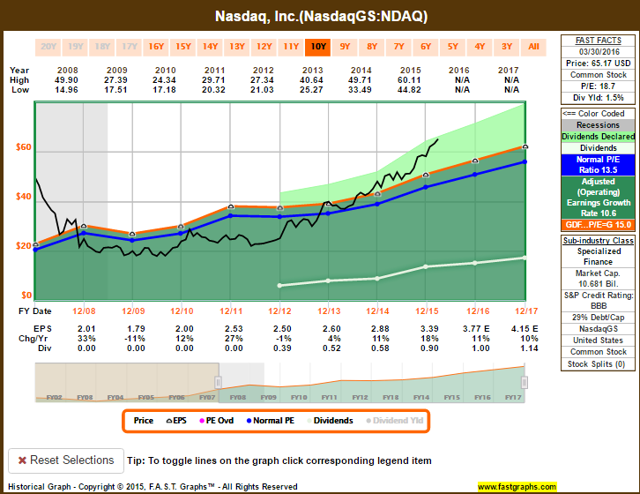 Click to enlarge
Stella-Jones Inc. is a Canada-based producer and marketer of pressure treated wood products. The company supplies North America's railroad operators with railway ties and timbers, and electrical utilities and telecommunication companies with utility poles. It also provides residential lumber and customized services to retailers and wholesalers for outdoor applications, as well as industrial products, which include marine and foundation pilings, construction timbers, wood for bridges and coal-tar based products. It operates approximately 27 wood treating plants, 10 pole peeling facilities and a coal tar distillery. It distills coal tar and distributes products from that process at its Memphis, Tennessee distillery. It has an interest in the wood treating facilities of Boatright Railroad Products, Inc.
Stella Jones has been raising dividends for 11 consecutive years. The 1-, 3-, 5-, and 10-yr dividend growth rates are 14.3%, 27.3%, 27.5%, and 29% respectively.
Dividend Raise: 25.00%. Forward yield: 0.86%.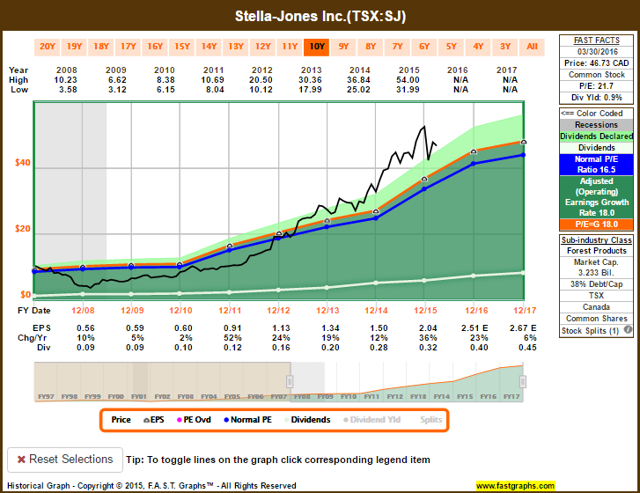 Click to enlarge
Sealed Air Corp. (NYSE:SEE)
Sealed Air Corporation is engaged in food safety and security, facility hygiene and product protection business. The company's segments include Food Care, which provides integrated system solutions for retailers and food service operators; Diversey Care, which provides integrated system solutions for food safety and security under Diversey brand; Product Care, which provides product care solutions to meet cushioning, void fill, positioning or block-and-bracing and surface protection, among others, and Other, which includes corporate, medical applications and new ventures businesses. Its brands include Cryovac packaging technology, Diversey and Taski brand cleaning and hygiene solutions, Bubble Wrap brand cushioning, Jiffy protective mailers and Instapak foam-in-place systems. In addition, the company offers I-Pack system, which supports various pick stations, and e-Cube system, which is an automated packaging solution.
This is the first raise from Sealed Air Corp since 2011.
Dividend Raise: 23.08%. Forward yield is 1.33%.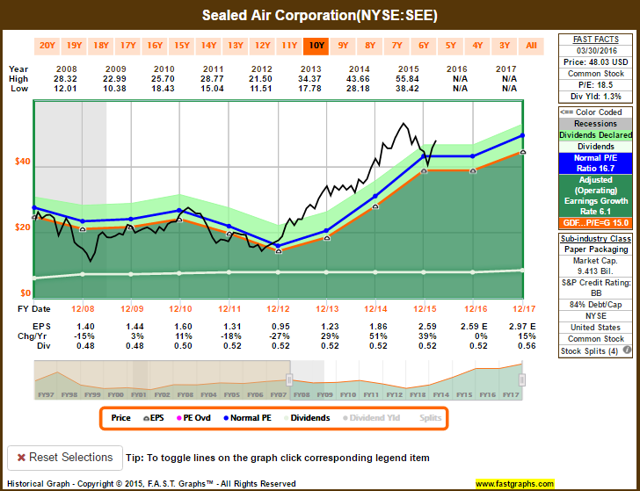 Click to enlarge
Ross Stores, Inc. is an off-price retailer of name brand and designer apparel, accessories, footwear, and home fashions for the entire family. The company operates two brands of off-price retail apparel and home fashion stores, Ross Dress for Less (Ross) and dd's DISCOUNTS. As of December 31, 2014, the company operated 1,210 Ross locations in 33 states, the District of Columbia and Guam, and 152 dd's DISCOUNTS stores in 15 states. The Ross and dd's DISCOUNTS stores are supported by five distribution centers. The Ross brand stores offers its products at savings of 20% to 60% off department and specialty store regular prices every day. Ross' target customers are primarily from middle income households. The dd's DISCOUNTS stores offers its products at savings of 20% to 70% off moderate department and discount store regular prices every day. Its target customers typically come from households with moderate incomes.
Ross Stores, Inc. is a Dividend Champion, having raised dividends for 21 consecutive years. The 1-, 3-, 5- and 10-yr dividend growth rates are 17.5%, 18.8%, 24%, and 24.5% respectively.
Dividend Raise: 14.89%. Forward yield is 0.93%.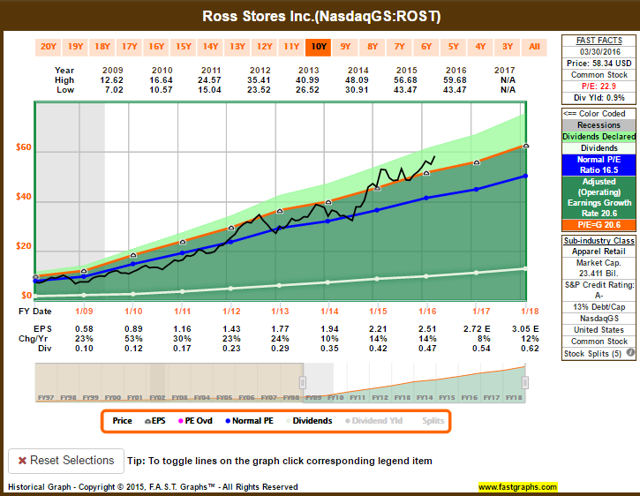 Click to enlarge
The Dividend Cuts
As much as we like to see higher profits from our investments, it is also important to keep an eye on the dividend cuts. Keeping an eye on the cuts gives us a window to view into the corporate world and spot overall trends.
As can be seen, most dividend cuts are in the commodity market - with mining or energy companies leading the way. For these companies, the name of the game has become capital preservation - as companies have already cut jobs, cut back on capex and the final step in preserving cash is suspension of dividends. Things look bleak as is evident from the charts shown below.
Eldorado Gold Corp. (NYSE:EGO)
Eldorado Gold Corp. owns and operates mines around the world. The company's activities involve various facets of the mining industry, including exploration, development, production and reclamation. Its operating gold mines include Kisladag in Turkey (100%), Efemcukuru in Turkey (100%), Tanjianshan in China (90%), White Mountain in China (95%) and Jinfeng in China (82%). Its gold projects include Perama Hill in Greece (100%), Olympias in Greece (95%), Skouries in Greece (95%), Certej in Romania (81%), Eastern Dragon in China (75%) and Tocantinzinho in Brazil (100%). Its other operating mines include Stratoni Lead and Zinc Concentrates in Greece (95%) and Vila Nova Iron Ore in Brazil (100%). The company has completed an exploration program in Romania at the Bocsa, Magura, Muncel, Brad and Deva projects, which are situated in the Apuseni district near the Certej deposit.
The company issued the following statement regarding the dividend suspension:
"The Company is suspending the cash payment of its semi-annual dividend payment effective the first quarter of 2016. The decision of the Board of Directors has been made in view of the low gold price, the terms and conditions of the Dividend Policy and the requirements of the Canada Business Corporations Act ((OTCPK:CBCA)). We continue to believe that a portion of funds from operations should be shared with our investors and look forward to resuming dividend payments in a stronger gold price environment."
Dividend Cut: 100%. Forward yield: NA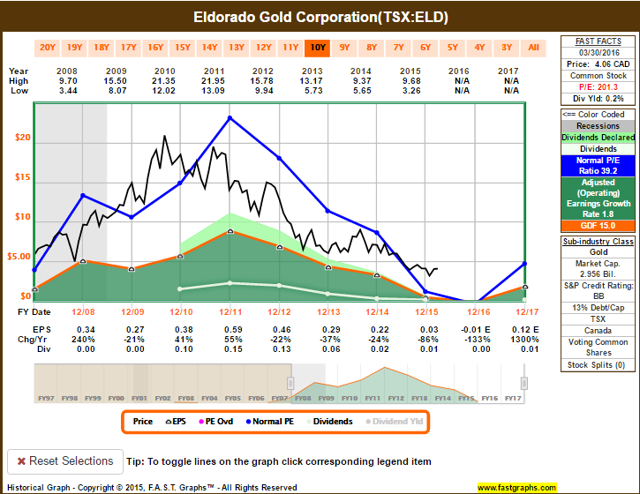 Click to enlarge
Transglobe Energy Corp. (NASDAQ:TGA)
Transglobe Energy Corporation (TransGlobe) is a Canada-based company engaged in the oil and gas exploration and production industry. The company's main business activities consist of the exploration, development and production of crude oil and natural gas liquids focused in Egypt. TransGlobe holds working interest in eight Production Sharing Concessions (PSCs) in Egypt: West Gharib Concession, North West Gharib Concession, South West Gharib Concession, South East Gharib Concession, West Bakr Concession, South Alamein Concession, South Ghazalat Concession and North West Sitra Concession.
The company issued the following statement:
"On March 8, 2016, the Company's Board of Directors resolved to suspend TransGlobe's current $0.025 per share quarterly cash dividend. By suspending the dividend, the Company will free up approximately $1.8 million of cash each quarter, or $7.2 million annually. The current low oil price environment and the Company's desire to maintain financial strength and flexibility led management and the Board of Directors to conclude that suspension of the Company's dividend is appropriate at this time."
Dividend Cut: 100%. Forward yield: NA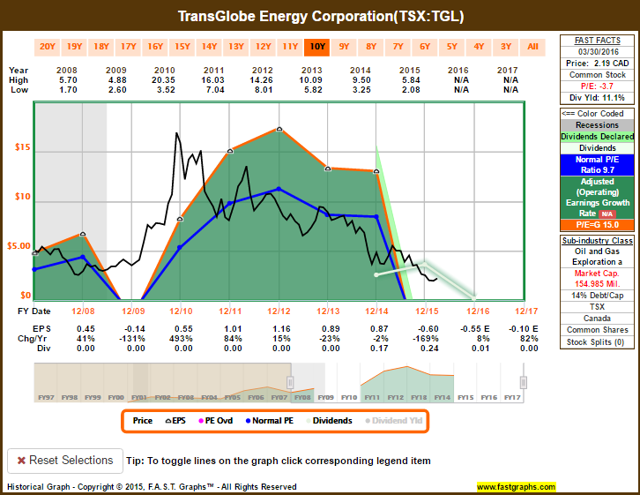 Click to enlarge
Crescent Point Energy (NYSE:CPG)
Crescent Point Energy Corp. (Crescent Point) is a Canada-based oil and gas exploration, development and production company. The company is an oil and gas producer with assets comprising light and medium oil and natural gas reserves in Western Canada and the United States. The company's primary assets are the shares in Crescent Point Holdings Inc. ((NYSEMKT:CPHI)), interest in the Partnership (CPHI and the company) and shares in Crescent Point U.S. Holdings Corp. (CPUSH) and, indirectly, in Crescent Point Energy U.S. Corp. (CPEUS). Its crude oil and natural gas properties and related assets are located in the provinces of Saskatchewan, Alberta and Manitoba and the states of North Dakota, Montana, Colorado and Utah. The company's properties in Canada include Viewfield Bakken Resource Play, Flat Lake Torquay and Bakken Resource Play, Shaunavon Resource Play and Saskatchewan Viking Light Oil Resource Play. Its properties in the United States include the Utah Uinta Basin Resource Play.
With the release of Q4 and annual results for 2015, the company stated the following regarding dividend payments:
"Despite executing its business strategy and generating another year of strong production and reserves growth, Crescent Point is reducing its dividend to maintain its strong balance sheet in the event that low oil prices persist for longer than anticipated. The Company's reduced dividend also provides increased financial flexibility during a rising commodity price environment."
Dividend Cut: 70%. Forward yield: 2.0%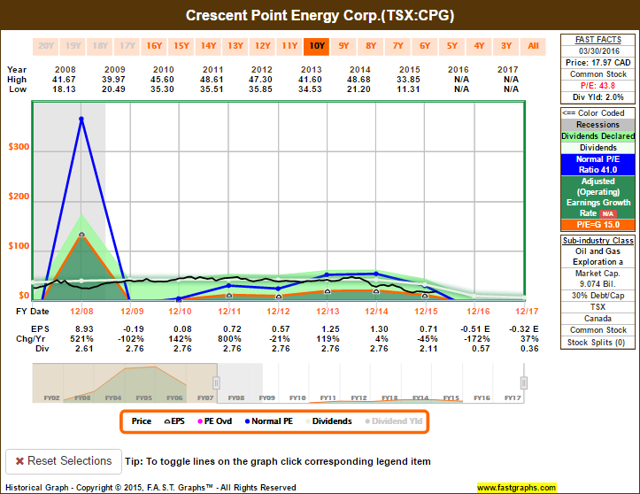 Click to enlarge
Summary
The beginning of the year is a great time of the year for dividend growth investors as more companies announce dividend raises. All round, some great dividend raises from various sectors of the economy. These dividend raises provide us a window to the corporate world and the economy as the companies share increased profit with shareholders. Investors should do their own due diligence before investing in any of the companies mentioned. Did you get any raises (or cuts) from the stocks mentioned?
Full Disclosure: Long BNS, O, QCOM. My full list of holdings is available here.
Disclosure: I am/we are long BNS, O, QCOM.
I wrote this article myself, and it expresses my own opinions. I am not receiving compensation for it (other than from Seeking Alpha). I have no business relationship with any company whose stock is mentioned in this article.
Editor's Note: This article covers one or more stocks trading at less than $1 per share and/or with less than a $100 million market cap. Please be aware of the risks associated with these stocks.