video source: youtube.com
Because of The Office TV show, every time I hear or see the word Scranton, I think of that scene in the video above. This is relevant to the article because the city of Scranton and its citizens will benefit from $350 million ($7,600 per residential customer) in sewer bill savings over the next 30 years as a result of the American Water Works (NYSE:AWK) acquisition of the Scranton Sewer Authority [SSA]. That will give Scranton a reason to party.
American Water Works is essentially rescuing Scranton because the acquisition will enable the SSA to pay off an estimated $70 million in debt. In addition to that, the SSA is under an EPA Consent Decree that mandates $140 million in system upgrades. Since AWK generates over $1 billion in operating cash flow, the company can do these upgrades.
American Water Works benefits from the acquisition because it gains 31,000 new customers. At the same time, AWK will be improving Scranton's sewer system and helping its citizens. The deal also helps the community since it preserves existing jobs and is expected to add 100 new jobs by 2020.
The Scranton deal is just an example of AWK's acquisition strategy. The company makes acquisitions to effectively expand the business. The success of these acquisitions has allowed AWK to be a top performing water company in terms of stock growth. The following chart illustrates AWK's performance over its peers in the Water Utility industry.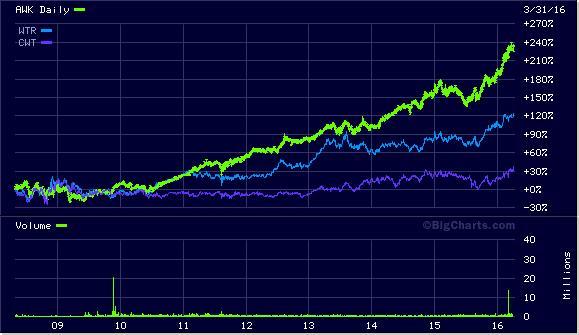 Here are some other recent examples of the company's acquisitions. AWK recently acquired Dunnigan Water Works at the end of 2015. The company also won a contract last year to own and operate Vandenberg's Air Force Base's water and wastewater system. The revenue for the Vandenberg deal is estimated to be $298 million over a 50-year period. AWK also operates water systems for 11 other military bases around the United States. AWK completed 14 acquisitions in 2015, adding about 24,000 new customers.
I think that American Water Works will benefit from situations that are similar to the Scranton story. The large amount of aging water infrastructure in the U.S. will create many future acquisition opportunities for AWK. It is estimated that over $1 trillion in upgrades are needed for underground water pipes in the United States. There are likely to be other municipalities facing high debt and water systems in need of repair. Selling these systems to a leader like AWK will allow stressed municipalities to improve their financial situation and shift the burden of maintaining water systems to an industry leader. I expect this to be a driver of growth for AWK over the long-term.
The Risks
The high costs of upgrading deteriorating water systems could cause AWK's balance sheet to weaken. The company currently has $6.56 billion in debt as compared to $45 million in cash. If the cost to upgrade/maintain existing and acquired water systems is more than expected, it could lead to more debt. If debt rises at a fast pace, it could cause investor sentiment to change from positive to negative, thus putting downward pressure on the stock price.
Valuation and Conclusion
The strong gains in AWK's stock increased the valuation. The stock is trading at 23X next year's expected earnings. This is slightly higher than Aqua America's (NYSE:WTR) forward PE of 22 and the California Water Service Group's (NYSE:CWT) forward PE of 20. Although AWK doesn't have the most attractive valuation in the industry, it is the largest company in the industry by market cap. AWK also has higher expected annual earnings growth of about 7% to 8% for the next five years. This is higher than the expected annual earnings growth of WTR and CWT, which is 6% and 5% respectively over the same time according to consensus. Therefore, AWK's stock could continue to outperform its peers due to the higher earnings growth.
The outlook for AWK is positive as it continues to find new acquisition opportunities to grow. However, I would expect the stock to pullback a bit after the strong recent run-up. I think that a 5% to 10% sell-off would be reasonable on profit taking. The long-term prospect for the stock is likely to be positive as long as upgrade costs remain contained.
Disclosure: I/we have no positions in any stocks mentioned, and no plans to initiate any positions within the next 72 hours.
Business relationship disclosure: I wrote this article myself, and it expresses my own opinions. I am not receiving compensation for it (other than from Seeking Alpha). Aqua America is my water utility company.