Ulta Salon (NASDAQ:ULTA) has been perhaps the best growth story in niche retail for the past couple of years. The company continues to defy gravity both in terms of its fundamentals and its share price as Q4 earnings have shares knocking on the door to $200. I've been critical of Ulta's valuation in the past as shares have never really been cheap; certainly a product of the company's explosive growth. But with shares making new highs once again, the bulls undoubtedly seem to be in charge.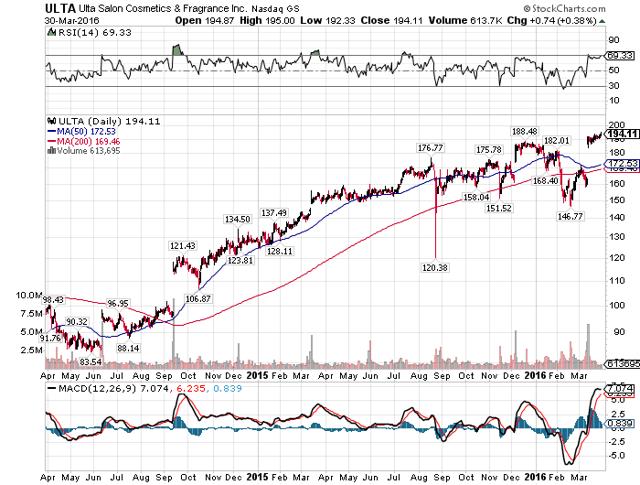 Ulta's Q4 was marked by its significant EPS beat and slight beat on revenue. Ulta always has high expectations from analysts and investors because its track record is so strong. Indeed, very few retailers have grown the way Ulta has in recent years. The company's combination of high comp sales increases and new store expansion has led to torrid revenue and profit growth paces and Ulta has certainly earned that respect.
Q4 was no different as total revenue shot higher by 21%. But more impressive than that number was Ulta's comp sales increase of 12.5%, an astounding total that is rarefied territory for retailers in any sector. This came on top of Ulta's Q4 comp increase of 11.1% last year, highlighting the effectiveness with which Ulta is able to get people in the door and get them to spend money.
But apart from the top line number, the composition of the comp sales gain is important as well. I always like to see how a retailer achieves its comp sales numbers in terms of the mix between traffic and average ticket size. Traffic is a much stronger and more sustainable indicator of demand than average ticket which can be goosed via higher pricing or attachment. Traffic is a true indicator of demand and Ulta's comp increase was heavily weighted towards traffic. Transactions gained 8.6% and ticket increases provided another 3.9% of growth during the quarter; tremendously bullish action in my book.
For a company with such a stronghold on its niche Ulta's margins aren't particularly impressive. Gross margins came in at 34.6% in Q4, a 120 bps improvement over last year's level. The company's investments in its Indiana distribution center were more than offset by higher product and e-commerce margins as well as leverage in fixed costs due to higher comp sales. We should continue to see Ulta's gross margins creep up over time as it leverages its higher comp sales levels to produce gains on its fixed expenses.
SG&A costs deleveraged 100bps during Q4 as the company spent on marketing and store labor to improve customer experience and enhance brand awareness. What's disconcerting is that the company's revenue grew 21% during the quarter but SG&A expenses grew much more quickly than that which led to the 100bps of deleveraging. The ultimate level of 21.1% is certainly sustainable for Ulta as its gross margins are much higher than that but Ulta is undoubtedly large enough that it should be producing leverage on its SG&A costs at this point, not increasing it well in excess of its 21% revenue growth. And with part of the reason being due to higher payroll costs for store personnel, it seems that Ulta's SG&A costs are resetting higher which will remove a significant chunk of margin expansion potential.
Speaking of margin expansion, the company's binge spending on SG&A caused operating margins to grow just 30bps to 13.4% despite the sizable gain in gross margins. If I'm right about Ulta's labor costs resetting higher - it seems that is the plan - then it will be challenging for Ulta to significantly grow its operating margins this year as its SG&A costs reset higher. That's a potentially serious problem for a stock with the valuation of Ulta as its expectations are sky-high.
Analysts have Ulta producing a 17% sales gain this year on the way to 20% EPS growth and similar numbers for next year. While I'm the first to admit that Ulta's recent growth has been impressive, one wonders just how far out this kind of expansion can be extrapolated. Indeed, Ulta's rapid expansion may be nearing its end and if that's the case, its double digit revenue and profit growth will follow suit. No one knows if Ulta is at or near saturation just yet because its comp sales continue to fly higher but at some point, it will reach that level and given its current size, I have to think that will be sooner than later.
In addition, while Ulta's comp sales have been very impressive, there is only so much revenue a physical store can produce. Stacking double digit comp gains on top of each other is unbelievably difficult and scale dictates that Ulta cannot do that forever; it's impossible. Guidance for this year was for another year of impressive comp gains in the 8% to 10% range, a number that, at the midpoint, would represent a slowdown from 2014 and 2015 levels. The simple fact is that as more and more stores move into the comparable base, Ulta's numbers will be more and more difficult to make.
At 32.5 times this year's earnings, Ulta is very expensive. Yes, it is one of the strongest growth stories in retail over the past few years but extrapolating out those results forever is dangerous. At that kind of multiple there is zero margin for error from Ulta because if it misses revenue projections, investors will be merciless. In short, Ulta is priced for perfection and that scares me. If SG&A continues to deleverage in 2016 I think Ulta may have a hard time satisfying investors in terms of EPS growth; even if Ulta hits its own guidance of just under $6 in EPS, that probably isn't enough to keep its lofty PE. For that reason, despite the fact that Ulta continues to impress, I think the risk is to the downside from these levels.
Disclosure: I/we have no positions in any stocks mentioned, and no plans to initiate any positions within the next 72 hours.
I wrote this article myself, and it expresses my own opinions. I am not receiving compensation for it (other than from Seeking Alpha). I have no business relationship with any company whose stock is mentioned in this article.