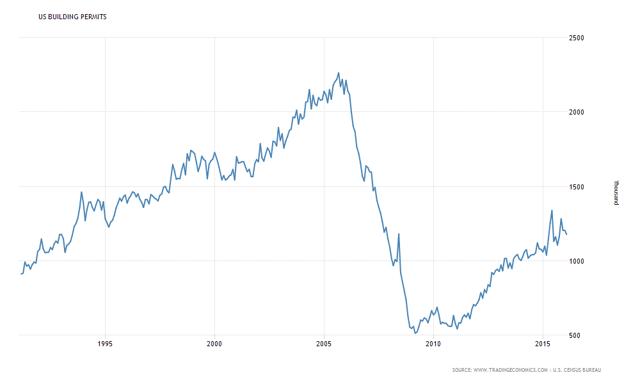 Click to enlarge(Source: Tradingeconomics)
The number of building permits is growing steadily in the US , indicating a growing demand for housing. This demand is largely fueled by the relatively low housing prices, cheap mortgages, and weak fiscal policy. These are excellent conditions for the buyer. However, which he cannot exploit them to the full extent. The US unemployment rate has returned to pre-crisis level only in January 2016 and remained at 4.9%, indicating an increase in the number of potential home buyers, but only in the distant future, since most of them are unable to obtain a mortgage due to insufficient income.
The commodities market has reached its lows and started recovering which favorably affects the service sector and the economy as a whole. The low price of raw materials, as well as fiscal incentives from the government, allows construction companies to build houses cheaply. House prices have almost returned to pre-crisis level which boosts profits from construction.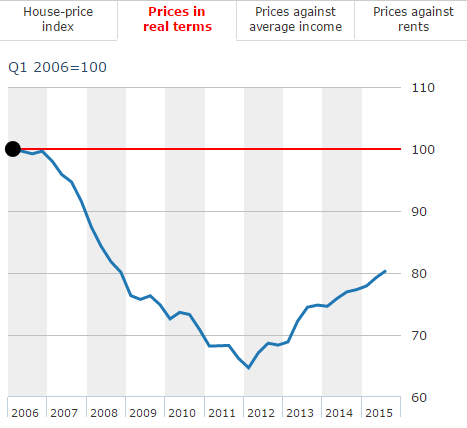 (Source: Gyazo.com)
However, the secondary housing market is much bigger than the primary market (In February, the secondary housing market amounted 90.8% of the entire housing market), so the construction companies are attracted not so much by strong demand but by low construction costs.
Further interest rate hikes will likely have a negative impact on the growth of property prices.
American households are leveraged: most of debt is mortgage loans. Therefore, substantial growth in property prices is typically local and has a speculative and unsustainable nature. Currently, American REITs [ProShares Ultra Real Estate ETF (NYSEARCA:URE), SPDR DJ Wilshire Global Real Estate ETF (NYSEARCA:RWO), Equity Residential (NYSE:EQR), AvalonBay Communities (NYSE:AVB)] are the big buyers on the real estate market. A recession or strong macroeconomic fluctuations can lead to a substantial fall in property prices or least cause them to stagnate.
In the event of favorable monetary and fiscal policies and the achievement of sustainable growth in household incomes, housing prices will acquire the necessary fundamental basis for growth. In this case, we can discuss long-term investment prospects in REITs and other property investments. However, at this point of time, it is not worth it.
We believe one should not expect significant growth in real estate prices before the end of Q3 2016, when the global macroeconomic conjuncture will be clearer for further forecasts. In particular, we are waiting for the results of the experiment with negative interest rates and the Chinese GDP growth stimulating policy's outcomes.
Societe Financiers is an investment research team focused on long-term, long- and short-only ideas. Our research objective is to cover equities in various regions, such as North America, EMEA, Asia, Australia, and Emerging Markets.
Readers should consider whether any advice or recommendation in our research articles is suitable for their particular circumstances and, if appropriate, seek professional advice, including tax advice. The price and value of investments referred to in our research articles and the income from them may fluctuate. Past performance is not a guide to future performance, future returns are not guaranteed, and a loss of original capital may occur. Fluctuations in exchange rates could have adverse effects on the value or price of, or income derived from, certain investments.
Certain transactions, including those involving futures, options, and other derivatives, give rise to substantial risk and are not suitable for all investors. Transaction costs may be significant in option strategies calling for multiple purchase and sales of options such as spreads.
Disclosure: I/we have no positions in any stocks mentioned, and no plans to initiate any positions within the next 72 hours.
I wrote this article myself, and it expresses my own opinions. I am not receiving compensation for it (other than from Seeking Alpha). I have no business relationship with any company whose stock is mentioned in this article.