Express Scripts Holding Company (NYSE: ESRX)
By Daniel Almeida, Nate Card, Mike Parmiter, and Albert Zeng
Company Introduction:
Express Scripts Holding Company is a pharmacy benefit management (NYSEMKT:PBM) firm with operations in the United States, Canada and Europe. A PBM company combines retail pharmacy claims processing and network management, formulary management, utilization management and home delivery pharmacy services to develop an integrated product offering to manage the prescription drug benefit for payers. Express Scripts divides their operations into two segments, PBM and Other Business Operations (OBO), where their PBM segment made up 97.3% of the company's revenue during the 2015 fiscal year. Express Scripts' PBM operations can be split up into two different segments: (1) in-network services and (2) out-of-network home-delivery and specialty revenue services. The first includes products and services like clinical solutions to enhance health outcomes within their in-network insurance management, specialized pharmacy care, home delivery pharmacy, benefit design consultation, drug utilization review, drug formulary management, insurance administration, and consumer health and drug information services. The second includes products and services in speciality pharmacy, retail network pharmacy administration, distribution of specialty pharmaceuticals and medical supplies and consulting services, including design, implementation, and project management for pharmaceutical, biotechnology, and device manufacturers that collect scientific evidence to guide the use of medicines. Express Scripts' main customers include managed care organizations, health insurers, employers, union-sponsored benefit plans, workers' compensation plans, government health programs, and other third-party administrators.
Investment Thesis:
Express Scripts' superior operations and competitive advantages in network services, home delivery, and specialty services businesses favorably positions the company to take advantage of key industry revenue drivers. By leveraging the efficient vertical integration of their services, concentrated research and development, a strong customer base and firm size, Express Scripts delivers unmatched pricing and superior centralized cost scaling to its customers while preserving and improving its profitability margins.
Business Operations Analysis:
To understand Express Scripts' operational strengths and profitability, we've compared the company to three of its closest competitors: UnitedHealth Group (NYSE: UNH), Cardinal Health (NYSE:CAH), and McKesson Corporation (NYSE:MCK). As can be seen below, in 2015FY, Express Scripts had the highest gross profit margin in five years, hitting 8.26% which represents a 5.13% increase from the previous year and an 18.7% increase since 2011FY. While UnitedHealth Group obtained a 23.57% 2015FY, however, this represents a 6.87% decrease from the previous year's gross profit margin. Cardinal Health is no better, with a 5.57% 2015FY gross profit margin which represents a 1.68% decrease from the previous year. Although McKesson's gross profit margin increased by 4.83%, that is still well below the increase seen in Express Scripts. It is also important to note that UnitedHealth Group has a higher ratio given that their operations extend beyond the PBM business that makes up 97.3% of Express Scripts' revenue. That means that their operational costs and, therefore, their margins suffer a distortion from other business operations. Furthermore, it is relevant to note that while Express Scripts gross profit margin achieves stable growth throughout the five years shown in the table above, its competitors' gross profit margins increase and decrease in seemingly unpredictable ways. Express Scripts financial strength comes across very clearly when we explore its gross profit margin relative to its peers.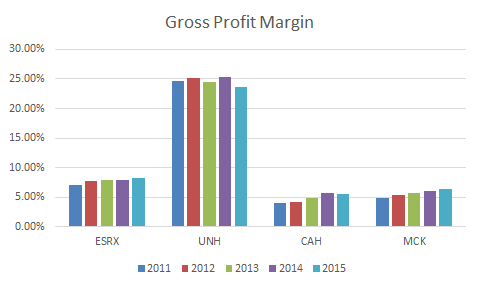 If we analyze Express Scripts' earnings before interest, tax, depreciation and amortization relative its financial strength is again made clear. McKesson has seen a declining EBITDA/Revenue margin since 2011, Cardinal Health has had unreliable margins and suffered from the same decline since 2011. UNH, despite the higher ratio, has seemed to level off at around 9%. Again, it is relevant to note that their margin suffers a distortion since their operations extend beyond PGM. Express Scripts, by comparison, has a higher ratio than two of its key competitors and in comparison to UnitedHealth Group, posted an improvement in 2015FY.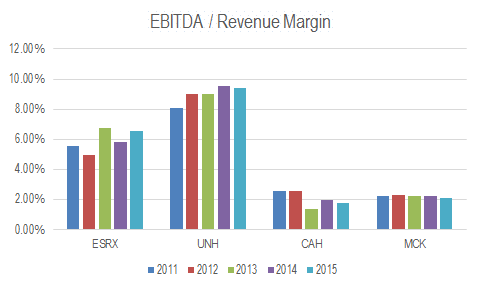 Management Profile:
Express Scripts boasts a very capable management team that has worked to make the company the largest pharmacy benefit manager in the country. George Paz, the chairman and chief executive officer of Express Scripts, played a large role in making Express Scripts the success it is today. He received his bachelor's degree in business administration and accounting from the University of Missouri-St. Louis, joining Express Scripts since 1998. He worked his way up from Chief Financial Officer to president in 2003, and finally to CEO in 2005. In 2006 he was elected Chairman of the board. During his time at the helm of Express Scripts, he has consistently grown the company, as evidenced by the stock price, revenue, and EBITDA charts ranging from 2005 to March 2016.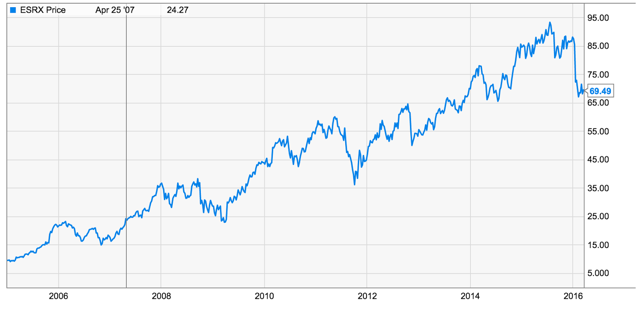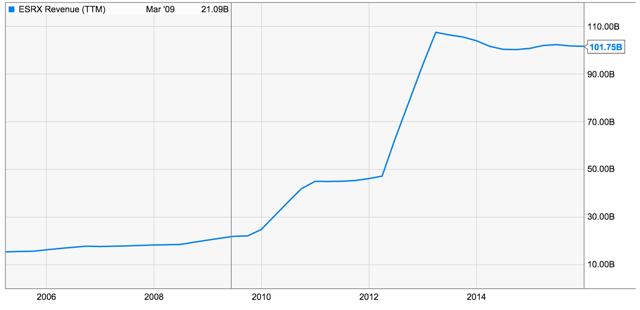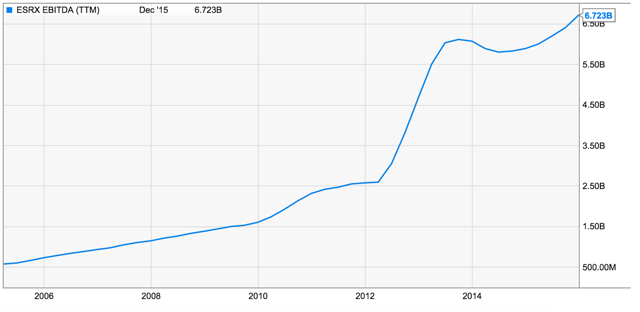 Moreover, Paz owns $72 million worth of Express Scripts stock ($55 million in shares plus $17 million in stock options), so his interests undoubtedly match those of shareholders. However, he is expected to resign as CEO in May 2016 (but maintain his Chairman position) after the annual shareholders' meeting.
Tim Wentworth, the current President of Express Scripts, will be ascending to the position of CEO. He received a bachelor's degree from Cornell University, and an associate's degree in business from Monroe Community College. He joined Express Scripts as a result of the merger with Medco in April 2012. From March 2006 to October 2008, he was the CEO of Medco's specialty pharmacy subsidiary (now Express Scripts' subsidiary), and has held a variety of other positions within Medco as well. Wentworth holds $6 million in shares and $9.5 million in options, for a total of $16 million.
Express Scripts' new Executive Vice President and Chief Financial Officer, Eric Slusser, further bolsters the management team. Slusser has served in various senior roles in Cardinal Health, Inc. and Centene Corporation. Most recently, he served as Executive Vice President and Chief Financial Officer and Treasurer of Gentiva Health Services, Inc. from May 2010 to February 2015. Also recently joining the team is Don Fotsch, the Senior Vice President of Home Delivery and Member Experience. Don received a Bachelor of Science in mechanical engineering from Marquette University and an MBA from Northwestern. He has worked over the last 20 years to deliver breakthrough products in leadership roles at Sears, Apple, BetFair, PayPal, and America Online. He brings very valuable digital commerce experience to Express Scripts. In March 2015, Everett Neville was named Senior Vice President of the Supply Chain, previously serving as the Vice President of Pharma Strategy and Contracting. Neville has been with Express Scripts for 16 years, showing his loyalty to the company and undoubtedly help it grow successfully.
Risks:
Some threats do exist to our consensus that Express Scripts is an attractive value investment. The most concerning of which is a dispute with the healthcare insurer Anthem. Anthem claims Express Scripts owes them a total of $3 billion dollars from savings on pharmaceuticals delivered to anthem dating all the way back to December 2015. Chief Executive George Paz has come out saying he is unaware of any wrongdoing on the part of Express Scripts and hopes to settle the issue and renew a contract with Anthem (NYSE: ANTM). Anthem has indicated if a settlement can't be reached privately, then it will not renew its contract and could file a lawsuit against Express Scripts. There have been no new developments for over a month which indicates ongoing negotiations, and we are confident that Express Script's management team will be able to resolve all issues due to the benefits that both companies derive from their partnership. We also are of the opinion that this Anthem controversy is already priced into the market, meaning a brokered deal could bring Express Script stock to new highs while a snag in negotiations would not cause the stock price to plummet.
Other threats exist to Express Scripts' business model. Political factors such as increased regulations, controversy over drug pricing, and the introduction of patients with unknown medical histories now making claims through the Affordable Care Act. Management at Express Scripts must effectively adapt to the ever changing environment in which it conducts business to avoid penalties from failing to conform to new regulations. The company must also adapt to prevent losing profitability through lower drug prices and interaction with patients with unknown medical backgrounds. Express Scripts must also be a dynamic force in a market with fierce competition who could reduce profit margins through price competition and poach existing customers.
Opportunities:
Express Scripts has positive future opportunities, given that pharmacy benefit management is a non-discretionary, recession-resistant industry. ESRX generates steady and predictable cash flows in both bull and bear markets. Compared to their competitors, ESRX has ample and stable cash flow from long-term contracts. In April 2015, the firm created a $5.5B share-buyback program with Morgan Stanley, which amounted to almost 9% of outstanding shares and is indicative of shareholder-friendly management. In addition, most of ESRX's growth has been due to acquisitions, and investors should expect more future acquisitions, given the company's ample free cash flow and history of M&A. ESRX's 2012 acquisition of Medco Health nearly doubled the company's volume of prescription claims.
History of Express Scripts's Acquisitions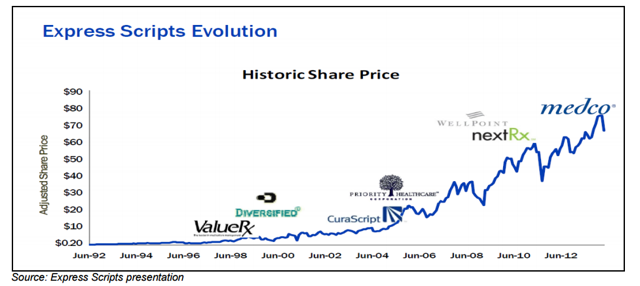 Click to enlarge
Competitive Advantages:
Express Scripts exerts a strong competitive advantage over its competition through vertical integration of a its in-network healthcare services. The company's operational structure allows it to "double dip" into the coffers of pharmacies, health insurers, and other companies in its network as it delivers both healthcare services and products. This happens as a retail pharmacy in Express Script's network potentially compensates the firm for prescription drugs on top of consulting services and solutions. This integrated network of services gives Express Scripts a unique advantage to deliver on a variety of needs for healthcare companies. As Express Scripts also brings a wide array of services to the table, discounts could be offered to companies on products and services since the firm can negotiate prices with manufacturers, distributors, and retail chains due to the sheer size of its business - a point we'll also discuss. This affords the firm a leg up on competition as it can deliver superior pricing on health care products for patients. Vertical integration also allows Express Scripts to control costs and fully capitalize on its asset-light capital structure to maximize its profitability.
This competitive advantage also creates incentives for out-of-network healthcare companies like pharmacies and insurers to rely on Express Scripts for solutions for virtually all of their business needs. If a retail pharmacy network relied on several different companies for medical supplies, consultation, and other services then there could be a potential misalignment of strategy that could hurt the pharmacy network's bottom line. Relying on Express Scripts for all needed services forms synergies that increase revenue for pharmacies and creates incentives to do business with Express Scripts. For companies trying to cut costs and benefit from a relationship with their service providers, Express Scripts is the clear choice.
Express Scripts has historically been able to make sound business decisions due to superior and concentrated research and development. Utilizing predictive models and software tools, the firm continually works to develop and improve products and services for pharmacy benefit management. The firm also is able to make superior prescription-related decisions through an innovative discovery platform called Health Decision Science. The Health Decision Science platform combines behavioral science (Consumerology), clinical specialization (Therapeutic Resource Center), and actionable data to enable Express Scripts to offer advantageous solutions for drug, pharmacy, and health choices. Consumerology optimizes decision making while the Therapeutic Resource Center identifies disparities in health care and works to address them by granting access to specialized pharmacists while increasing safety and affordability.
The variety of in-network healthcare services provided by Express Scripts supports another one of the firm's competitive advantages, a strong and loyal customer base. Approximately 26% of ESRX's revenues come from two customers, Anthem and the U.S. Department of Defense. Despite this fairly concentrated customer base, ESRX is unlikely to lose either account in the near future. Anthem and the DoD have signed long-term contracts extending to 2019 and 2022, respectively. The firm's customer retention rate is approximately 95%. ESRX's customer base includes health insurance companies, private sector employers, health maintenance organizations, government health programs, and union benefit plans. The firm also is able to reach patients individually through its retail pharmacy network and home delivery services for drugs and biotechnology. This large and diversified customer base ensures a steady stream of cash flows, regardless of market conditions. With an aging United States population, the customer base can only be expected to expand as healthcare spending as a percentage of United States' GDP will continue to rise. All of these factors benefit the bottom line for Express Scripts, and sustain its position as the leader in the PBM service industry.
The size of Express Scripts constitutes a fourth major competitive advantage. ESRX is the largest PBM firm; in 2014, ESRX managed 1.3 billion prescriptions for 85 million Americans, roughly 29% of the PBM market. The firm possesses significant bargaining power, allowing ESRX to negotiate low prices (discounts often over 30%) from manufacturers, distributors and retail chains. The size of ESRX attracts clients, who trust that ESRX can save them money by lowering drug prices. Express Scripts saved clients more than $2.2 billion in 2014; ESRX's bargaining power earns the firm high returns on equity. Ultimately, ESRX is more profitable and has higher operating margins than its competitors due to bargaining power and size.
Macro Trends:
We are confident that today's macroeconomic trends in the healthcare sector favorable positions Express Script. The healthcare sector is widely considered to be defensive in nature, due to the fact that its products and services are largely essential. Even during economic downturns, people still require medical attention. This consistent demand for goods and services makes healthcare companies like Express Scripts less sensitive to business cycle fluctuations, and this lack of economic sensitivity means that the key drivers of growth within the sector tend to be longer-term trends and themes.
One such theme is that the population is aging. The first of the baby boomer generation (those born between 1946-1964) turned 65 in 2011. By 2029, the last of the baby boomers will turn 65, and by this point 20% of the American population will be over 65 years old . Although the baby boomers will start to die out (in 2029 the oldest baby boomers will be turning 83, when the average life expectancy in the U.S. is 78.8), the trend of an increasing population of 65 and overs is expected to endure . In fact, it is expected to endure to such an extent that the U.S. Census predicts the population of 65 and overs will surpass the population of 18 and unders by 2056 . This is particularly important because "approximately two-thirds of all seniors 65 and over and 60% of those 50-64 have at least one chronic disease" . As the name implies, chronic diseases do not simply go away, meaning those who have them always need medication, on a steady, consistent, and regular basis. This is an area in which Express Scripts thrives. Home deliveries of medicines for diabetes, heart disease, COPD, osteoporosis-the list goes on are a large and consistent source of revenue for Express Scripts.
Another beneficial demographic trend is that many developing countries are seeing the emergence of a middle class, which is having a growing impact on the market. This relatively new population tier has more money to spend on healthcare. In fact, the same forces slowing trend growth rates - societal aging in advanced economies and prior periods of "catch-up" growth in several emerging market economies are boosting healthcare spending and the industry's share of global GDP. Although business in foreign countries made up only 7% of Express Scripts' PBM revenue in 2015, we see this aforementioned trend as a huge opportunity for Express Scripts to expand in the future. Over time, these two demographic trends will serve to make Express Scripts' large customer base competitive advantage even more competitive.
The trend of increased insurance coverage in the U.S. following the passage of the Affordable Care Act in 2010 is another driver of growth. Thanks to the ACA, 11.7 million people enrolled in an insurance plan during the open enrollment period; 12.7 million chose plans during 2016's open enrollment period. The Department of Health and Human Services reported that the total number of people ensured under the ACA "between the Marketplace, Medicaid expansion, young adults staying on their parents' plan, and other coverage provisions" in September 2015 was 17.6 million. According to the CDC, the percentage of uninsured 18-64 year olds dropped from 16.3% in 2014 to just 13.0% in the first three months of 2015, of course corresponding with an increase in private coverage. By the end of 2015's second quarter, the number further dropped to 11.4%. This is a trend directly pertinent to Express Scripts. The number of uninsured will continue to decrease, meaning that the number of those privately insured through the Health Insurance Marketplace will continue to increase. Clearly, this will benefit insurance companies, but it will also benefit PBMs like Express Scripts by virtue of benefitting insurance companies. For example, Express Scripts provides pharmacy benefit management services to Anthem, one of the largest insurance companies in the country. This partnership with Anthem made up 16.3% of Express Scripts' 2015 PBM revenue. When Anthem gains members through the Affordable Care Act, Express Scripts experiences a corresponding increase in revenue.
The theme of medicine becoming more technologically concentrated is another important trend. Health information technology is a quickly growing field, and "automated and interoperable healthcare information systems are expected to lower costs, improve efficiency and reduce error, while also providing better consumer care and service". Thanks to the passage of the Health Information Technology for Economic and Clinical Health Act in 2009, electronic medical records, picture archiving and communication systems, and vendor neutral archives have become increasingly common. Express Scripts is a company that has benefitted greatly and will continue to benefit from this increased focus on making healthcare electronic. Perhaps the clearest example of this is Express Scripts' home delivery of pharmaceuticals. They utilize (and contribute to) this trend to cheaply and efficiently distribute drugs, giving them a large leg up on competitors like CVS Health.
A final trend that is contributing to very substantial growth in the healthcare sector is the emergence of biosimilars. Biosimilars are drugs that are almost identical in function to expensive, formerly-patented, name brand drugs, but are created using more complex molecules and compounds extracted from biological sources. These biosimilars are becoming increasingly popular in the United States thanks to some recent policy changes in the Food and Drug Administration. When the Affordable Care Act passed into law in 2010, it amended the Public Health Service Act "to create an abbreviated licensure pathway for biological products that are demonstrated to be 'biosimilar' or 'interchangeable' with an FDA-licensed biological product". Because of this change, pharmaceutical companies are now pumping out biosimilars of their competitors' big ticket drugs when their patents expire (e.g., Sandoz submitted a biosimilar for Amgen's Enbrel, a drug responsible for 26% of their 2015 revenue). This is important because biosimilars are very similar to generics, and generic drugs are an important component of Express Scripts' business model. Express Scripts emphasizes the importance of the "alignment of [their] financial interests with those of [their] clients and patients through greater use of generics and lower-cost brands" (10-K). In 2015, they showed an 84.4% generic fill rate. The addition of more biosimilars in the years to come will lead this portion of the business even more success; moreover, it will make their concentrated research and development even more of a competitive advantage.
The combination of favorable demographic trends, an increase in number of those purchasing insurance plans, the shift towards a more technological focus in medicine, and the popularization of biosimilars in the U.S., creates an extremely favorable macroeconomic climate for Express Scripts-a climate that fully complements its competitive advantages.
Valuation: Comparable Company Analysis
The first method to value ESRX was a comparable company analysis. The competitors chosen were: CVS Health Corporation (NYSE:CVS), Aetna Inc. (NYSE:AET), Anthem Inc. (ANTM), Humana (NYSE:HUM), UnitedHealth Group , Cigna Corporation (NYSE:CI), and Cardinal Health Inc.. These companies were chosen because of the structure of their operations and because they directly compete with Express Scripts in PBM services.

Click to enlarge

From this analysis, the average of our output comes out to $88.59, which represents a 28.3% upside to what ESRX was trading at the market close on Wednesday, March 30th.
Valuation: Discounted Cash Flow Analysis
The second method we used to value ESRX was through a discounted cash flow analysis. Below lie some of our assumptions: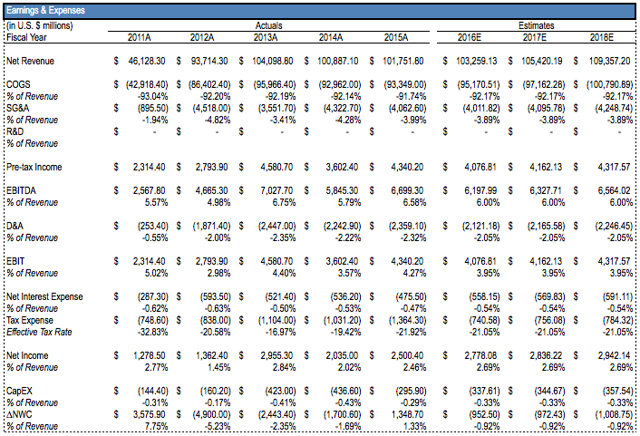 Click to enlarge
It is worth to note our forecasted revenue growth for 2016E, 2017E, and 2018E is 1.48%, 2.09%, and 3.73% respectively. These were reached by analyzing consensus analyst reports for future earnings for ESRX. Also factored in was the average industry growth rate, which stands at 2.9% - making our revenue growth assumption conservative. The specific expenses and charges listed above also were reached by comparing industry estimates, analyst reports and a weighted historic five year average of profitability and expense ratios in relation to revenue.
For this analysis, the values for unlevered free cash flow, as can be seen below, were discounted by a weighted average cost of capital of 6.5078%, which is within the industry range of 6.32-7.20%. A size premium of 0.5% was also added due to the company's size.
The perpetuity growth rate method yielded a return of 55.54%, while the terminal multiple method, reached by finding the industry consensus for a 3-year forward looking EV/EBITDA multiple, resulted in a 45.8% upside to what ESRX was trading at the market close on Friday, March 18th. The percent difference between these two results, roughly 10%, leads to the conclusion that we have reached fairly accurate results.


Finally, we decided to stress-test our results by taking different discount rates, 3-year EV/EBITDA multiples, and terminal perpetuity growth rates to see how resistant our analysis was. As can be seen below, in all cases, the upside remained positive and ranged from 13.65% to 88.42% when using perpetuity growth and from 18.57% to 59.95% when using an exit EBITDA.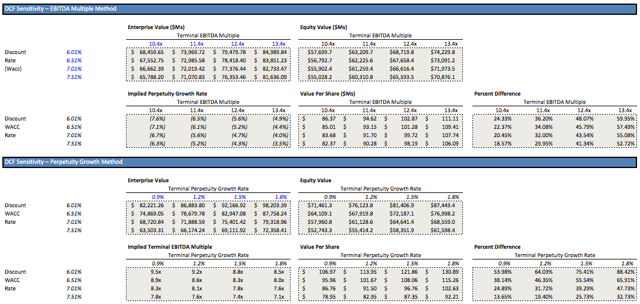 Click to enlarge
Additional Sources:
Express Scripts Holding Company. (2015). Form 10-K 2015. Retrieved from SEC EDGAR website
Disclosure: I/we have no positions in any stocks mentioned, and no plans to initiate any positions within the next 72 hours.
I wrote this article myself, and it expresses my own opinions. I am not receiving compensation for it (other than from Seeking Alpha). I have no business relationship with any company whose stock is mentioned in this article.
Editor's Note: This article covers one or more stocks trading at less than $1 per share and/or with less than a $100 million market cap. Please be aware of the risks associated with these stocks.