Please take note this is only one aspect in weighing the attractiveness or non-attractiveness as an investment of the companies mentioned and should not be used independent of other factors. This article examines one segment of the companies' businesses, and other factors such as valuation are not addressed.
While outbound travel from China and overseas spend of Chinese travelers keep growing, inbound travel can't seem to keep pace; despite a slowing economy and stock market volatility, Chinese tourists, already the highest-spending visitors in the world, spent $215 billion abroad in 2015, 53% higher than in 2014. Their spend is expected to double by 2020.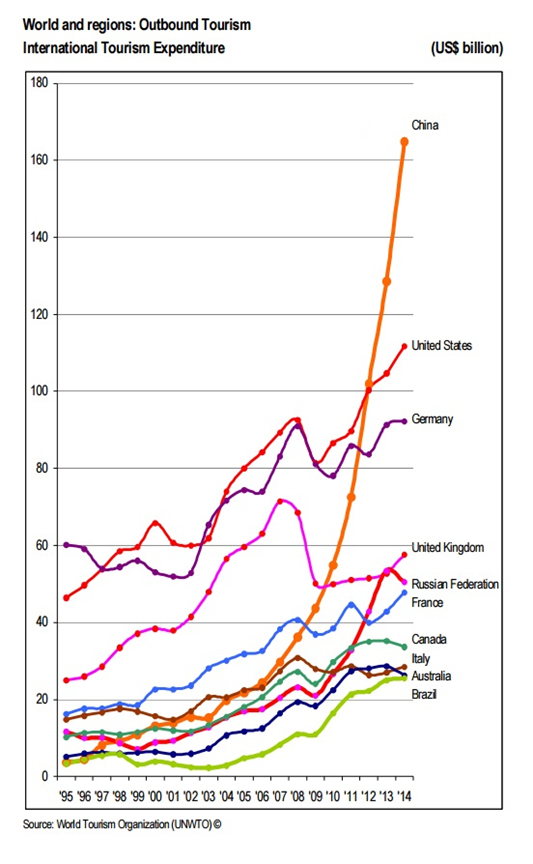 Source: World Tourism Organization (UNWTO)
Inbound tourism on the other hand grew by a mere 3% according to a report by the World Travel & Tourism Council (WTTC). Much of this growth was driven by tourists from Hong Kong, Macau and Taiwan. Foreign tourist arrivals have been showing feeble growth; international tourist arrival numbers fell 1.4% in 2015, rose 0.27% in 2014 and declined 3.31% and 0.29% in 2013 and 2012, respectively.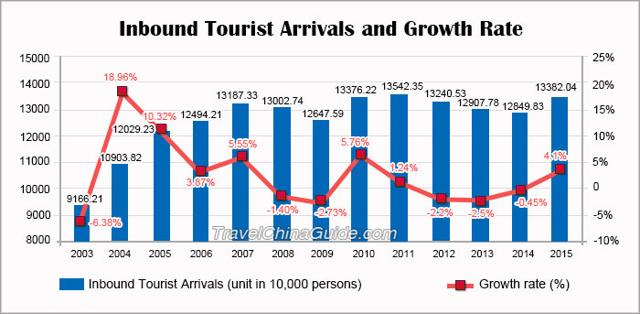 Click to enlarge
Source: Travel China Guide
Most of China's travelers travel within China, and domestic tourism is the biggest segment of the Chinese tourism market.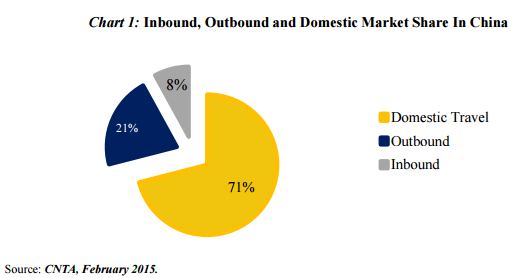 Source: China National Tourism Administration
Domestic tourism continues to boom with the number of travelers seeing a continuous year-on-year increase above 10% over the past five years (10.7% in 2014).
And similar to the way Chinese overseas travelers are the world's biggest spending tourists, they are also the biggest spenders in their home market. This trend is not expected to change much; the World Travel & Tourism Council forecasts travel spend by domestic tourists to grow 6% over the next decade, whereas visitor exports (foreign visitor spending) is expected to grow by 2.2% over the same period.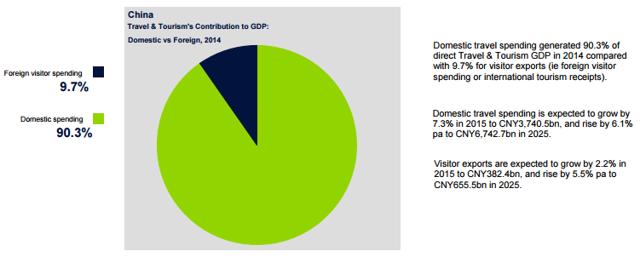 Click to enlarge
Source: World Travel & Tourism Council
Historically, international tourism was the growth driver of China's hotel market. Now, however, with rising per capita incomes and a growing middle class, domestic demand is currently the main growth driver of China's hotel industry, and this is likely to continue going forward. The Chinese government aims to double domestic spending on tourism by 2020.
China's hotel industry is a $44 billion business with about 2.5 million hotel rooms. This is roughly about a quarter of the size of the U.S. market which was about $176 billion in 2014.
There's still ample room for long-run growth; China's hotel penetration rate is just four hotel rooms per 1,000 capita. This compares with the United States' at 20 and the United Kingdom's at 10.
Management consulting firm A.T. Kearney projects China's hospitality sector will grow over the next 10 years to become a $100 billion industry with 6.3 million rooms.
Upscale hotel oversupply likely to persist
The emphasis has been until recently on luxury hotels which have flooded the Chinese market, and consequently, oversupply has been an issue over the past few years for the upper end of China's hospitality market.
Within China, performance is markedly different. Hotels in first-tier cities have fared comparatively better than lower-tier cities despite a government crackdown on spending due to demand from corporate and business travelers and MICE groups.
The average RevPAR in first-tier city hotels in 2015 reached RMB 538, or RMB 562 after seasonality adjustments. Room revenues of five-star hotels in first-tier cities have rallied 16% since bottoming out in the first quarter of 2013 while room revenues for five-star hotels in second- and third-tier cities continued to slide during the same period.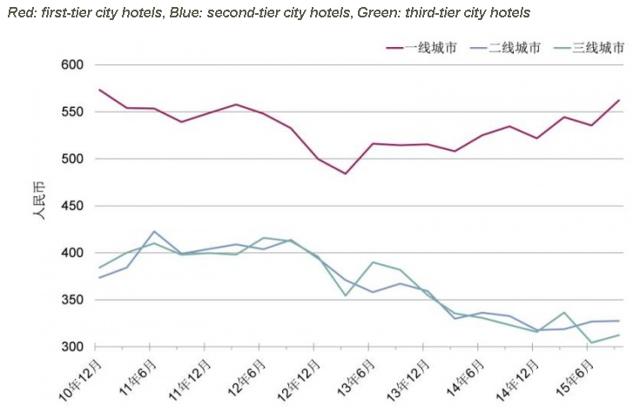 Click to enlarge
Source: Savills China
Within top-tier city hotels, those located in Shanghai, China's financial capital, are relatively better off than Beijing; five-star hotel room stocks have been steadily rising in both cities, however, Shanghai hotels recorded better results in both key metrics - the Average Daily Rate (ADR) and Average Occupancy Rate.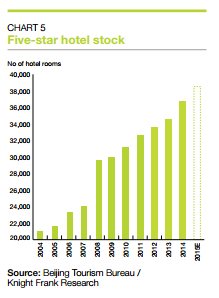 Source: Knight Frank Research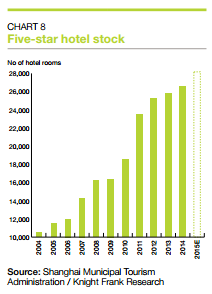 Source: Knight Frank Research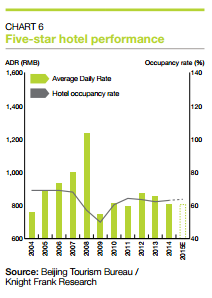 Source: Knight Frank Research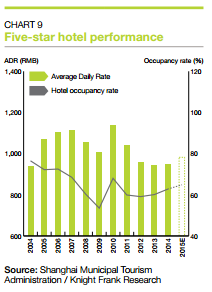 Source: Knight Frank Research
With luxury oversupply expected to continue going forward according to Fitch, hotel operators are increasingly turning to a new segment of China's domestic tourism market - the mid-scale hotel segment.
Mid-scale hotels likely to be driven by rapid middle class growth
Unlike China's upscale hotel segment, the mid-market segment has been comparatively overlooked and is underserved. In the past, China's hotel development saw strong growth in the high-end segment, but relatively skinny growth in the middle. However, with demand increasing across the country, there is a renewed focus on this segment.
Three- and four-star hotels are considered mid-scale in China. According to the National Tourism Bureau, between 2008 and 2014, China's five-star hotel room inventories increased 75% whereas mid-scale rooms i.e., four- and three-star increased 33% and decreased 0.93% respectively. One- and two-star hotel room supply declined 74% and 51% respectively.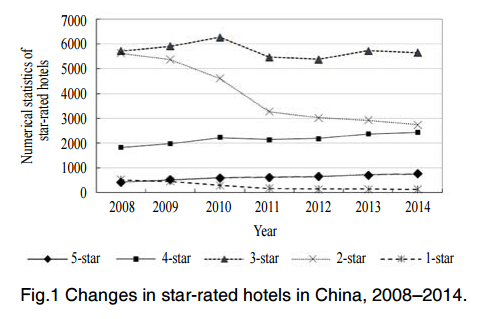 Source: Journal of Resources and Ecology
While the supply side has seen relatively moderate growth, the demand side is poised to grow. A growing appetite for travel from China's emerging middle class as well as increased business travel from mid-management workforce is expected to propel demand for this segment of China's hotel industry going forward.
China's middle class is now the biggest in the world and is growing much faster than America's. This factor coupled with the Chinese government's push towards a consumption-driven economy presents a significant growth opportunity; China's consumption as a percentage of GDP is just 38%, which is small by developed world standards. Even middle-income countries at equivalent stages of development to China have on average consumption ratios almost 20 percentage points higher.
The Chinese government's crackdown on extravagant spending, which cuts down lavish banquets in high-end hotels by government officials, is also a significant growth driver for mid-scale hotels.
The mid-scale segment is the largest hotel segment in China with $36 billion total room revenues in 2015 and has seen the fastest growth with compounded annual growth of 12.5% over the past four years.
With China's upscale hotel segment saddled with excess capacity, the above factors suggest that mid-scale segment will be the growth driver going forward.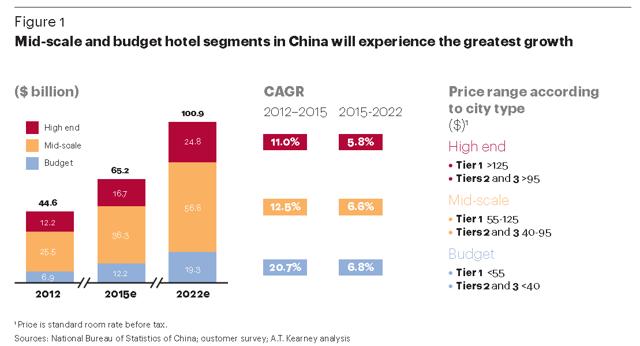 Click to enlarge
Source: A.T. Kearney
Moreover, unlike the budget hotel segment, China's mid-scale hotel segment is fragmented, thus giving opportunities for market share gains.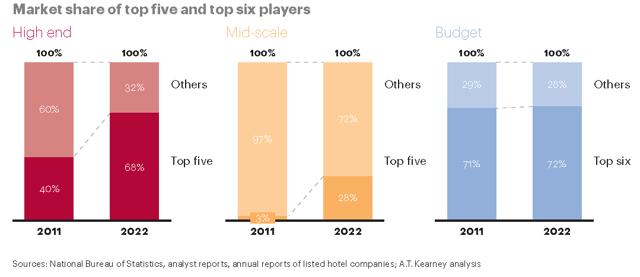 Click to enlarge
Source: A.T. Kearney
International hotel operators have already begun to take note. Marriott (NASDAQ:MAR) and China's Eastern Crown Hotels signed an agreement recently to open 100 mid-scale Fairfield by Marriott hotels in mainland China by 2021 aimed at China's fast-growing middle class. Another 40 hotels will be opened later. Hilton Worldwide (NYSE:HLT) signed a development agreement with Plateno Hotels Group to jointly bring hundreds of Hampton hotels to China's growing middle class over the next several years.
InterContinental Hotels Group (NYSE:IHG) is greatly increasing the number of hotels in the next five years in China, over half of which will be managed under the mid-scale brand of Holiday Inn and Holiday Inn Express.
China Lodging (NASDAQ:HTHT) and Accor signed a deal to bring Accor's mid-level Ibis brand to China. Cachet Hotel Group together with Qingdao Izunco Inn Investment Company intends to launch SAVANT Hotel by Cachet, a mid-scale lifestyle brand aimed at China's burgeoning middle class.
Conclusion
Historically, China's hotel industry was driven by international tourism, however, with rising per-capita incomes and a growing middle class, domestic tourists are currently the growth drivers, and this is likely to continue in the future. Upscale hotels are facing oversupply conditions, and this is likely to persist going forward. The budget and mid-scale segments are projected to grow. However, the budget segment is currently dominated by local players such as HomeInns Hotel Group (the leading player), and the top six players controlling over 70% of the market, making it difficult for new entrants.
The mid-scale segment however offers growth potential; on the supply side, there's been relatively muted growth in mid-scale hotel room inventory while on the demand side a growing middle class, increased business travel by mid-management and a government crackdown on extravagant spending present demand drivers for this segment of China's hotel market going forward. This market segment is highly fragmented, thus offering an opportunity for market share gains.
Disclosure: I/we have no positions in any stocks mentioned, and no plans to initiate any positions within the next 72 hours.
I wrote this article myself, and it expresses my own opinions. I am not receiving compensation for it (other than from Seeking Alpha). I have no business relationship with any company whose stock is mentioned in this article.