As suggested by the title, this article will be a quick review of what happened in the REIT world in 1Q16 and conclude with an outlook on the rest of the year and how to play it. Let us dive right in.
Looking at the quarter as whole, REITs did fairly well with the SNL REIT index up just over 4%, which materially beat the broader market. The journey, however, was anything but smooth with a 10% drop in the first 45 days.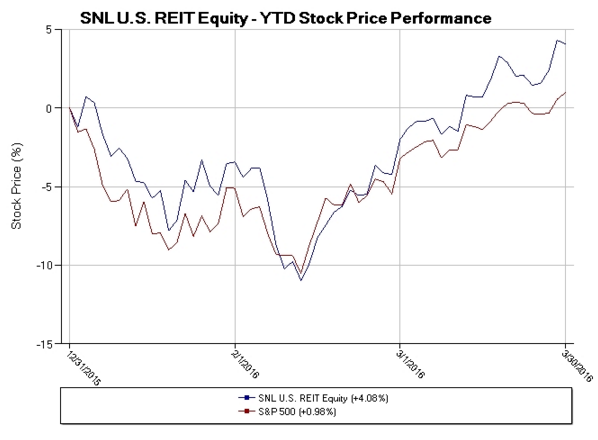 The distribution of gains was fairly mixed with a large number of REITs substantially under and overperforming.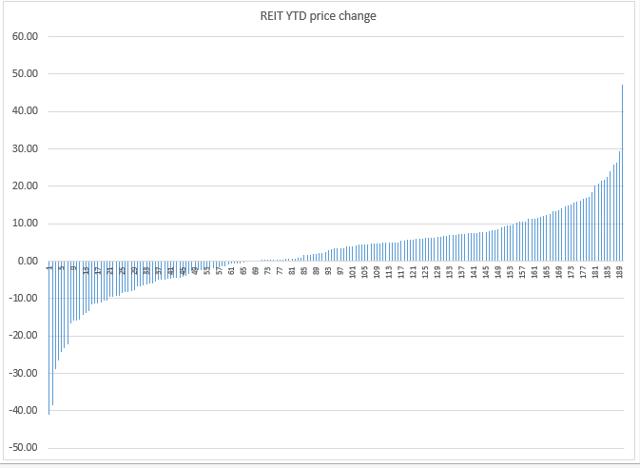 Click to enlargeSource: SNL Financial. Each tick is a REIT
A disproportionate amount of the underperformers were the small and micro-cap REITs with the large cap REITs outperforming the index.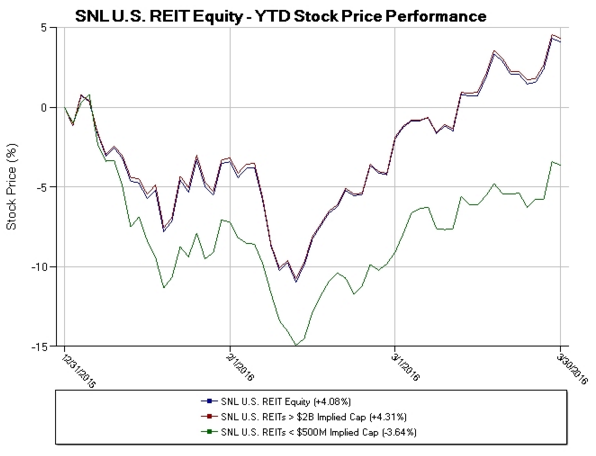 The sector breakdown is also notable.

Click to enlargeSource: SNL Financial
Self-storage continued its 52 week run with a further gain of 7% in the first quarter, while offices continued to drop. Multifamily reversed its positive course, showing almost no return this quarter and diversified REITs were able to regain some lost ground.
Outlook for remainder of 2016
We believe REITs as an aggregated index are appropriately valued based on a mix of trading multiple and spread to treasury.
REITs got slightly more expensive in the quarter with P/FFO climbing to roughly 20.5X for the index.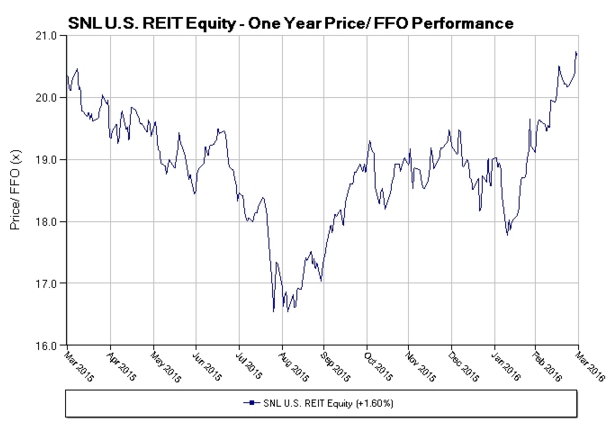 This multiple is high relative to history where REITs would more typically trade around 17X-18X. However, REITs are looking cheap relative to other income investments. Spread to treasury increased substantially with REITs now yielding almost twice as much as the ten year treasury.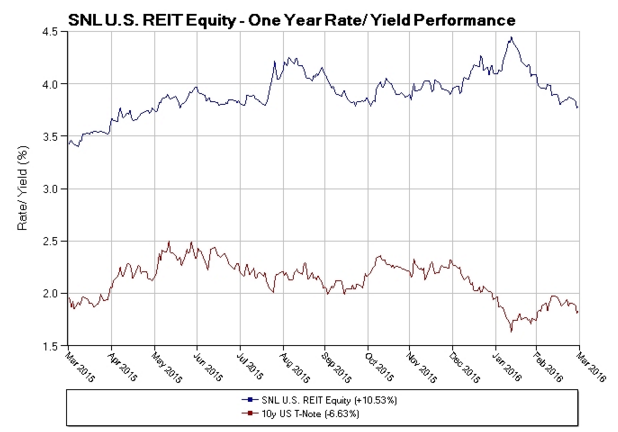 In our opinion, the pricey multiple offsets the favorable yield spread to make the REIT index approximately correctly valued. Thus, we think REITs as a group will have a fairly normal return of about 6% for the remainder of the year.
Digging deeper
The internals of REIT valuation tell a strikingly different story with the unweighted average REIT trading at only 15X 2016 estimated FFO.
How can the mean REIT trade at 15X when the index trades at 20.5X?
Well, a tremendous skew has developed in which the big REITs are massively more expensive than the small REITs. In fact, if we look at just the 84 REITs with market capitalizations under $2B, the average P/FFO is only 12.8X. Further, the average yield among small and mid-cap REITs is 5.5%.
In studying the REIT universe, we have not seen any fundamental justification for the valuation skew. Aside from minor benefits of scale, there does not seem to be any particular reason that the large caps should be more highly valued per dollar of FFO.
When will the gap close
All mispricing is eventually corrected, the question is when. We believe the value gap between small and large REITs will close quite rapidly because there is a game changer coming up. In August, REITs will be broken out of financials to become the 11th GICS sector.
Once this happens, and possibly in anticipation of it, there will be materially more analytical scrutiny on the REIT space. As intellectual capital reaches a point of sufficiency, the hidden value of small cap REITs could be illuminated to the broader market rather than relegated to a small group of REIT dedicated investors.
This brings me to a more specific outlook. We anticipate the large and mega cap REITs with luxurious valuations to remain fairly flat for the remainder of the year, while the deep value mid and small cap REITs generate double digit returns.
There is arguably more risk in the small cap REIT space, but proper company level due diligence should decouple the good from the bad.
Disclosure: This article is for informational purposes only. It is not a recommendation to buy or sell any security and is strictly the opinion of the writer.
Disclosure: I/we have no positions in any stocks mentioned, and no plans to initiate any positions within the next 72 hours.
I wrote this article myself, and it expresses my own opinions. I am not receiving compensation for it (other than from Seeking Alpha). I have no business relationship with any company whose stock is mentioned in this article.