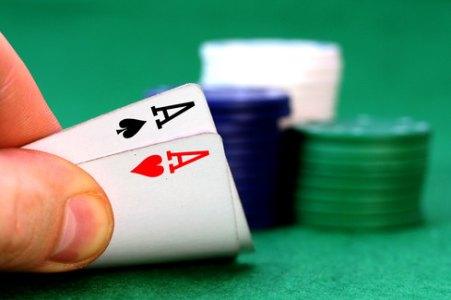 With Amaya in your portfolio, it will be like holding aces in Texas Hold'em
Important edit: I have become aware that in my initial estimate of the current market cap I omitted the preferred shares that are convertible at a varying rate with the price of common shares; if the preferred shares' option of convertibility were to be exercised today, it would mean an increase of market cap of north of US$1 billion. These preferred shares (until converted) should in my opinion be viewed as an additional debt. I still believe that Amaya currently is undervalued, but not by as much as my initial thesis suggested.
Background
Amaya (NASDAQ:AYA) was a small company until the CEO David Baazov initiated a plan, and was successful in overtaking the biggest player in online poker, Pokerstars, in 2014. Forbes made a portrait of him, which describes him as a risk taker and as a person that aims very high. Pokerstars was formerly on private hands. Its former owners had (have) legal issues in the US which were seen as an effective blocker for any aspirations to re-enter the US market. Amaya bought Pokerstars for US$4.9 billion in 2014, and it now trades around US$1.5 billion. Amaya estimates it has about 71% of all poker traffic worldwide.
What is a fair value estimate for Amaya Inc.?
Amaya's balance sheet is dominated by the huge debt they took on to buy Pokerstars. That debt will likely be paid within 4-5 years and Amaya will emerge as a cash cow. According to its recent release, Amaya paid off US$569 million in 2015, thereby reducing the total long-term debt from US$3.16 billion to US$2.59 billion on 31st of December 2015. Taking a simple linear approach, you arrive at a debt free company in 4-5 years' time. Hence, if you take on the long-term binoculars, you could buy into a company now that had unlevered free cash flow of US$310 million in 2015 for the total price of US$1.5 billion, i.e. price to UFCF ratio of 4.8. It is an industry with superb margins, e.g. EBITDA margin of 42.7% and 42.4% in 2015 and 2014 respectively. Table 1 shows the composition of total revenue for 2014 and 2015. It seems like a fairly stable business (cash cow) with some growth potential, though some of the growth in betting and casino will stem from cannibalizing poker.
Table 1: From Amaya presentation March 14 2016.

Source: Investor relations, amaya.com
The former valuation is from an error prone and static everything else equal point of view that does not take into account possible risks of competitors taking market shares, regulators tightening online gambling in Pokerstars' main markets or a simple declining interest in online poker. On the other hand, it does not include new drivers for growth such as casino, betting, fantasy sports re-entry to the very lucrative US market. It is an analysis that looks at Amaya as a debt-ridden cash cow that, within a few years, can be highly profitable and that it is now possible to enter it cheaply (that window might close). I will comment later on the risks and possibilities.
How much should this business be worth, i.e. a business that though highly profitable still has a lot of debt to pay back, and therefore, will not be able to show real profitability in a few years. I put in the numbers that the company has zero FCF for five years assuming the cash flow is used for debt repayments and then, beginning in year six, the FCF will go to equity holders. The net present value, in this case, would be about US$3.1 billion using a discount rate of 7%, which is a bit higher than the estimated cost of the long-term debt, which I calculated as 5.7% (interest payments for FY2015 to LT debt 31st December 2015). You would have to use a discount rate of 12% to get a value of around US$1.5 billion (the current valuation). With the risk-free rate at about 1.8% (10-year US T-bills), the current valuation of the stock seems far off in this conservative everything is equal valuation.
But everything else is not equal (1): Opportunities
As table 1 showed, there is plenty of room for growth in Amaya. Let's leave aside for a moment the European poker cash cow. Figure 1 shows that about 80% of revenue comes from Europe and table 1 shows that about 80% of revenue comes from poker. I will call this the European Poker Cash Cow (EPCC), which was what I analyzed in the first part of this article and I came to the conclusion that for Amaya to be valued at US$1.5 billion, you would have to use a high discount rate of 12%, whereas a more (in my humble opinion) realistic discount rate of 7% produces a result of net present value of about US$3.1 billion. Or a little more than double the current market valuation.
Figure 1: From Amaya presentation March 14, 2016. Geographic revenue breakdown.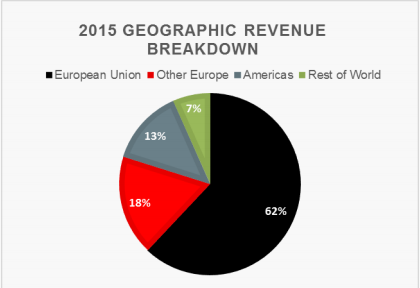 Source: Investor relations, amaya.com
The opportunities for Amaya are:
- Increased market share and growth in:
· Casino (www.betstars.com)
· Sports betting (www.betstars.com)
· Fantasy sports (www.starsdraft.com)
- Opening up new geographical markets, notably in:
· The USA: New Jersey (planned launch 21st March 2016)
· Expansion in the rest of the world as well.
It is very difficult to estimate the economic impact of these opportunities, but since they are positive economic impacts they don't subtract for the overall valuation of the EPCC. Especially, opening up in the US (though it might be a state-by-state affair) could prove very valuable since Pokerstars is already known in the US, and culturally speaking, Americans have bigger inclination towards poker than any other country. But I would categorize this as a low probability but highly impactful event (like winning the lottery). Although still difficult, it is easier to estimate an economic impact of the growth of the sport betting and casino segments of the business. To shed some light on these segments, I will compare Amaya to another poker, betting and casino operators, namely the Swedish-based Unibet. This comparison will also include valuation and growth metrics.
Competitors and who is Pokerstars going to take market shares from in casino and betting?
In the following, I compare Amaya to Unibet, a big European online gaming site. The results are representative for comparisons with other online gaming sites such as 888 (OTCPK:EIHDF).
Table 2 shows that compared to Unibet, Amaya still derives the vast majority of its income from poker, but as table 1 showed, the revenue from especially casino games is rising dramatically. Unibet, on the other hand, derives its revenue almost evenly divided from sports betting and casino.
Table 2: Composition of revenue FY2015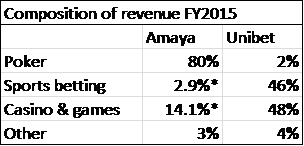 *Note: Casino and Sportsbook is not separated in the latest Amaya report, so I've weighted the share with the number of customers in each segment. Sources: Latest reports from Unibet and Amaya, Investor relations' websites.
From table 3, we learn that the total number of customers of Amaya is nearly 100 million whereas Unibet has 13.5 million. Amaya has about 2.5x the number of active users as Unibet, which we must assume are about evenly divided between casino and sports betting.
Table 3: Customer metrics

Sources: Latest reports from Amaya and Unibet.
Table 4, the most interesting of the tables 2-4, shows that on price to sales, Amaya is way cheaper than Unibet in spite of being at least as profitable (as measured by EBITDA). All in all, Amaya beats Unibet on every single number except for long-term debt (and market cap), but when it comes to revenue Amaya is ahead.
Table 4: Operating and valuation metrics

*Note: The exchange rate use is the rate at writing 1 USD = 8.19 SEK Sources: financial reports, Reuters and Google Finance.
But everything else is not equal (2): Risks (and why the share price of Amaya is depressed)
There are various problems, in general, running an online poker/gambling site: Regulation. In 2009, Pokerstars had to shut down its activities in the US when the FBI suddenly decided that it wanted to enforce legislation prohibiting online gambling. Pokerstars has since been banned from US soil until now, where they are trying to make a comeback starting in New Jersey as earlier mentioned. Online gambling faces strong opposition in the US, and the risk is that other countries will decide to ban online poker as well, although it seems very unlikely to happen in a large scale. Regarding the US, as I've already stated, I see the potential for Amaya opening up nationwide business in the US as a lottery ticket that could have significant financial impact, but being unlikely.
The most urgent risks are:
- Kentucky has fined Pokerstars the "small" sum of US$870 million using a 200-year old law that enables individuals to sue other individuals for gambling losses. Amaya says that inhabitants of Kentucky only lost $18 million when Pokerstars operated there, and besides that claims that the original law was intended to be used among individuals (and not the state versus a company for instance). Not being a legal expert at all, I just think that Pokerstars' number seems way more realistic than Kentucky's ditto. (See: link).
- Accusations of insider trading of young CEO Baazov by the financial authorities in Quebec. Accusations are that Baazov and 12 other individuals gained CN$5 million from insider trading in Amaya. The most likely outcome is a fine. This has led Baazov to take an indefinite leave of absence as CEO as of today, March 29. The news about the CEO's indefinite vacation made the stock jump more than 10%. (See: link).
- Led by Russian poker players, some of the high volume players are organizing boycotts of Pokerstars due to disagreements over changes in rewards programs (which earlier favored high volume players, now not so much) and hikes in rake (the amount of money taken out of every cash game hand and a percentage of tournament and Sit & Go games). The accusations of greediness from players to the new owners of Pokerstars, i.e. Amaya, are not good for the brand, although I think that the financial impact is very small. It might even entice other players who do not play at Pokerstars regularly to give it a try.
All these risk factors have brought bad news to Amaya over the last several months and have depressed the share price. In general, except the regulatory risks, these risks are transitory in nature and should not affect the long-term outlook for Amaya.
Taking the company private?
Baazov wants to take the company private. Already owning (of what is publicly known) 18% of the shares, Baazov has commented an interest in taking the company private at CN$21 per share (current price CN$16.70). This could be an issue for long-term shareholders, because the value of the company is way higher according to my estimates. However, all this talk about taking the company private could entice other buyers and/or activist involvement to realize the long-term potential of Amaya, or securing a fair price (for the shareholders) for taking it private.
What is Amaya?
Through this article, I have tried to show that Amaya consists of three distinct parts:
1) The European Poker Cash Cow; this business alone should be worth around at least US$3 billion, and although the market is not growing, the huge share of active online poker players that Pokerstars has, given its strong brand and loyal customers is a positive thing.
2) Growth possibilities from Casino and Sports Betting where especially the Casino part is a major growth driver currently. It might cannibalize a bit from current poker-driven revenue.
3) The US lottery ticket - since this could be a possible huge win, if online gambling is allowed again in the US, it could mean a huge windfall for Amaya. It is, however, an unlikely event that will take time to materialize (if ever).
When you compare Amaya's operating metrics and valuation to a big European player in the online gambling market, it shows that Amaya is comparatively undervalued on several metrics. In the all else equal conservative estimate, the risk is more in the time horizon. It will take 4-5 years for the EPCC to give real value for shareholders. However, I think that this risk is more than compensated by the new growth markets in casino, sports betting, and fantasy sports. Amaya has a huge number of registered customers (around 100 million), from which they can derive new revenue in the growth markets. The US situation is complicated, and I do not think it should be taken into account as more than an improbable opportunity that carries very little risk (but huge upside) to the company. Amaya could also be the target of an activist that wants to realize the value, i.e. avoid that it is taken private by Baazov.
Disclosure: I/we have no positions in any stocks mentioned, but may initiate a long position in AYA over the next 72 hours.
I wrote this article myself, and it expresses my own opinions. I am not receiving compensation for it (other than from Seeking Alpha). I have no business relationship with any company whose stock is mentioned in this article.
Editor's Note: This article discusses one or more securities that do not trade on a major U.S. exchange. Please be aware of the risks associated with these stocks.