Those who track rail traffic closely most likely already have heard of the weak growth in traffic compared with the first quarter of 2015. The chart below provides an illustration of how different 2016's first quarter performance has been versus the previous two years.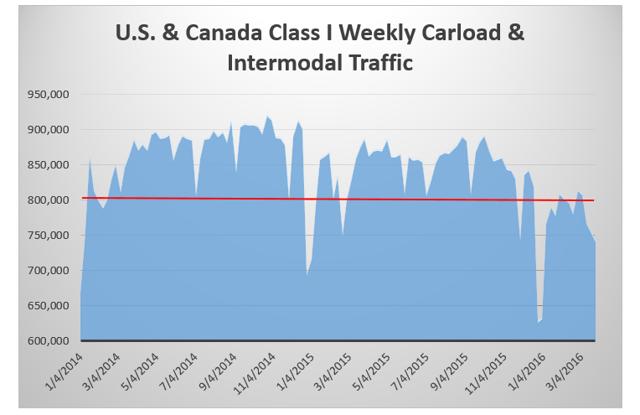 Click to enlarge
Source: Class I websites and personal database
The key threshold for rail traffic over the past couple of years has been the 800,000 level. During the first quarter of 2016, this level was rarely breached whereas during 2014 and 2015, rail traffic was consistently above this line. The level of decline which exacerbated into the fourth quarter of 2015 is also evident. This decline has been carried into 2016 stemming largely from declines in energy and industrial sectors.
When we separate Class I rail intermodal containers from carloads, the story changes quickly. In the chart below, intermodal containers have performed better versus the first quarter of 2015 by nearly 4 percent. What is important to recognize here is that much of this gain is due to lows set in the first quarter of 2015 from the labor strikes on the West Coast. But the month of March has unfortunately displayed declining intermodal container traffic as 2015 traffic remained above the 340,000 level throughout most of the year.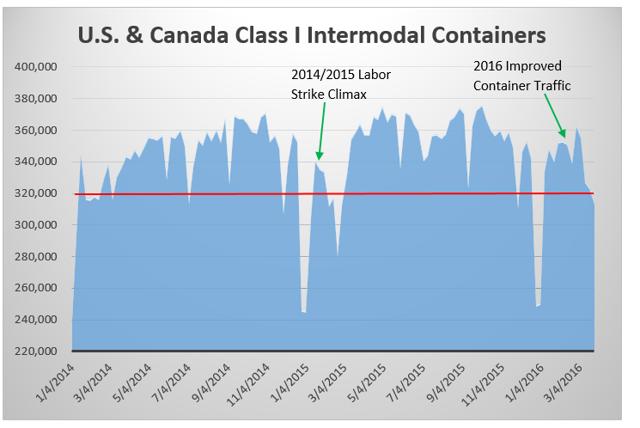 Click to enlarge
Source: Class I websites and personal database
Despite this, intermodal containers reflect the primary bright spot for Class I rail traffic; 43 percent of total Class I rail traffic was from intermodal containers through the first quarter of 2016. Intermodal trailers reflected a much smaller portion and were down 28 percent from 2015 levels.
BNSF (NYSE:BRK.B) has led all Class Is with intermodal traffic up 10 percent followed by Norfolk Southern (NYSE:NSC) and CSX (NASDAQ:CSX) at 7 and 4 percent respectively. Canadian National (NYSE:CNI) was up 2 percent and Kansas City Southern (NYSE:KSU) and Union Pacific (NYSE:UNP) and Canadian Pacific (NYSE:CP) were down 7 and 1 percent respectively.
When considering the top five commodities driving Class I rail carload traffic during the first quarter of 2016 they included coal, chemicals, motor vehicles and equipment, grain and petroleum. Proportionally, coal reflected 21 percent of total carload traffic, chemicals 15 percent, motor vehicles and equipment 10 percent, grains 8.5 percent and petroleum 7 percent.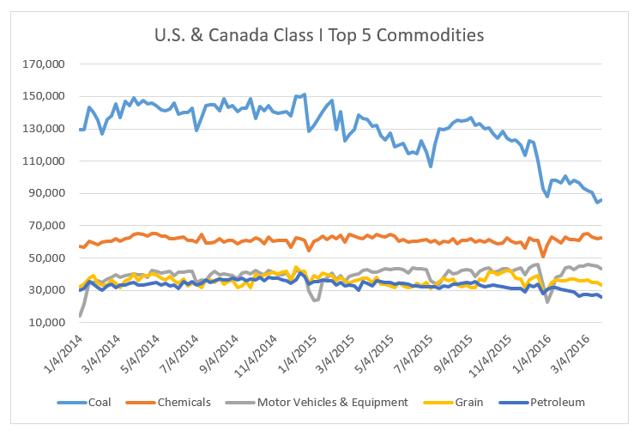 Click to enlarge
Source: Class I websites and personal database
Coal has been the largest drain on the industry with first quarter performance down 31 percent for all Class I rail traffic while chemicals have been the most stable. Motor vehicles and equipment were up nearly 12 percent through the first quarter; but similar to intermodal container traffic, have displayed some softening. Both grain and petroleum were down 4 and 16 percent respectively.
Many other commodities including supportive petroleum products, metal products, pulp and paper products, metallic ores and grain mill products were also all down between 4 and 24 percent. But the top five commodities for carload traffic collectively represented 63 percent of all traffic during the first quarter of 2016. With coal, petroleum and grain being down, this proportion has typically been even higher in the past.
As the top five are highly important, coal traffic was led by BNSF, Union Pacific, Norfolk Southern, CSX and Canadian Pacific. Chemical traffic was led by Union Pacific, CSX, Norfolk Southern, Canadian National, BNSF and Canadian Pacific. Motor vehicles and equipment was led by Union Pacific, CSX, Norfolk Southern, BNSF and Canadian National. Grain was led by BNSF, Union Pacific, Canadian Pacific, Canadian National and Norfolk Southern. And petroleum was led by BNSF, Union Pacific, Canadian National, Norfolk Southern and CSX.
Union Pacific has the strongest exposure to the best performing commodities out of the top five including chemicals and motor vehicles and equipment. Yet for both commodities, Union Pacific has performed below most peers during the first quarter. Also of note, Kansas City Southern has witnessed the worst performing motor vehicles and equipment performance down 13 percent in the quarter; an article speaking to this was published recently regarding the railroads challenges for both motor vehicles and intermodal.
With the future uncertainties surrounding energy and industrial commodities; with the exception of near-term volatility being the only certainty, intermodal container growth is an important business segment moving forward.
While the first quarter's rail traffic was down substantially, Class I stock prices have rallied aggressively since the lows set in mid-January 2016. In fact, all of them are positive for the year when compared to 2015 year-end with the only exception being Norfolk Southern.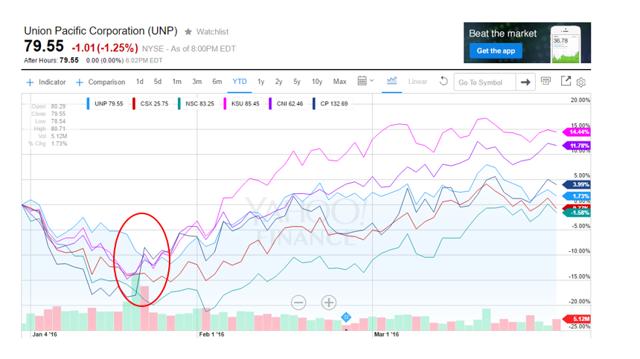 Click to enlarge
Source: Yahoo! Finance
All stock price performance has not been equal with Kansas City Southern and Canadian National witnessing double-digit gains versus most other railroads in the low single-digits. Investors and analysts are expecting better traffic performance in the back-half of 2016. Most Class I companies have guided for moderate total traffic declines for the entire year.
Many Class Is are anticipated to earn less profits than they did during 2015. As a result, many are trading well below their valuation levels from the previous few years. But the recent run-up seems to have peaked as we are getting ready to enter the first quarter earnings season. Thinking ahead to how things will go is not going to give anyone a leg up.
We will get April's month in to see how the second quarter's traffic performance starts off and once we get some color from each company during earnings, we will begin to get a sense of whether there will be downward pressure from a traffic perspective, or whether expectations remain intact.
Until we get this clarity, most Class Is are at a valuation level which does not justify further advancement. The weakest performers for total traffic through the year to date in order include Union Pacific, Canadian National, BNSF, Kansas City Southern, Canadian Pacific, CSX and Norfolk Southern.
If the indication is that things are going to get worse before they get better, Kansas City Southern and Canadian National may be hardest hit. However, analysts and investors are both very optimistic as Seeking Alpha Editor Michael Hopkins recent market challenge, "On Board With Transports" poll revealed that the highest percent, 41 percent believe that rail stocks offer a bargain at current prices.
My thoughts are that in order for Class Is to advance 10 percent or more from these levels, we need to see some revenue and earnings beats. It does not appear that the first quarter will provide a great opportunity for this. Intermodal container traffic is an area I focus on a lot and as of January 2016, the Cass Intermodal Price Index was down 2 percent when compared to last year; this represented the 13th consecutive month in YOY decline. Not all pricing is the same due to alternatives for different commodities.
I am long Canadian National as this is my top pick moving forward with near-term volatility in commodities. Investors looking to be aggressive at today's entry levels should think about having a backup strategy in the event rail traffic downside may be prolonged. Long-term investors such as myself with positions already established should consider taking advantage of any overly pessimistic pressure driving stock prices below acceptable levels, once new information is presented.
Disclosure: I am/we are long CNI.
I wrote this article myself, and it expresses my own opinions. I am not receiving compensation for it (other than from Seeking Alpha). I have no business relationship with any company whose stock is mentioned in this article.