A dovish Janet Yellen is talking down the U.S. dollar. This is supporting the oil price and encourages U.S. exporters. However, the U.S. banks were left wanting for a higher Fed's rate and a steeper yield curve. As I discussed in my previous article, it is likely to be a brutal quarter for the large banks.
It is not much fun being a (central) banker these days.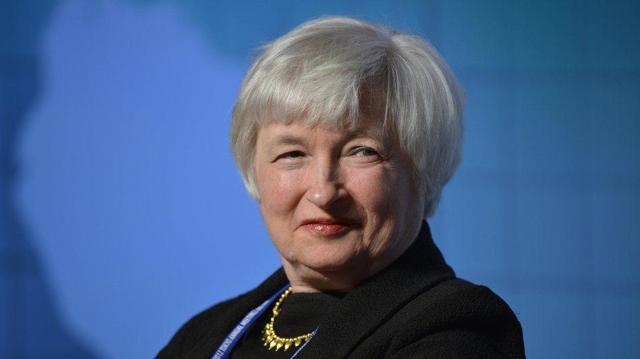 But for Citigroup (NYSE:C) the glass is half full - the U.S. dollar decline is cushioning somewhat the impact.
Several SA readers have asked me to quantify the impact of FX movements on Citigroup results - In this article, I will consider the details.
2015: The year of the rising USD
Citi publishes the FX movements of currencies that are material to its operations: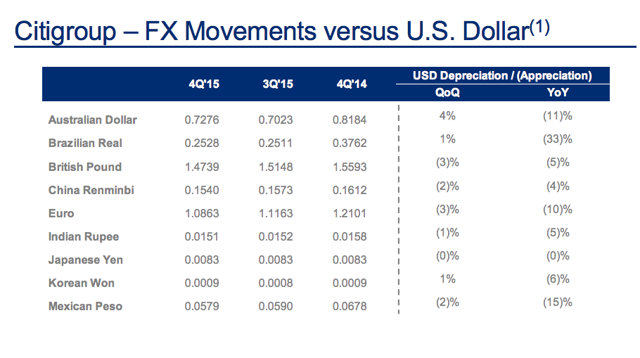 The financial impact of FX is shown below: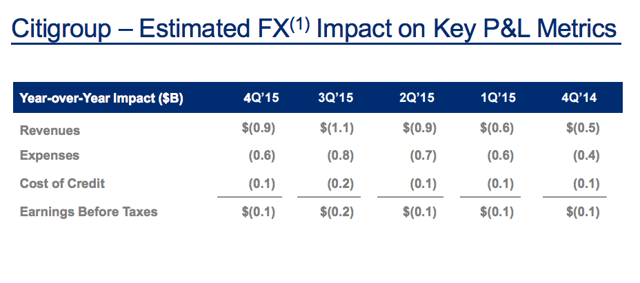 As can be seen from above, the FX headwinds reduced Citi's pre-tax income by ~500 million. Incidentally, that would be the estimated impact of a 25 basis points move up in the Fed's cash rate. Assuming the U.S. dollar reverses in 2016, then the delta year-on-year could be a high as $1 billion pre-tax.
But there are other benefits as well.
Tangible book value and DTA
The FX translation also impacts tangible book value (TBV) and DTA utilization (through movement in OCI) - this is clearly evident in 2015: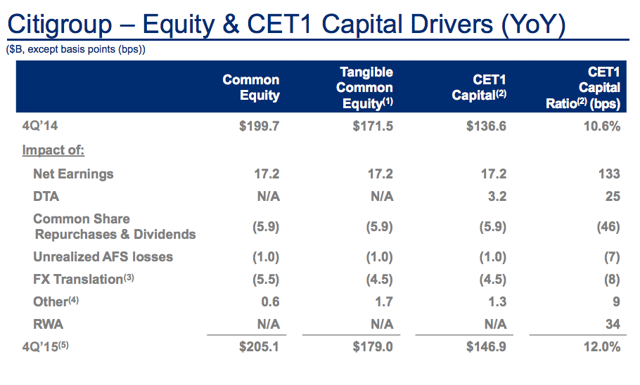 As can be seen from above, tangible common equity (i.e. book value) has reduced by $4.5 billion in 2015 - this translates to ~$1.50 of tangible book value. In other words, if FX was steady in 2015, Citi's TBV per share would have been higher by a full $1.50.
DTA utilization was also adversely impacted by USD appreciation in 2015: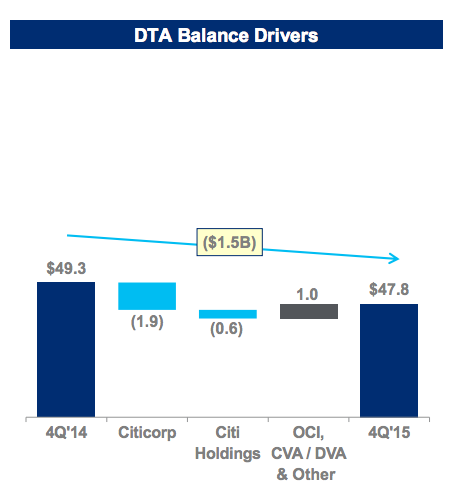 DTA utilization is extremely important for Citi shareholders - it allows Citi to generate excess capital (including a multiplier impact on the DTA utilized) which can be returned to shareholders. Saying it differently, if FX stayed flat in 2015 - then all else being equal, Citi CCAR capacity would have increased by an estimated $2 billion.
Obviously, if the U.S. dollar declines - then it should quicken the pace of DTA utilization and capital returns to shareholders.
Conclusion
While it is still early days in 2016 - the depreciating U.S. dollar is constructive for Citi's earnings, DTA utilization and tangible book value in 2016.
Make no mistake about this though - Mr Corbat would much prefer a normalization of interest rates (the tailwinds on deposits franchise and trading businesses are much larger).
The takeaway from this article though is that at least one significant headwind from 2015 is abating.
I cover U.S., European, Asian, Canadian and Australian large-cap banks, identifying long and short opportunities. If interested in the topic, I encourage you to sign up as a "real-time follower" or message me if interested in a specific banking name.
Disclosure: I am/we are long C.
I wrote this article myself, and it expresses my own opinions. I am not receiving compensation for it (other than from Seeking Alpha). I have no business relationship with any company whose stock is mentioned in this article.