There has been a bunch of market speculation stemming from interest rate hikes. One particular sector of the investment world that has been subject to numerous conversations is REITs. REITS are subject to extreme fluctuation if the interest rates continue to rise and perhaps even a decline due decreased expansion in commercial sectors or new home purchases. Nevertheless, there is one type of REIT that, given the proper circumstances, could flourish through this time of rising interest rates. Equity REITs. This is because, unlike mortgage REITS, equity REITs use rental properties to generate revenue. Both residential and commercial equity REITs may be a worthwhile asset to own through 2016.
Residential REIT Security
One segment with some potential to remain secure are residential apartment REITs. With a predicted industry outlook of over 2%growth this year, REITs like Equity Residential (NYSE:EQR) and American Campus Communities (NYSE:ACC) may have a strong foothold against market volatility.
Ibis World Industry Research's industry outlook highlighted economic expansion, Millennials, and interest rates as major factors in sustaining the apartment rental market.
In the coming years, the number of people between the ages of 25 and 35 is expected to rise. This age group is the most likely to rent because young adults have often not yet earned enough income to purchase a home. Moreover, since an increasing number of people in this age group are holding off on both marriage and having kids, they are stalling family formation.
As interest rates rise, new home buyers will be deterred from purchasing which may also secure business for these residential REITs through these speculative times.
Commercial REIT Upside
Another niche of REITs that may be highly investable through 2016 are commercial REITs. Commercial real estate rent prices on the West Coast have risen 8% over 2015 and they are speculated to continue this rise due to rapid expansion from Google, Apple, Amazon, and other tech giants eating up office space across Silicon Valley. Other drivers giving commercial equity REITs additional market foothold are the decreasing vacancy rates (below 13.9%). Ibis World Industry Research described the industry facing a "surging demand" with San Francisco and San Jose with commercial rental space up 90% since 2015 followed by 30% from NYC growth. Profit margins from these commercial management companies are also predicted to grow to 12.9% from 11.1% through 2016. Below is a revenue outlook from I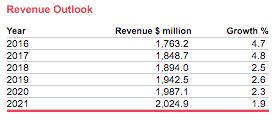 Adding REITs to a Portfolio
This type of sector growth gives investors an opportunity to grow their portfolio through the strategic purchase of REITs that deal within these sectors however, not every REIT be a good one. Since we are approaching June which holds further interest rate growth potential, it is up to the investor to find sound REITs that are focused in sustaining sectors.
It would do new investors well to research fundamentals of REITs they are seeking to add to their portfolios. Some offer huge dividends which may come off as enticing but it would be wise to read into the fundamentals to find out where that money is coming from and perhaps, if there is a dividend suspension approaching. Take for instance, EQR. They are a fundamentally sound company that has been refining their target market by selling assets in smaller markets and reinvesting the proceeds into more high quality, high-rent apartments in major cities. Although the dividend yield on EQR may only be 2.95%, the company is sound and increasing its value therefore, it will continue to pay out steady dividends to investors. This is just one example of the many REITs that can use their specialization as a competitive edge through 2016.
In Closing
I believe REITs have somewhat developed a bad name for investors through their high yields and high debt ratios. Often which have driven many investors way from the thought of adding REITs to their income portfolios. Nevertheless, the real estate market is highly fragmented which gives investors the opportunity to find REITs that are highly specialized. Through this specialization coupled with a financially sound company, investors may find that adding well researched REITs to their portfolio may prove to be a high yielding, well paying decision.
Disclosure: I/we have no positions in any stocks mentioned, and no plans to initiate any positions within the next 72 hours.
I wrote this article myself, and it expresses my own opinions. I am not receiving compensation for it (other than from Seeking Alpha). I have no business relationship with any company whose stock is mentioned in this article.