The Dividend Champions spreadsheet and PDF have been updated through 3/31/16 and are available here Note that all references to Champions mean companies that have paid higher dividends for at least 25 straight years; Contenders have streaks of 10-24 years; Challengers have streaks of 5-9 years. "CCC" refers to the universe of Champions, Contenders, and Challengers.
Shareholder Meeting Season Arrives
The arrival of proxies in the mail (or online) signals the arrival of annual shareholder meetings and with it (for many companies), the annual dividend increase...a good way to keep shareholders happy! So we can expect to see more dividend boosts in April and May, although many firms have already announced the increases during the past two months.
In March, the CCC universe expanded once again (see below), moving to 773 companies from 766 at the end of February, with 10 new Challengers, 3 deletions (all takeovers), and one promotion (General Dynamics to Champion status). The Near Challengers listing picked up just four "NEW" notations (in Appendix B on the Notes tab), bringing the number of Near-Challengers to 143, down from 150 last month and the record of 281 companies in September 2014. After February's action saw the average price of CCC stocks rise by 25¢, that figure gained a healthy $3.49 in March. While the average "age" of the dividend streaks dipped from 13.8 to 13.7 years, the average yield declined from 3.42% to 3.16% and the average of the Most Recent Increases dipped from 9.27% to 9.26%.
As always, please use the CCC only as a starting point for more in-depth research. Feel free to leave any suggestions in the Comment area below.
Quick Summary
The Summary tab includes a table comparing the composite numbers from the latest update to those from the previous month and the end of the previous year. Below that is a summary of the latest month's activity, in terms of companies added, deleted, or promoted. That is reflected below:
Quick Summary:

3/31/16

Champions

Contenders

Challengers

Total

No. of Companies

108

247

418

773

Ave. No. of Years

41.1

15.0

5.9

13.7

Average Price

74.76

64.63

50.84

58.59

Average % Yield

2.58

3.19

3.30

3.16

Ave. MR % Increase

6.35

7.84

11.51

9.26

2/29/16

Champions

Contenders

Challengers

Total

No. of Companies

107

250

409

766

Ave. No. of Years

41.2

15.1

5.9

13.8

Average Price

69.06

61.60

47.47

55.10

Average % Yield

2.76

3.39

3.61

3.42

Ave. MR % Increase

6.30

7.89

11.57

9.27

12/31/15

Champions

Contenders

Challengers

Total

No. of Companies

107

250

396

753

Ave. No. of Years

41.0

14.9

5.8

13.8

Average Price

69.72

63.23

50.28

57.34

Average % Yield

2.76

3.21

3.37

3.23

Ave. MR % Increase

6.76

7.81

11.96

9.44

MR = Most Recent

Additions:

American Tower Corp. (NYSE:AMT) to Challengers

City Holding Co. (NASDAQ:CHCO) to Challengers

Dentsply Sirona Inc. (NASDAQ:XRAY) to Challengers

Federal Agricultural Mortgage Corp. (NYSE:AGM) to Challengers

Federated National Holding Co. (NASDAQ:FNHC) to Challengers

Nasdaq Inc. (NASDAQ:NDAQ) to Challengers

Simmons First National Corp. (NASDAQ:SFNC) to Challengers

Southern Michigan Bancorp Inc. (OTCPK:SOMC) to Challengers

Steel Dynamics Inc. (NASDAQ:STLD) to Challengers

Trinity Bank NA (OTCPK:TYBT) to Challengers

Deletions:

PartnerRe Limited (NYSE:PRE) from Contenders

Solera Holdings Inc. (NYSE:SLH) from Challengers

StanCorp Financial Group (NYSE:SFG) from Contenders

Promotions:

General Dynamics (NYSE:GD) from Contender to Champion
(Table from author; may include underlying data from FinViz.com)
Every Picture Tells a Story
As a bonus, I'm inserting one of Chuck Carnevale's F.A.S.T. Graphs below, highlighting one of the companies listed above. When the price line is in the green area, it suggests possible undervaluation.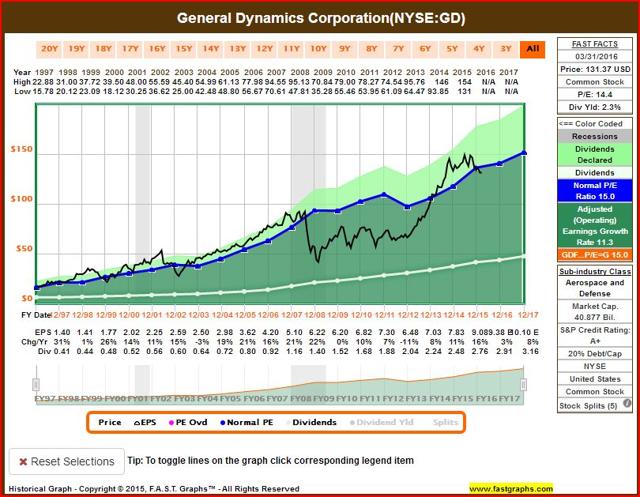 Click to enlarge
Disclosure: I am/we are long GD.
I wrote this article myself, and it expresses my own opinions. I am not receiving compensation for it (other than from Seeking Alpha). I have no business relationship with any company whose stock is mentioned in this article.
Editor's Note: This article covers one or more stocks trading at less than $1 per share and/or with less than a $100 million market cap. Please be aware of the risks associated with these stocks.