By Eric Ervin, Co-Founder and CEO, Reality Shares
The basic philosophy behind dividend investing is to look for solid, well-run companies that have a history of dividend commitment along with dividend growth. The investment strategy pushes the long-term investor's interests to the forefront of corporate financial strategy. Dividend paying companies with consistent and growing earnings per share (EPS) generally also pay a growing dividend per share (DPS) for investors, an important component of most portfolio allocation strategies. However, since the evolution of performance-based executive stock compensation programs and the surge in buybacks to offset share dilution while interest rates remain low, earnings have become an important and potentially problematic variable in the dividend strategy.
Offsetting share dilution with buybacks
Today, about 80% of many top executive pay and incentive programs are comprised of corporate stock grants. When a company issues new stock to cover executive compensation, the additional share issuance dilutes the existing stock float; this dilution increases the EPS denominator and lowers the EPS ratio. For most analysts, EPS is a key factor in a company's performance evaluation. To help offset the negative effects of stock dilution and improve EPS, companies are going out to the market and buying back their own shares, thus driving share prices higher. In 2015, over 20% of companies listed in the S&P 500 were engaged in stock buybacks to the tune of over $572.2 billion, which according to Howard Silverblatt of S&P Dow Jones Indices added about 4% to the EPS for those companies and provided a record $952 billion in total return to stockholders (buybacks and dividends). However, the question remains: are buybacks a real benefit to stockholders or a cost of doing business?
Will buybacks survive rising rates?
There is little doubt that low interest rates have helped companies finance many of these share buybacks, but exactly what these share repurchases have done to balance sheets has yet to be revealed. While borrowing costs remain low, buybacks may continue to make sense, but when (not if) borrowing costs increase, corporate boards may be forced to review their executive compensation and repurchase strategies. Underlying the situation is just exactly how much these buyback programs cost dividend investors and the companies themselves? To get a sense of the efficacy of share repurchases, Reality Shares looked at the historical buyback activity for ExxonMobil (NYSE:XOM). From August 2000 through December 2015, XOM had 12 distinct buyback periods and repurchased nearly 4 billion shares. Comparing the average repurchase price in each of these periods with the buyback period-end and 2015 year-end closing prices for XOM, the company overpaid on a per-share basis 83% of the time (in 10 of 12 buyback periods). XOM ended up losing money as a company on a majority of these buyback initiatives, whereas the company could have left the discretion to investors by allocating that capital to a growing dividend payment instead.
Dividends for all interest rate environments
Normally, rising interest rates should negatively impact slower growing assets whose returns come primarily from interest or dividends. Rising rates impact bonds the most as 100% of a bond's return to investors is from interest payments (the principal is returned at the bond's maturity). On the opposite end of the spectrum are growth stocks with no dividend payments - their returns to investors are dependent on the share price going either up or down. Of course, there is a strong correlation between the general stock market and interest rates, but it is only a general correlation and does not apply to all stocks. Dividend paying stocks are in between those extremes of bonds and growth stocks.
If chosen properly, we believe companies that consistently grow their dividends are generally better positioned to take shocks to the general market. Indeed, in most cases, while a growth stock may not increase in value and may not provide positive investor return, a solid dividend paying company may limit dividend increases but will still pay a dividend that provides at least some income and total return to investors. Moreover, companies that fit the profile of consistently paying dividends may actually see an uptick in their stock price as growth stock investors increase demand by seeking better return opportunities. In an unsubstantiated study done by a private asset management company, it was demonstrated that after U.S. FOMC rate increases (post 1972), many dividend paying companies actually increased their dividends, most likely as a way to attract and retain investors. Moreover, in the 36 months following an interest rate increase, returns for dividend growing stocks exceeded returns for non-dividend paying stocks by 30%.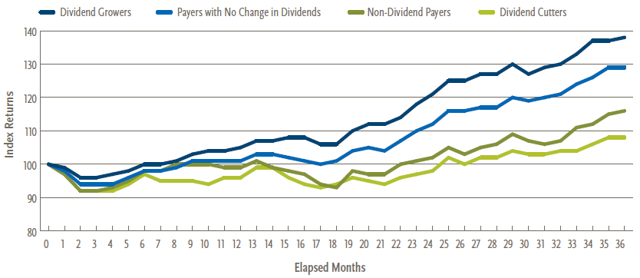 Source: Santa Barbara Asset Management
Just because the Fed recently raised rates should not discourage dividend investors. In fact, anecdotal evidence suggests that long-term investors may be well advised to invest in companies that pay and increase dividends. As always, there are no guarantees, but the underlying principle is that dividend growing companies are more in tune with investor concern for returns as well as being more conservative in how the company handles its financial strategies. It is important to note the distinction between high-yielding stocks (primarily in the Utilities and Telecom sectors) and dividend growing stocks. Just as bonds with increasing coupon payments are generally less sensitive to interest rate changes versus bonds with constant coupon payments, dividend growing stocks are generally less sensitive to rate shocks when compared to high-yielding stocks. Of course, any fundamental analysis looks carefully at not just the operating statement but even more closely at the balance sheet and the amount of leverage, usually a sign of the amount of current risk.
Seeking dividend growers for the long haul
Tools such as DIVCON, a dividend health system developed by Reality Shares to rate the likelihood of companies increasing or decreasing their dividends over the next 12 months, can help investors identify the probabilities of dividend growth as well as potential dividend cuts. Given the current Fed conundrum, we believe it makes sense for investors to keep a close watch on the ability of dividend paying companies to continue to pay and grow their dividends vs. potentially cutting shareholder returns.
This article represents the opinion of the author and may not represent the opinion of Reality Shares.
Disclosure: I/we have no positions in any stocks mentioned, and no plans to initiate any positions within the next 72 hours.
I wrote this article myself, and it expresses my own opinions. I am not receiving compensation for it. I have no business relationship with any company whose stock is mentioned in this article.