Knight Therapeutics (OTC:KHTRF) is a small cap pharmaceutical company based in Canada. The company is more like a private equity firm and less of a traditional pharma company. This may scare some people as platform pharma companies such as Valeant and Endo International are falling apart. In my opinion, M&A is a viable strategy in the pharma sector and the success is determined by its leader. So I blame the players who fail and not the game. In Knight's case, they got a terrific leader in Jonathan Goodman. I believe he is ready to make his moves soon.
A little bit on the background
Knight Capital went public in early 2014 and raised over $350mm CAD in equity capital throughout the first year. The stock has been trading side-ways. The reason is simple. Jonathan hasn't done much with all that cash. He is a true value investor and very stingy in his purchases, a quality that I like. He sold Paladin Labs in late 2013 to Endo International which he thought was the peak of the pharma market. He did not make any big splash ever since. Now, he predicts that the pharma market is likely to enter a full blown bear phase near the end of this year or at the beginning of next year. Knight is loaded with cash and ready to take advantage of others' misfortunes.
For more background information on Knight, please visit SA Author The Simplistic Investor's article "Knight Therapeutics: Minimal Downside For This Misunderstood Company"
Summary of Knight's current investments:
Knight's Secured Loan Portfolio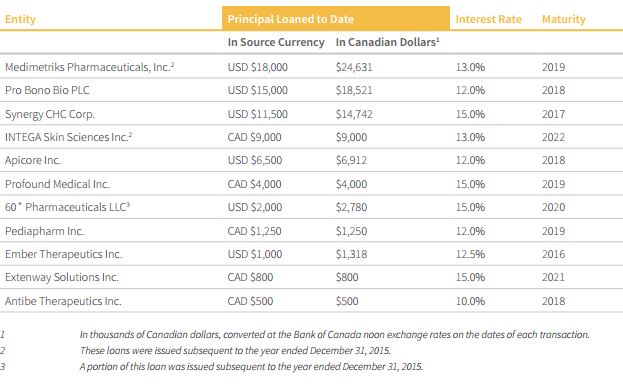 (Source: Knight Therapeutics 2015 Annual Report)
Knight has $84.5mm in collateralized lending transaction with various healthcare companies. Loans in the portfolio generates between 12% and 15% in interests, along with other perks such as warrants and equity. This portfolio has performed very well so far and is well diversified.
Knight's Strategic Fund Portfolio
Knight has invested $120mm in equity stakes of healthcare venture and private equity firms, which will yield both future drug licensing rights and dividends.

Medison Biotech Equity Investment - Knight purchased 28.35% in Medison Biotech at the 2015Q3. The stake was valued at $82mm and Knight paid with 10.3mm common share plus contingent consideration of 660,000 additional shares. In 2015, Medison generated $9.4mm in earnings and Knight will receive dividends on semi-annual basis.
Cash - $470mm and no debt. The cash provides Knight with dry powder for future acquisitions. On the other hand, it provides protection for investors on downside risks.
Drug Portfolio
Company is currently generating revenue from three drugs: Impavido®, Neuragen® and Flat Tummy Tea.
Catalysts
Knight has two drugs in the late stage of the pipeline. Company expects FDA approval of AzaSite in 2016. Atryn is in phase 3 of development and the commercial launch is likely to be in 2017.
The biggest catalyst has to be the current state of pharma industry. Many pharma companies have significant debt burden and their most recent acquisitions may not work out as well as expected due reasons such as changing policies, lawsuits or generic competition. Equity investors are also putting pressure on companies to de-lever. I believe we will witness some fire sales from pharma companies. Knight could not be in a better position if that is the case. The company has a tendency to buy single drugs that large pharma companies want to get rid of. But I think a transformational acquisition could also in the cards.
Valuation
Knight is currently still a holding company that does not have meaningful operating results to look at. Book value is around $6CAD per share. Note, I use diluted shares outstanding for my calculation. At $7.5, you are paying about 1.2x BV. Once Jonathan Goodman starts making acquisitions, Knight's financial statements will look drastically different. We will see strong growth in earnings and likely a re-rating of the stock to the upside. Jonathan Goodman has a very good reputation on Bay Street. So he will have access to capital if needed. Knight's growth could be substantial in a relatively short period of time.
Recommendation
I would recommend long term investors to buy on the dips. Traders could jump in on the breakout. I am probably early on this call. However, stock is likely to trend higher before any acquisition announcement made. Among all the Canadian pharma plays such as Concordia Healthcare (NASDAQ:CXRX), Merus Labs (NASDAQ:MSLI), Cipher (NASDAQ:CPHR) and BioSyent (OTCPK:BIOYF), Knight Therapeutics stands to benefit the most from the turmoil in the pharma space.
Disclosure: I/we have no positions in any stocks mentioned, and no plans to initiate any positions within the next 72 hours.
I wrote this article myself, and it expresses my own opinions. I am not receiving compensation for it (other than from Seeking Alpha). I have no business relationship with any company whose stock is mentioned in this article.
Additional disclosure: I am waiting for a breakout on the stock
Editor's Note: This article discusses one or more securities that do not trade on a major U.S. exchange. Please be aware of the risks associated with these stocks.