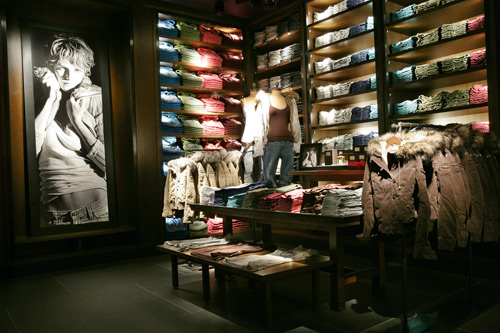 Teen apparel retailer Abercrombie and Fitch (NYSE:ANF) has been on a tear of late. After the stock was crushed in a long downtrend that lasted right at twelve months, shares are up over 100% from the lows set in 2015. The company's operating results, however, haven't been as rosy as the stock price may suggest as ANF has struggled mightily with solidly negative comp sales and a margin picture that is neutral at best. But shares keep rolling on and Q4 earnings have investors as excited as ever; is chasing the stock the right move here or is ANF due for a pullback?
(click to enlarge)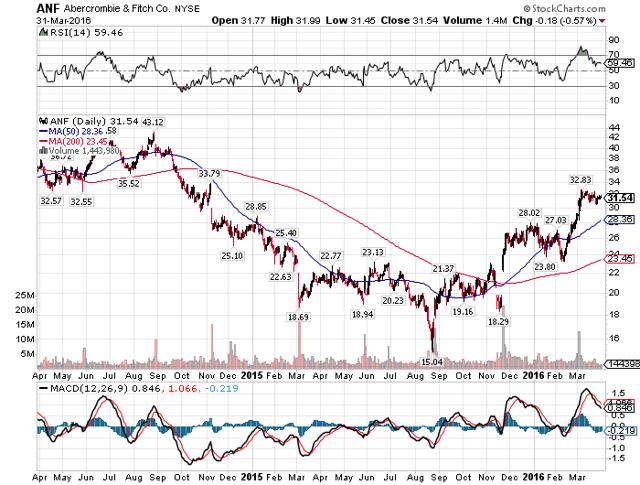 Click to enlarge
ANF struggled with horrendous comp sales numbers in the past several quarters as the company's business was shrinking from that perspective and physically as underperforming stores were put out of their misery. But despite the gloomy revenue picture, green shoots were emerging. Margins were very strong in Q3 despite another negative comp during that quarter and in Q4, ANF continued that good work, sending bulls into a buying frenzy for shares.
Comps actually rose 1% in Q4, a marked improvement over the terrible levels we've become accustomed to over the past several quarters. While 1% is nothing to write home about, the fact that it was positive at all is a massive improvement for ANF. The idea that ANF may be out of the woods in terms of finding a bottom in its sales is certainly cause to celebrate and I suspect this, more than any other data point, is why shares are flying.
But let's remember that ANF is still in consolidation mode as it is closing more stores than it is opening - including guidance for 2016 - so its total revenue growth is still negative even if a token increase in comps comes through. And for all of fiscal 2015, comps were still down 3% despite the improvement in Q4. While I certainly applaud the effort to get to positive comps in Q4, one quarter doesn't erase a year or two of really awful comps so I think bulls are a bit overzealous at this point. That said, ANF is obviously improving its results and credit should be given where credit is due.
Q4 gross margins increased as well in a continuation of what we saw in Q3. The company's 100bps gain in product margins is impressive and indeed, so too is its absolute level at ~61%. ANF has exercised tremendous price discipline with its merchandising strategy and it has paid off; higher margins are the single best way for a retailer to grow profits and ANF is showing great progress there.
On the expense side, a nice decrease in store operating expenses was offset entirely by higher G&A spending. The company is going through a transition period where G&A may be higher for some time due to severance costs and the like but ANF has to get its spending under control because its operating margins will suffer if it doesn't.
Speaking of operating margins, ANF is still hitting strong levels at almost 11% in Q4 so despite its rough time producing positive comp sales, the company's profitability is still well intact. What's interesting is I wouldn't necessarily expect a company that is going through a significant transition period like ANF to hit operating margin levels that high but it is a testament to the pricing discipline the company has exhibited with is product lineup.
That being said, at 26.3 times this year's earnings, ANF is anything but cheap. Indeed, that is a lofty growth multiple normally reserved for the fastest growing retailers, not ones that are in the middle of a turnaround effort. And as much progress as ANF has made, it is not out of the woods yet; one quarter of slightly positive comp sales is no reason to extrapolate enormous sales and profit growth into the stratosphere. However, that is exactly what investors are doing and that has me very cautious at these levels.
The good news about ANF's operating margins is that they never fell to levels you'd normally find with a struggling retailer but the flip side of that, there isn't a particularly long runway for improvement either. Normally, a turnaround story has lots of room to grow sales and margins but ANF doesn't have the latter, meaning the potential upside from the bottom in terms of profit generation is nowhere near as great as it could have been. But at ANF's current valuation, investors are buying much higher profit levels than exist right now because ANF will not be able to produce significant revenue gains anytime soon.
ANF is still in the midst of shrinking its store base so I fully expect this year's revenue growth to be negative. I don't think we'll see anything like -3% or worse but -1% is certainly in the cards given weak comps and a smaller store base. And with a lack of any real improvement in operating margins, I'm wondering where profit growth is going to come from on a meaningful scale. The current valuation of the stock implies enormous profit growth over the next few years but ANF simply isn't setup to do that and for that reason, I think the stock is very expensive here.
The ANF turnaround story is one of revenue growth predominantly because its operating margins are already at fairly high levels; the low-hanging fruit is certainly not with operating margins at 11% so I think ANF will struggle to meet impossible expectations from investors as revenue growth continues to hover around zero.
Disclosure: I/we have no positions in any stocks mentioned, and no plans to initiate any positions within the next 72 hours.
I wrote this article myself, and it expresses my own opinions. I am not receiving compensation for it (other than from Seeking Alpha). I have no business relationship with any company whose stock is mentioned in this article.