If you are at least a halfway attentive dividend investor like myself, you are probably well aware of the amazing run Verizon (NYSE:VZ) and Realty Income (NYSE:O) have experienced in recent months: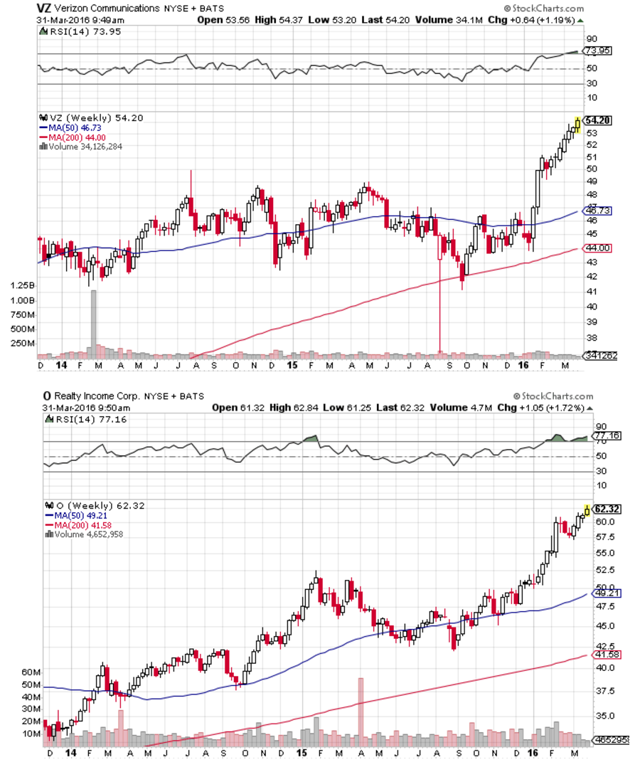 It's unarguable that most chart signals are flashing overbought, but then again making investment decisions based solely on these parameters isn't enough justification for me. So, before you longs get ready to tar and feather me, there is another rather clear indication of why these two dividend stocks are overheated at this time.
For as long as I can remember, the basic materials sector, and more specifically, the energy sector and MLPs have attracted income investors, and they have fared quite well over the years. I found an interesting article on Dividend.com published a year ago that discussed the fact that energy was the highest yielding sub sector in the entire market: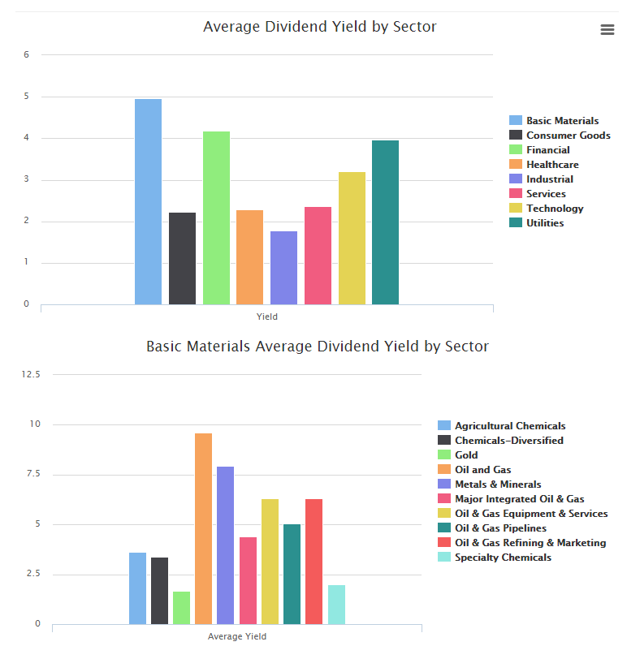 Since the energy sector's fall from grace, especially MLPs, dividend investors are shying away from this former market "go-to," and instead have been flooding into alternative high dividend paying sectors like telecoms and REITs.
Furthermore, perhaps as investors sought the "safest" bets within these two sectors since being stung hard by falling energy prices and MLP dividend cut disasters, it's my contention the biggest and most popular companies have been bid up the most. For example, as explained in the below graphic in a recent article by Brad Thomas, Realty Income is the biggest and probably perceived as "safest" in its sector:

In this same article, Brad mentions O has one of the lowest yields as well, which is not surprising and supports my thesis.
As for the high yielding telecom sector, it's no shock that bellwethers Verizon and AT&T (NYSE:T) have experienced major run-ups versus the rest of the market:

But just how overvalued are VZ and O? For starters, let us examine the average dividend yield over the recent past. For 4.18% yielding VZ, ycharts.com shows shares are approximately 10.5% overvalued relative to the 5-year average dividend yield of 4.62%, and just from 9% off from the 5-year low yield of 3.79%!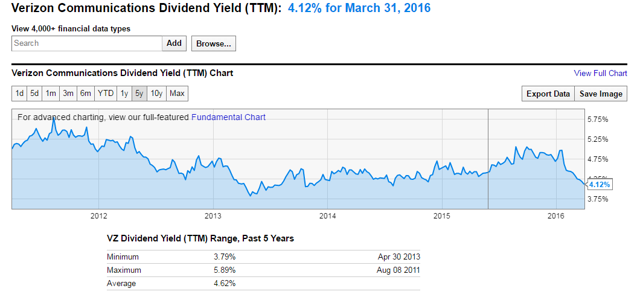 As for Realty Income, comparing the current dividend yield to the recent past averages paints a similar picture of over-valuation. The current 3.7% dividend yield is roughly 27% lower than the 5-year average of 4.7%, and just 2% off from the 5-year low of 3.48%.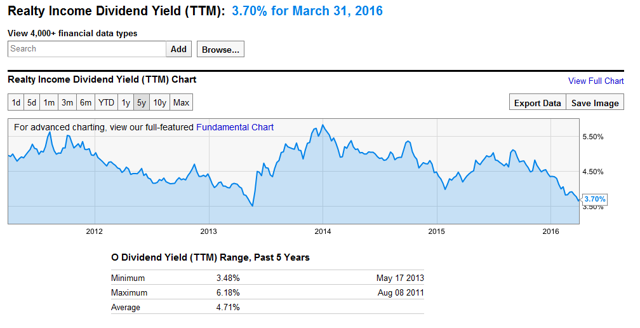 Considering both stocks and especially Realty Income have minimal growth in store for the near future, I simply cannot comprehend why such a premium is being paid for their seemingly paltry dividends, at least compared to their 5-year averages. Perhaps the answer is there are minimal perceived safe haven dividend stocks remaining in the market, especially since energy and the MLP sector has collapsed and probably won't recover for quite some time. I guess the answer to this puzzle is where else can one park their money and get a fairly safe 4% dividend?
Based on the fall of the energy sector and specifically the collapse of MLPs, dividend investors have flocked to alternatives to satisfy their hunger for yield. Given their impressive run in share price, bellwethers VZ and O seem to have been targeted as alternatives. However, their dividends are no longer attractive considering their divergence from 5-year averages and low growth rates.
I think there are other stocks in the REIT and telecom sectors that can provide better opportunities, and I plan on sharing these dividend-focused ideas in my next article.
Despite the fact that VZ and O have made me lots of money given their recent runs, I rank them both sells here.
Disclosure: I/we have no positions in any stocks mentioned, and no plans to initiate any positions within the next 72 hours.
I wrote this article myself, and it expresses my own opinions. I am not receiving compensation for it (other than from Seeking Alpha). I have no business relationship with any company whose stock is mentioned in this article.
Additional disclosure: I recently sold VZ and O