The GEO Group (NYSE:GEO) is a publicly traded private prison corporation that operates in the United States, Australia, and the United Kingdom. Geo offers correctional and detention management, community reentry services to local, state, and federal government agencies. Such government agencies can include the Federal Bureaus of Prisons, United States Marshals Service, United States Immigration and Customs Enforcement, state department of corrections, and various county and city jurisdictions.
Segments
U.S. Corrections & Detention: This division provides the traditional prison management services. According to the latest annual report, the 74 facilities in this segment have 74,989 beds. GEO uses a regional approach to provide the necessary support services with three regional offices in Charlotte, North Carolina; San Antonio, Texas; and Los Angeles, California. Below is a chart that shows the locations of the correctional facilities.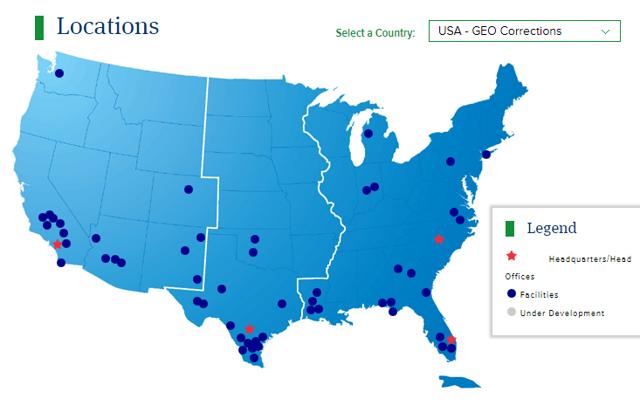 Click to enlarge
Source: Company website.
GEO Care: GEO Care includes Abraxas Youth & Family Services, BI Incorporated Electronic Monitoring, and GEO Reentry Services. GEO Care enables governments to have an alternative to traditional incarceration with electronic monitoring provided by BI Incorporated Electronic Monitoring. In an effort to treat and help prevent individuals from committing future crimes, Abraxas offers a variety of residential, community-based, alternative education, detention and shelter services across five states. Individuals that benefit from Abraxas include those with "histories of delinquency, behavioral disorders, mental health and emotional disorders, substance abuse, firesetting, sexually abusive behaviors, and educational issues" (Abraxas website). GEO Reentry Services provides another alternative to traditional incarceration by offering treatment and supervision services to government agencies. Additionally, GEO Reentry Services provides employment inmates for employment through the Jail Employment Education Program (JEEP).
International Services: This segment includes the international operations for the GEO Group in the United Kingdom, Australia, and South Africa. GEO Group UK provides correctional and detention management, prisoner transportation, court custody and escort, and other community based services for government clients. GEO Group Australia provides management services for the states of New South Wales, Queensland, and Victoria. South African Custodial Management provides the South African government with the necessary support to meet its corrections needs.
Facility Design & Construction: This segment offers government agencies consulting and management services on the design and construction of new facilities and the redesign of existing facilities. It is assumed if GEO provides the facility design & construction service that the company will be awarded the contract to manage the facility.
Acquisitions
LCS Facilities: On February 18 th, 2015, it was announced that the GEO Group's acquisition of 8 facilities from LCSS Facilities had closed. The 8 facilities include 6,500 beds and was paid with $307.4 million. Essentially, GEO paid $47,292.31 per bed.
Soberlink: On May 18 th, 2015, it was announced that B.I. Incorporated acquired 100% of the outstanding stock of Soberlink. Soberlink is the leading developer and distributor of mobile alcohol monitoring devices and services. B.I. paid a cash consideration of $24.4 million for Soberlink. Soberlink is going to add to the portfolio of detention alternatives for the company.
Stock Performance: Below is the stock performance for GEO Group. The stock has rallied roughly a third since February. On a pullback, the company offers a very attractive opportunity for investors.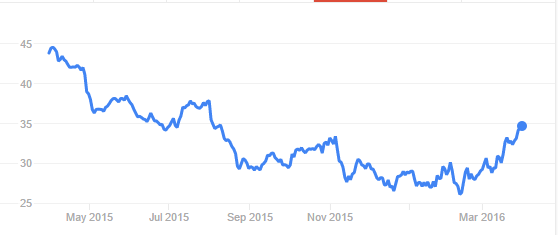 Source: Google Finance.
Conclusion
This article provided an overview of the company and will serve as a primer for a future article on GEO Group. There are high barriers to entry in the corrections industry due to the need for government contracts and construction of prisons. GEO Group may offer the necessary investment to capitalize on the continued need for incarceration of criminals.
Disclosure: I/we have no positions in any stocks mentioned, and no plans to initiate any positions within the next 72 hours.
I wrote this article myself, and it expresses my own opinions. I am not receiving compensation for it (other than from Seeking Alpha). I have no business relationship with any company whose stock is mentioned in this article.