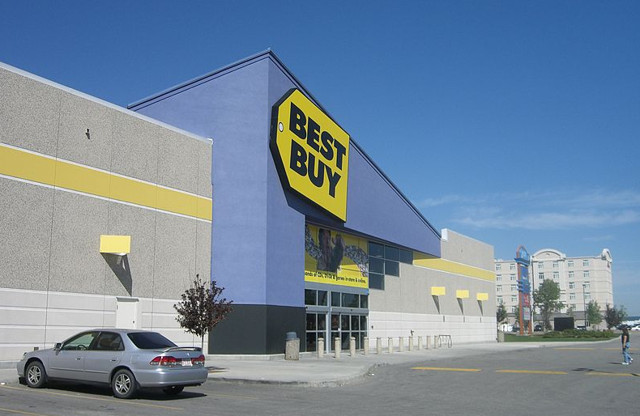 Click to enlarge
Image Credit: Wikimedia Commons
One reason why I bought electronics retailer Best Buy (NYSE:BBY) two years ago, and again in 2015, was that the retailer retained potential to increase capital returns in the future. If you remember, the struggling bricks and mortar electronics retailer announced a major capital return plan in the first quarter of 2015 which I discussed in this article right here: "Best Buy: Another Victory Lap That Is Very Well Deserved". As part of this capital return plan, Best Buy increased its base dividend from $0.19/share to $0.23/share, paid a special dividend of $0.51/share to shareholders, and announced a stock buyback totaling $1.0 billion over the next three years. I concluded by saying:
Best Buy's fourth quarter results have reaffirmed my original investment thesis and its capital return program supports an investment in the electronics retailer, too. Best Buy's higher dividend also signifies that management is confident about Best Buy's earnings growth, which goes a long way in the struggling retail sector. Now that Best Buy has become notably more attractive from a capital return perspective, the contrarian investment thesis is fully playing out right now.
That was a year ago, so why is this important today?
Higher projected capital returns were a major reason for me to buy the retailer's stock in 2015. A single piece of Best Buy's business was selling for ~$39 on the stock market a year ago, today the same piece can be had for just ~$32. Best Buy is an even better 'Buy' today than a year ago because the company built on last year's capital return plan.
At the end of February Best Buy propped up its capital plan by increasing its base dividend a whopping 22 percent from $0.23/share to $0.28/share. The electronics retailer will further pay a second, special dividend of $0.45/share, or $145 million, and it will be paid together with the base dividend next week. But that was not all: Best Buy also announced a new $1.0 billion share repurchase plan over the next two years.
Dip Is A Buying Opportunity
Best Buy released better-than-expected fourth quarter results at the end of February with earnings coming in ahead of consensus. Best Buy's adjusted earnings per share were $1.53 which compared favorably to the consensus EPS estimate of $1.40/share. Management's confidence in Best Buy's earnings trajectory is a defining reason for Best Buy to increase capital returns moving forward.
Despite better-than-expected earnings and a boosted capital return plan, Best Buy has failed to rebound, and that's a big opportunity for income investors. Best Buy's stock, thanks to the market sell-off, sells for a 3.45% yield, while Best Buy's proposed buyback makes an investment in the retailer even more attractive.
Your Takeaway
Best Buy's newly announced capital return plan yet again targets improvements in the base dividend, contains a significant special dividend, and an additional share buyback, all of which make an investment in the retailer more appealing. Importantly, Best Buy is cheaper than a year ago, while offering a stronger capital return program compared to last year. An investment in Best Buy yields 3.45% based on a recurring, quarterly dividend of $0.28/share. Buy for income and capital appreciation.
Disclosure: I am/we are long BBY.
I wrote this article myself, and it expresses my own opinions. I am not receiving compensation for it (other than from Seeking Alpha). I have no business relationship with any company whose stock is mentioned in this article.