Background
For the past several months I have been building a model portfolio on Seeking Alpha. One of the unique aspects of the portfolio is that it is not confined to a single strategy. My view is that different strategies work better under different market conditions. Since this portfolio uses multiple approaches I have named it the Multiple Model Portfolio.
During the pullback(s) of early 2016, I noticed that several cyclical stocks were beginning to look attractive while much of the rest of the market still seemed expensive. In order to ensure I maintained discipline throughout the investing process, I worked out a cyclical investment strategy explained in detail here. Thus far, I have only made one investment using this strategy, BorgWarner (NYSE:BWA), and that investment is off to a good start: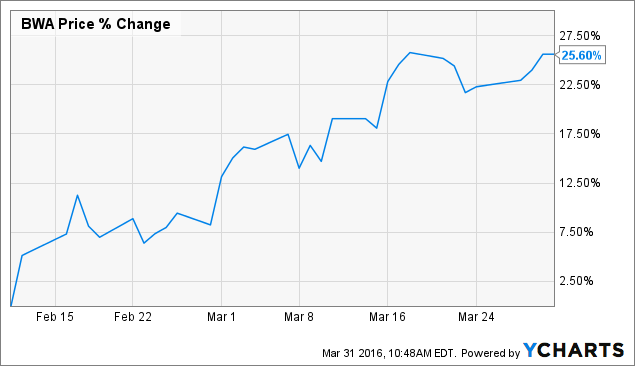 My next cyclical purchase for the MMP is FMC Corp (NYSE:FMC). FMC Corp is a diversified chemical company with three main segments: Agriculture solutions, health and nutrition, and lithium.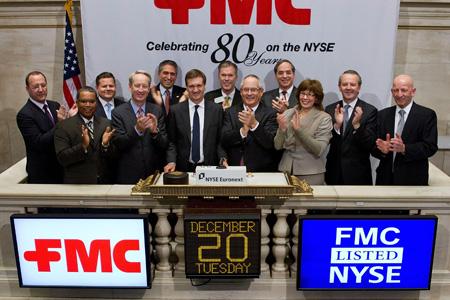 This strategy doesn't focus a lot on the internal workings of the companies themselves, but it does care about how long the companies have been in business. In this case FMC has been around a long time: since 1883. This is exactly the type of stalwart business that I seek out for this strategy, and I don't see any material disruptive threat to their business.
The second thing I look for is whether or not the company's stock price has witnessed a significant selloff. I want to begin buying these stocks when they are selling at a significant discount to what they have sold for in the past. Here is what FMC stock has done of late: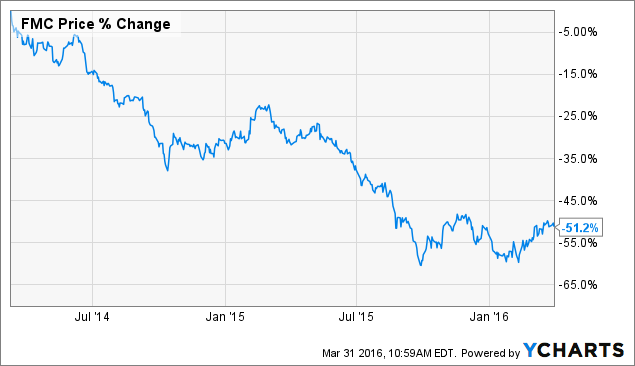 The stock price has sold off dramatically over the past two years, which is exactly what I like to see, and while it certainly had a dramatic run-up in price, the run-up doesn't strike me as a bubble as much as it seems like a typical business cycle peak, followed by a drop.
The next thing I check are debt to equity levels compared to the last down cycle. I want to make sure that if and when the cycle changes, FMC hasn't put itself in a position that will make it difficult for them to prosper in the next up-cycle:
This is sort of a mixed bag. Debt to equity is higher going into this down-cycle than in 2009, but much lower than 2001. Though there are many more factors that go into this, it could mean that we should expect a somewhat slower price recovery than what we saw in 2008-9, which took about 3 years. That said, I don't think there is a high probability the recovery will extend beyond 5 years from now, which is the long end of my time horizon for this type of stock (keeping in mind that we are already 2 years into a stock price decline for FMC).
Purchasing Strategy and Weightings
I recommend the first purchase at a 1% weighting here at around $40.00, a second purchase at $36.00, and a third at $31.00 if the price drops that far. The time horizon for these potential purchases is 3-5 years, with the expectation of selling the stock at a price of 200% of whatever the cost basis ends up being (currently the sell price would be about $80.00 per share).
Closing Statement
I am currently building a simple, long-only, model portfolio, designed in such a way that an average investor could easily construct it in an IRA account. I am long every position I recommend, and while the weightings between my positions and the model portfolio's are not exact, they are similar. Currently, the portfolio is 23% filled with 77% cash. The positions are Gilead Schiences (NASDAQ:GILD) 6%, Regal Entertainment Group (NYSE:RGC) 4%, Foot Locker (NYSE:FL) 2%, Crown Crafts (NASDAQ:CRWS) 2%, Target (NYSE:TGT) 2%, Chatham Lodging Trust (NYSE:CLDT) 2%, Hilton Worldwide Holdings (NYSE:HLT) 2%, Duluth Holdings (NASDAQ:DLTH) 1%, BorgWarner (NYSE:BWA) 1%, and FMC Corp 1%.
Disclosure: I am/we are long BWA, FMC, GILD, HLT, RGC, CRWS, DLTH, CLDT, FL, TGT.
I wrote this article myself, and it expresses my own opinions. I am not receiving compensation for it (other than from Seeking Alpha). I have no business relationship with any company whose stock is mentioned in this article.
Editor's Note: This article covers one or more stocks trading at less than $1 per share and/or with less than a $100 million market cap. Please be aware of the risks associated with these stocks.