Results Q1 2016
Bank of Nova Scotia (NYSE:BNS) posted what looks like good results on March the 1st, showing significant progress in almost all business lines.
Core banking margin has fallen to 2.38% from a maximum of 2.41% reached during early 2015, but the margin is still pretty impressive; net interest income increased 11% Year on Year from $3.2bn to $3.5bn (all values in Canadian dollars unless stated otherwise); non-interest income increased to $3bn driven by higher banking fees, trading revenues and wealth and insurance revenues.
Though provisions increased 16%, mainly due to an unexpected increase in NPL charges in Canada, and total expenses shot up 12% during the last twelve months due to foreign exchange movements, acquisitions and technology updates, net income increased 5% to $1.8bn.
As a result of higher profits and higher capital generation, dividend per share increased to $0.72 in the context of a strong capital position (Equity Tier One 10.1% at the end of the quarter).
Stock price reaction to the release of the results has been very good: Bank of Nova Scotia stock price has increased from $53.57 per share several days before the release to $62.3 per share today in a sudden upward movement characterized by strong volatility and probably fuelled in part by the coverage of shorts.
In the article "Scotiabank: grossly overvalued" we argued intrinsic stock price should be far lower on grounds of an increasing financial risk. Were we wrong? We do not think so.
After analyzing the Q1 2016 new accounts we believe financial risks are still piling up on Scotiabank's balance sheet in Asia and Latin America. We believe these risks will surface during future years.
East Asian economies are going wrong
Bank of Nova Scotia has had a long presence in Asia: more than 40 years in Hong Kong, Malaysia and Singapore, and more than 30 years in South Korea, Taiwan and China. The Asia-Pacific growth strategy has not been homogeneous but tailor made to each country, ranging from trade and niche investment banking services and automobile finance to commercial and business banking.
The loan book has substantially grown since circa $2.3bn in 1995 to $14.5bn at Q1 2016. Growth has been constant: loan book CAGR was approximately 8.3% between 1995 and 2003 and 9.6% since 2003 to Q1 2016. Thus, a significant part of the loan book has been produced during the higher part of the China business cycle; this is typically a riskier time to grow the book and more prone to NPLs generation in case of turmoil in underlying macro fundamentals, as is now the case.
According to several sources, and maybe reacting to this state of affairs, Bank of Nova Scotia is trying to reduce exposure to East Asia: the banks could be pondering the sale of Thanachart Bank of Thailand and maybe other East Asia based assets.
Sales of full scale banking assets will not be easy at this point though: after the departures of Merrill Lynch and Goldman Sachs (NYSE:GS) in 2013 - sale of stakes at China Construction Bank (OTCPK:CICHY) and ICBC in 2013 respectively - and BBVA (NYSE:BFR) in CITIC in early 2015 at a loss, the banking assets market in Asia looks increasingly distressed.
Furthermore, excluding divestures and sales of full scale banking units, loan risk to the area is sticky and difficult to reduce: total loan book exposure has actually increased in Asian riskiest countries (China, Thailand, South Korea, Hong Kong, Malaysia, Taiwan) during 2015, from $8.9bn in Q1 2015 till $10.6bn in Q1 2016, while overall risk has moderately reduced 9%.
As per today, the loan book to Asia's riskiest countries is substantial, at $10.6bn, or 19% of the whole equity of the bank at the end of Q1 2016, of which $4.7bn is direct exposure to China.
These assets will be very difficult to sell and likely to deteriorate further in the future, as the underlying macroeconomic trends from the area in which they operate worsen. That will certainly increase the risk of Scotiabank in South East Asia.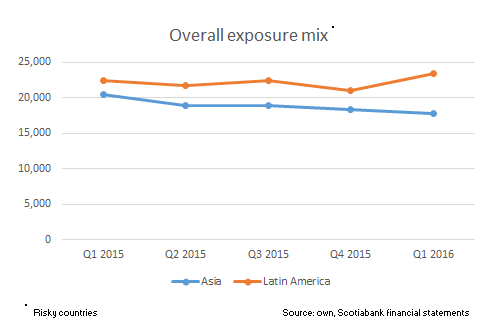 But Latin America is not the answer
Given the situation in East Asia, the focus of the bank on this geographic area as a long term Emerging Market bet has switched towards Latin America, and in particular, the Pacific Alliance between Peru, Colombia and Mexico.
It is likely Scotiabank is seeking to compensate underperformance in the future from its Asian franchise - which cannot be easily downsized or sold - with aggressive growth in Latin America, an area that still offers high banking spreads, substantial investment banking revenues and over average returns on invested equity perspectives when compared with Scotiabank's traditional Canadian market and declining East Asian economies.
Nevertheless, this strategy looks difficult to implement in a geographic area that - excluding Mexico, closely linked to the US - will be likely hit by the Chinese downturn via commodities exports prices; if fully implemented the new bank's Emerging Market strategy could increase significantly the financial risk borne by the balance sheet and by investors.
Furthermore, it is difficult to see how Scotiabank can gain significant market share from local champions and more established international banks in the area - BBVA (BFR), Santander (NYSE:SAN) - if it is not in niche banking business segments or among the riskiest clients in these countries.
According to Scotiabank's financial statements, total risk to Latin America has increased 7% from $28.9bn in Q1 2015 to $31bn at the end of Q1 2016.
By countries, exposure increased 21% in Mexico, 17% in Brazil, 13% in Peru and a mere 1% in Colombia. Chile experienced a decrease of 11% in total financial risk borne.
Taking into account only Latin American countries most at risk of a Chinese driven downturn - Brazil, Peru, Colombia, Chile - exposure increased 4.4% from Q1 2015, representing 34% of the whole Emerging Markets assets exposure and 43% of Scotiabank's equity.
Given the structural trends being analyzed, Scotiabank could find itself soon in Latin America in a situation similar to the one it is facing in Asia: trapped in banking markets in a downturn with no escape as no banking assets buyers will show up if it is not at distressed prices.
Increasing positions in a market that is already - Brazil - or will soon likely fall from the peak, in a context in which international competitors that are able to are retiring from the area - HSBC (NYSE:HSBC), Citi (NYSE:C) - and those that cannot because are too big to leave - locals, BBVA, Santander - try to reduce risk waiting for the worse times to pass, does not look like the best strategy to expand Scotiabank's franchise in Latin America.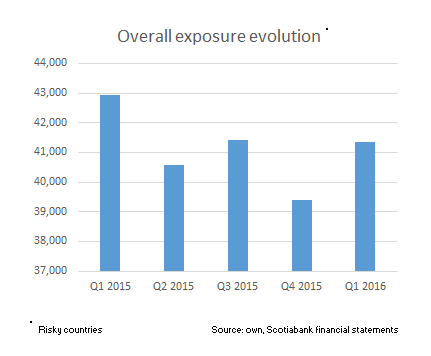 Trade off and stock price: still overvalued
We believe the trade-off for Scotiabank is between financial risk / earnings per share. The bank may choose to keep EPS growing for a while taking more Latin American risk on its balance sheet; or it may decide to cut risky exposure in both Asia and Latin America and thus take the short term hit on net profits from both areas.
Whatever decision is implemented we believe stock price will continue its way down in the midterm. Thus, at current prices Scotiabank still looks significantly overvalued.
Disclosure: I/we have no positions in any stocks mentioned, and no plans to initiate any positions within the next 72 hours.
I wrote this article myself, and it expresses my own opinions. I am not receiving compensation for it (other than from Seeking Alpha). I have no business relationship with any company whose stock is mentioned in this article.
Editor's Note: This article discusses one or more securities that do not trade on a major U.S. exchange. Please be aware of the risks associated with these stocks.