Before you begin reading, I would like to point back to three articles I have written since recently becoming an author here, as they will give you a very good idea of my position and sentiment towards SiriusXM (NASDAQ:SIRI) over the past week.
These articles will also give you a good picture of what I feel has been happening with this stock. If you have read these already, great. If not, we'll be here when you return...
Onwards we go.
Last week, on Friday, February 24th, SiriusXM had the chains of the market makers thrown off and was allowed to appreciate based on supply and demand for the first time in a very, very long time. With freedom, SiriusXM quickly traded up from the low end of its long time trading range at $2.10, all the way to $2.20, glancing back only to wave at $2.10 as it disappeared into a tiny speck off in the distance.
Friday I cautioned that we could be in for an impressive week, stating:
Keep an eye on the share price Monday. If we continue with momentum we are due to enter a new trading range that has very little prior testing except for brief moments last year. Given my price target of $3 by mid summer, it's not surprising that I expect us to enjoy a healthy run through a higher range very soon, and the week ahead just may provide what many have been waiting for for a very long time.
It's Monday. Did you keep an eye on the share price? We now have confirmation that Friday was not some sort of ruse, trading upwards through the day, meeting resistance at $2.25, and ending the day solidly at 2.24 on high volume over 60 million shares traded.
click to enlarge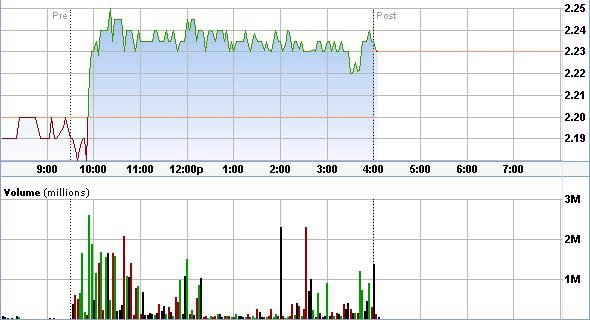 Click to enlarge
This is wonderful bullish confirmation, and in my opinion sets the stage for an amazing week as I suggested was due.
Watch CLOSELY. We have catalysts this week that may propel this stock right past $2.25 Tuesday, and shoot us towards $2.35. Beyond this, the sky is the limit as we enter waters not well tested for years now.
Tuesday David Frear, CFO of SiriusXM, will be speaking at the Morgan Stanley Technology, Media, and Telecom Conference. Listen closely. If you can not, be aware that he goes on around 9:15 AM Pacific Time and keep an eye on the share price with his speech in mind. He may merely re-iterate guidance for 2012, or he may offer new news that provides a positive boost to the current bullish momentum.
On Thursday, February auto numbers will be known. For some detail on these numbers, please consult this article here by Satellite Radio Playground. Keep in mind that this is a leap year, and as silly as this may sound, one extra day can mean a lot, 3% + or more simply due to additional time to sell. When you figure in that expectations are extremely high, this is a win win for SiriusXM which derives a vast majority of new subscribers from new auto sales.
And of course, we are closing the gap on the looming March 6th date, where Liberty's (NASDAQ:LMCA) chains are thrown free, and they may do as they please with regards to increasing their stake in SiriusXM.
This is shaping up to be an excellent week for SiriusXM investors. Are you in yet? For those that are not, are you still waiting to buy back in under $2.10? Here's a coke and a lawn chair with your name on it, if so. You might be waiting a very very long time.
Disclosure: I am long SIRI.
Additional disclosure: I am long SIRI March $2 calls.