History will record 2015 as the year of free fall for the oil and gas industry. The impact was both deep and broad, spanning industries across the globe. Vertex Energy (NASDAQ:VTNR) didn't escape damage. The used motor oil re-refiner reported fourth-quarter and full-year results on March 29th. At first glance, the numbers were ugly. Not surprising. But, nevertheless, ugly.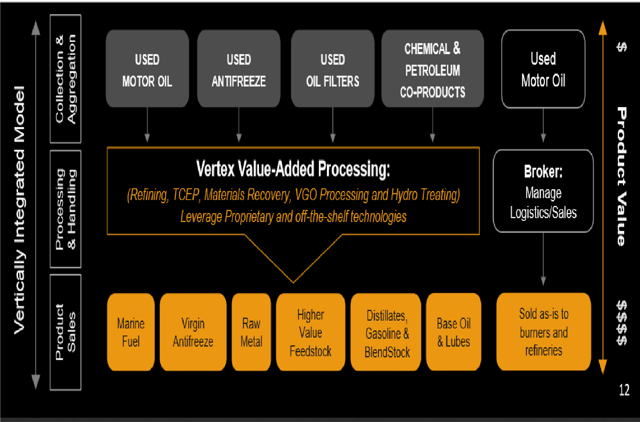 For the full year, revenue fell from $259 million in 2014 to $147 million in 2015. Expenses increased 26% year-over-year. The net loss increased 334% from a loss of $5.55 million to a loss of $24.1 million. The diluted EPS loss slid from ($0.23) to ($0.86).
It's important to look over, under and through the numbers. Sure, revenue fell. But the cost of revenue in 2015 at 92.5% was less than 2014's cost at 95.4%. Therefore, gross profit only declined 10% year-over-year. A key contributor to this accomplishment was Vertex' industry-leading transition to charging for used oil rather than paying for used oil. Vertex reported its charge rate for collection was $0.12 per gallon by the end of 2015. By the end of February, this rate had increased to $0.27. Vertex Energy CEO, Ben Cowart, anticipates the rate to build.
"So, if I just had to pick a number, I'd say, the industry, we've got to get past $0.50 a gallon...."
Expenses in 2015 included $6 million of carrying costs for the recently-sold Bango facility in Nevada. Excluding this amount, Vertex Energy's SG&A expenses in 2015 would have totaled less than 2014. These expenses will, obviously, dissipate in 2016. The company is also willing to divest other under-performing assets.
"....we are exploring various options in order to optimize the value of our Myrtle Grove and CMT facilities."
Vertex, as well, continues to whittle down expenses beyond the eliminated Bango carrying costs.
The next significant difference year-to-year involves an impairment charge of $4.9 million. Vertex Energy's impairment testing resulted in the write-off of the entirety of its goodwill in 2015. The goodwill was related to the company's proprietary, patented TCEP process and E-Source, a dismantling, demolition, decommission and marine salvage service provider in Houston Texas.
Vertex Energy tended well its balance sheet in 2015. It significantly decreased long-term debt obligations to abide by debt covenants. The company was obligated to pay $9.1 million by June 30th, 2015 with an option to prepay $15.1 million. It raised $25 million through the issuance of Series B preferred stock and exercised the $15.1 million payment option.
In February, 2016, the Bango transaction further shored up Vertex Energy's balance sheet. Long-term debt decreased an additional $16 million. Total long-term debt is now approximately $13 million. It also propelled Vertex, as expected, into purchase mode. Just days after the sale, it confirmed the news, "Vertex Energy Looking For Acquisitions".
"Acquisition targets will be small transportation companies that collect used oil."

"The company is exploring opportunities to acquire distribution companies."
The low price of oil creates pressure on the ability of smaller collection businesses to create adequate revenue. Owning collection routes stabilizes Vertex Energy's supply. It's expected collecting used oil directly rather than paying third-party suppliers will lower costs long-term especially as the pay-for-collection model solidifies.
Acquiring a distribution company would be a coup for Vertex Energy. The company announced intentions to develop its own lubricant product in a January, 2016 letter to shareholders.
"Given our expertise in collecting used motor oil and our significant base oil processing capabilities, the next logical step for Vertex Energy is to produce our own line of finished lubes that can be sold into the market. By doing so, we believe that we can improve margins as we will be able to capture the spread between base oil pricing and finished lube pricing."
Mr. Cowart sees the company participating in motor oil's full life cycle.
"I'd like to get fixed leverage around existing assets in our locations where we can collect waste from the customer and sell them finished lubricants back."
Alert investors will recognize the possibility of capital allocation implications relative to acquisitions and new product development. The Bango transaction resulted in a cash position in excess of $10 million. Vertex can not ignore loan agreement clauses dictating the amount of cash it must maintain. For 2016, the company projected capital expenditures for maintenance in a range of $2.5 million to $3 million. Mr. Cowart shared there is not a budget in 2016 beyond capital maintenance.
"Anything else is going to be dependent on the decisions we make and the timing of those decisions."
As well, it must be recognized Vertex Energy has not been operating cash flow positive since 2013. A legitimate concern with acquisition is how quickly integration could occur and how quickly the acquired business would become accretive to earnings. Based on what is known so far, analysts are expecting Vertex to report another operating loss in 2016. But, in the earnings call, Mr. Cowart shared action is imminent.
"We've been in discussions and working on certain opportunities and we'll continue to pick the right time to make that move. But, I do believe we're getting closer to getting some things done as opposed to putting them off much longer."
Vertex Energy's income statement in 2015 didn't escape damage from declining oil prices. But, its balance sheet is in much better shape. Vertex expects the pressure and difficulty to continue in 2016. Already its footprint is shifting dramatically with, apparently, more shifts to come. The path forward most certainly includes surprises. But, the ugly at Vertex Energy seems to have been re-refined.
Disclosure: I am/we are long VTNR.
I wrote this article myself, and it expresses my own opinions. I am not receiving compensation for it (other than from Seeking Alpha). I have no business relationship with any company whose stock is mentioned in this article.
Additional disclosure: I belong to an investment club that owns shares in VTNR
Editor's Note: This article covers one or more stocks trading at less than $1 per share and/or with less than a $100 million market cap. Please be aware of the risks associated with these stocks.