Video streaming is wonderful, Twitter (NYSE:TWTR) feeds are informative and live blog posts provide useful information, but there is nothing like being there in person when a major tech event occurs. The March 31, 2016, introduction of the Tesla Motors (NASDAQ:TSLA) Model 3 was a major tech event, akin to the introduction of the very first Apple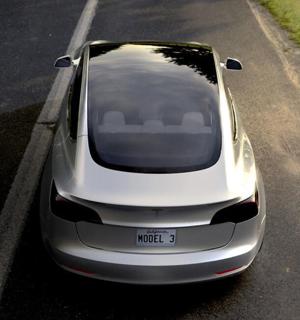 (NASDAQ:AAPL) iPhone. And I was lucky to be one of the relatively few investors to attend in person. I got to see the Model 3 up close, took a test ride and looked at it from every angle. I examined its fit and finish and came away with a true feel for the car. I think that provides a rather unique perspective for an investor.
We could, of course, debate company fundamentals for hours. But at the end of the day, I'll risk a cliché and quote Warren Buffett: "Why not invest your assets in the companies you really like?"
After seeing the Tesla Model 3, it is very, very hard not to like Tesla Motors, given the market response to the launch of the vehicle. The company got 180,000 reservations for the car in less than 24 hours. More importantly, Tesla achieved this without any formal advertising campaign. More important than that, the reservations were accompanied by a $1,000 deposit. And to put the icing on the cake, the vast majority of the reservations were submitted by relatively young consumers. Anecdotal evidence from an evaluation of those who stood in long lines at Tesla stores indicates the typical reservation holder appears to be about 28 to 42 years of age. That's a pivotal demographic for the automotive segment and could help establish a lifetime allegiance to the brand.
When an automotive company offers a $35K base price vehicle with: (1) the looks of a premium mid-size, (2) the driving performance of a luxury vehicle, (3) a price point that is generally encountered for more hum-drum cars, (4) technology that is considerably more advanced than comparably-sized premium internal combustion engine [ICE] vehicles, and at the same time taps into the environmental consciousness of a new generation of automotive buyers, it very quickly becomes a major player in mass market vehicles.
Many have suggested that battery electric vehicles [BEVs] are a niche market, that a small number of buyers will have interest, that overall sales will grow slowly and never be significant. Thursday's reveal of the Tesla Model 3 belies that notion. When 180,000 Gen X, Gen Y, and millennials plunk down a thousand bucks for a car they've never seen or seen only in a photo, something very important is happening.
In the remainder of this article, I provide a few firsthand impressions of the Model 3 along with a brief assessment of its competitiveness with other vehicles that currently reside in the mid-size market segment.
Exterior
There have been tens of thousands of photos of the Model 3 posted over the past 24 hours. In this case, the photos don't lie - the Model 3 is even more stunning in person than it is in photos. The Model S exterior will draw buyers to the car. The revolutionary interior will close the sale.
Interior volume
Because the Model 3 does not have to make room for an internal combustion engine, interior seating shifts forward, providing roominess that is unachievable in an ICE vehicle. I'm 6'2" tall and rode in the rear seat during my ride in the car (with two other adults in the rear seat, I might add). My knees were about seven inches from the front seat back. An innovative all-glass roof provides excellent headroom and a feeling of spaciousness not normally achieved in mid-sized cars.
Instrumentation and functionality
The young demographic that will rapidly become the dominant Model 3 buyer has grown up with digital devices - flat screen displays are part of their lives. Tesla's interior designers have recognized this important reality and eliminated all dashboard displays (e.g., there is no speedometer located behind the steering wheel). All information displays, every virtual control, and all entertainment and communication functions reside on a "floating" landscape display. Not only is this large flat screen display striking, it allows the interior designers to lower the dash surface, increasing a sense of roominess and visibility.
Performance
The Model 3 is not your father's Prius. Our test drive was short, but I can say without hesitation that vehicle performance is awesome! Acceleration, cornering, braking and roll stability are reminiscent of a high-end sports sedan.
Range
At 215 miles, the base version of the Model 3 offers sufficient range for all but the longest day-to-day commutes. Elon Musk has indicated that Tesla Motors will double its supercharger (fast charging infrastructure in 2016) meaning that the Model 3 can be used as a road-trip vehicle, not only a daily driver. There are also rumors that by the time the vehicle comes off the production line in 2017, range options may be enhanced to over 250 miles.
I know my comments sound like a rave, but the Model 3 elicits that response. It is an important automotive achievement. But is it competitive?
Competitive assessment
At a base price of $35K, the Model 3 will compete directly and win easily against GM's (NYSE:GM) Chevy Bolt. The GM base price Bolt is slightly more expensive with an exterior design that is aesthetically inferior to the Tesla Model 3. The Bolt's range is lower than the base Model 3 and will undoubtedly be much lower that extended range versions of the Model 3. Most important, GM offers no charging infrastructure for its BEV- a serious shortcoming.
But comparisons to the Bolt aren't really the issue. After seeing the Model 3 in person and getting a test ride in the car, I'm convinced the Model 3 can and will compete directly and successfully with the BMW, Audi, Lexus, Infinity, and Mercedes mid-size internal combustion engine vehicles (e.g., the BMW 3 series or the Lexis IS series).
It's ironic that media sources (including Seeking Alpha) have talked about concept BEVs offered by the likes of Porsche, Audi, or BMW and asked whether they might someday be "Tesla killers." After the launch of Tesla's new mass-market car, the real question is whether the Model 3 might be a BMW 3 series killer, or an Audi 4 series killer or a Lexus IS series killer.
In my view, the Model 3 presents a direct and significant challenge to those ICE vehicles. In fact, when versions of the Model 3 are purchased with extended options and features, it might be reasonable to ask whether this BEV might challenge ICE vehicles one class above those mentioned.
Investment Takeaway
An investor who doesn't consider the disruptive effect of the Tesla Model 3 and focuses solely on the current financials of the company is, in my view, missing a major element of Tesla's growth trajectory. Tesla Motors has already established a solid premium brand. With the Model 3, Tesla will cement that brand within the most sought-after market segment - younger buyers who will support the automotive brand and become repeat buyers over the long term. It is those buyers who will drive Tesla's growth. The events of the past 24 hours indicate that they're already hooked on the company, and that can only mean good things going forward.
*Image Source: Tesla
Disclosure: I am/we are long TSLA.
I wrote this article myself, and it expresses my own opinions. I am not receiving compensation for it (other than from Seeking Alpha). I have no business relationship with any company whose stock is mentioned in this article.