The Ashford Hospitality Trust (NYSE: AHT) dividend yield is currently sitting at 7.77%. That is 5.93% higher than the current 10-year U.S. Treasury yield, 3.71% above the 20-year single A corporate bond rate, some 5.27% larger than the median S&P 500 dividend yield of 2.50%, and still some 2.00% elevated above the average dividend yield for its sector.
Given this, one may gain an immediate impression of Ashford as an extremely prosperous enterprise that should be purchased at once for income and capital gain purposes. The following are a few points that may give some pause to such thoughts:
Insufficient credit and preferred dividend coverage ratios
Ashford's annual interest expense of approximately $187.51 million on its $3.69 billion in outstanding debt obligations is covered 1.8x by the hospitality REIT's current income from operations of $337.70 million for the past fiscal year.
This obviously leaves little for preferred stock dividends on the company's series A, D, and E of cumulative preferred shares, as has been the case in each of the past four fiscal years before the most recent one: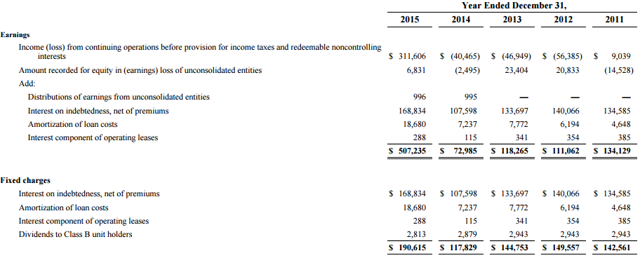 Source: Ashford Hospitality Trust 2015 Annual Report
This in turn means that dividends for both preferred shareholders and unit holders alike have been funded from cash reserves on hand or worse through borrowings from existing credit facilities as the REIT is emboldened to do under current legislation:
We may incur indebtedness to meet distribution requirements imposed on REITs under the Internal Revenue Code to the extent that working capital and cash flow from our investments are insufficient to fund required distributions.
Inconsistent payout history
Like most real estate related companies located in the U.S. in the mid-2000s, times were heady and prosperity abounded all around. Things were no different for Ashford in this respect, as the REIT officially became a publicly listed company in 2004 and subsequently went on to increase its declared common dividend in all but five quarters leading up to September 2009, when all dividend payouts were abruptly terminated indefinitely.
A much reduced quarterly dividend equaling $0.10 per unit, as previously compared to the $0.21 per unit in October 2008, was belatedly re-installed in April 2011 and since upped slightly to $0.12 as of press time.
At the time the cut was wholly necessary to survive the worst of the Great Recession, which plenty of much larger firms did not do; this also unfortunately set a dangerous precedent. Such a stark action put shareholders and prospective shareholders on alert that management will not hesitate to toss the common dividend in the scrap heap whenever opportune.
Such an antecedent no doubt still lingers fresh in the minds of income starved investors today some eight years later, and is partially responsible for the lack of any premium in the company's market value.
Can the current dividend yield be sustained?
Given the precedent illustrated in the points above, one would be apt to answer that question with a no.
However, as of October 30, 2015, Ashford did obtain a new $100.0 million secured revolving credit facility that matures on October 2016. Barring an increase in the REIT's Adjusted Funds From Operations (AFFO) of $162.47 million and Funds From Operations (FFO) of $132.86 million, which analysts are mixed on, the facility could help continue the current common unit quarterly distribution for the time being.
Another option, albeit a decidedly less attractive one would be for management to cut the existing dividend yield, which would no doubt have immediate negative repercussions for the common stock, which is the last thing it needs right on the heels of a 40.02% drop in the share price over the past 52 weeks.
Though at the same time, this would allow the company to retain cash on hand, while still maintaining an attractive and competitive payout near the industry median and remaining in full compliance with U.S. federal income tax requirements for qualified REITs, which state that they must distribute at least 90% of annual taxable income.:


Source: Morningstar.com
Other shareholders such as the hospitality focused hedge fund Rambleside Holdings have openly called for a share buyback, which would have the same effect in a roundabout way by lowering the REIT's absolute common unit payout due a block of said units being retired.
Regardless of which course of action Ashford ultimately pursues, I think I can speak on my own behalf as a long-time capital allocator in saying that any plan would be better than the present one of paying out cash the company simply does not have.
Disclosure: I/we have no positions in any stocks mentioned, and no plans to initiate any positions within the next 72 hours.
I wrote this article myself, and it expresses my own opinions. I am not receiving compensation for it (other than from Seeking Alpha). I have no business relationship with any company whose stock is mentioned in this article.