A Stifel Nicolaus report that partly relies on figures supplied by Gartner indicates the all-flash storage array ("AFA") market grew 91% Y/Y in Q4 to $1.05B. 102% growth was recorded in Q3.

Click to enlarge
Source: Gartner and Stifel (via The Register)
The growth comes at a time when the broader enterprise storage market remains pressured - IDC estimates the total disk storage system market grew only 2.8% Y/Y in Q3 to $9.1B, with four of the market's top-5 players seeing negative growth as smaller players and contract manufacturers shipping to cloud giants (referred to as "ODM Direct" by IDC) gained share.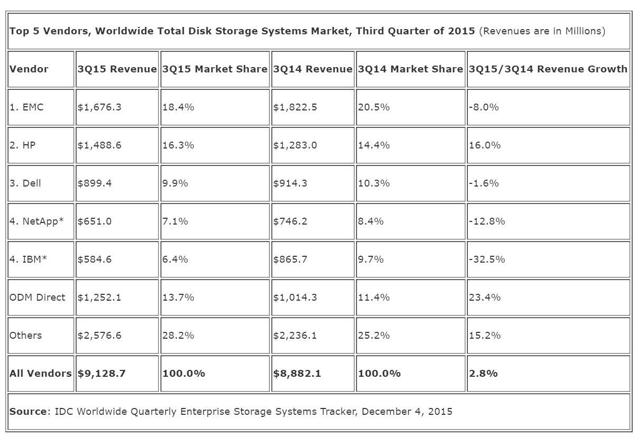 Click to enlarge
The flash market's leaders
Gartner's numbers indicate EMC's (EMC) XtremIO unit is still easily the biggest player in the AFA space: Its revenue rose an estimated 82% Y/Y in Q4 to $384.6M. Since then, EMC's DSSD unit (reportedly acquired for ~$1B) has launched its first flash array (the D5), while providing impressive IOPS (throughput), memory bandwidth, latency, and storage density figures. EMC is aiming the D5 at demanding analytics, database, and data-processing workloads, while targeting mainstream enterprise workloads via XtremIO's arrays.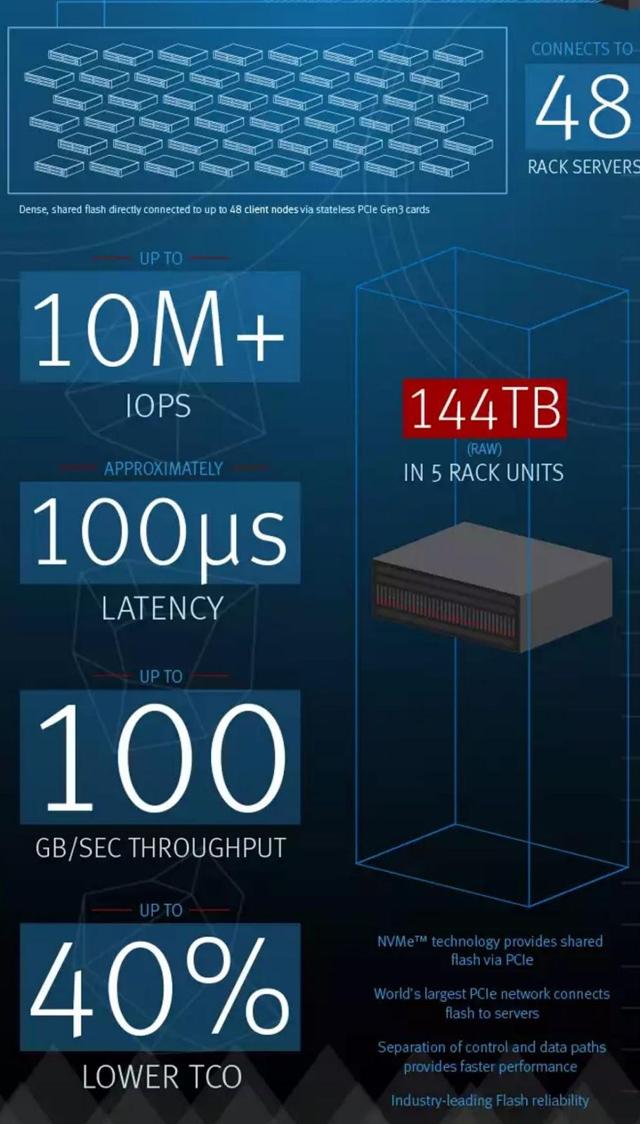 Click to enlarge
Specs for EMC's D5 array. Source: EMC infographic.
IBM (NYSE:IBM) is believed to be the market's second-biggest player in Q4, with sales for its FlashSystem AFA line rising 92% Y/Y to $189.1M. AFA growth didn't prevent IBM's total storage hardware revenue from dropping 11% Y/Y in Q4.
Stifel notes Pure Storage (NYSE:PSTG), which went public last October and solely targets the AFA market, has reported FQ4 (January quarter) revenue of $150.2M, up 128% Y/Y. That suggests Pure is the market's #3 player.
Shortly after EMC (has filed multiple lawsuits against Pure) revealed the D5, Pure unveiled FlashBlade, a scale-out storage system declared to grow "capacity, IO and metadata performance, bandwidth, and client connectivity linearly" as more blades are added, while supporting up to 1.6 petabytes (that's 1,600 terabytes) of capacity and costing less than $1 per GB of usable storage. Pure has also attempted to enter the SMB flash array market by launching the FlashArray//m10 - the company promises enterprise-class 99.999% (five nines) reliability, low latency, and up to 100K IOPS - and unveiled the FlashStack Mini, a converged infrastructure offering that pairs the m10 with Cisco servers and networking gear and virtualization software from VMware or Microsoft.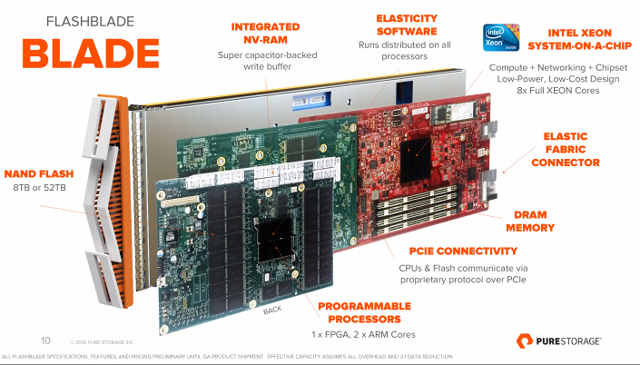 Click to enlarge
HP Enterprise (NYSE:HPE) takes fourth place with estimated Q4 sales of $138.1M (+165% Y/Y). Meg Whitman & Co. have long been quick to talk up the sales growth seen for flash arrays within HPE's 3PAR storage line. The company overhauled its mid-range 3PAR flash systems in mid-2015, and added a new low-cost model. A new high-end hybrid storage (mixed disk/flash) array was launched in March, with HPE trumpeting its ability to consolidate many types of workloads.
Where others stand
NetApp (NASDAQ:NTAP), which recently agreed to spend $870M to buy AFA vendor SolidFire, is estimated to have posted Q4 AFA sales of $89.2M via its EF Series and All Flash FAS arrays - up 224% Y/Y, but well below that of the market's top four players. NetApp says it plans to continue offering the EF Series and All Flash FAS after the SolidFire deal closes, with the three product lines respectively targeting high-performance, traditional enterprise, and next-gen infrastructure applications.
Violin Memory (NYSE:VMEM), whose shares have plummeted into penny stock territory following multiple earnings disappointments, is estimated to have done Q4 AFA sales of just $10.9M. Back in December, Maxim Group argued Hitachi Data Systems (estimated Q4 AFA sales of just $600K) could act as a white knight for Violin. However, the company recently ended its strategic review.
Also, on the outside looking in are Huawei (estimated Q4 AFA sales of $7.9M) and Fujitsu (negligible Q4 AFA sales). Various other firms (including, presumably, SolidFire) are collectively estimated to have produced $78.9M in AFA revenue.
Some quick takeaways
Gartner's numbers highlight the solid job EMC has done of addressing the threat posed to its traditional disk-based storage offerings by AFAs. Especially when one considers its DSSD unit is only now set to begin producing revenue. Dell, due to acquire EMC later this year and lacking a strong enterprise flash storage position, has to be pleased. And though their numbers aren't as impressive as EMC's, IBM and HPE have done respectable jobs of ramping AFA sales.
Nonetheless, it's hard to ignore all three firms still saw negative total storage growth in Q4, with IBM down double-digits. To see positive growth long-term, the companies will have to not just continue winning over enterprises with their AFAs, but find ways to partner with cloud service providers who have been averse to buying from "legacy" IT giants, and who are accounting for more and of annual IT spend.
The figures help explain why NetApp (#2 in the global external disk storage market, and #4 in the total disk market) is buying SolidFire: The company's relatively weak AFA position is one reason (though not the only one) its product revenue fell 19% Y/Y in the January quarter. As analysts have noted, juggling three different all-flash product lines could be a challenge.
Meanwhile, Violin Memory's sales figures make it clear the company is now an also-ran in a market featuring several firms with much greater sales/R&D resources and scale. Assuming the company isn't sold, it will have to find ways to leverage its technology to create a differentiated niche.
For Pure Storage, an upstart that has remained in the AFA market's big leagues to date, the numbers given for total market growth highlights its long-term opportunity. EMC has predicted all production app workloads will run on flash by 2020 - if that forecast largely holds up and Pure maintains its current AFA position, the company is bound to gain considerable share within the broader storage market over the next few years. In the meantime, the arrival of cheaper enterprise-class SSDs relying on 3D NAND flash could provide the AFA market with a fresh growth driver over the 12 months.
Disclosure: I/we have no positions in any stocks mentioned, and no plans to initiate any positions within the next 72 hours.
I wrote this article myself, and it expresses my own opinions. I am not receiving compensation for it. I have no business relationship with any company whose stock is mentioned in this article.