"April come she will

When streams are ripe and swelled with rain"

- April Come She Will, Simon & Garfunkel, 1966
Stock investors are filled with love once again as we enter into the second quarter of 2016. Gone and apparently now forgotten was the chilly reception to the start of the New Year through mid-February. For despite further fundamental deterioration, stocks have rallied back into positive territory for the year thanks in part to the siren calls of the U.S. Federal Reserve and their renewed words of easy policy. But while it appears that April is set to bring with it streams both ripe and swelled with rain in 2016, it should be remembered that April can also be a mercurial month that is no stranger to not only the jarring correction, but the major trend reversal for the stock market.
April: A Time When Stock Market Flowers Bloom
At first glance, it would appear that the month of April should be expected to bring cheery times for investors. For example, the S&P 500 (NYSEARCA:SPY) since 1950 has enjoyed both its second best winning percentage of the year in April with 45 up months versus only 21 down months, and its second highest return of the year at +1.36% on average. Only December ranks better with 49 up months versus 17 down months and an average return of +1.54%. Given this historical track record and the powerful recent market uptrend, investors might be feeling understandably sanguine heading into the first month of the second quarter.
But Also A Time Filled With Occasional Showers And Storms
This strong historical track record in April does not mean that it is entirely immune from downside pain. For example, the S&P 500 went 2 up and 4 down in the first six years of the new millennium, with monthly returns of -3.08% in 2000, -6.14% in 2002, -1.68% in 2004 and -2.01% in 2005. Although in more recent years, it has proven to be a reliably positive month, with its only decline since coming in 2012 with a drop of -0.75%.
Of course, one of the problems with viewing returns purely on the basis of the entire month is that events can take place during the month that are obscured by the month end result. As a current example to highlight this point, the S&P 500 Index ended positive for the first quarter of 2016, but looking only at this number would overlook the fact that the market was down over -10% along the way before clawing its way back to +1% by the end of the quarter.
Reflections On When The Market Changed Its Tune
A quick walk back through time reveals the hidden turbulence and changes that can often take place in April that might otherwise go unnoticed by focusing on the monthly return numbers.
In 2014, stocks opened the month by falling more than -4.3% before rallying back to end up +0.5%
In 2012, stocks actually peaked on the very first trading day in April before entering into a more than two-month correction that took nearly -10% off of the S&P 500 Index through early June.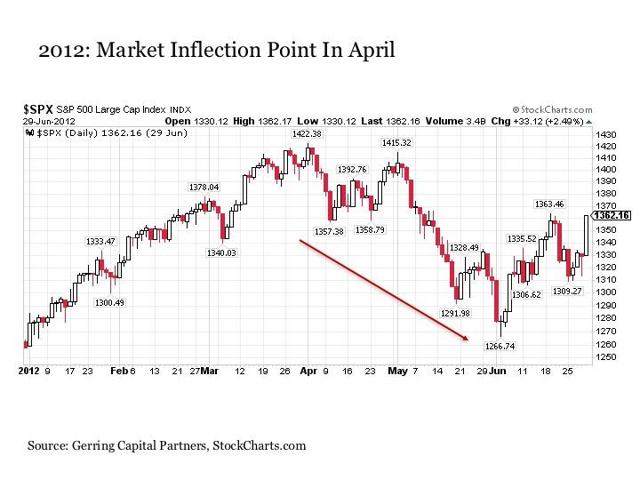 Click to enlarge
In 2011, the end of April effectively marked the post-crisis peak for stock markets outside of the U.S., as the iShares MSCI ACWI ex-US Index ETF (NASDAQ:ACWX) has effectively moved sideways in the five years since and is today trading at levels that are below this April 2011 peak.
In 2010, the first post-crisis peak came in mid-April of that year, as stocks proceeded to fall by -16% through mid-July before the Fed started making their run to the rescue.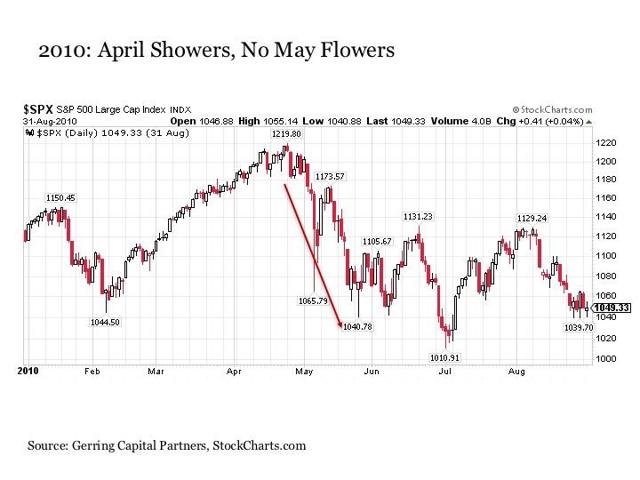 Click to enlarge
These are recent examples of stormy markets during a period when April is still fronting an impressive stretch of wins. The struggles that came to pass earlier in the 2000s have already been mentioned, but 2000 in particular is worth a closer look. For while it was on March 24, 2000, when the S&P 500 Index reached its intraday peak, stocks grinded sideways through early April when thunder cracked and stocks plunged by more than -12% over the course of just five trading days. This effectively was the pin prick that started the bursting of the tech bubble that followed over the next few years.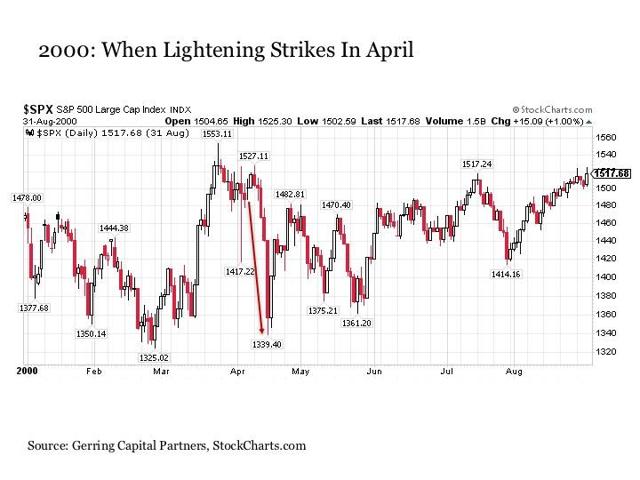 Click to enlarge
In fact, throughout history we see that April often finds itself in the midst of rough waters for the market despite its otherwise flowery reputation. For example, the final decline that led to the end of the 1966 to 1982 secular bear market got started at the beginning of April 1981 following a strong rally off of a mid-February that bottomed after the S&P 500 Index had started the year down more than -10%. Sound familiar?
The stock peak that marked the beginning of the secular bear market from 1966 to 1982 also took place during the month of April in 1966.
Although the S&P 500 Index peaked in late March, the 1962 bear market started rolling its way strongly down hill in April of that year.
And in the granddaddy of all stock market corrections, although the stock market crash in October 1929 is widely cited as the start of the Great Depression, it is almost always overlooked that the stock market had rallied its way back with a scorching bounce of nearly +50% on the Dow Jones Industrial Average (NYSEARCA:DIA) to what had previously represented all-time highs as recently as early 1929 before the lights completely went out for good starting in April 1930.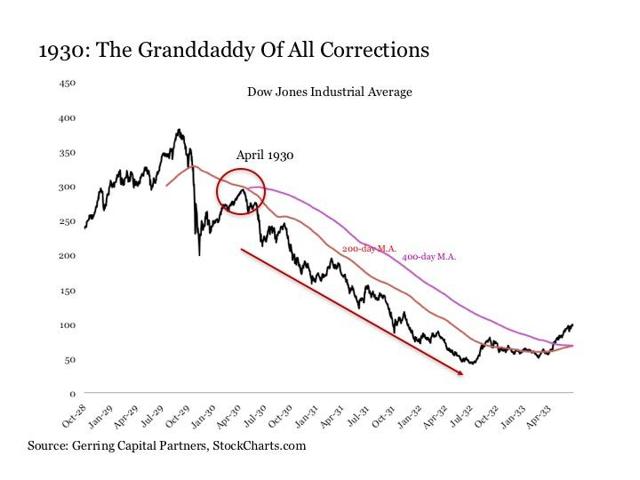 Click to enlarge
Does any of this mean that the stock market is going to undergo a sharp pullback or arrive at a major market inflection point in April 2016? Absolutely not. But the historical pattern of behavior should not be overlooked either, as April has shown the repeated tendency to be a time when the market is susceptible to at minimum a sharp short-term pullback or more meaningfully the starting point for a major market reversal. The same characteristics happens to be true for the months of July, October and to a lesser extent January over all of the rest of the months of the year. Of course, all are months that mark the start of a new quarter.
Bottom Line
The month of April is one that at first glance looks like a refreshing and attractive time for investors. And it may very well prove to be the case in 2016. But a closer look under the surface reveals that April can also be a month where sharp corrections or major market inflection points have been known to take place. And it's not as though the market wouldn't have a fundamental reason to begin turning lower as we enter into this new month and the onset of spring.
Disclosure: This article is for information purposes only. There are risks involved with investing including loss of principal. Gerring Capital Partners makes no explicit or implicit guarantee with respect to performance or the outcome of any investment or projections made. There is no guarantee that the goals of the strategies discussed by Gerring Capital Partners will be met.
Disclosure: I/we have no positions in any stocks mentioned, and no plans to initiate any positions within the next 72 hours.
I wrote this article myself, and it expresses my own opinions. I am not receiving compensation for it (other than from Seeking Alpha). I have no business relationship with any company whose stock is mentioned in this article.