Regeneron Pharmaceuticals (NASDAQ:REGN) released the long-awaited results of its SOLO 1 and 2 results for its potential blockbuster product Dupilumab. To say the least, the results are highly anticipated as the biotech sector has faced intense selling pressure over the past six months. Many including myself are looking for positive results from the trials to reignite the moribund sector. In an unrelated event, the recent speech by Janet Yellen, where she lays out a gradual path in raising the Fed funds rate. The importance of her "risk on" statement cannot be understated here; the biotech sector is viewed as a risky asset by the Fed basically, blessing riskier assets; I would not be at all surprised if additional funds flow into the industry and away from the typical defensive plays such as utilities and telecom.
The excerpt below is from the alert sent out to subscribers of Undervalued Gems on March 13 under the heading of "Scouring the market for New Bargains." I have updated the post to reflect the positive data read for Dupilumab.
Let's welcome Regeneron Pharmaceuticals into the model portfolio. REGN is a mid-stage biotech outfit with easily the most promising clinical pipeline. REGN's lead product is Eylea, the best-in-class treatment for macular degeneration. REGN partnered with Bayer (OTCPK:BAYRY) to bring the compound to market with Regeneron keeping US sales only. Partnerships loom large in the REGN story as I will elude on further. Eylea's sales have exploded, reaching $2.6 billion in 2015 from $1.7 billion in 2014. Sales are expected to grow to over $3.2 billion in 2016. Unlike most smaller biotech plays, REGN remains quite profitable due to the sales from Eylea.
REGN recently received approval from a new novel treatment for hyperlipidemia. The newest class of treatment PCKS9 inhibitor sold under the trade name Praluent (alirocumab). REGN is marketing the product under a collaboration with Sanofi (NYSE:SNY). Watch SNY carefully here; it currently owns 22.6% of REGN with the option to raise the stake to 30% by December of 2020. The following slides are from SNY's analyst day. The first slide shown below demonstrates the overall size of the marketplace: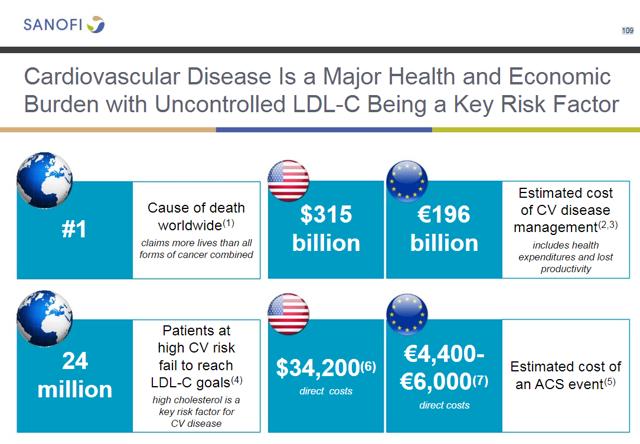 Click to enlarge
REGN/SNY expect initial sales to ramp slowly higher as payers ultimately await additional outcomes data. The outcomes data is critical for more widespread use; I suspect the dramatic sell-off in the shares of REGN is partly due to investors coming around to this realization.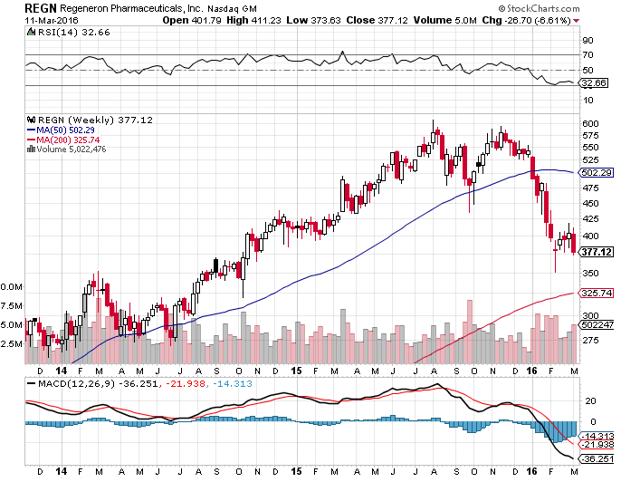 Click to enlarge
The chart shown above is a weekly chart going back to late 2013. REGN's share price has retraced the entire advance since October 2014 when promising data was released. I made a small profit on REGN in 2014, yet became constructively less bullish as I foresaw a possible payer revolt. Former portfolio holding Amgen (NASDAQ:AMGN) has a competing product with similar initial results. My fear was payers would attempt an AbbVie (NYSE:ABBV)/Express Script (NASDAQ:ESRX) type HCV deal which locks one out of the marketplace. Thus far, payers are willing to cover one or the other with one plan deciding to include both. To say the least, I missed out on a big run; today's price is an opportunity to stake out a claim while waiting for the next run.
Outcomes Data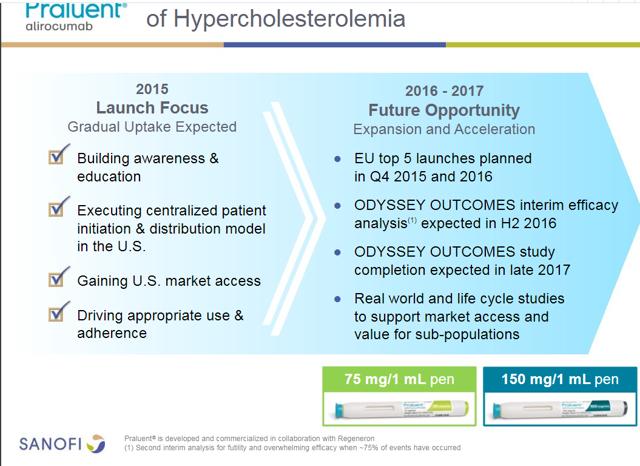 Click to enlarge
The key study to watch is the Odyssey Outcomes study with an end date expected in late 2017. I expect Praluent to post outstanding data, which will allow the product to be more freely prescribed. For the valuation model used below, I am equating peak sales to Praluent of $2 billion. Depending on the outcomes data, I suspect my estimate may be proven way too conservative. The PCKS9 market may indeed be shown to be quite significant yet, for now; there is little to differentiate between REGN and Amgen product. I suspect they will split the initial market depending on the deal made with the various payers. The partnership with SNY helps REGN tremendously here; typically a smaller entity gets steamrolled in negotiations by the larger, more well-connected entity.
Litigation with Amgen
REGN/SNY is locked in a bitter courtroom brawl with AMGN over patent infringement. Thus far, the ruling has favored AMGN; yet, as we have recently seen with the Gilead Sciences (NASDAQ:GILD) vs. Merck (NYSE:MRK) battle as detailed here, a win is not necessarily meaningful. I highly doubt a judgment will come down barring the product from the market. In today's highly-charged political environment by yanking Praluent, the verdict would hand AMGN Repatha a monopoly in the PCSK9 category. With scant competition, AMGN would not feel the need to negotiate in price, costing the healthcare system additional funds that could be deployed elsewhere. In my opinion, Praluent will not be pulled off the market, yet it will not become the key molecule in REGN's arsenal. The two biggest ones will remain Eylea and now Dupilumab with Praluent and Sarilumab bringing up the rear.
Dupilumab
Dupilumab is the real crown jewel of the late-stage pipeline. Dupilumab is on track for approval in atopic dermatitis, a disease with little in the way of longer-term treatments. Phase 2 data came in quite impressive, taking most of the risk out of the equation as far as ultimate approval. The key data readout will arrive in the first half of 2016 with 16-week results coming in from the SOLO 1 and 2 trials. Long-term side-effect profile will appear upon the completion of the CHRONOS study in mid-2017. Dupilumab is also angling for approval in asthma with elevated eosinophils with a data read expected in 2017. I am modeling for $4 billion in peak sales for Dupilumab; I suspect Dupilumab will become the second major growth driver for REGN surpassing Praluent. REGN has partnered again with SNY to commercialize Dupilumab; I suspect the sales force of Sanofi will aggressively push the new product once approved.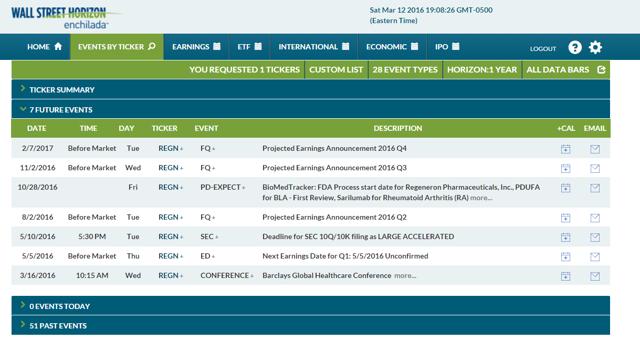 Click to enlarge
Data, courtesy of Wall Street Horizon
The results from the SOLO 1 and 2 trials are now in. The data read is unambiguously positive for REGN as the data indicates the drug is highly effective as compared to the results of the placebo. Thus far, the side-effect profile is quite favorable, which is critical as the product is expected to be used over the long term. Based on the strength of the data for atopic dermatitis, I suspect the odds favor additional success for the indication of asthma. If this is indeed the case, the $4 billion in peak sales figure is way too conservative.
Both studies, LIBERTY AD SOLO 1 and SOLO 2, met their primary endpoints and demonstrated significant improvements in measures of overall disease severity, skin clearing, itching, quality of life and mental health. These are the first Phase 3 trials of a systemic therapy that show this level of benefit in moderate-to-severe AD. There are no currently approved systemic therapies in the U.S. for the condition.

There were 1,379 adults with moderate-to-severe AD enrolled in the two identical studies. They were randomized to receive 300 mg of dupilumab subcutaneously once per week, 300 mg every two weeks or placebo for 16 weeks following an initial dupilumab loading dose of 600 mg subcutaneously or placebo.

For SOLO 1 and SOLO 2, 37% and 36% of patients, respectively, in the 300 mg once/week cohort and 38% and 36% of the 300 mg every two weeks cohort achieved clearing or near-clearing of skin lesions compared to 10% and 8.5% for placebo (p<0.0001). This was the primary endpoint.

The improvements in another metric, EASI score, from baseline, were 72% and 69%, 51% and 44% and 15% and 12%, respectively, for the three groups (p<0.0001).

The proportions of patients achieving EASI-75 (75% improvement in AD symptoms) were 52.5% and 48%, 51% and 44% and 15% and 12%, respectively, for the three groups (p<0.0001). This was the key secondary endpoint in the U.S. and one of the primary endpoints in the EU.

The overall rate of adverse events was 65 - 73% for dupilumab and 65 - 72% for placebo. The rate of serious adverse events was lower for dupilumab (1 - 3%) versus placebo (5 - 6%). Adverse events for dupilumab that were higher than placebo were injection site reactions (10-20% vs. 7-8%) and conjunctivitis (7-12% vs. 2%). No patient discontinued dupilumab therapy due to an injection site reaction. One discontinued due to conjunctivitis.

Dupilumab, a fully human monoclonal antibody, works by binding to (inhibiting) interleukin-4 (IL-4) and interleukin-13 (IL-13), two cytokines that play key roles in the pathogenesis of AD. The FDA designated it a Breakthrough Therapy for AD in November 2014. A New Drug Application (NDA) should be submitted by Q3.
Sarilumab
Sarilumab is an investigational, human IL-6 receptor antibody for the treatment of rheumatoid arthritis (RA). The RA field is quite crowded with portfolio holding AbbVie Humira the undisputed king of the hill. Well, the king now has a viable challenger in Sarilumab. REGN announced outcomes data indication Sarilumab was more effective than Humira for the treatment of RA. The only issue I can see from the data read is a much higher incidence of neutropenia. I initially did not have high hopes for the product; the RA field is quite crowded. Based on the positive data from the SARIL-RA-MONARCH study, I am assigning Sarilumab a peak sales figure of $2 billion. Approval is expected in the third quarter of 2016.
How I am valuing REGN
REGN possesses the most promising pipeline in all of biotech today. Normally, I would be wildly enthusiastic about the long-term trajectory of the company except for the following caveat; the current ownership stake by SNY. I highly suspect over the course of the next few years, REGN will become a wholly-owned subsidiary of SNY similar to Genzyme. The following caveat from a recent SNY conference call yields some clues.
So, when you look at these two drugs, Sarilumab and Dupilumab, what you're seeing is the beginning of a franchise in immunology. And our strategic intent is to build that franchise, that specialty franchise, under the Sanofi-Genzyme business unit under David Meeker. The speaker is Elias Zerhouni, Sanofi SA - President, Global R&D from the recent Cowen conference. - Transcript courtesy of the Sentieo platform
The typical takeout in the biotech sector is based on a multiple of peak sales, typically in the 4-5 times range. Using the figures shown above ($5 billion for Eylea, $4 billion for Dupilumab, $2 each for Praluent and Sarilumab) yields $13 billion in peak sales. I am assigning a zero value to the pipeline to err on the side of caution. I am assigning a takeout multiple of five times peak sales for a total market cap of $65 billion. Based on the current number of shares outstanding, my target price for REGN is $637 per share, a hefty 50%+ premium from the current quote. Interestingly, the shares traded slightly below this range this past summer.
Market Outlook
The healthcare sector is lagging the overall market this year with notable weakness in the biotech sector. Growth is currently out of favor with high-yield defensive names outperforming. Now is a great time to enter into REGN with the expectations of outsized gains as the decade progresses. REGN is a long-term hold in a similar mold to Google (NASDAQ:GOOG) (NASDAQ:GOOGL), Visa (NYSE:V) and Apple (NASDAQ:AAPL). You can purchase shares today at the same price as the Oct./Nov. 2014 time frame well before Praluent was approved and now Sarilumab. REGN EV/EBITDA is currently slightly below 20, yet the number is expected to dip to 16 next year. To give further context to the numbers, REGN traded at an EV/EBITDA level of 40-50 last year.
Investors are always reminded that before making any investment, you should do your own proper due diligence on any name directly or indirectly mentioned in this article. Investors should also consider seeking advice from a broker or financial adviser before making any investment decisions. Any material in this article should be considered general information, and not relied on as a formal investment recommendation.
Disclosure: I am/we are long REGN, GILD, ABBV.
I wrote this article myself, and it expresses my own opinions. I am not receiving compensation for it (other than from Seeking Alpha). I have no business relationship with any company whose stock is mentioned in this article.