With oil now trading at $36.63 per barrel after a sharp reversal today, it is becoming increasingly evident that the lows that were printed last month will end up being permanent lows for now. Yes, oil may be dropping into its daily cycle low, but since this daily cycle is now 34 days long (since it bottomed in mid-February), the odds are small, in my view, that we will break through the February lows. Why? Well, oil undergoes a 3-year cycle (which can stretch) where it prints a 3-year cycle low every 3 years. The last confirmed 3-year cycle low was in June 2012 (see chart) so we are in the timing band for another low any month now as we are now 3 years and 9 months (really stretching it) from the last 3-year cycle low.
What's the takeaway? Well, oil would have to have 3 to 5% down days every day for the February lows to not be the lows in this cycle and I can't see it. If I'm correct, the February lows will end up being the lows for at least the next 3 years (a new cycle), and if the dollar keeps on getting weaker (as it has been doing since the Fed adopted its dovish stance), I find it hard to see oil prices not rising from here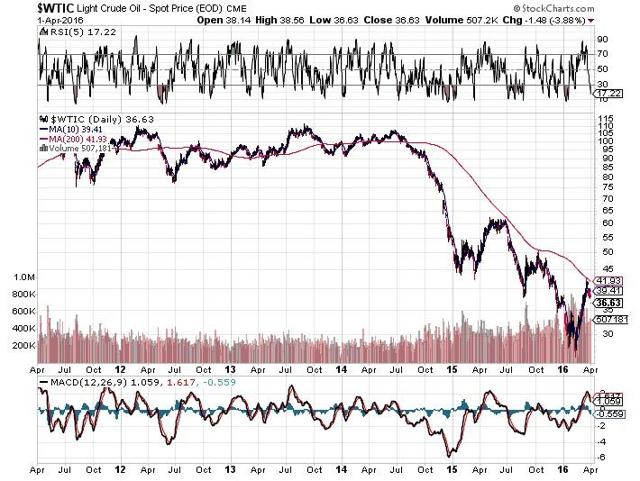 Click to enlarge
Folks, although we talk a lot about fundamentals on Seeking Alpha, we can't ignore the facts. Just look at what happened in the market (NYSEARCA:SPY) after the jobs number was released today. After the report was released, the market tanked for a brief period before finishing the day up 13 points at 2,072. It just didn't make sense to get a reversal like that so quick in the session. However, we have to accept the cards we are dealt which is why we are staying long all of our equity positions in our portfolio. Bears have to come to their senses and observe that if equity markets were to drop hard, they would have done so by now. Instead, we are approaching all-time highs, and when we blow past them, history has shown us that markets can rally far further than many originally had predicted.
However, I'm watching the oil market closely as our portfolio took a pretty large position in Chevron (NYSE:CVX) a few weeks ago and we are down around $200 on our trade so far (see screen-shot below). However, I would urge followers not to give up on this trade as I see the current weakness in oil as being short lived. Furthermore, Chevron's fundamentals are as good as they've ever been (especially in a rising oil price environment) and here are some strong reasons to stay long the stock.
Firstly, Chevron has shown strength over the last 2 weeks even as oil continued its drop into its daily cycle low (see chart). This is the advantage of the company's integrated model in that its downstream division acts as a hedge against falling crude prices.

Click to enlarge
However, the market knows how much more profitable this company can be with rising oil prices. Why? Well, Chevron could be about to fire on all cylinders at the right time because it continued investing in peer leading projects right throughout the recent bear market in oil. Gorgon specifically comes to mind as the project has the capacity to deliver 2.6 billion cubic feet of natural gas per day which would be half of the average amount Chevron generated per day in 2015 (from all its projects combined!). Remember this is a 40-year long project and 85% of the LNG that will be delivered is already tied up in long-term contracts. Liquefied natural gas is linked to oil so profits and cash flows will rise as oil prices continue their ascent.
However, despite this massive project that is near to going into full production, Chevron still managed to grow production last year by 2% and is expecting 4% production growth on the high end in 2016. It makes sense because on top of Gorgon, Chevron will have increased production from the likes of Moho Nord and Lianzi, and at the back of 2016, LNG deliveries from Angola are expected to come through meaningfully.
Rising oil prices, along with rising production, is exactly what Chevron needs to see it break through $100 a share. Liquids made up 1.7 MMbpd or 66% of last quarter's production which illustrates that this integrated oil major will do better than its integrated peers if oil prices continue to rise. This is why we have chosen Chevron despite its cash flow woes in recent quarters.
Secondly, many investors have turned bearish on Chevron over the last 18 months due to its negative cash flows. For example, in 2015, the company had a cash flow shortfall of $18 billion which was made up by selling assets, issuing new debt and decreasing its cash balance (by almost $2 billion). Yes, the company's total debt has ballooned to $38.6 billion, but Chevron bears here are missing the picture. Why? Because if cash flow headwinds continue, the main item that will reduced will be capex which Chevron has already guided for the next couple of years. Reduced capex across the whole energy sector will mean reduced production which would have to mean rising oil prices in the future due to demand constraints. Furthermore, Chevron's debt-to-equity ratio is only 0.22 which is lower than Shell's (NYSE:RDS.A) (NYSE:RDS.B) and BP's (NYSE:BP), which illustrates to me that Chevron can outlast low oil prices if needs be. In fact, its debt-to-equity ratio is not that much higher than Exxon Mobil (NYSE:XOM) and we all know how highly rated this company's debt is.
To sum up, we are staying long Chevron despite oil prices going through a lull at present. We also exited Valero Energy (NYSE:VLO) as its not a stock that correlates well with rising oil prices. Here is the state of affairs at the moment after starting with $100k back in mid-January.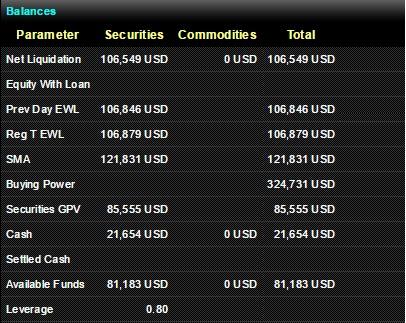 I'm going to be adding a few good dividend and growth stocks to the elevation portfolio over the next several weeks when I see value. It's imperative that they are not correlated and all don't have similar valuations to ensure that income is brought in every month, which, over time, will increase our share count. Follow along by pressing the "Follow" button above.
Disclosure: I am/we are long CVX, WMT, IBM, AXP, SSRI, GDX, FOLGF, EMR, CSCO, WDC, MOS.
I wrote this article myself, and it expresses my own opinions. I am not receiving compensation for it (other than from Seeking Alpha). I have no business relationship with any company whose stock is mentioned in this article.