Very brief business and industry overview
HCA Holdings (NYSE:HCA) is a health care services company: owns, manages or operates hospitals, surgery, diagnostic, imaging, radiation, oncology therapy centers, and various other medical facilities. It operates in US and UK. It is operating in the industry that is expected to benefit from aging population.
Stocks of publicly traded US hospitals have been underperforming the S&P 500 since mid-2015. Negative investment sentiment was driven mainly by poor EBITDA performance. Bad debt (i.e. patients are not paying for rendered services) was one of the key reasons for EBITDA performance and, therefore, stock returns. For instance, Community Health Systems (NYSE:CYH) lagged in terms of bad debt, which reflected poorly on the stock as well during last few quarters. In this regard, HCA's EBITDA performance topped the competitors and allowed its stock performance to come ahead.
Overall, hospitals are trading around 30% discount in terms of EV/EBITDA vs. S&P 500. According to information supplied by Bloomberg, this is the highest discount since 2012. In the short-term, share repurchase programs should give a boost to EPS growth. HCA has the largest share repurchase authorization for 2016, which would account for about 11% of outstanding shares. Tenet (NYSE:THC) and Community have lower authorization amount, however given their smaller size share repurchases could account up to 13-15%. However, both Tenet and Community are running at comparatively high debt levels. Both are planning to bring net-debt-to-EBITDA to 4-5x while HCA is already in its comfortable zone of 3.5-4.5x.
This means that Community would need to work on three fronts: bad debt management, repurchases, and decreasing leverage. Bad debt is lesser of concerns for HCA and Tenet. Tenet, however, has some additional de-leveraging work ahead. This puts HCA in a good light - bad debt is not a major concern, leverage level is already at the target level, and share repurchase program should further boost EPS. Furthermore, HCA has strong business fundamental that allowed it to outperform S&P 500, Nasdaq index, and Healthcare sector index during last 5 years.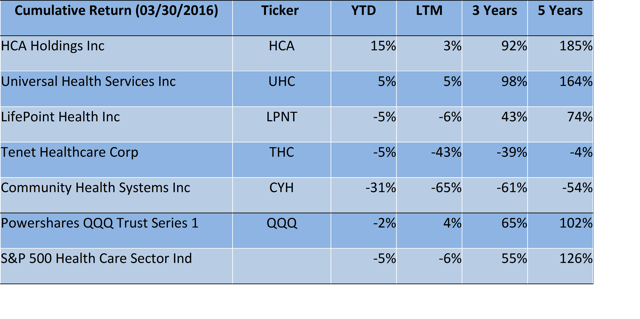 Click to enlarge
In the next few sections, we will briefly review why momentum, quality, and value investors might be interested in going long HCA.
Momentum investors
This graph is self-explanatory: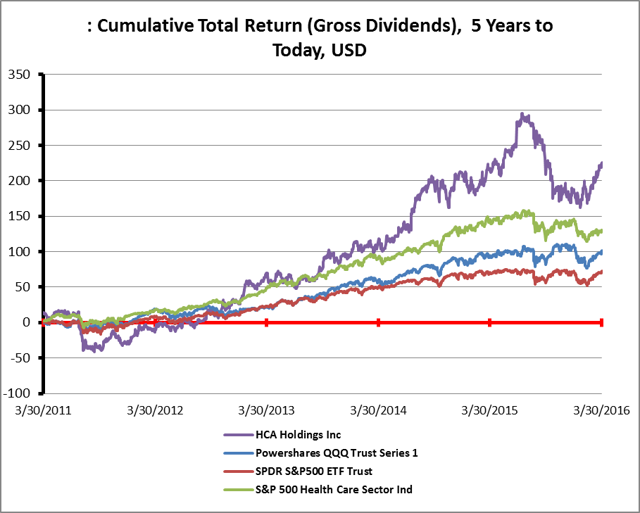 Click to enlarge
Quality investors
HCA has been performing very well against many quality metrics. We will briefly review few of those below:
Positive bottom-line growth: net income and cash flow from operations are on an uptrend since 2013, driving stock performance up while industry continues to suffer. (please note that all the graphs below are sourced from Bloomberg).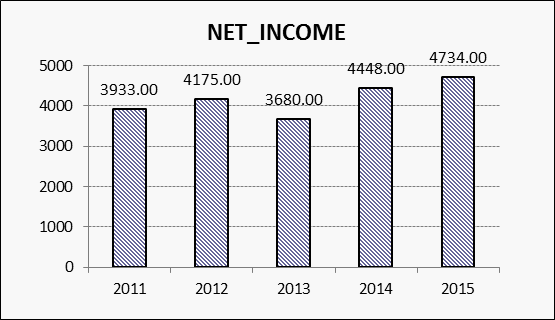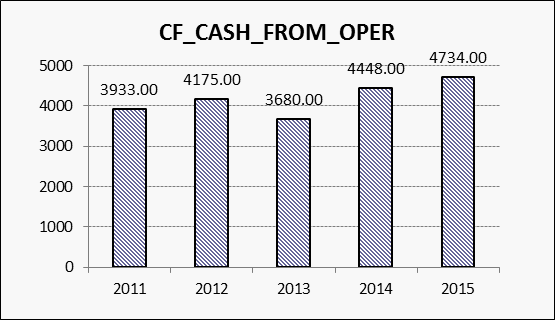 Good earnings quality: cash flow from operations have been clearly above net income indicating good quality of earnings.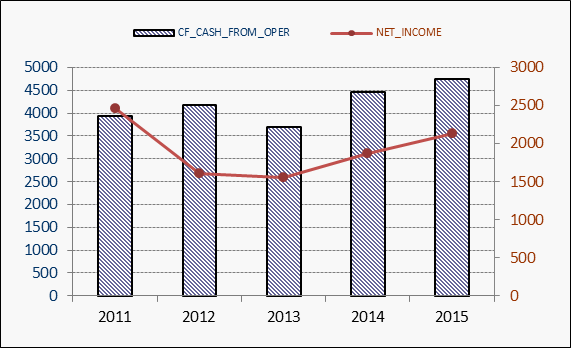 Liquidity is improving: current ratio went from 1.4 to ~1.7 in the last 3 years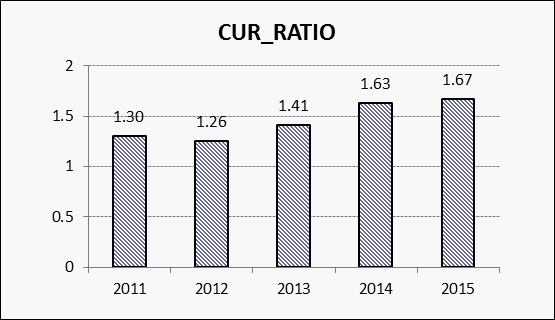 Buybacks are driving outstanding share count down for the last four years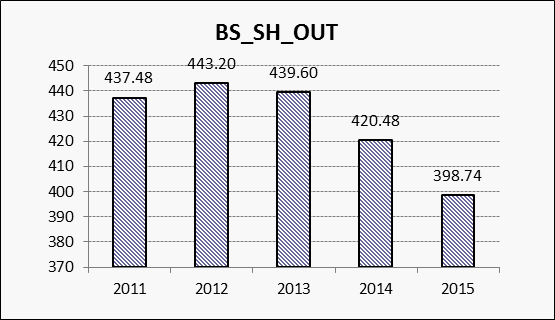 However, share repurchase program is not leading to a dreaded increase in leverage. HCA did a good job decreasing long-term debt to total asset throughout the last 4 years. In other words, strong cash generation allowed HCA to buy back shares while simultaneously retiring proportionally larger long-term debt. This helped improve shareholder return while keeping overall financial leverage at a comfortable level.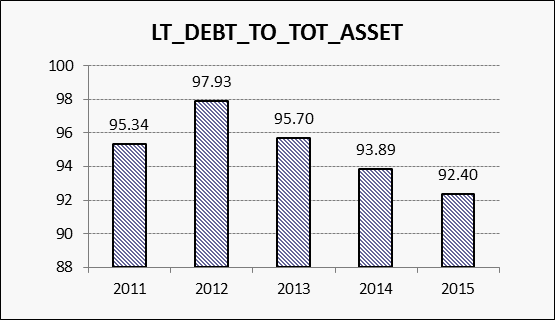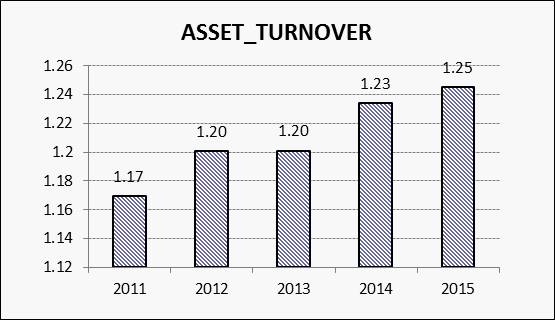 Asset turnover improvement (see above) combined with strong bottom-line performance, helped HCA improve ROA for the last 3 years.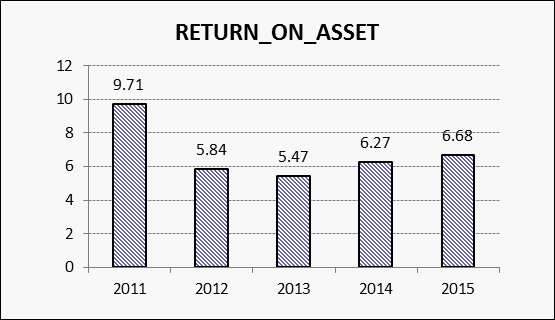 Value investors
We start off with consensus estimates of FCF and EBITDA:

Click to enlargeSource: Bloomberg.
According to information provided by Bloomberg, peer EV/EBITDA for HCA is 10x, and WACC is 9.7%. Please note that larger peer group WACC is 9.7%, while if peer group was limited only to LPNT, CYH, THC, and UHS WACC would be ~4-5%. Using higher WACC of 9.7% in the calculation would only add an additional level of conservatism.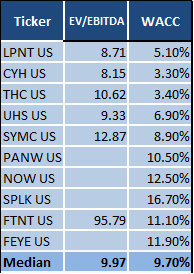 Source: Bloomberg.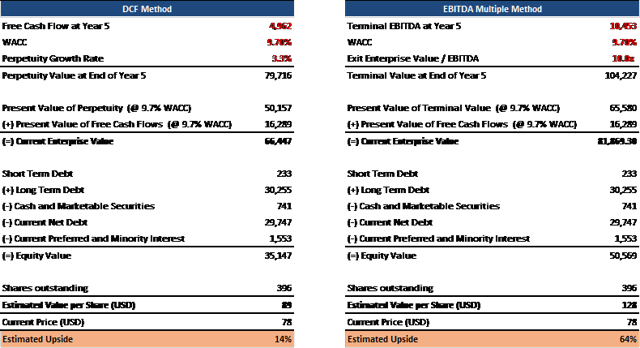 Click to enlarge
As indicated above even conservative assumptions indicate a potential upside of 14% to +60%.
Smart money
Thomas Frist, founder and managing principal of Frist Capital LLC, has cut his stake by half over the last two years (going from around 75-80M shares to ~41M shares as of YE 2015 filings). Most of the sales would have happened at $65-$80 range (i.e. at a sizable gain; Mr. Frist's cost basis of ~$25) Mr. Frist remains to be a large shareholder of the company as of YE 2015. As they say, insiders sell for various reasons but buy only for one single reason (i.e. stock being undervalued).
So, shifting focus to asset managers and hedge funds, we see that there was general tendency to decrease positions in mid-2015 when HCA stock started pushing over $80-$90. As of year-end 2015 filing, Glenview Capital Management, Fir Tree Incorporated, Two Sigma added back to their positions at around $70 per share. Of course, this could be a range-bound trading pattern and no long-term conviction on the part of hedge funds.
Nevertheless, going back to our valuations 15% potential upside (which would bring us to low ~$90 price range) in the matter of quarter or two could still be good short-term play. In the medium to long term, as industry closes ~30% discount vs. S&P 500 (discussed in the first section above), HCA is likely to continue to outperform, potentially gaining ~60% (based on EBITDA multiple valuations above).
Recommendation: Buy HCA (short-term investor: target exit at $90; long-term investor: potentially until discount gap closes and HCA is trading at around $120).
Disclosure: I am/we are long HCA.
I wrote this article myself, and it expresses my own opinions. I am not receiving compensation for it (other than from Seeking Alpha). I have no business relationship with any company whose stock is mentioned in this article.