Luxury car buyers want beautiful luxury cars. So when Tesla Motors (NASDAQ:TSLA) delivered the first six Model X vehicles in September, shown on a live video feed, they didn't show many looks at the front of the SUV. The front of the vehicle looks odd.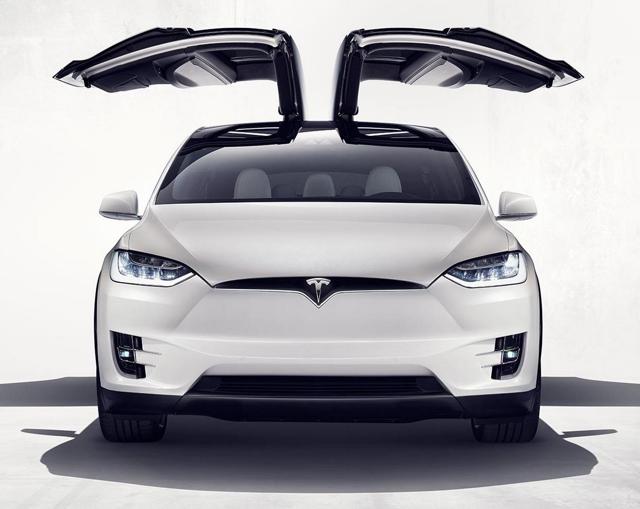 Image Source: Tesla
Reviewers praising the Model X's spaciousness, and ease of access to the back seats, rarely mentioned the vehicle's looks. Here's one reviewer who did, Road & Track's Bob Sorakanich: "Without those doodads [falcon-wing doors, 'hot-tub-sized' windshield, and Ludicrous mode], the Model X would just be a kind of dull-looking crossover." A "dull-looking" exterior does not help sell a vehicle for a premium price.
(Car and Driver's brief review doesn't mention the X's exterior appearance, nor does Motor Trend's preliminary review - both damning not with faint praise, but with no praise at all.)
Tesla's dramatic stock price slump following the September Model X launch (falling from ~$240 to a low of ~$144) has been attributed to the slow production ramp for Model X and profit concerns. But a related cause is likely the Model X's appearance. While some buyers will choose the Model X despite its appearance, others won't. (If I had a Model X reservation, for example, I would ask to defer delivery until Tesla had redesigned the front of the vehicle.)
As Elon Musk pointed out Thursday night, revenues from the Model S and Model X are needed to finance the Model 3. So any risk to sales of the Model X is a risk to the company.
If Model X's sales stall, Tesla's projected revenue ramp could slump. Meanwhile, Tesla's fixed costs would be hard to cut. Its workforce, for example, is needed to ramp up Model 3 production. Moreover, Tesla plans to continue investing, doubling its number of stores and superchargers.
Model S's sales should increase with the planned increase in stores, or even with advertising. Tesla has only two other ways to boost revenue until Model 3 production begins: 1) reduce or eliminate the Model X backlog (which is at least three months in the Washington, DC area), and 2) boost Model X's demand.
Tesla is already ramping Model X's production to work through the backlog. That leaves boosting Model X's demand, which will be helped by more stores, but which also requires redesigning the vehicle so it looks good.
The Model 3 is widely acknowledged to be a beautiful car (as is the Model S). For example, here's Motor Trend's Christian Seabaugh:
The Model 3 is actually quite striking in person. The sleek car looks taut, like it's ready to pounce.
Tesla's staff who designed the Model 3 exterior are now free to take on a new task. The company, and stockholders, would benefit if they were assigned to refresh the design of the Model X's exterior, focusing on the front. While other auto manufacturers make design tweaks every new model year, Tesla's approach is to make continuous improvements, and this exterior refresh could fit in that category. That will help Model X's sales, which are critical because Tesla will need every dollar it can earn over the next 18 months until Model 3 production begins, to avoid a financial Death Valley.
Disclosure: I am/we are long TSLA.
I wrote this article myself, and it expresses my own opinions. I am not receiving compensation for it (other than from Seeking Alpha). I have no business relationship with any company whose stock is mentioned in this article.