OK, first rule of Wall Street - Nobody - and I don't care if you're Warren Buffett or Jimmy Buffett - nobody knows if a stock is going up, down or [profanity] sideways, least of all stockbrokers. But we have to pretend we know.
—Mark Hanna, played by Matthew McConaughey, in The Wolf of Wall Street
It's not what you don't know that kills you, it's what you know for sure that ain't true.
—Mark Twain
Knowledge is limited. Imagination encircles the world.
—Albert Einstein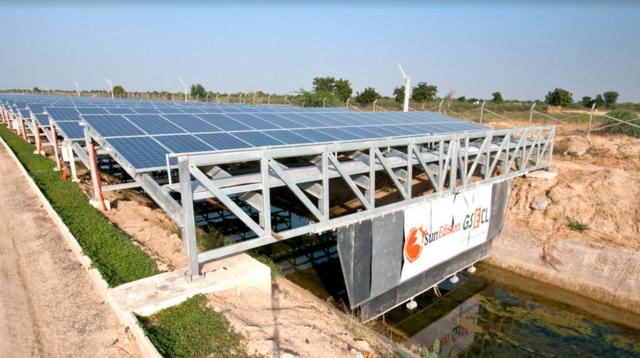 Click to enlarge
As a market historian and a firm believer in behavioral analysis, alongside fundamental and technical analysis, I have been drawn to the undervalued and under-loved energy sector, as the main constituents have all been historically out of favor.
Competition across direct and indirect competitors, combined with slowing domestic and global growth, has submarined a majority of companies in the energy complex. In an analogy that bears a startling resemblance to the financial sector meltdown in 2008 and 2009, when "Too Big To Fail" banks, like Bank Of America (NYSE:BAC), Citigroup (NYSE:C), Goldman Sachs (NYSE:GS), JPMorgan Chase (NYSE:JPM), Morgan Stanley (NYSE:MS), and Wells Fargo (NYSE:WFC), became more systematically important, through bargain-basement acquisitions of competitors under pressure, big energy companies like BP (NYSE:BP), Chevron (NYSE:CVX), Exxon Mobil (NYSE:XOM), Halliburton (NYSE:HAL), Royal Dutch Shell (RDS.A, RDS.B), Schlumberger (NYSE:SLB), and TOTAL S.A. (NYSE:TOT) are poised to consolidate the energy sector today.
Building out the analogy, hardly anyone in 2007 would have imagined that Countrywide, a leading issuer of mortgages, and Merrill Lynch, perhaps the preeminent brokerage firm, would be acquired by Bank Of America, or that National City would have been bought by the now renamed The PNC Financial Services Group (NYSE:PNC). Even more shocking: the fact that American International Group (NYSE:AIG), Fannie Mae (OTCQB:FNMA), and Freddie Mac (OTCQB:FMCC) would have to be rescued by direct intervention of the U.S. government. (Okay, so maybe a few could have foreseen the outcome with Countrywide, but my broader point is that the carnage in the financial sector was unprecedented.)
The same degree of destruction is now taking place in the energy sector: Chesapeake Energy (NYSE:CHK), the second largest natural gas producer in the United States; Peabody Energy (BTU), the largest coal producer in the United States; and SunEdison (SUNE), the largest renewable energy company, are all simultaneously on the verge of bankruptcy in 2016. Can one of them survive and, like AIG did, rebound from the ashes?
Thesis
The carnage in the energy sector is going to spark a wholesale transformation where consumers are left footing the bill for higher energy prices. Surviving companies will benefit.
The Carnage
As someone who has passionately studied financial market history for more than twenty years, I have been conditioned to expect the unexpected, and question the mainstream consensus, as it is often wrong with regard to the markets. Thus, with this background, I have been skeptical that we have a 100-year supply of cheap natural gas in the United States, ever since the inception of this belief, and I began to question this consensus heavily in 2011. Investing against the unanimously agreed accord, aided and abetted by political interests, has proved to be my biggest investment mistake in my career, thus far. I deeply regret the pain it has caused investors, and until you manage money professionally, and have failures, no one can describe how disappointing those situations are for all involved. The degree of destruction can best be illustrated by the stock charts of Chesapeake Energy, Peabody Energy, and SunEdison, which are all shown below.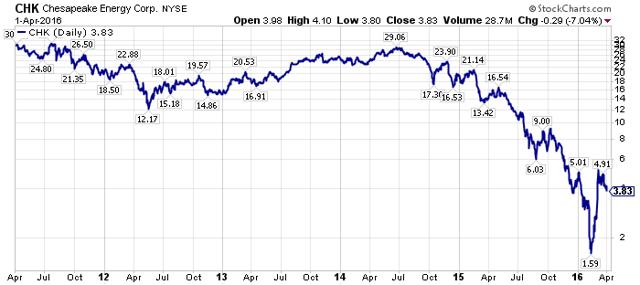 Click to enlarge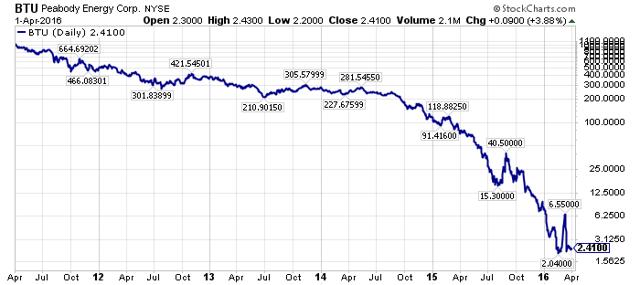 Click to enlarge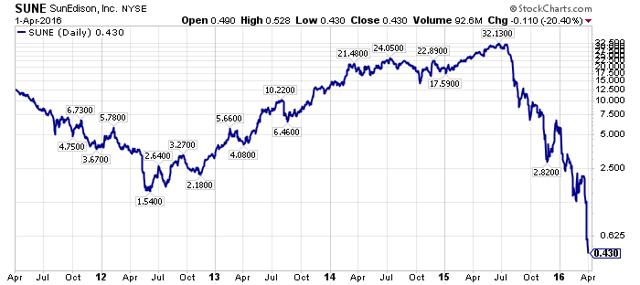 Click to enlarge
The sheer magnitude of the stock price declines of CHK, BTU, and SUNE are staggering, and the massacre is evident, when looking at the percentage declines over the previous five years.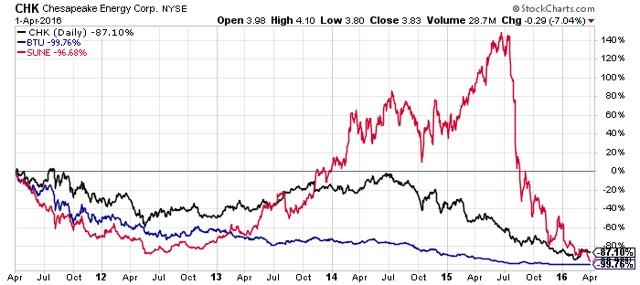 Click to enlarge
With Chesapeake Energy down 87% over the past five years, Peabody Energy down 99%, and SunEdison down 97%, and with all of their bonds trading at a fraction of their original par values, their very survival is in doubt. In fact, the bonds of both Peabody, and SunEdison, are pricing in a near certainty of bankruptcy, and even for an optimist like me, this is the likely outcome for all three companies if the status quo persists.
The Opportunities
From the five-year price chart of CHK listed above, it is clear that a significant dip can be seen in February of 2016, which can be seen more clearly in the year-to-date chart of CHK.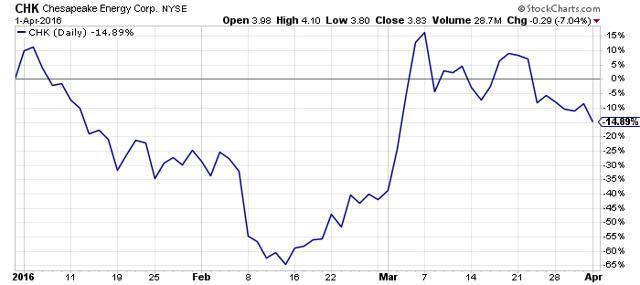 Click to enlarge
After closing 2016, at $4.50 per share, CHK nosedived all the way to a low of $1.50 per share, on February 8 th, 2016, when rumors of an imminent restructuring, which were ultimately refuted by the company, pummeled common shareholders into a near submission. Only the actions of a steadfast management team, who resolved to get the best value for all stakeholders, averted a collapse.
Shareholders of Peabody Energy and SunEdision find themselves in a similar predicament today, where a restructuring or formal bankruptcy seems unavoidable. The caveat is that their near-term situations appear even direr, and this is reflected in the companies' respective stock and bond prices.
Peabody Energy has already missed a scheduled interest payment, and their auditors have issued a "going concern" warning in the company's recent 10-K, which is a trigger for default. Top rated SA author Jeremey Raper, who I have warmly bestowed the moniker of the "Grim Reaper" upon, for his penchant of accurately forecasting a dying companies last breath, has published a terrific overview of Peabody's ailments and default triggers under the company's current covenants. The only remaining hope, in the near-term, for shareholders and unsecured bondholders, in my opinion, is that the previously announced sale to Bowie Resources, which was scheduled to close by March 31 st, but whose terms were recently amended to allow for a longer closing window, goes through.
A look at the chart of BTU in 2016 shows that pessimism, or reality, depending on your perspective, have dominated, with only a brief respite in March.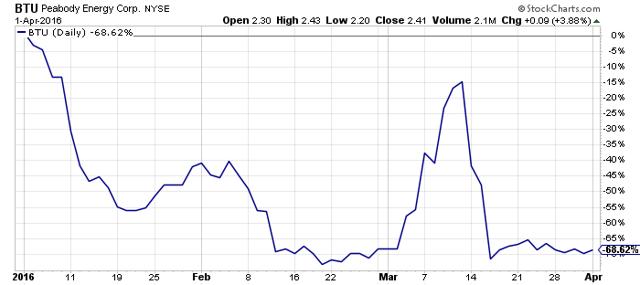 Click to enlarge
With metallurgical coal prices rising, and the negative impact of mistimed hedges waning, if Peabody is able to close the Bowie deal, cure their default, and survive the gauntlet for another quarter, the short-squeeze rally could be historic, so speculators should keep their eye on developments here over the course of the next week. The likely outcome still remains an in court restructuring, and that is what is being largely priced into the company's stock and bond prices, but Peabody may not be dead yet.
Recent developments at SunEdison have placed the company in a similar dilemma to Peabody, yet the situation at SUNE is even more convoluted, due to the complex corporate structure of the company, its subsidiary "Yieldco" companies, Terraform Power (NASDAQ:TERP), and TerraForm Global (NASDAQ:GLBL), and the involvement of activist hedge fund managers, including David Tepper and David Einhorn. Adding to the drama and suspense, there are reports of a near-term Chapter 11 bankruptcy, and this has decimated the common shares in 2016.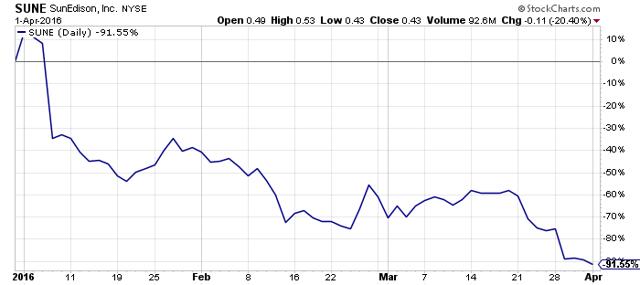 Click to enlarge
With an outstanding lawsuit from Vivint Solar (NYSE:VSLR) casting a shadow over SunEdison, alongside a myriad number of concerns surrounding the company's liquidity position, including recent apprehensions from TerraForm Global, a near-term restructuring certainly appears probable.
Could a Chapter 11 restructuring actually be beneficial to the entire capital structure of SunEdison, similar to the Chapter 11 bankruptcies of American Airlines (NASDAQ:AAL), and General Growth Properties (NYSE:GGP)? The depressed equity prices of TERP and GLBL, which SunEdison still owns a substantial interest in, and the current bond prices of SunEdison, suggest that even current bondholders may not get paid, yet the continued involvement of David Einhorn, suggests that common shareholders could end up with some interest in a restructured SunEdison. Like Peabody, this will be a company to watch in the next several weeks.
Scope & Scale
Chesapeake Energy is the second largest producer of natural gas in the United States, as the table below, comprised of data from the Natural Gas Supply, illustrates.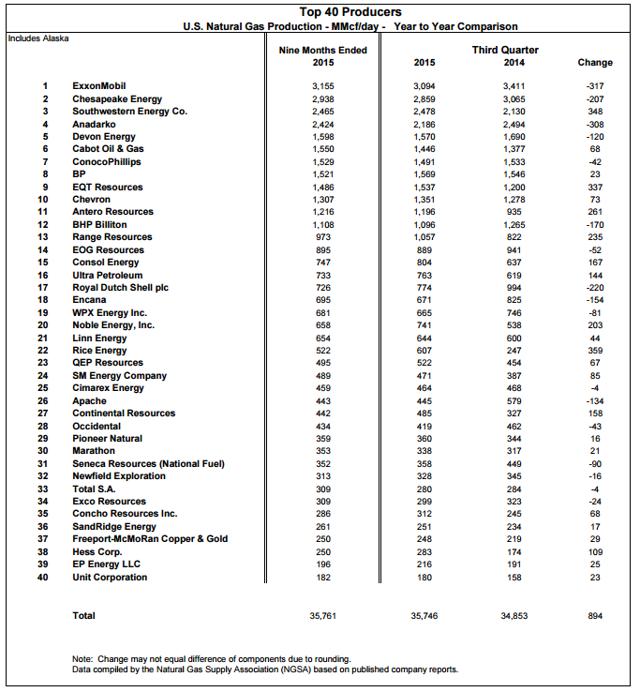 Click to enlarge
The size of Chesapeake's current production, combined with its reserves, drilling rights, and land acreage make Chesapeake a potential acquisition candidate for a major energy company. Whether this happens in pieces, or as a whole, will depend on the future price deck of natural gas and crude oil prices, and whether Chesapeake ultimately restructures. Thus far, Chesapeake's management has done an impressive job with debt buybacks, exchanges, and asset sales.
Peabody Energy, which was founded in 1883, is the largest publicly traded coal company in the world. With more than 100 years of operating history, over 7 billion tons of reserves and significant operations in the U.S., and Australia, Peabody supplies coal that generates roughly 10% of the electricity in the U.S., and 2% of electricity globally.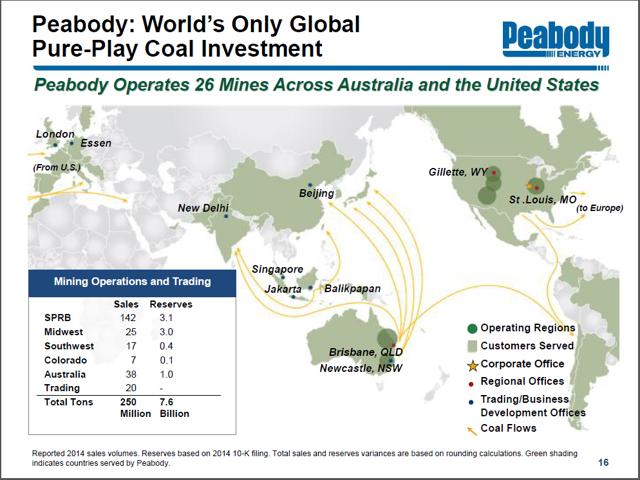 Click to enlarge
The slide above was taken from Peabody's June 2015 Investor Presentation, which is no longer available on their website. Given Peabody's size and scale, it is surprising that a strategic investor, like China Investment Corp, has not had discussions about acquiring a strategic interest in Peabody. China Investment Corp, which is a sovereign wealth fund, bought a 17% stake in Teck Resources (TCK), at its nadir in 2009, as Teck struggled with debt incurred from its large acquisition of Fording Coal. Teck's dilemma, at the time, is reminiscent of Peabody's mistimed purchase of Australian firm Macarthur Coal, which in retrospect, has been the one event that led to Peabody's difficulties today.
Completing the analysis of the size and scale of the trilogy of compromised energy giants, SunEdison, which is ironically headquartered right next door to Peabody Energy in St. Louis, Missouri, is one of the largest renewable energy development companies in the world. Slides from SunEdison's July 20 th, 2015, Investor Presentation, following the announcement of the acquisition of Vivint Solar, show the existing scale of SunEdison's operations, and hint at management's ambitions at the time.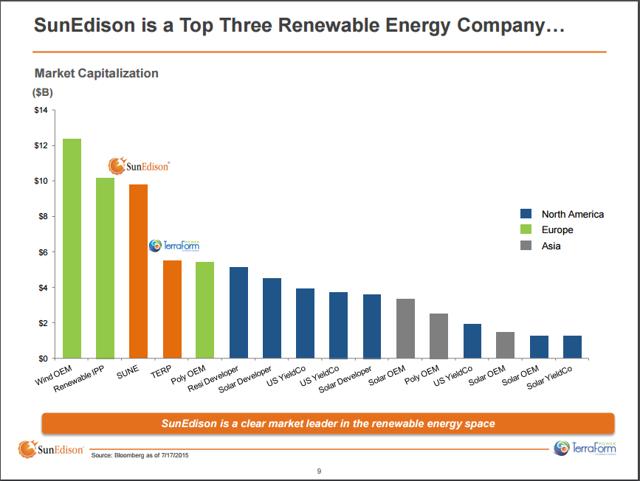 Click to enlarge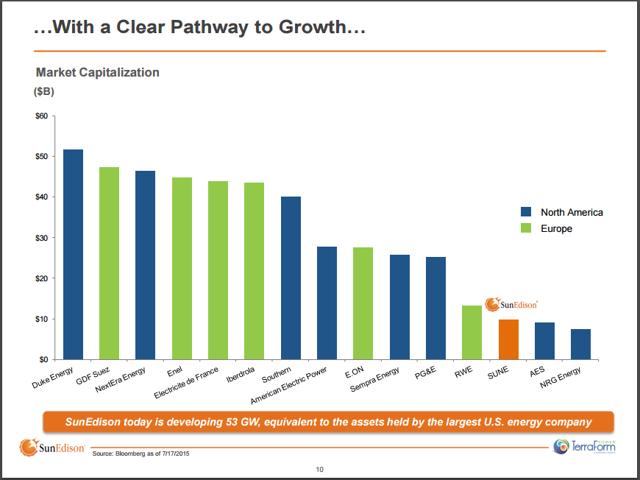 Click to enlarge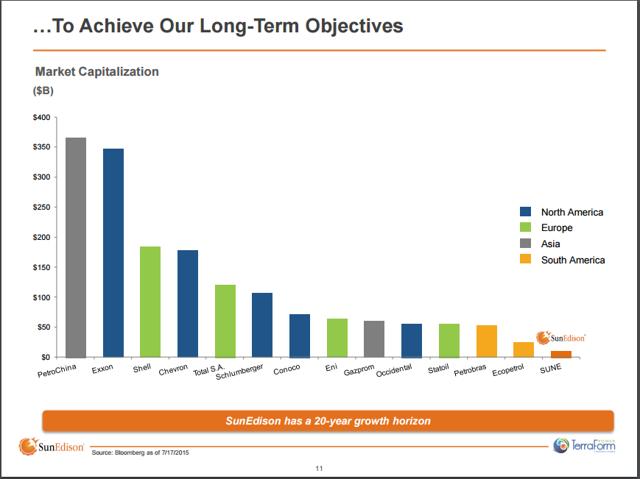 Click to enlarge
With the benefit of hindsight, the confidence and growth objectives articulated by SunEdison less than a year ago, are the reasons behind its success and its ultimate downfall. Looking back, it is remarkable that the company used a serial acquisition strategy to build a development portfolio equal in size to the assets operated by Duke Energy (NYSE:DUK). The capital markets facilitated, and encouraged, the roll-up strategy, by rewarding SunEdison with a higher stock price.
SunEdison accelerated its share price advance, and simultaneously provided itself with more liquidity, by creating TERP and GLBL. The saving grace for stakeholders today, is that the underlying assets of SunEdison still have intrinsic value. Financial engineering, which brought forward this value, might have obliterated it, or it simply could be obscuring a healthy underlying portfolio of assets. Who claims this value, if there is anything left, will be an interesting soap opera to watch going forward.
Reflections On Capitalism
The bigger picture question from my perspective is, why is capitalism being allowed to play out in the energy sector today versus the heavy government involvement in the financial sector in 2008 and 2009? A cynic might even suggest that the unprecedented level of government involvement impacting the coal and solar sectors is the opposite of capitalism, and more aligned with what happened to the financial sector. In this vein, perhaps the corporate interests that dominated government in 2008 and 2009, and expressed themselves in the reshaping of the financial sector, are not all that different that the big energy interests that have lobbied both parties in government over the past decade.
Looking back, in the financial sector collapse, big financial companies got bigger and gained more influence, and the same outcome looks likely for the energy sector today, where industry giants are poised to increase their reach. The consequences are far reaching for American capitalism, and the reverberations are expressing themselves politically today. As a staunch supporter of capitalism, who has both benefited, and been harmed, by the wild fluctuations of asset prices, which I am certain have been caused by central banks inserting themselves firmly into the capitalistic process, I can only hope, and pray, that the free markets prevail in the end.
Conclusion - Who Is The Most Likely To Survive
The capital structures of Chesapeake Energy, Peabody Energy, and SunEdison are reflecting the direness of their respective situations. The common shareholders of CHK, BTU, and SUNE, are in an unenviable position, as professional investors jockey for control of these companies' considerable assets going forward.
Chesapeake is different from Peabody Energy, and SunEdison, in that their management team has proactively denied bankruptcy, offering the following quote from their February, 8th, 2016 statement on their website:
"Chesapeake currently has no plans to pursue bankruptcy and is aggressively seeking to maximize value for all shareholders."
Any distressed equity or bond holder will tell you that Chesapeake's statement is exactly what a deep value investor wants to hear from management. Unfortunately, the involvement of lawyers and the real risk of legal liabilities cause most management teams to stay silent. Despite the optimism of Chesapeake's management, a renewed decline in crude oil and natural gas prices, could push the company back, (this author actually expects natural gas prices to rise substantially in the years ahead) to the brink, where Peabody and SunEdison stand today.
For the aforementioned two companies, any good news would be a reprieve, and beaten down shareholders would rejoice at the prospect of any recovery. To be clear, any investor or speculator in CHK, BTU, or SUNE faces extreme risks, at this juncture, and the probability of a complete loss is high. I have learned the hard way that speculators considering these types of positions should use a venture capital approach where full wipeouts are anticipated. The benefit of this approach is that an investor can benefit when an unexpected positive turn in events occurs.
Disclosure: I am/we are long AAL, BTU, CHK, GLBL, SUNE, TCK, TERP.
I wrote this article myself, and it expresses my own opinions. I am not receiving compensation for it (other than from Seeking Alpha). I have no business relationship with any company whose stock is mentioned in this article.
Additional disclosure: Every investor's situation is different. Positions can change at any time without warning. Please do your own due diligence and consult with your financial advisor, if you have one, before making any investment decisions. The author is not acting in an investment adviser capacity. The author's opinions expressed herein address only select aspects of potential investment in securities of the companies mentioned and cannot be a substitute for comprehensive investment analysis. The author recommends that potential and existing investors conduct thorough investment research of their own, including detailed review of the companies' SEC filings. Any opinions or estimates constitute the author's best judgment as of the date of publication, and are subject to change without notice.
Editor's Note: This article covers one or more stocks trading at less than $1 per share and/or with less than a $100 million market cap. Please be aware of the risks associated with these stocks.